Traditional camping tents are usually smaller and may take more effort and time for installation. Perhaps that is why people prefer cabin tents, which are easy to install and have high center poles for convenience.
Cabin tents are large and sturdy and have a modern design with near-vertical walls. These tents can withstand extreme temperatures and keep you warm and cozy. If you're looking for comfort and convenience when you go camping, getting a cabin tent could be a good idea.
Here, we bring you a list of some of the best cabin tents and their pros and cons. Read through them and choose the most suitable one for yourself.

Top Products From Our List
11 Best Cabin Tents
The Coleman instant tent has pre-attached poles and can make your camping trip less of a hassle. The cabin-style tent is made of double-thick fabric to block sunlight from coming inside. It also has ventilation to provide better airflow. It is available in three sizes to accommodate four, six, and ten persons.
Pros 
Has a room divider for privacy
Can be set up in a minute
Weatherproof and reduces heat
Comes with an expandable carry bag
Has a hinged door for easy entry and exit
Cons 
Could be bulky
May not be 100% waterproof
The core tent is big enough to accommodate nine people. It features the H2O block technology for waterproofing and a room divider for privacy. The deluxe tent can be a good option for a family camping trip and comes with storage pockets to keep your accessories or belongings separately.
Pros 
Comes with electrical cord port
Can fit two queen mattresses
Features advanced ventilation
Made of durable material
Has a large T-shaped door
Ideal for all seasons
Cons 
Could have weak poles
May not be durable
According to the manufacturer, it takes 60 seconds to set up this cabin-style tent. It is spacious and can accommodate two mattresses and other camping accessories. The cabin tent is available in different sizes, suiting the needs of four, six, eight, and 12 persons.
Pros
Has a ground vent and mesh roof
Comes with a power port
Includes doormat and storage pockets
Made of waterproof fabric
Comfortable and safe
Cons 
May not be long-lasting
May not withstand extreme weather conditions
If you are looking for a simple and elegant tent that can be set up in a few minutes, this 10x10in cabin tent could be ideal. Its center height is 78in and is said to accommodate six persons conveniently. It is made of premium-quality material and can be used effortlessly for camping and other outdoor trips.
Pros 
Versatile and comfortable
No assembling required
Provides better airflow
Has storage space for accessories
Top mesh offers ventilation
Cons 
Zippers could be problematic
Could shrink due to heat
The large family tent is spacious enough to fit a large family or a big group of friends. It is made of waterproof polyester material and has a polyethylene floor. The brand claims it to be the best tent for 16 persons. It is available in green and orange-grey colors.
Pros 
Provides extra coverage with fly canopy
Has open mesh design for airflow
Has floor vents for cross ventilation
Can be assembled in a few minutes
Waterproof and weather-resistant
Cons 
May not be suitable for harsh weather conditions
The ten-person cabin tent measures 14x10in and is made of polyester. It can be set up in a couple of minutes and doesn't require any tools for assembling. The dark rest technology of the deluxe tent helps to block sunlight and keeps it cooler. It comes with a room divider for privacy.
Pros 
Can fit two queen-sized beds
Includes deluxe gear pockets
Has eight windows for an outside view
Comes with multiple skylights
Spacious, convenient, and safe
Cons 
May not be durable
Could be heavy
The unique family cabin tent has a distinctive design with room dividers to make two or more separate areas inside. You may need 15 to 20 minutes to assemble this high-quality tent and have a great camping experience with your friends or family.
Pros 
Can fit five air mattresses
Has 12 windows for ventilation
Center height of 78in
Measures 20x20in (floor size)
Prevents leakage and offers privacy
Cons 
Your family can have a comfortable and memorable time with this premium-quality and lightweight tent. It is suitable for all seasons and has a sturdy automatic frame and tall, sturdy canvas. The tent capacity is six to eight persons. It offers full coverage and can keep your family comfortable and cozy.
Pros 
Has a mesh ceiling and wall
Spacious, versatile, and safe
Provides airflow and ventilation
Made of durable waterproof material
Offers full coverage
Can be set up in a few minutes
Cons 
May not withstand harsh weather conditions
You can bring this stylish, cabin type tent that has straight wall designs. It can easily fit two or more mattresses based on the size you choose. The tent has tub floors to avoid any leakage and offer extra protection. It has room dividers and comes with pull-out windows and could be a great option for a family camping trip.
Pros 
Provides better airflow
Has 78in center height
Water-repellent and waterproof
Unique and durable design
Made of Omni-shield fabric
Cons 
Made of a secure fiberglass frame system, this instant cabin tent can be set up quickly and effortlessly. It is lightweight, durable, and available in four sizes. The tent comes with zipper windows to provide ventilation at all times.
Pros 
Comes with D-shaped door
Resistant to all weather conditions
Sturdy and durable
Comes with a duffle bag for storage
Has mesh pockets for accessories
Cons 
May not last for many years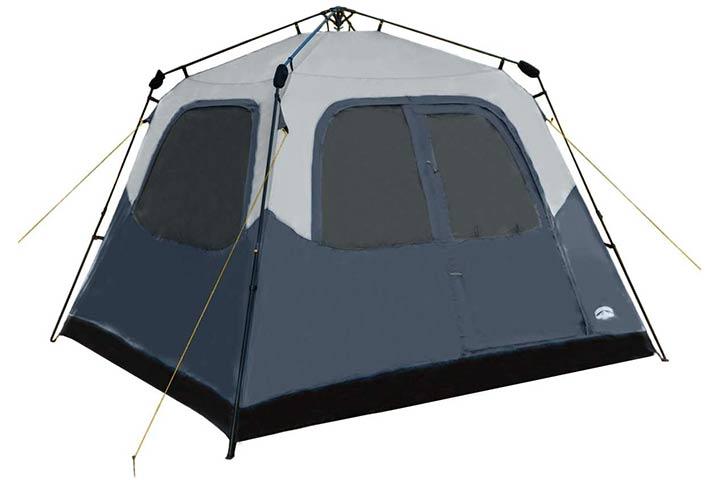 Have a comfortable and unforgettable camping experience with this backpacking cabin tent. It is a six-person tent and has a smart design. It is lightweight, sturdy, and provides a home-like safe experience to the campers in any outdoor location.
Pros 
Measures 120x108in, 72in center height
Can be used for multiple purposes
Comes with an easy-to-carry bag
Includes a mesh bag for gear organization
Water-resistant and durable
Cons 
What Are The Benefits Of Cabin Tents? 
Here are a few advantages that you can reap by having cabin tents for outdoor trips.
They are larger than the usual camping tents, giving more space for a group or family to spend quality time together.
Most of the cabin tents have divisions that provide privacy to campers when required.
Cabin tents are ideally made of thick, waterproof, and weather-resistant material that makes them durable.
Cabin tents are designed to give a home-like comfy and safe experience.
A large, single tent is a cost-effective solution and is better than buying two or more small tents.
How To Choose The Right Cabin Tent?
You can look for the following features when finding the best cabin tent for yourself.
Capacity: There are cabin tents designed for four persons and also for more than ten. Consider your family size when choosing the best cabin tent. It is always better to get a bigger tent that has sufficient space for an extra person.
Durability: Select a cabin tent made of strong and thick materials with a sturdy frame so that it stays intact for years to come and does not get damaged in harsh weather conditions.
Set up: Look for advanced cabin tents designed to be set up and disassembled in a few minutes, and those that do not require any tools for assembling.
Year-round: Choose a cabin tent that is waterproof and weather-resistant so that it can be used in all seasons. It should have windows for better airflow, a leak-proof floor, and ceiling, and should be strong to withstand extreme weather conditions.
Other features: Look for pockets for storage, mesh windows for outside view, and dividers for privacy for value.
A cabin tent could be a major investment, so be careful when comparing the features and cost. Check if the chosen cabin tent fits in your requirements and shortlist the most appropriate one for yourself and your family or friends, for once you buy one, you shouldn't have to look at other tents.
Recommended Articles: 
The following two tabs change content below.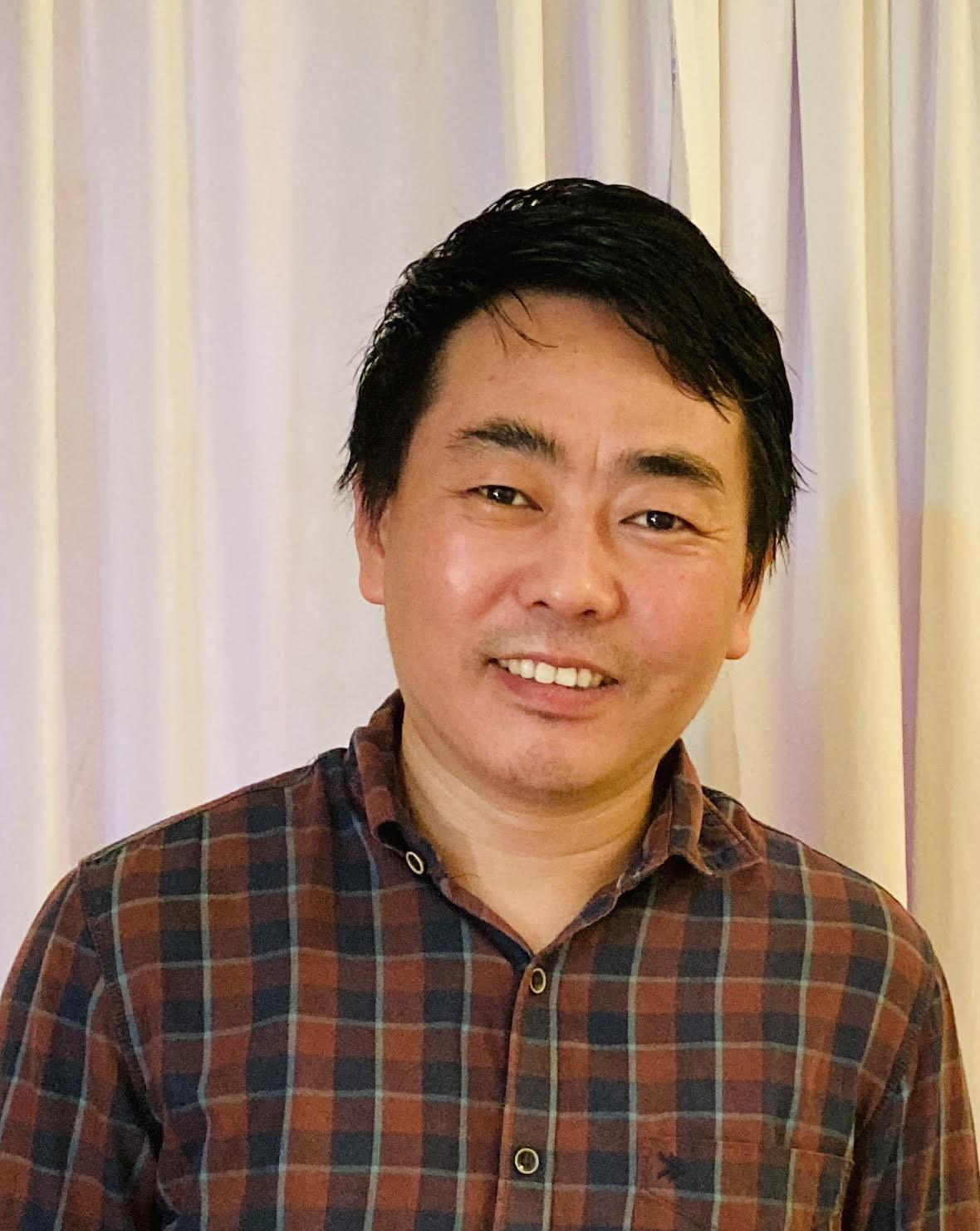 Wedetso Chirhah
Wedetso Chirhah holds a masters degree in English Literature. He had written content for more than 15 B2B websites and edited school books before joining MomJunction as an editor. Wedetso ensures the articles meet the highest editorial standards. He enjoys making content understandable and relatable to readers, and he is a big fan of the versatile em dash. He also...
more