A cake slicer is designed to cut up pieces of cake into perfect little slices. The best cake slicers can help make your cake look presentable and is a great tool for bakers as they can help make your cake presentation impeccable. A wide variety of cake slicers are available in the market to cut cake slices perfectly and achieve the precise cake level. Although slicing a cake with a regular bread knife is also possible, a professional cake slicer can offer outstanding results. So if you want this essential tool to be a part of your kitchen, you've come to the right place. We've got a list of some top-rated cake slicers you can buy based on your requirements.
11 Best Cake Slicers
This is one of the best cake knives carved with premium quality steel. The 18in wavy edge slicer comes with a slip resistance handle made of Santoprene and polypropylene for greater comfort and higher durability. It even has a protective finger guard for enhanced safety.
Features:
Blade is made of one-piece Japanese steel
Ergonomic handle provides good grip
Has a blade angle of 15 degrees
NSF-certified
Razor-sharp edge facilitates smooth cutting
Comes with a limited lifetime warranty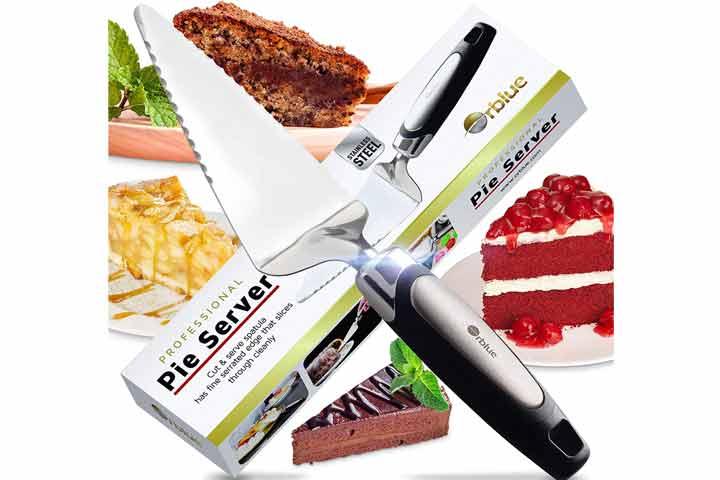 The multipurpose pie server by Orblue works fantastically as a cake slicer and pizza cutter. This 9.9in kitchen flatware is designed with serrated edges on both sides, making it a versatile kitchen tool for both right- and left-handed chefs.
Features:
Made with high-quality, rust-resistant stainless steel
Ergonomic handle design ensures a secure grip
Dishwasher-safe
Designed to cut smoothly even through delicate shapes
With this wire cake slicer, creating spectacular cakes at home is a cakewalk. Create your  layered cakes with this cake cutter and leveler. This adjustable cake cutter is designed for perfect decorations and flawless presentations.
Features:
Made using durable stainless steel and wire
Measures 13X6.5in
Consists of two adjustable wires for slicing or leveling
Dishwasher-safe
Designed to slice uniform layers
The cake knife set by Zenker features an adjustable slicing collar with grooves and a cake lifter to dole out cake pieces of even sizes. This high-quality layered cake slicer made in Germany makes cutting the cake into the right size pretty easy.
Features:
Designed to slice up to eight uniform layers
Accommodates cakes of 10in-11in in diameter
Crafted using stainless steel
Comes with a 12in-long serrated knife for comfortable cutting
Has an 11in cake lifter to separate and lift the layers effortlessly
This is a perfect cake slicer that effortlessly cuts the most delicate baked cakes and pies in different shapes. It is a simple pie server with a flexible head that is serrated on both sides for easy cutting.
Features:
Made of high-quality stainless steel
Measures 12in in length and 2.5in in width
Has a sleek and undecorated handle with good grip
Dishwasher-safe
Hanging hole for easy storage
This is one of the best cake slicers consisting of two adjustable wires that work like a serrated knife. This portion maker promises clean cuts and excellent leveling. Achieving precise cake layers is an easy job with this square cake slicer, making baking and decorating cakes more fun.
Features:
Has an accurate scale for creating perfect layers
Allows you to decide on the thickness of the layers
Hard plastic feet with anti-skid grip
Ergonomic handle offers good grip
Easy to use and clean
The cake slicer machine is convenient to use and is designed to cut cake slices horizontally. This whole cake cutter can also be used for slicing bread and toasts. With this kitchen fixator tool, cutting perfect slices or creating tiered cake slices is no longer difficult.
Features:
Suitable for cake sizes of 10in
Adjustable up to five layers
Compact design—doesn't require much storage space
Serrated edge on one side of the blade
This is one of the best cake slicers designed to slice cakes with ease and can also be used for leveling, trimming, and layering. It makes a perfect tool for excellent cake presentation for professionals as well as home bakers.
Features:
Made of high-quality stainless steel
High temperature resistant
Comes with a PP plastic handle for better grip
Multi functional teeth blade
Durable and safe to use
The 10in cake slicer cum server makes cake slicing super easy. It can also be used for transferring cake slices and delicate desserts from tray to plate. Designed for slicingcakes, pies, tarts, and pizzas, it is a multipurpose flatware for your kitchen.
Features:
Crafted using high-quality stainless steel
Comes with a loop on the handle for easy storage
Easy to clean and use
Dishwasher-safe
Serrated edge for convenient cutting
Slice like a pro with this cake slicer that lets you cut your cake into any size you desire. It is a fantastic tool with a cake scale that lets you adjust between 9.8in to 11.8in. Just place your creation on the cake board and slice cakes without hurting your hands.
Features:
Made of high-quality stainless steel
Thick and stable
Adjustable handle to decide on the thickness
Multipurpose slicer that can be used for bread, biscuits, etc.
Easy to clean
With this cake slicer, you get perfect pieces of pies or cakes every time. This unique triangular wedge slicer has been designed to make cutting round cakes and pies quick, easy, and precise. The highlight of this kitchen tool is that it is safe even for kids as it has no sharp blades.
Features:
Stainless steel blade
Comes with ivory plastic handles
Free from first-piece cake cutting disasters
Measures 9.5in in length, 2in in height, and 4in in width
How to Choose the Right Cake Slicer?
With so many cake slicers to choose from, it is certainly not easy to pick the best cake slicer. We have compiled a list of essential features that one must look for in a slicer before making the final pick:
Material: Always consider the material of the slicer. Different materials like stainless steel, aluminum, plastic, and even wood are used in making cake slicers, and each has its own advantages and disadvantages.
Ease of use and clean: A simple and easy-to-use cake slicer is what you must look for. Another thing you need to keep in mind is the ease of cleaning it.
Reviews: To pick the right cake knife, you need to learn about its functionality. Read the reviews online and make the right decision.
With the right cake slicer in your baking tools collection, you can slice cakes that  look spectacular. A good cake slicer adds a flawless finish to your cake. Therefore, while selecting a reliable cake knife, it is extremely important to focus on its quality and functionality.
Recommended Articles:
The following two tabs change content below.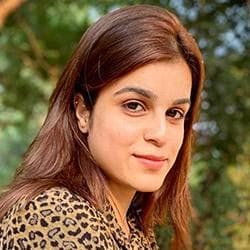 Sakshi John
Sakshi did her graduation in Journalism from the Madras Christian College, Chennai, before starting her career as a freelance writer. She is into blog writing and for MomJunction, she covers various topics, including products to buy for your kitchen, furniture, and other home requirements. Previously, she interned as a content writer in a cyber security firm. As a content writer, Sakshi...
more