If you are a coffee connoisseur, you will need that first cup of fresh coffee no matter where you are. A camping coffee maker can deliver a fresh cup of coffee to kickstart your mornings at the campsite. It is a convenient, lightweight, and compact equipment designed especially for camping needs.
To help you make an informed choice, we list some of the best camping coffee makers you can buy online. Before that, learn about the different types of coffee makers there are in the market.
Types of Camping Coffee Makers
There are three types of camping coffee makers to select from.
Press: It lets the coffee grounds sit for four to five minutes in hot water. The plunger separates the water from the coffee grounds. French and AeroPress coffee makers fall under this category.
Pour over: It is a simple coffee maker that allows you to pour hot water over the coffee grounds.
Percolator: They are the traditional coffee makers designed to sit over a stovetop. As the water boils, it creates pressure that forces water to pass through the coffee grounds. It does not require you to boil the water separately.
11 Best Camping Coffee Makers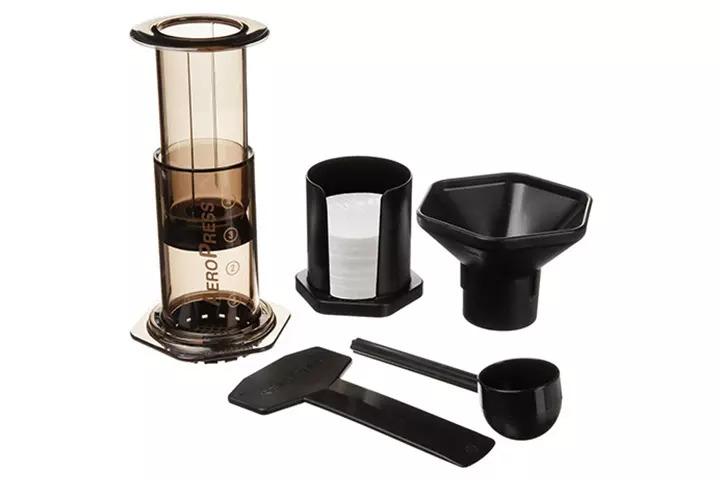 With this portable coffee maker for camping, you can enjoy making instant coffee when outdoors. It uses a rapid and total immersion brewing process to deliver delicious coffee that is neither bitter nor highly acidic. You can make one to three cups of American coffee in about a minute using this coffee maker.
Specifications
Weight: 6.4oz
Capacity: 1 to 3 cups
Type: Press
Pros
Lightweight and compact
Quick and efficient
Consistent flow
Can brew coffee of different strengths
Easy to clean
Durable and strong
Cons
Requires special filters
Includes many pieces to keep track of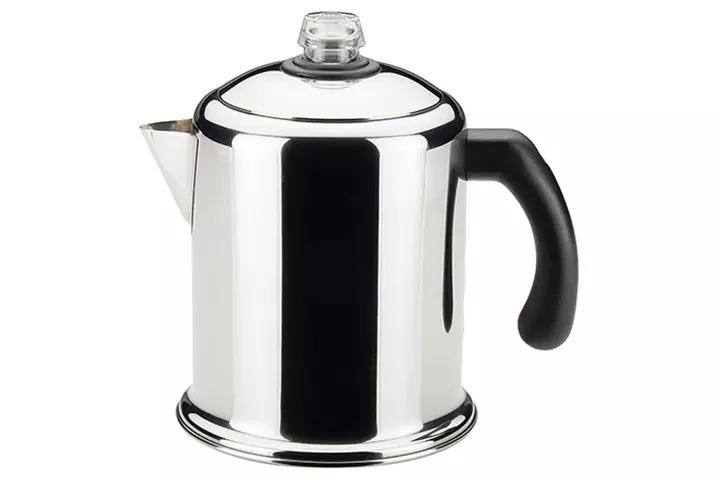 The classic coffee maker is made of heavy-duty stainless steel and a clean glass knob. It is a stovetop percolator that makes delicious cups of coffee. This dishwasher-safe construction has a permanent mesh filter for a mess-free experience.
Specifications
Weight: 36oz
Capacity: 8 cups
Type: Percolator
Pros
Strong and durable
See-through glass cap for monitoring
Easy to clean
Lifetime warranty
Convenient handle
Cons
Glass knob may not be durable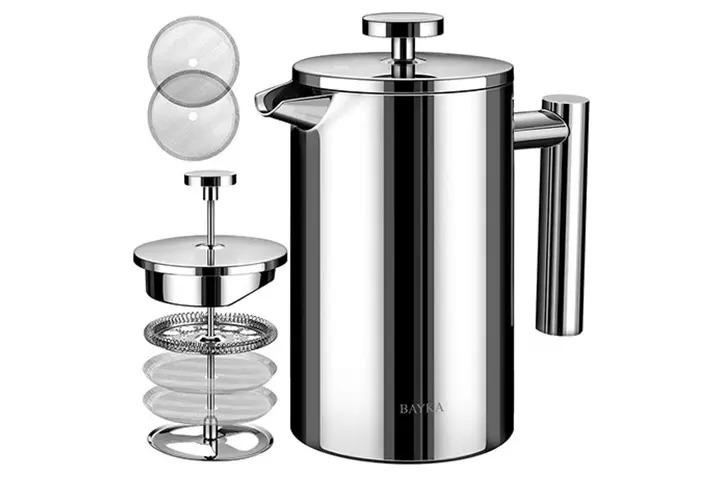 The Bayka French Press Coffee Maker is made of 304 stainless steel that keeps your coffee warm for longer. It features a well-built U-shaped spout for a smooth flow of coffee and inside markers for perfect brewing.
Specifications
Weight: 24.64oz
Capacity: 2 cups
Type: French press
Pros
Four-level filtration makes delicious coffee
Portable design
Double-walled and vacuum-sealed design keeps the coffee hot
Sturdy handle
Strong construction
Rust- and corrosion-free
Cons
Mixed reviews on durability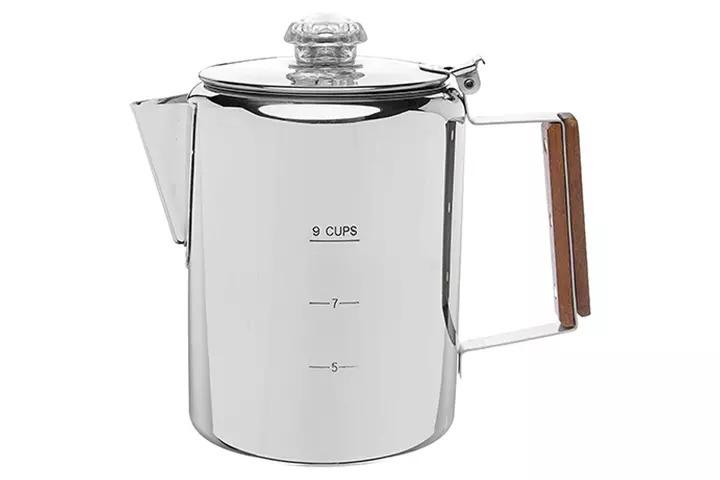 The Coletti Bozeman camping coffee maker is designed to withstand extreme weather conditions. Made of stainless steel, it has a glass cover knob and a wooden handle. This coffee percolator extracts a fuller and richer flavor and is easy to use on a stovetop.
Specifications
Weight: 32oz
Capacity: 9 cups
Type: Percolator
Pros
Includes 20 paper filters
Heat-tempered glass top
Designed for indoor and outdoor use
Heat-resistant handle
Durable and strong
Cons
Hinged lid may be difficult to use and clean
Wooden handle may wear out quickly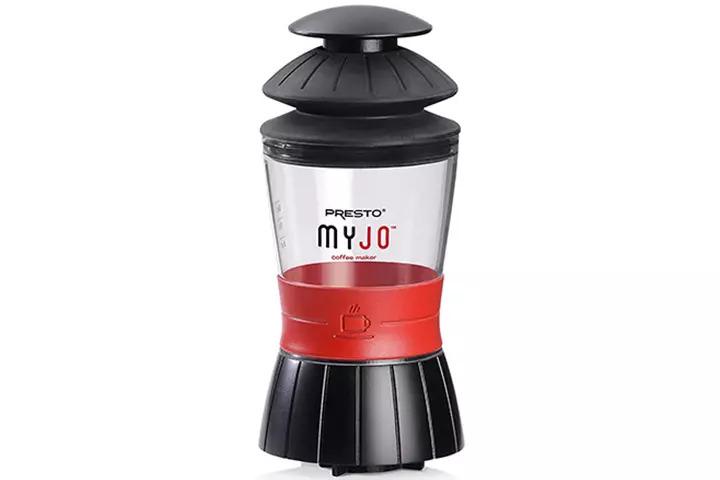 Make a convenient cup of coffee while camping with this Presto MyJo Coffee Maker. Fill the reservoir with boiling water and put a single-serve pack in the base to brew. Assemble the coffee maker and enjoy freshly brewed coffee without much hassle.
Specifications
Weight: 14oz
Capacity: 1 cup
Type: Press
Pros
Handy and compact
Ultralight portable coffee maker
Heat- and slip-resistant silicone handle
Sturdy and durable
Includes a bonus refillable cup
Cons
Coffee grounds may clog the puncture tip
Brewing process may take a long time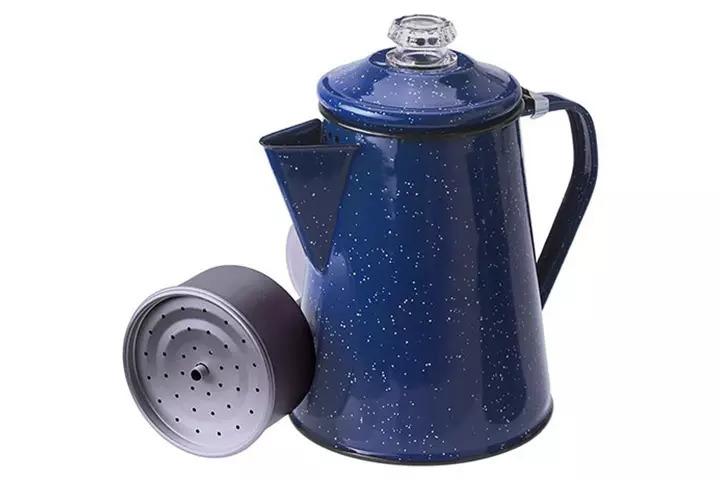 The GSI Coffee Maker for camping is built using heavy-gauge stainless steel with enamel finish. The three-ply design allows maximum heat distribution, and the resin cap will allow you to view your brewing coffee. It is an old-fashioned java coffee maker convenient for backpacking.
Specifications
Weight: 21.12oz
Capacity: 8 cups
Type: Percolator
Pros
Easy to use
Allows even heat distribution
Scratch- and chip-resistant
Strong and durable
Convenient to clean
Cons
Filter may not be sturdy
Inside metal is relatively thin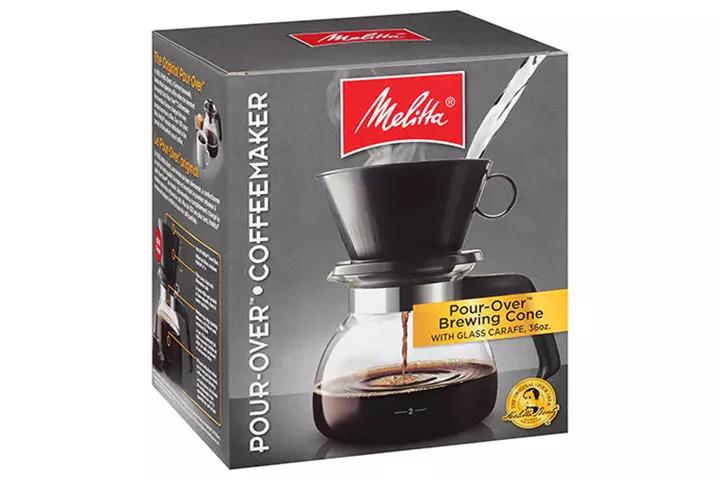 Brewing gourmet coffee while camping becomes easy with this smart coffee maker. Place a filter paper inside the pour-over, scoop some ground coffee, and pour hot water to have a lovely cup of coffee ready.
Specifications
Weight: 17.6oz
Capacity: 6 cups
Type: Pour-over
Pros
Allows you to monitor how much you pour, to avoid overfilling
Chlorine-free, natural bamboo filter papers
Simple and inexpensive
Easy to clean
Convenient to setup
Cons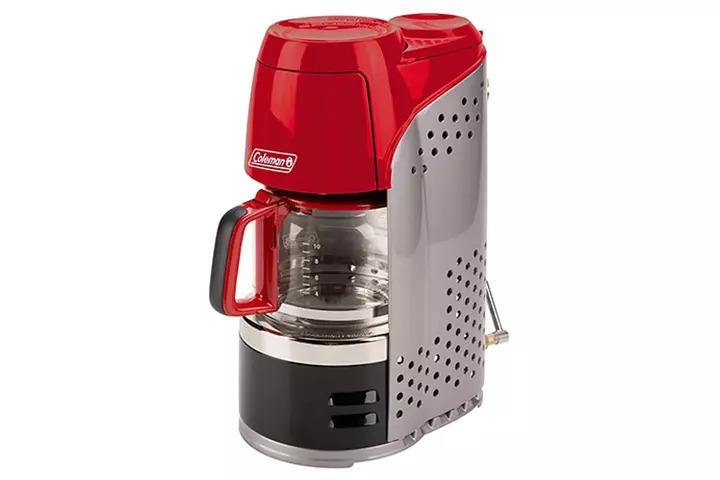 The convenient camping coffee maker requires you to add water and grounds into the removable filter basket and turn on the ignition. You will have a freshly brewed coffee ready in 18 minutes. The pause 'n' perve and PerfectFlow regulator are additional features, making it the perfect camping espresso maker.
Specifications
Weight: 186.88oz
Capacity: 10 cups
Type: Press
Pros
Convenient matchless lighting
Easy to clean
Brews consistently in extreme conditions
Easy-to-remove filter basket
Strong and durable
Cons
Requires separate propane cylinder
Could be relatively heavy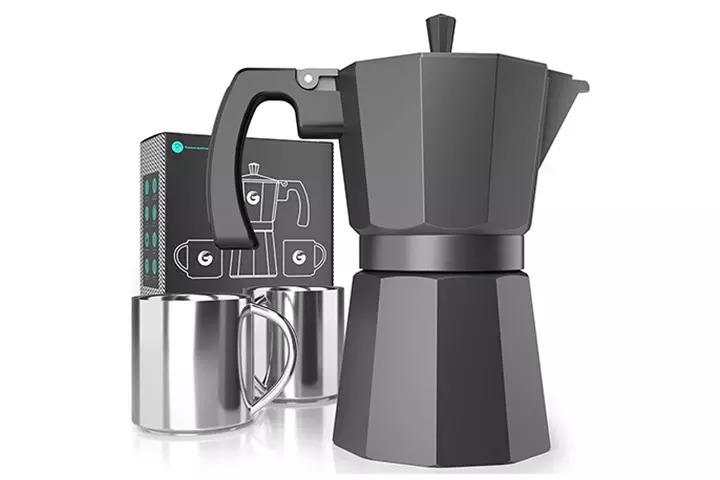 Make a delicious espresso with this traditional Italian Moka pot. Made of premium cast aluminum, it works well on electric ranges, gas, and camping stoves. It has two stainless steel espresso mugs, making it an ideal pick for your camping trip.
Specifications
Weight: 12oz
Capacity: 6 cups
Type: Percolator
Pros
Vacuum layer traps heat
Quick and efficient
Safe and strong
Safety valve releases excess steam
Cool-touch handle for a comfortable grip
Easy to clean
Cons
May not be induction-friendly
Could be prone to scratches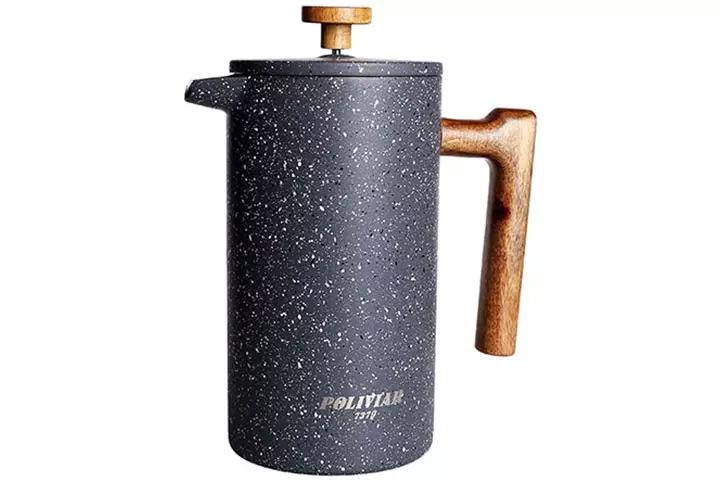 Made of food-grade stainless steel, it has a stylish long-lasting coating. The German teak-wood handle adds to its appeal and convenience. It keeps the coffee hot for long, and its dual-filter screen retains the original taste of coffee grounds, giving you the perfect cuppa.
Specifications
Weight: 33.44oz
Capacity: 4 cups
Type: French press
Pros
Ergonomically designed handle
Double-wall insulation protects hands
Strong and durable
Gives original tasting coffee
Easy to clean
One-year warranty
Cons
Handle may not be durable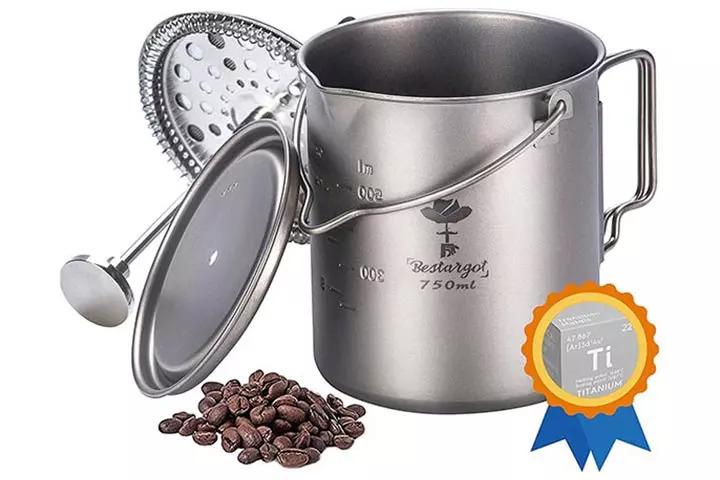 The Bestargot Fresh Press Pot comprises a pure titanium mug and premium stainless steel coffee filter. It also works as a soup mug and does not interfere with the food flavor. It comes with a portable net bag for outdoor use.
Specifications
Weight: 7.7oz
Capacity: 3 cups
Type: French press
Pros
Easy to wash
Strong and durable
High- and low-temperature resistance
Portable and lightweight
Resistance against corrosion
Cons
Makes coffee for only one person
How To Choose The Best Camping Coffee Maker?
Go through the features before purchasing a camping coffee maker.
Portability: Choose lightweight, compact, and portable coffee makers as campers have space and weight constraints.
Ease of use: Coffee makers that require water at a particular temperature or precisely grounded coffee beans should not be the choice. Consider coffee makers that are simple and easy to use.
Taste: The taste of the coffee depends on the kind of coffee maker you are using. Consider those made of materials that do not interfere with the taste of the coffee.
Brew time: A coffee maker that is quick to brew makes a good pick.
How To Brew Perfect Coffee Outdoors?
Here are the steps to brew the perfect coffee outdoors.
Picking the right grinds: While picking the grinds or fresh beans, look into the acidity levels. The lower the levels of acidity, the easier will be the process.
Setting up the coffee maker: Before you start making the coffee, take appropriate water and grinds quantities.
Heating the water: If you are using a percolator, the water temperature is essential. It should be around 200F to get the perfect cup of coffee. Check the specifications to know the temperature requirements.
Brewing the coffee: It depends on the type of coffee maker you are using. Follow the required steps to brew the coffee. Refer to the instruction manual that comes with the coffee maker.
If you are a coffee lover, you need the best coffee maker to enjoy the goodness of coffee along with the adventures of camping. Now that you understand the types and making process, you can purchase the best coffee maker for camping, depending on your personal preferences.
Recommended Articles: