Camping under a sky full of stars is an experience to behold, but sleeping on an uncomfortable and rocky surface might not be all that good. In these places, a sleeping bag just won't cut it, and you are going to need a camping cot. They are compact, lightweight, and portable beds that you can carry on your camping trips. If you are someone who goes on camping often but doesn't like to compromise on sleeping quality, then this is the best option for you. They are not just for camping, they can also be used as a spare bed if you are having a guest over.
Let us take you through our list of the best 11 camping cots that you should definitely buy for your camping or spare bed situations.
11 Best Camping Cots In 2021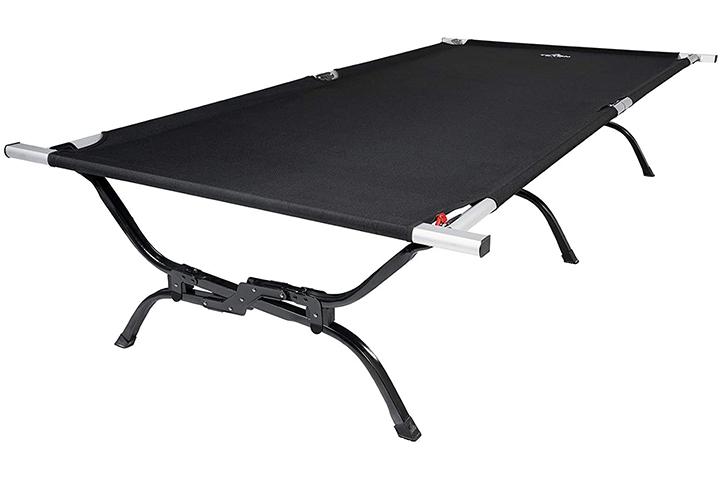 Sleeping on a rocky surface can be a nightmare and to ease your sleeping troubles, TETON presents this sturdy and comfortable camping cot. It uses a pivoting system to set up the cot which can be done even by kids. And for the base, you can team it up with the Outfitter XXL Camp Pad for the best user experience. They have an all-steel S-leg design that provides strong support underneath. Rest assured you will get a good night's sleep, no matter where you put it down.
Specifications
Dimensions: 85.75 x 44.75 x 19.25 inches
Weight Capacity: 600 pounds (272 kg)
Cot Weight: 26 pounds (11.8 kg)
Pros
It is bigger than a twin bed, which gives you a lot of space.
The rubber bush on the legs increases stability.
Due to its foldable feature, it is very easy to travel with.
Cons
The legs might be prone to rust.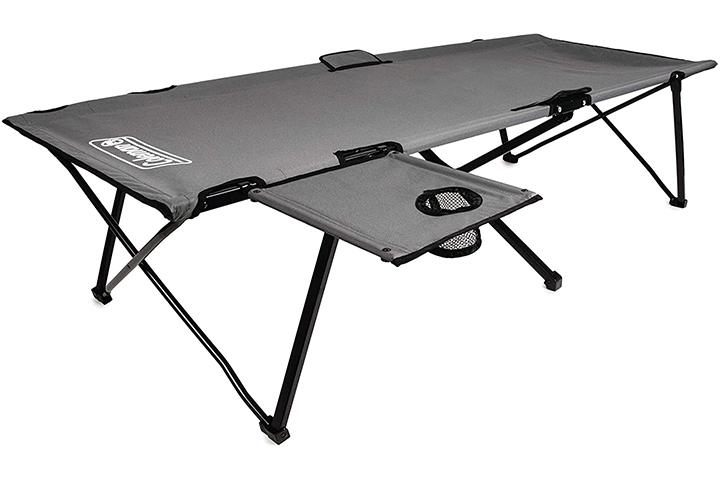 Comfort and camping might not always go hand-in-hand, but with the help of this camping cot from Coleman, you can change that. It offers extra sleeping room so that you can relax your body and get a satisfying sleep. The steel frame is strong enough to bear the load of an adult and provide excellent support while in use. You can adjust the cot to use it as a place to sit, recline, or sleep. 
Specifications
Dimensions: 80 x 44 x 17 inches
Weight Capacity: 300 pounds (136 kg)
Cot Weight: 20 Pounds (9 kg)
Pros
It uses a foldable design for easy transportation.
It has a removable side table with a cup holder.
It comes with a carry bag for easy storage.
Cons
The canvas of the cot might tear easily.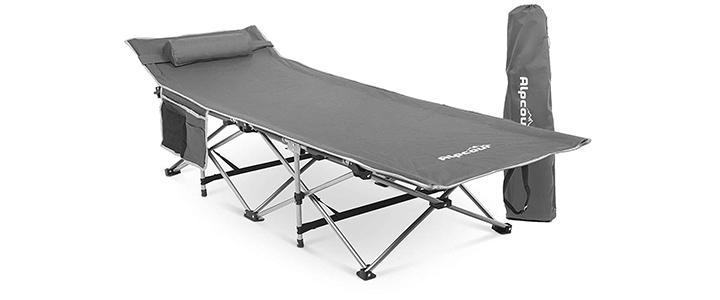 Is your back still sore from your last camping trip? The next time you go, make sure you take Alpcour Folding Camping Cot along. It is a heavy-duty cot that offers great comfort which is required after your long hike. It is supported by a collapsible, strengthened steel pipe frame and a double-layer of 600D polyester cloth fabric with an extra-wide mattress for people who need extra room for themselves. From kids to adults, anyone can use it without the need of any mattress pads. There are three color variants to choose from— Army Green, Grey, and Royal Blue. 
Specifications
Dimensions: 75 x 26 x 15 inches
Weight Capacity: 300 pounds (136 kg)
Cot Weight: 13 Pounds (5.8 kg)
Pros
The canvas is water-resistant.
It has a convenient side pocket.
It has a gentle incline set up and a built-in pillow for a painless sleep.
It is very easy to set up and fold.
It comes with a matching tote-style bag for carrying.
Cons
The headrest might not be very comfortable.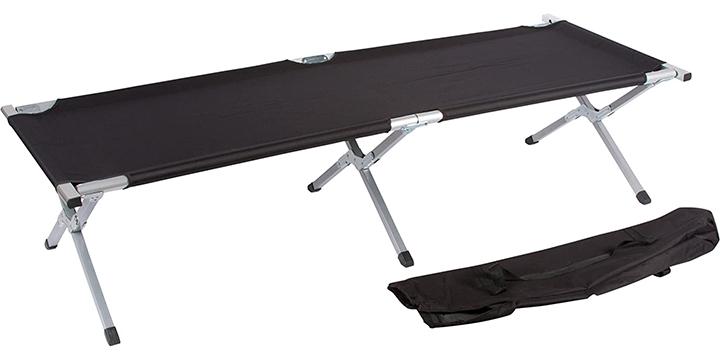 Trademark innovation is known for their ultra-sturdy and durable camping equipment. Whether you are sleeping on a beach or high up in the mountains, you need the best backpacking cot to rest your body on. Most people struggle to sleep on the harsh surface area, and with the help of this lightweight and portable camping cot, you are sure to sleep through the night like a baby.
 Specifications
Dimensions: 75 x 25 x 17 inches
Weight Capacity: 260 pounds (117 kg)
Cot Weight: 12.2 Pounds (5.5 kg)
Pros
It comes pre-assembled out of the box.
You can fold the bed into half the size when not in use.
It includes a carrying case.
Cons
The extruding side bard design might poke while moving around.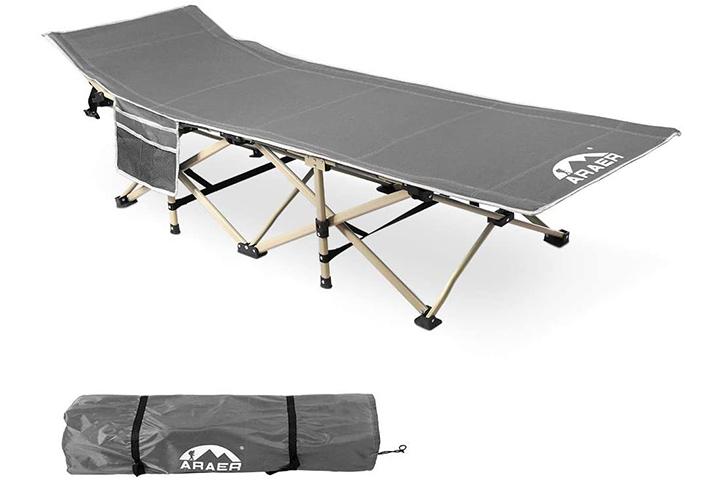 It is a bummer when you have the perfect camping spot but not the perfect cot to lay down. You can totally avoid that situation by carrying ARAER Camping Cot with you. Whether you are at the beach or lakeside, you can sleep with the same comfort as you do at home. It adopts a concave-convex symmetry design with a rugged steel frame for support. It uses a breathable 600D double-layer oxford fabric that lets you sleep without a pillow. 
Specifications
Dimensions: 74.8 x 26.4 x 13.8 inches
Weight Capacity: 450 pounds (204 kg)
Cot Weight: 15.8 Pounds (7.2 kg)
Pros
It is extremely easy to set it up.
It includes a travel bag and fits easily in your car trunk.
Not only for camping, but it can be used in salons as well.
It has a large storage bag that can hold items such as mobile phones, laptops, headphones, and more.
Cons
The cot might not be sturdy enough for long term use.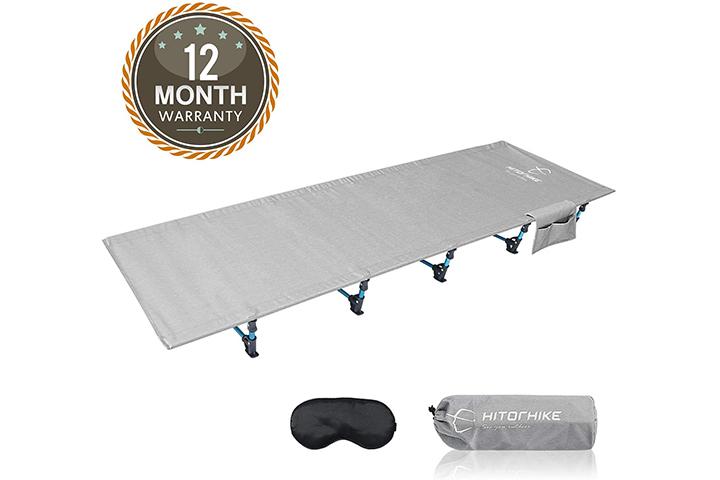 Just because you are out hiking on a mountain does not mean that you should sleep uncomfortably. With HITORHIKE Camping Cot you can have a pleasant sleep anywhere and anytime. It might be small when packed but it spreads out large enough and provides some extra space. It is compact and lightweight which makes it ideal for campers, hikers, and backpackers. It has foldable leg pieces that are very easy to assemble and hardly takes much time. 
Specifications
Dimensions: 74.8 x 27.6 x 6.7 inches
Weight Capacity: 280 pounds (127 kg)
Cot Weight: 4.8 Pounds (2.1 kg)
Pros
It fits easily in your backpack.
It is ideal for 1 and 2-person tents.
It has a side pocket and an additional storage bag to tuck away your items.
Cons
The legs might not be stable enough to hold heavyweights.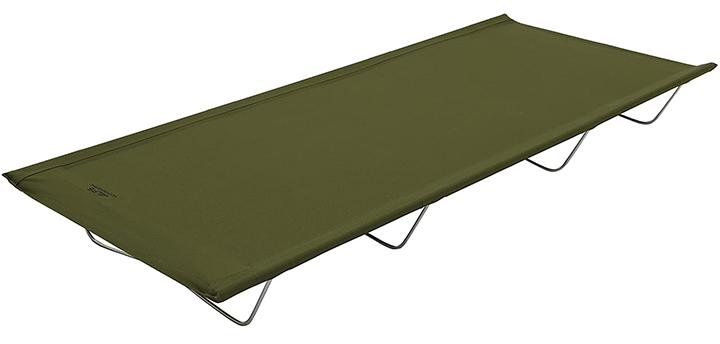 One of the most common things that adventurers have the least prioritized is a cot for camping. Considering how much your body takes, that should not be the case. ALPS Mountaineering Lightweight Cot is the perfect cot for your on-the-go sleeping needs and especially when space is a concern. It spreads wide and big enough to let you sleep with your body stretched out. No matter where you use it, you are sure to wake up relaxed and pain-free. 
Specifications
Dimensions: 74 x 30 x 7. 5 inches
Weight Capacity: 250 pounds (113 kg)
Cot Weight: 9.5 Pounds (4.3 kg)
Pros
It comes with a travel bag for easy storage and portability.
The steel frame offers extended durability.
It uses 600D polyester fabric for ultimate comfort and stability.
Cons
The assembly might be a hassle to get through.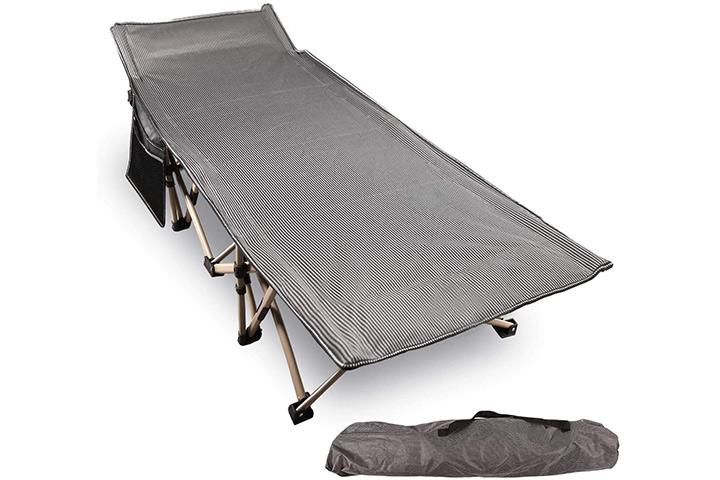 REDCAMP is a professional outdoor equipment brand that designs and develops premium-quality outdoor gears for the best experience. This Folding Camping Cot is also a result of their expertise. It features a two-layer fabric, strengthened 1680D oxford on top and 600D at the bottom for that extra durability. The canvas easily accommodates a 6-feet person. It can be used for sitting, reclining, and sleeping. 
Specifications
Dimensions: 75 x 28 x 15 inches
Weight Capacity: 500 pounds (226 kg)
Cot Weight: 18 Pounds (8.16 kg)
Pros
Thanks to its foldable design, you can install or fold it in less than 10 seconds.
It comes pre-assembled out of the box.
It includes a travel bag along with it.
It uses an 18 reinforced bracket design for assured support.
Cons
The canvas might be too stiff.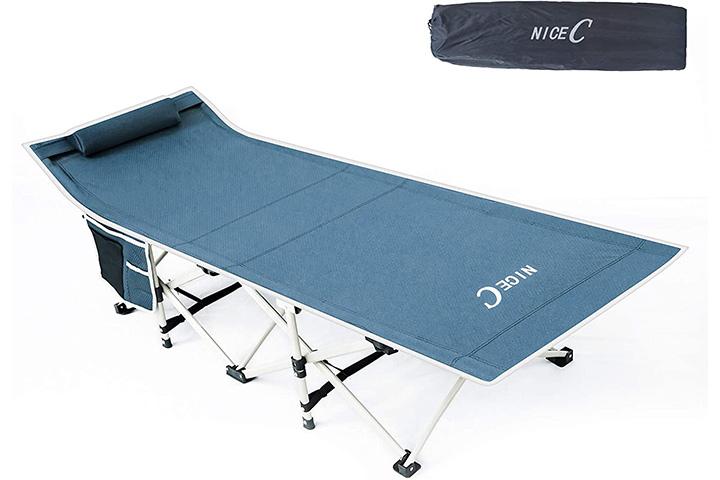 This foldable camping cot from Nice C is perfect for all your outdoor adventures. This is considered as one the most comfortable camping cot by its users. It uses a foldable, iron shock-cord pole structure that makes it easy to set up or fold. The ergonomic design offers great comfort while the angled headrest eliminates the need for a pillow. The frame and legs are made from high-strength steel tubes and brackets for stability. 
Specifications
Dimensions: 74 × 25 × 15 inches
Weight Capacity: 500 pounds (226 kg)
Cot Weight: 13 Pounds (5.4 kg)
Pros
One-step setup, you just need to pull the frame to unfold the cot.
The sides are installed with a pocket for storage.
The legs use a triangular support structure that can endure more weight.
It uses a 900D Oxford sleep mat that is soft and durable.
Cons
The sewing of the fabric on the side might loosen up after a certain period.


Are you a wanderer who just cannot stop traveling? Well, DESERT WALKER understands your obsession with traveling and that is why they present explorers with this super comfy camping cot that you can take anywhere. Be it camping, fishing, or hiking, carry it with you. You can adjust the legs between a high or short mode that fits your comfort. It features a heavy-duty, stable-7075 aviation aluminum rod material steel tube for an unmatched support structure.
Specifications
Dimensions: 75 × 26 × 6 inches
Weight Capacity: 440 pounds (200 kg)
Cot Weight: 5.6 Pounds (2.56 kg)
Pros
Easy-to-clean and waterproof
It is easy to set up and disassemble.
It has non-slip feet for stability.
It can also be used without the frame.
The legs have a slider that makes installation a breeze.
It has a double-sided oxford, waterproof, and breathable canvas.
Cons
The extended legs are sold separately.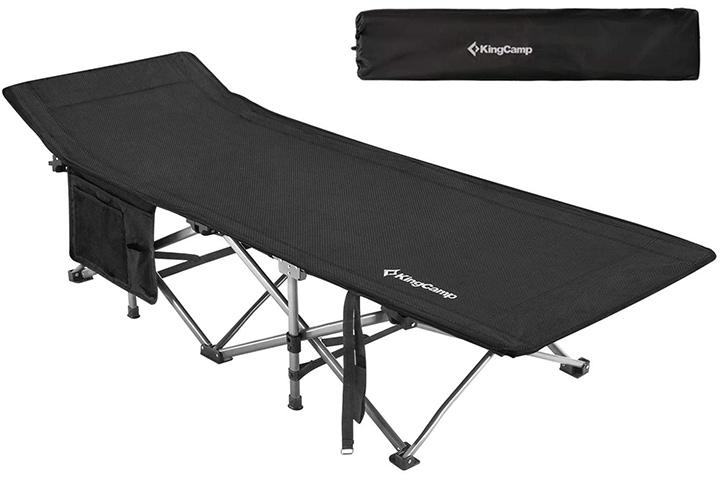 How long are you going to spend the night in that rugged sleeping bag of yours? After a day-long hike, your body needs proper support while sleeping. King Camp Camping Cot caters to all your camping cot needs. You can spread out like a king on this extra-large size cot. It uses an extra-thick 1200D Jacquard Oxford fabric that can bear some serious weight. And, it is backed by an aluminum frame and triangle structure designed for stability. 
Specifications
Dimensions: 82 x 30 x 15 inches
Weight Capacity: 440 pounds (200 kg)
Cot Weight: 15 Pounds (6.8 kg)
Pros
Foldable design for easy storage and transportation.
It has an elevated headrest so that you don't have to carry a pillow.
Flat plastic feet prevent the cot from sinking into the soil.
It has a 3-in-1 pocket on the side for all your personal items.
Cons
It might not be ideal for long-term use.
That was our list of the best 11 camping cots that you need to consider buying for your next outing. Even with this list, we are pretty sure that you want to know more about how to choose the right one. So, here are a few pointers that you need to keep in mind while buying a camping cot.
How To Choose The Best Camping Cot – Buying Guide
Size: If you are someone who cannot sleep in compact sleeping bags or on tiny cot surfaces, then you need to choose a cot that accommodates your whole body with some extra space still left. Having that extra space will help in relaxing your body so that you can wake up fresh for a new day on your trip. Most extra-large cots can fit one adult or two children.
Weight: There are two things you need to consider when it comes to weight— the weight of the cot and the amount of weight the cot can endure. Firstly, the cot itself needs to be light enough so that you can carry it with you. Even though you might carry it in your car, you still need to transport it from the car to the camping spot, which in most cases is not near the parking area. Secondly, you should also check the amount of weight it can endure. If you are an adult who weighs a lot, then a mat with heavy-weight endurance is the one to go with.
Fabric: Comfort is one the reason you take a cot with you and the fabric plays an important role. Ideally, the cot should use a canvas that is made from oxford fabric. They are known to be one of the most comfortable and durable materials. Most brands on this list use oxford material, so it should be easy to choose from.
Frame: The quality of the frame displays how sturdy the cot is. Since most of the weight is held by the frame and legs, it is important that they are made from strong and durable materials.
Set Up: After a long day's hike, you obviously don't want to spend more time assembling the cot. You would want something that is convenient to set up. Most of the products on this list are easy to set up and hardly take much time. A foldable cot is the best one to choose.
Additional Features: Although these are not necessary, it is always great to have features that make things easy for us. Most cots on our list have storage pouches on the side. These pouches can be used to store your magazine, phones, and keys. Some even offer side tables where you can keep your water bottles.
Types Of Camping Cots
When buying a cot, it is beneficial to understand the types of cots as well. There are quite a few that you can choose from. Let's take a look at the most common types of camping cots:
King-Size: King-size camping cots are extra-large and have enough space to accommodate two people. These types are best for couples who like to share a cot together. So, whenever you need a camping cot for two, this is the one to choose.
Queen-Size: Queen size camping cots are pretty much like king-size beds but for one person. They are large cots with loads of space to roll around.
Heavy-duty: These types of cots are usually made with heavy-duty materials that can withstand heavy weights and are durable. But the downside is that these might be heavy to carry as opposed to other types.
Kids Camping Cot: Taking kids on camping can be stressful enough already, you should not have to lose your sleep because they are not comfortable with sleeping on the ground. Using a kids' cot is the best way for them to stay above the ground and have a sound sleep.
Frequently questioned answers
1. Can camping cot damage the tent floor?
Due to their metal legs, they can sometimes damage the tent floor. To avoid such incidents, you can place a carpet under the cot which protects the floor from any damage.
2. Do I need a camping cot?
Yes, it is highly recommended to use a camping cot since the rocky surface can cause stress on your body if you are not used to it.
3. What are cots made of and which is best for me?
Cots are basically made of two things— canvas, that are made from high-quality fabric for you to sleep on and metal frames that hold up the whole cot. You can pick a cot from the above-mentioned types, according to your needs.
4. Are camping cots hard to assemble?
It depends on the brand that you chose. Most brands offer foldable cots that are extremely easy to set up. They can be set up and folded in just a few minutes.
5. Will I have room for a cot in my tent?
It depends on both the cot and the tent. Most cots do fit into tents that are large enough to do so.
6. Are camping cots heavy?
The weight depends on the type of cot you choose. There are lightweight camping cots and some heavy-duty ones too based on their build material and quality. The average weight of a standard cot is around 10 pounds.
7. Can I use the cot in my house?
Absolutely! They can also be used as spare beds for your guests or for your kids.
8. Are camping cots portable?
Yes, they are. They can be lightweight and foldable to allow easy transportation.
You don't necessarily need to spend a lot of money to buy durable cots. You just need something that has the basic features that meet your needs. The brands on our list offer high-quality products that are quite affordable. Whether you want to take them with you on a camping trip or use them as spare beds, they are sure to stand the test of time.