Camping is a great way to detoxify one's soul and mind. And you can make it a lot more enjoyable by using the best camping dinnerware for meals. Camping dinnerware helps you prevent a mess while eating and is specially designed for the outdoors. We've listed down some of the best options here so that you can make an informed choice.
11 Best Camping Dinnerware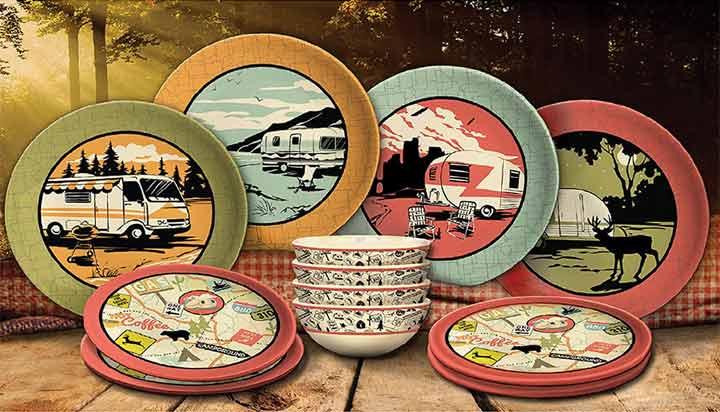 The Camp Causal Dish Set could be the best option for small groups. It is a 12-piece dish set including four each of dinner plates, salad plates, and bowls. They have unique, vintage-inspired designs and come shipped in a heavy-duty reusable box for hassle-free transportation.
Pros
Durable dish set
Lightweight and easy to carry
BPA-free
Attractive retro design
High-quality melamine
Cons
Not suitable for microwave use
Yinshine dishware has a rustic touch to it, making it a great addition to your outdoor camping. You can choose from two color options of blue and green. The set includes four seven-inch bowls, eight-inch salad plates, and ten-inch dinner plates each.
Pros
Unbreakable and lightweight
Easy to clean
BPA-free
Compact and easy to store
Cons
Not suitable for microwave use
May form scratches
Suitable for indoor use and outdoor camping, this 12-piece dish set offers versatility. It includes four assorted vibrant colorsthat enlighten your mood and brings a fun vibe to dining on your camping trip.
Pros
Break-, chip-and scratch-resistant melamine material
Dishwasher-safe
Ideal for everyday use
Lightweight and easy to carry
Cons
Not suitable for microwave use
Appropriate for two people, this Coleman Dinnerware is safe and easy to use. The dish set includes two dinner plates, coffee mugs, bowls, and three-piece cutlery sets. It is shipped in a nylon handy mesh bag, making it easier to carry the dinner set wherever you go. This video offers a more detailed explanation of the product.
Pros
Dishwasher-safe
Scratch-resistant
Lightweight and compact
Easy to use
Comes in two colors
Comes with coffee mugs
Cons
The Barbeqa Dinnerware Set is a complete camping kit, including four sets of plates, cups, bowls, and sporks. They come with a handy mesh bag to carry even the wet dinnerware without any hassle. The set is dishwasher-friendly and safe to use.
Pros
Stain- and odor-resistant
Easy to clean
Four different attractive colors
Heat-resistant dinnerware
Made of BPA-free polypropylene material
Cons
Mugs do not nest and are difficult to carry
Mixed reviews on durability
The Webbylee Melamine Dinnerware Set looks polished and sophisticated and is suitable for outdoor and indoor use. It comprises of dinner plates, salad plates, and soup bowls. They are easy to wash by hand or in a dishwasher.
Pros
BPA-free
Sturdy and lightweight
Easy to clean
Suitable for everyday use
Cons
Not suitable for microwave
The multipurpose cutlery organizer holds all your utensils in one placeso that they are not misplaced. They are easy to maintain and clean with a damp cotton cloth. This 24-piece utensil set is suitable for a group of four. It includes PS plates, spoons, knives, forks, a cheese knife, wine opener, fork, cotton napkin, and chopping board.
Pros
Eco-friendly PS dinner plates
Sturdy and durable
Easy to carry with its built-in handle
Easy to clean
Designed for use in all weather conditions
Cons
Plates small for adult use
Napkins may not be durable
The manufacturer offers a 90-day warranty to cover any defects with this dinner set. They are made of stainless steel material and is safe for adults and kids. The plates and bowls are convenient to stack and save space.
Pros
Food-grade safe material
Rust- and scratch-resistant
Dishwasher-safe
High-quality storage bag
Cons
Might be heavy to carry
May rustif not dried after washing
Sharp edges, and requires careful handling
The Stansport 24-piece enamel dinnerware consists of four sets of steel spoons, knives, forks,plates, bowls, and mugs. This exclusive set is suitable for every occasion, including a camping trip, a casual picnic, or an outdoor patio meet.
Pros
Made of high-quality, durable steel
Double-coated glazed enamel gives an elegant look
Brilliant stainless steel edges
Lightweight and compact
Cons
May not be dishwasher-safe
May rust if not cared for properly
The Zak Designs Dinnerware will give your dining table a fancy new look. Embossed with intricate designs, it could be a great gift option.It is suitable for outdoor camping and indoor dinners.
Pros
Dishwasher-safe
Easy to clean
BPA-free
Lightweight and durable
Cons
Not suitable for microwave use
The camping dinnerware comprises ten plates, eight bowls, four cups, two sauce plates, and one collapsible water bucket. One of the best partsis its multi-functional folding bucket, which conveniently stores tableware and saves camp space.
Pros
High-quality stainless steel
Easy to clean
Easy to stack in the bucket
Stain- and rust-resistant
Cons
May give a peculiar metallic odor
Tips For Maintaining Camping Dishes
Check the product description and read all the directions carefully. If a product isn't dishwasher-friendly, ensure that it is hand-washed only.
To clean the melamine dinner set, use a damp cloth and wipe the utensils.
To clean stainless steel dinnerware, use a dishwashing liquid and leave them for drying to prevent rust.
Prefer sets that come with a mesh bag or a portable utensil holder. It not only makes it easier for you to carry but also saves a lot of space. If your dish set does not come with a bag, wrap them in a cloth and then keep in a small cloth bag.
How To Choose The Best Camping Dinnerware?
Here are a few things to check before purchasing camping dinnerware.
Durability: The most common materials used are melamine and stainless steel. They are durable and also do not rust or break. Look for cookware that is made from BPA- and toxin-free materials.
Weight: When you are going outdoors, you want to keep the weight to the minimum. Go for dinnerware that is lightweight and easy to carry.
Quantity: The quantity of your dinnerware depends on your group's size and the space of your backpack.
Even the most impromptu camping trips are incomplete without the right dinnerware to make mealtime more convenient. It allows you to have a mess-free dining experience in the great outdoors. When buying dinnerware, look for one that is durable, BPA-free, easy to clean, and intended for camping. Also, ensure you consider the number of pieces and the space of your backpack when choosing one. The options listed here are lightweight, super-portable, and break-, chip-, and scratch-resistant, ensuring you have a trip with no leaks or hassles.
Why Trust MomJunction?
The author of this article, Sakshi John, believes in delivering concise yet informative content. She is an expert in reviewing home and kitchenware products. After delving deep into several websites and reviews, she has listed some of the high-quality and durable camping dinnerware sets ideal for outdoor and camping activities. Sakshi also shares some useful tips to maintain and choose the best dinnerware set for you to enjoy a great camping experience.
Recommended Articles:
The following two tabs change content below.

Sakshi did her graduation in Journalism from the Madras Christian College, Chennai, before starting her career as a freelance writer. She is into blog writing and for MomJunction, she covers various topics, including products to buy for your kitchen, furniture, and other home requirements. Previously, she interned as a content writer in a cyber security firm. As a content writer, Sakshi...
more