The power of a strong, sharp knife cannot be underestimated, especially if you are a camping aficionado. The best camping knives are specially designed for multiple purposes, from sharpening sticks and cutting ropes to chopping vegetables and fruits and clearing up space for your campsite.
As these knives are extremely useful, you would want to make sure you pick one that's reliable and easy to carry around. Here's a list of the top camping knives, along with a buying guide, to help you select the right one.
13 Best Camping Knives
If you love outdoor adventures and often camp, the Morakniv Companion Outdoor Knife is worth buying. The stainless steel blade edge remains sharp longer than carbon steel. It is also less prone to rusting, making it suitable for marine applications as well. It has a comfortable hold and could be a great pick if you are looking for the best knife for camping and hiking. It comes with a matching plastic sheath and a belt clip in nine different colors.
Features 
Fixed stainless steel blade
Made of razor-sharp, high-quality Swedish steel
High-friction patterned grip handle
1-inch long and 0.1-inch thick blade
Overall length of 8.6in
Belt clip for convenient holding
Limited lifetime warranty from the manufacturer
The Mossy Oak Survival Knife is a multipurpose hunting knife built for control and precision. It can be used for various hunting, military, industrial, tactical, and outdoor activities. The excellent construction gives it strength, stability, and durability. The razor-sharp clip point blade is hard and rust-resistant with improved edge retention. It is ideal for camping and survival training.
Features 
10in long and 5/32in thick blade
Overall length of 15in
4400C stainless steel razor-sharp fixed-blade
Non-slip soft rubber handle offers high-friction
Heavy-duty nylon sheath for secure and safe handling
Includes a fire starter and sharpener
Schrade is known for creating camping knives of quality and strength. This knife comes with a curved handle of thermoplastic coating and ringed texture. It offers extra grip even in wet conditions, and the ridged structures improve hand traction. This can be an ideal companion during camping, hiking, executing bushcraft, or other outdoor survival activities.
Features 
5-inch long fixed-blade
Overall length of 10.4in and weighs 12.3oz
1095 powder-coated high carbon steel blade
Black ring textured thermoplastic elastomer handle
Finger choil and jimping security
Lanyard hole to carry it safely
Polyester belt sheath for easy carrying
The Ontario Camping Knife is a high-quality product made of premium materials. Its durable construction makes it possible to last long for years to come. This knife offers superior performance in your cutting and slicing needs while camping or hunting. The sophisticated embossing adds charm to the knife.
Features 
1095 high-carbon steel blade
Overall length of 11-75in
7-inch long blade
Durable hardwood handle
Weighs 3.5oz
Made in the US with an Old Hickory embossing
The SOG Camping Knife is a sturdy and durable full tang knife made with high precision and detail. It is highly resistant to corrosion, with a blade that has excellent edge retention. The ergonomic handle provides a good grip and will not slip when hunting, camping, or fishing. It has a notched sheath that makes the knife even more useful to cut cords, wires, and fishing lines without removing the blade.
Features 
Premium quality steel construction with a stonewash finish
Knife measures 8.75in long
8-inch long blade
High-quality sheath crafted from hard-molded nylon
Solid grip thermoplastic rubber (TPR) handle provides high traction
Clip point tip and thick blade jimping offers maximum control
Built-in cord-cutting groove
Workpro offers a handy set of cutting tools that is a worthwhile addition to any camping or hunting kit. This combo of an axe and a fixed-blade knife can be used at home and outdoors. The tools have humanized designs and fully polished finishes. They come with hook-and-loop fasteners, protective Nylon sheath, and snap-button closure to keep the blades safe. You can use them for fixing the garden, hiking, camping, and DIY home projects.
Features 
10-inch long axe and 13-inch long knife
Textured wooden handle offers a comfortable grip
Anti-skid groove prevents slipping
Corrosion-resistant full tang sharp blades
Belt loop for portability and ease of access
High-quality protective sheaths for both the axe and the knife
You will appreciate this fixed blade knife for its razor-sharp cutting power, agility, and comfort. With its precise cryogenic tempered steel blade, it gives you the edge you need for most tasks. The Kydex material sheath, with its universal clip, can be adjusted for carrying the knife easily. It can be a part of your survival gear, car emergency kit, or fishing, hunting, hiking, gardening, camping, or sailing tool kit.
Features 
420 high-carbon steel blade
9-inch long and 0.19-inch thick fixed-blade
Overall knife length of 9.4in
Black G10 handle provides a secure grip
Lightweight EDC Kydex sheath for portability
Weighs 9.5oz
Removable and adjustable spacers on the clip can be used on any size belt
If you are looking for a basic camping knife, consider buying this one by Condor Tool & Knife Store. It is built from durable carbon steel and has a hardwood handle that gives it a classy appearance. The thicker blade works well for heavy-duty tasks, and its leather sheath makes it safe and comfortable to carry.
Features 
1075 high-carbon steel fixed-blade
Epoxy black powder-coated blade is resistant to rust
5-inch long and 0.125-inch thick blade
Overall length of the blade is 9.625in
High-quality leather sheath
The Canku C1691 Knife could be the best fixed-blade camping knife due to its versatility. You can use this tactical knife for camping, hiking, fishing, hunting, self-defense, and survival. It is easily portable as it has multiple carrying methods, including a lightweight sheath and lanyard hole. Children below 13 years of age should not use or play with it.
Features 
7-inch long blade and 7.6-inch overall knife length
4-inch long handle
25mm wide and 4.5mm thick blade
D2 steel blade, and G10 handle
Safe and convenient Kydex sheath belt
Two-year warranty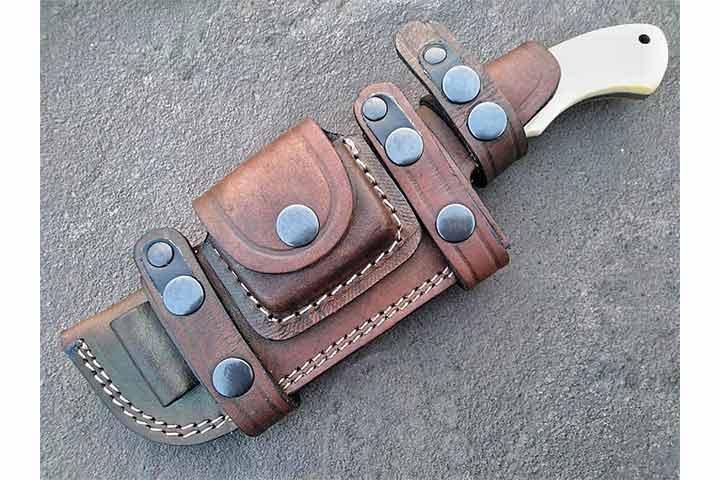 The Ottoza Tracker Knife is a high-quality handmade knife with a sharp and durable blade. It is crafted with utmost attention to detail and quality. You can use it for hunting, camping, fighting, bushcraft, and survival activities. It is rugged and could be a perfect addition to an outdoor cervical kit, whether for hunting or opening an aluminum can. The beautifully handcrafted piece can also be used as a display piece in your home.
Features 
5-inch long blade, and 10-inch long knife
5-inch handle
Blade is made of 1095 and 15n20 steel
Handle is made of natural bone
Premium cow-hide leather knife sheath
Equipped with a beautiful PU leather case, this could be one of the best camping folding knives from NedFoss. The sharp tanto blade offers quick and easy cutting while on an adventure, in an emergency, or at home. It comes with a slingshot attachment that is suitable for outdoor camping and hunting.
It also has a thumb stud that allows you to apply manual pressure for a light push or pull back. Therefore, it will overcome the resistance of the torsion bar, and the blade will open smoothly and lock in place. The compact shape makes it convenient to carry and useful for hiking, fishing, hunting, and camping.
Features 
Stainless steel tanto blade
Built-in liner locking system
6-inch long blade, and 8-inch overall knife length
Thumb stud to pull and push the blade smoothly
Rubber bands for a slingshot
The Jeo-Tec N°55 Camping Knife is specially crafted to be used in rough outdoor conditions. It is sure to help explorers, fishermen, hunters, and military personal in their adventures. The tough knife is handcrafted in Spain and comes with a 100% money-back guarantee.
Features 
7-inch long and 0.2-inch thick blade
Overall knife length is 12.40in
Stainless steel Molybdenum-Vanadium – 58 (MOVA-58)/HRC 56-59 blade
High-resistant Micarta or Cocobolo exotic wood handle
Multi-positional genuine leather sheath
Includes sharpener stone, firesteel, and strap
The Sheffield 12143 Series Drop Point Machete is a great survival multi-tool for scraping, piercing, can opening, and activities that need precision cutting. The top of the blade edge is designed to head fish, slice or dice meat, and chop limbs. This camping knife is also ultra-sharp and is a part of machete tactical swords.
Features 
9-inch 420 stainless steel drop point blade
Black oxide finishing gives maximum durability
5-inch aggressively-scalloped ABS handle
Military-grade 1680D ballistic nylon sheath
Overall length of 14in
Weighs 15.24oz
How To Choose The Right Camping Knife? 
Here are a few features to consider when you are purchasing a camping knife.
Length: The ideal blade length should be around four inches and under five inches. These knives will mostly be used for precision work and must be easy to move and work.
Weight: A good weight adds more stability. Choose a knife of about four ounces without including the handle weight.
Material: Consider a knife made of either stainless steel or high-carbon steel. They are highly durable and resistant to rust and corrosion.
Full tang: Blades that run from the tip to the bottom of the knife's handles are full tang, and they give strength and stability to the knife.
A good camping knife has a quality blade that resists corrosion, sharpens easily, and retains a sharp edge. It should either have stainless steel or high-carbon steel blade. Stainless steel is resistant to rust and corrosion, but high-carbon steel is susceptible to corrosion and rust faster. Although it needs more maintenance, high-carbon steel is preferred for its edge retention and hardness.
We hope the list and the buying guide help you in choosing the best camping knife. Consider how you will use a camping knife, go through the reviews, and make the right decision.
Why Trust MomJunction?
Sakshi John is an experienced writer and reviewer of furniture and kitchen appliances. She has rounded up the best camping knives for adventurers after considering all the crucial factors. The knives listed here are sharp, rust-resistant, and durable and can be your suitable companion on camping trips. Moreover, Sakshi has also included a buying guide to help you pick the right knife.
The following two tabs change content below.

Sakshi John
Sakshi did her graduation in Journalism from the Madras Christian College, Chennai, before starting her career as a freelance writer. She is into blog writing and for MomJunction, she covers various topics, including products to buy for your kitchen, furniture, and other home requirements. Previously, she interned as a content writer in a cyber security firm. As a content writer, Sakshi...
more