A camping mat is a sleeping pad used by backpackers, hikers, and campers. It is often used with a sleeping bag to provide thermal insulation and padding for comfortable sleep. For those who don't want to compromise on their sleep, a camping mat provides great support and plush cushioning that somewhat replicates the comfortable bed at home.
Shared in this post is the list of the best camping mats ranging from foam mattresses to self-inflating mats that make a worthy addition to your camping kit. Check out these inflatable and closed-cell foam mats to find the best camping mat to sleep like a baby.
13 Best Camping Mats
Designed to promote comfortable sleep anywhere, this ultralight backpacking sleeping pad is sturdy and durable and curated using camping grade ripstop nylon fabric. It makes a large and dependable companion, even in the most severe conditions.
Specifications:
Type: Manual inflation
Thickness: 2.2in
Dimensions: 75X25in
Weight: 14oz
Pros:
Comes with a lifetime replacement option
Tear-resistant
Waterproof
Packs down to the size of a bottle
Made of flexible and noise-free material
Requires 10-15 breaths to inflate
Cons:
May have a poor valve design
May not be a comfy choice for heavier people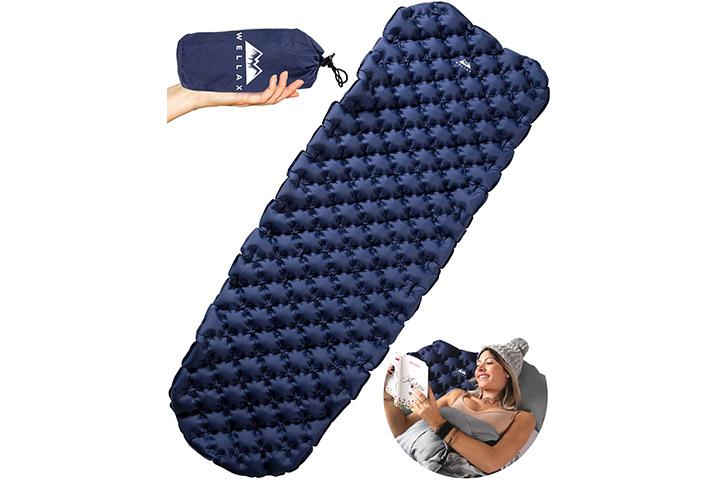 With this camping mattress, you can rest as you would in your bed. Its posh design with thermal resistance can help you sleep warm in cold weather conditions. Made with 200 ripstop nylon with TPU layer, it makes a strong and long-lasting air mattress that will not wobble even if you roll over in your sleep. And if you don't like it, it comes with a money-back guarantee.
Specifications:
Type: Manual inflation
Thickness: 2.5in
Dimensions: 78X24in
Weight: 14.5oz
Pros:
Provides a balance between low weight and durability
Waterproof and tear-resistant
Maintains warmth
Does not make squeaky noises
Works well with any type of surface
Requires 7-9 breaths to inflate
Compact and lightweight
Cons:
May not be able to hold air for long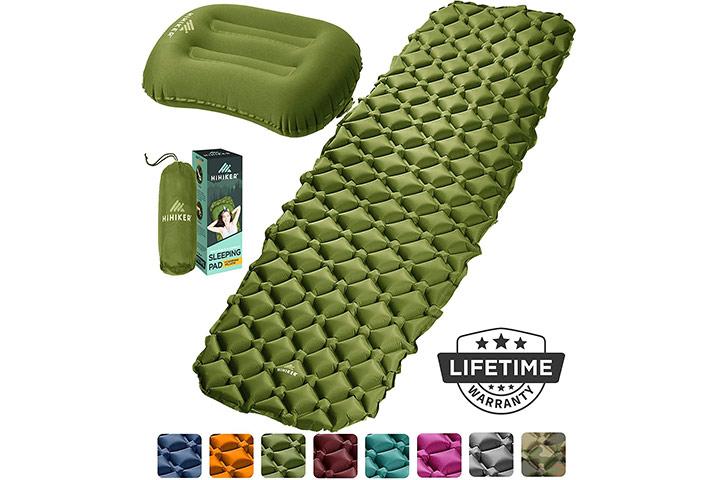 Make your camp bed super comfortable with this combination of travel pillow and camping mat. With this in your camping gear, you don't have to worry about waking up with backache or neck pain, as it protects you from cold and hard surfaces. It is designed using premium materials and comes with a lifetime warranty against defects.
Specifications:
Type: Manual inflation
Thickness: 2.2in
Dimensions: 75X23in
Weight: 14.5oz
Pros:
Compressible, ultralight construction
Pillow helps in improving posture by aligning the spine
Lightweight, compact, and portable
Washable and waterproof
Easy to inflate and deflate
Includes an inflatable pillow
Cons:
May have leakage issues
May not have proper insulation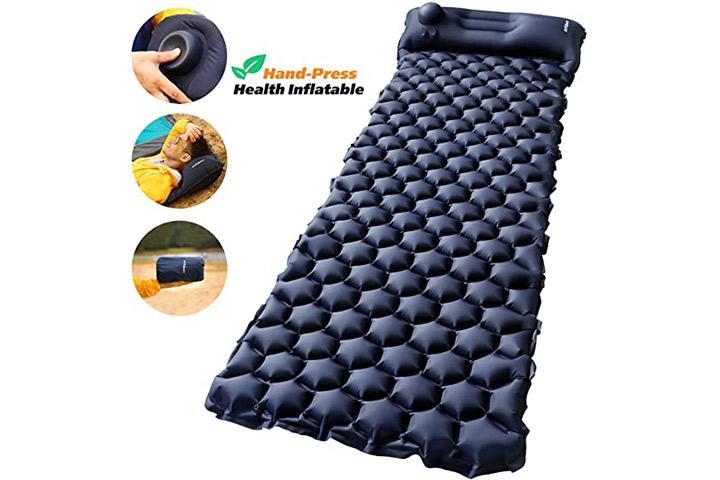 This camping mat with a pillow has a weight capacity of up to 660lb. With hexagon air cell design, it promises a comfortable sleep. It is designed to keep you warm and is made of heavy-duty nylon with a TPU layer for waterproofing. The built-in air pump makes it a convenient and lightweight sleep mat that is worth every penny spent.
Specifications:
Type: Manual Inflate
Thickness: 2.5in
Weight: 20oz
Pros:
Evenly distributes the pressure for better sleep
Attached pillow adds to the comfort
Advanced inflation technology makes it easier to inflate
Anti-skid, anti-leak, and waterproof construction
Does not make noise
Cons:
May not hold air
May not be great on rough surfaces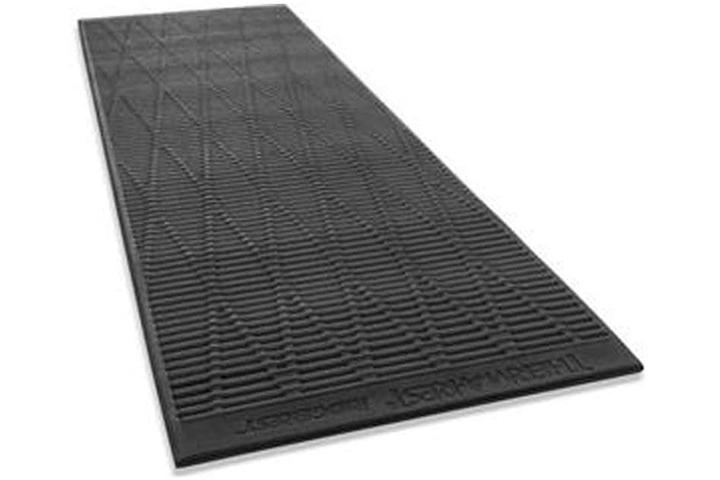 Designed for all seasons, this camping mat has a unique design comprising heat-trapping valleys and supportive peaks for a comfortable sleep. This is a classic pad that comes in three different sizes and is made of cross-linked polyethylene material that makes it durable and sturdy.
Specifications:
Type: Foam based
Dimensions: 75X25in (Large)
Weight: 19oz (Large)
Pros:
Lightweight and compact construction
Protects from rough and sharp surfaces
Foam padding design provides warmth and comfort
Can be used under different weather conditions
Cons: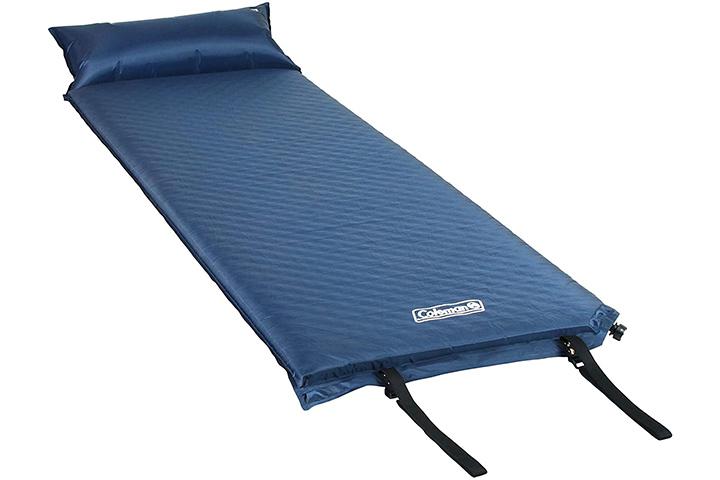 For additional cushioning and support, add this sleeping pad with a pillow to your camping tent. The free-flow valve makes it a self-inflating construction that requires no air pump. The unique tufted design adds a layer of padding between the sleeping surface and your body. It is made of a polyester shell for durability and use even on rough surfaces.
Specifications:
Type: Self-inflation
Thickness: 2.5in
Dimensions: 76X25in
Weight: 80oz
Pros:
Does not require a pump for inflating
Compression straps remove air faster for deflation
Waterproof and lightweight
Strong and sturdy construction
Attached pillow adds to the comfort
Comfortable and cozy
Cons:
Valve may not be durable
May have air leakage problems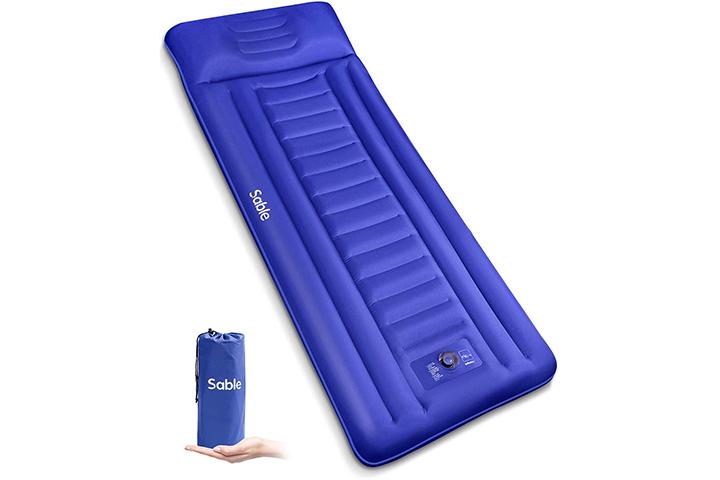 Get this super-thick camping mat that comes with a built-in pillow for extra comfort and never worry about lack of sleep on camping trips. Made of ripstop nylon fabric and TPU, it is designed to support different sleeping positions. The inbuilt pump makes it quick to inflate.
Specifications:
Type: Manual inflation
Thickness: 5.5in
Dimensions: 76.5X28.5in
Pros:
Durable and strong
Lightweight construction
Comes with a pouch to pack and carry
Offers support to the back and neck
Takes three minutes to inflate
Quick to deflate
Keeps warm in cold weather
Leakproof design
Cons:
May squeak a bit
Fabric may feel like PVC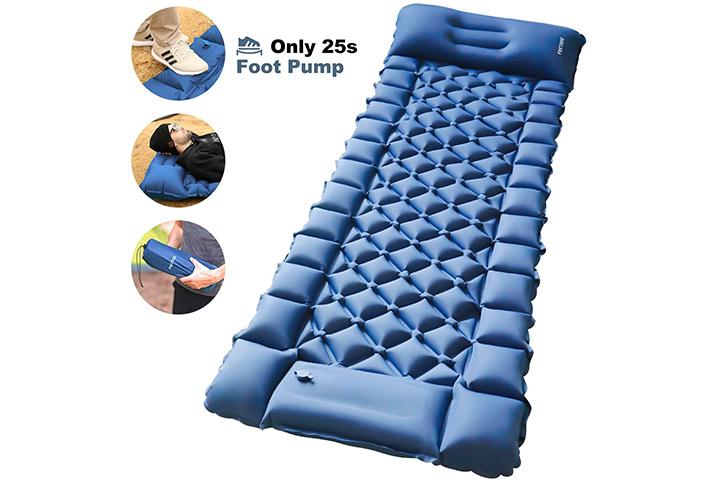 You can keep your hands free or multitask as you inflate this camping mat with your foot. The mat is made of heavy-duty 40D nylon that can take weight up to 600lb. It offers great back support on different kinds of surfaces
and is durable owing to its strong construction.
Specifications:
Type: Manual inflation
Thickness: 2.7in
Dimensions: 76.6X26.8in
Weight: 27.7oz
Pros:
Waterproof and damp-proof
Insulation ensures warmth
Quick to inflate
Puncture-proof and tear-resistant
Lightweight and portable
Cons:
May deflate during the night
May not feel comfortable on rough surfaces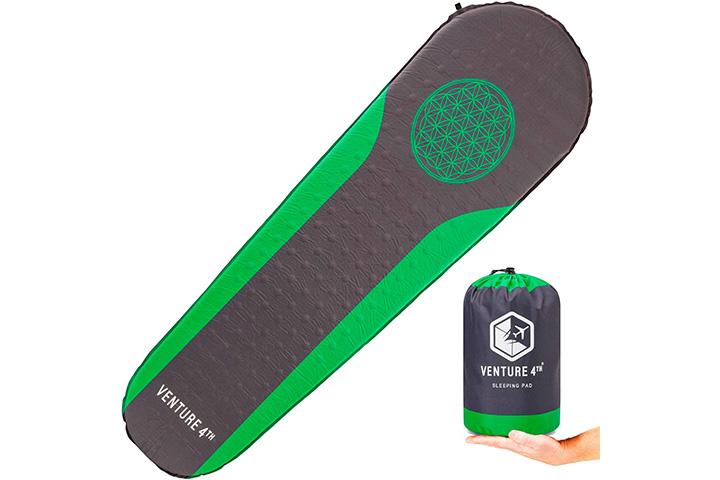 This camping air mattress has generous cushioning that makes it a good companion for practicing yoga at home. Made of 75D polyester, it also helps you sleep well while camping. Its 500 series pneumatic valve makes it quite convenient to inflate and also minimizes the chances of leakage.
Specifications:
Type: Self-inflation
Thickness: 1.5in
Dimensions: 72X22in
Pros:
Puncture- and water-resistant
Ideal for sleeping on rough surfaces
Backpack-friendly design
Provides warmth in cold temperatures
Lightweight and comfortable
Inflates quickly
Cons:
Self-inflate feature may not be as effective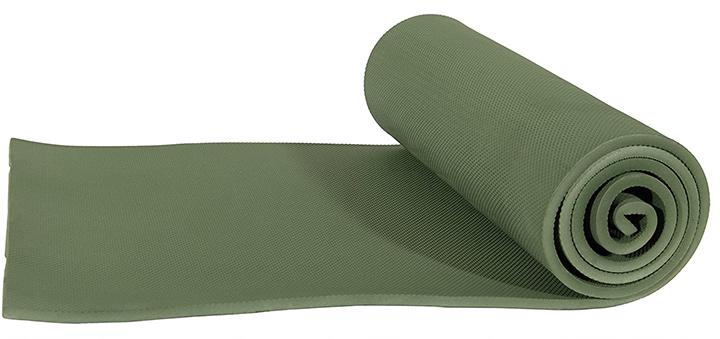 The foam camping mattress by Alps Mountaineering is designed to provide extra padding while you sleep. The unique closed-cell textured foam makes sure that the mat stays in place. It comes in four different sizes to help you find the one that fits your needs the best.
Specifications:
Type: Foam based
Thickness: 0.375in
Dimensions: 72X20in (Regular 375)
Weight: 9oz
Pros:
Extremely lightweight and compact
Protects and insulates
Easy to roll up and carry
Comes in variable sizes and thicknesses
Cons:
May not be durable
May not be a comfortable pick for rough surfaces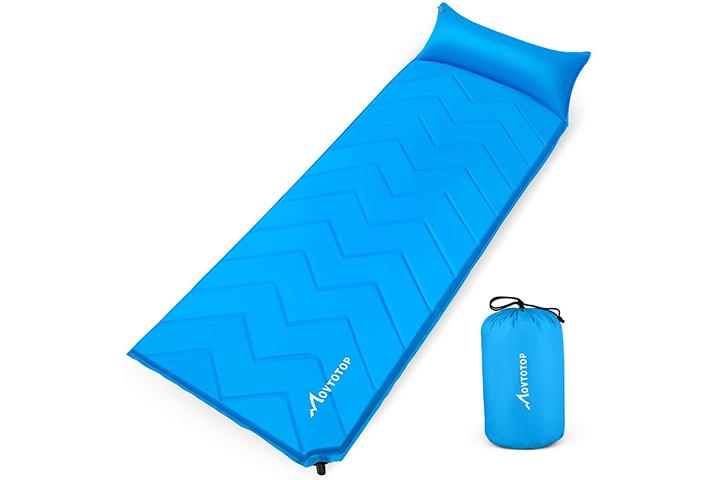 Equipped with a self-inflating valve, this is the best camping mat with memory foam that promises comfortable sleep, no matter how rough the surface is. Made of 40D nylon with TPU coating, it has a water-resistant and elastic construction. It is a versatile camping mat designed with an in-built pillow to make your nights outdoor super comfy.
Specifications:
Type: Self-inflation
Thickness: 1.2in
Dimensions: 77.2X25in
Weight: 28.48oz
Pros:
Moisture-resistant
Tear -and puncture-proof
Lightweight and portable
Durable and strong
Pillow offers support to the neck
Easy to inflate and quick to deflate
Cons:
May be difficult to wrap up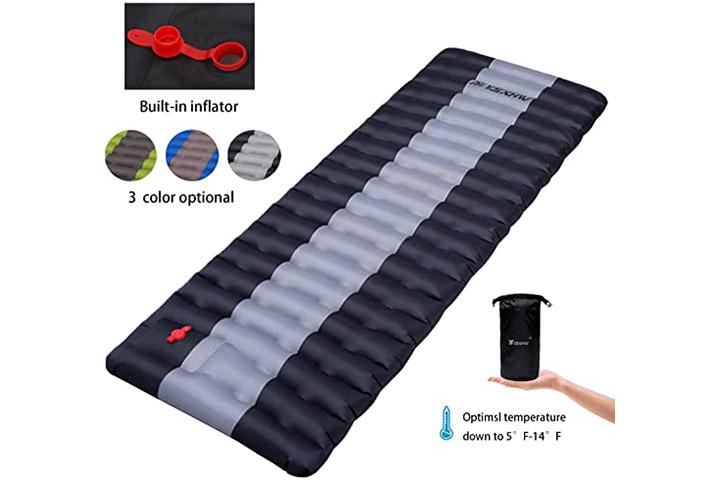 The 80D polyester outer layer with infrared reflective thermal coating makes it a strong and dependable camping pad with generous cushioning. Inflate it with ease using the foot pump and sleep comfortably even on sharp and stony surfaces. It is designed to help you sleep with better balancing and comfort while camping, hiking, and mountaineering.
Specifications:
Type: Manual inflation
Thickness: 4.8in
Dimensions: 75.8X28in
Weight: 52.8oz
Pros:
Ultralight and portable
Built-in air pump takes three minutes to inflate the mat
Quick to deflate
Moisture-proof design
Easy to use and comfortable
Cons:
May make noise while moving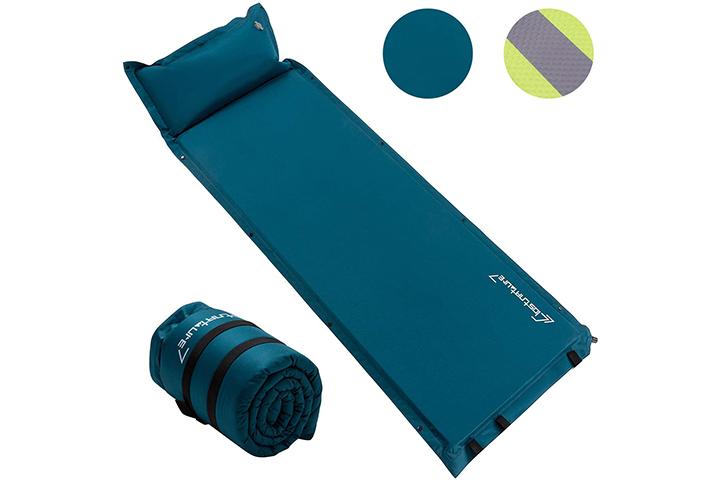 Made with 210T Polyester Taffeta fabric, this camping mat can be a good choice to carry on your overnight outdoor adventures. The memory foam pad promises cushioning and comfort even on higher altitudes. It is an environmentally friendly sleeping mat with no chemical or plastic smells. The pillow attached to the pad can also be used separately.
Specifications:
Type: Self-inflation
Thickness: 1.5in
Dimensions: 75X24in
Weight:  49.6oz
Pros:
Pressure adjustable pillow valve adds to the comfort
Waterproof construction
Durable, compact, and lightweight
Large nozzle makes it easy to inflate and deflate
Three compressed straps make it easy to pack
Cons:
Pillow may be difficult to inflate
How To Choose The Right Camping Mat?
Here are some really important features that you must look for in a good camping mat.
Type of camping mats: You can go for manually inflated, self-inflated, or foam camping mats. Manual ones need to be inflated using a pump, or by blowing air into the nozzle, self-inflated ones are designed to inflate on their own, and foam mats don't require inflating or deflating.
Dimensions: You must find out the dimensions before buying a camping mat to make sure you don't buy a smaller or bigger size.
Thickness: Make sure that it has a decent thickness so that you can have enough cushioning or padding that adds a thick layer between your body and ground.
Ease of inflating/ deflating: Always go with a mat that is easy to inflate and quick to deflate as this would save your time, effort, and energy.
Resistance: Make sure that the camping mat you are buying is resistant to moisture, puncture, tear, and water so that you can sleep comfortably.
Insulation: If you are looking for a sleeping mat that can keep you warm during cold nights, insulation is another vital feature to look for.
A night of comfortable sleep is what you desire for after a long, tiring day. Therefore, a good camping mat is extremely important to pack when heading for an outdoor adventure. With a dependable sleeping pad, you can sleep better even on surfaces that are hard, cold, and rough. From the list of different kinds of camping mats shared above, pick a good one for yourself based on the features and the reviews.
Recommended Articles: