If you sit down to make a list of the essentials that you need to carry for a seamless camping experience, you cannot omit a camping mug. A mug is much more than just a simple utensil during camping. And, when we talk about camping, the first thing that comes to our mind is coffee. A mug full of hot coffee or tea is a true representation of a lovely camping experience.
When you pack your bags for camping, do not forget to grab your favorite mug. In this post, we tell you some of the best camping mugs that can be your perfect camping partner.
13 Best Camping Mugs
Made of stainless steel, this Yeti rambler camping mug is resistant to all types of physical wear and tear. The mug also features double-walled vacuum insulation to keep your drink at the desired temperature for a long time. The exterior of the mug is sweat-proof, so you do not have to worry about your sweaty or  frost-bitten fingers. Moreover, it is dishwasher-safe and comes with a lid to prevent spillage.
If you prefer lightweight mugs for camping, this one is for you. The stylish and double-coated speckled enamel finish of the mug is quite classy and improves the durability of the mug. It is resistant to all sorts of impacts and, hence, can accompany you well throughout the camping. This lightweight mug is easy to carry and offers a good grip. The rims are rolled to facilitate easy sipping, and the mug can be washed effortlessly in a dishwasher.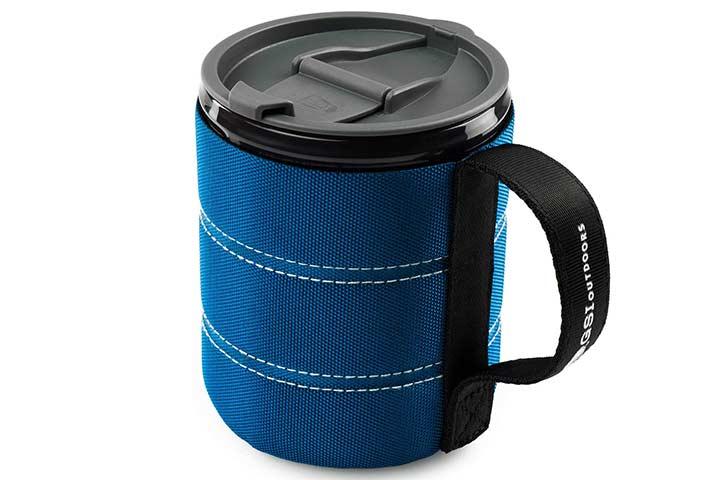 This mug by GSI Outdoors is one of the most innovative mugs that has been designed for camping. The entire cup is wrapped in insulated neoprene cloth. The drink remains in the cold or hot states in which you have packed it. The cup has a sipper lid, which is very convenient for usage during outdoor trips. The mug is extremely lightweight and features a collapsible handle; thus, taking up very little space in your backpack.
These unbreakable stainless-steel camping mugs have been ergonomically designed to suit the needs of a camper. The wide handles of these mugs make drinking a lovely experience. The finish is noteworthy with a high-grade luster and resistance. The classy embossed words on the mugs make distinguishing your mug easy. Even though these mugs have no lids, they have double-layered insulation to keep your drink at a set temperature for a long duration.
Aesthetically designed and embossed with a motivational quote, this sportsmans camping mug by Gentlemen's Hardware will surely charge you up during your camping trip. The mug is made of stainless steel and has a lustrous external enamel coating. The rolled rims make sipping easy, and the wide handle offers a good grip. The cup has been designed, keeping in mind the ruggedness of camping. It is easily portable, and the steel used is lightweight and won't add weight to your bag. Besides, you can choose from different colors and designs.
FinessCity camping mug is a lightweight and durable camping mug crafted out of food-grade titanium. The material of the cup and the presence of a lid allow you to boil water or warm your soup, a rare addition in any camping mug. The mug is completely resistant to corrosion. The handles of the cup are foldable, and the mug also has measurement markings on it.
A hot cup of coffee or a cold mug of beer is what it takes to enhance your camping experience, and that is what this Snow Peak seppou double-walled titanium camping mug does. It comes with a dedicated storage pouch, which makes it quite portable. The material of the mug is corrosion-resistant titanium, which has a pretty high shelf life. The finish is eye-catching, and the mug features a double-walled insulated exterior.
Knights of Armur offers this versatile set of six mugs, which can be directly placed over a flame to warm your drinks or prepare soups. These mugs can be used as camping coffee mugs or soup mugs. The durable camping mugs are made of rust-resistant stainless steel and are extremely lightweight. The side handles and rolled rims are among the noteworthy features of the set. Although the mugs may not meet your expectations when it comes to their aesthetic finish, they are worth every penny in terms of utility.
Be it for taking your first sip of coffee early in the morning or chilled juice on a scorching afternoon, use this elegant and double-walled titanium camping mug. The double walls provide the required insulation to keep the drink within your desired temperature. The mug is made of titanium and is hypoallergenic, lightweight, and corrosion-resistant. It also comes with a mesh storage bag. The handles are removable and foldable.
United By Blue camping mug is a durable steel mug with a classy enamel finish. This handmade mug is a must pick for camping lovers. The mug looks heavy but is quite lightweight. This mug can be placed over a flame to warm your drink. The rim and handle have been double dipped to withstand extra wear. The mug is available in various unique designs.
The D-ring Carabiner Hook handle makes this mug unique. The entire body of the mug is made of durable stainless steel. The mug has no designs or embellishments and looks simple but elegant. The double walls provide good insulation, locking the temperature of the drink within. The mug's portability, capacity, and size are pretty decent. And yes, it is dishwasher-safe.
If you want to be filled with happy camping vibes, then this mug by Journo is a good choice. The lightweight and durable camping mug is customized for easy portability. The black enamel finish and the words and paintings embossed on it give the mug a classy look and make it an excellent gift idea. The rolled rims and wide handles make it very convenient for use while outdoors, be it fishing, camping, or early morning breakfast picnics.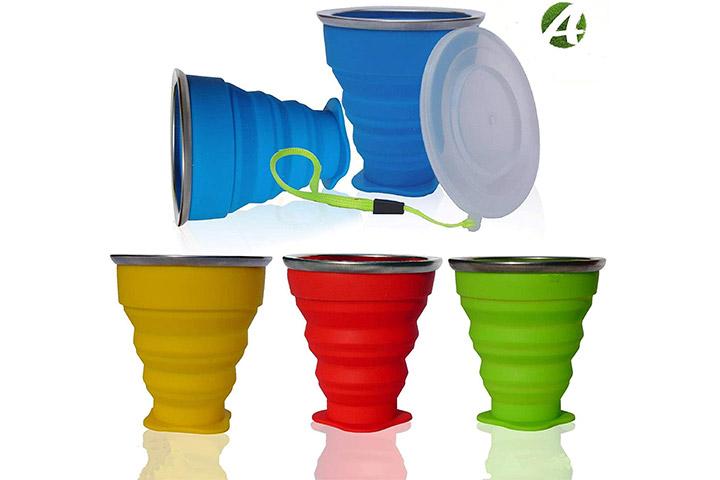 This camping mug is different from every other mug that we have discussed. The mug does not seem to be perfect for camping, and you  may, at the first look, feel that it is more of a plaything for children. But, do not be misled by looks, as this camping mug is quite versatile. Made of BPA-free silicone, you can put it anywhere in your backpack with zero worries. It is foldable and, therefore, takes up very little space. You can slip it into a refrigerator, microwave, or dishwasher. You may use it to serve both hot and cold beverages.
How To Choose The Right Camping Mug
here can be nothing better than sipping hot coffee or chilled beer while camping. And for this, you need a good mug. Here are a few pro tips for choosing a camping mug that will enhance your camping experience
1. Material
The first thing that you should consider is the material. Usually, it is better to go for a mug that is made of insulating materials, such as double-walled steel or food-grade titanium. These materials have the inherent capability to maintain the temperature of the drink and will not affect the odor or flavor of the drink.
2. Durability
The next feature on the checklist should be durability. You wouldn't want broken rims and disfigured handles in the middle of your camping journey, would you? So, get one that is durable. Camping mugs that come with lids are good options too. Lids help eliminate the risk of spillage.
3. Portability
Choose a camping mug that is easily portable. You could go for foldable or detachable mugs that occupy very little space in your backpack.
4. Grip
Camping mugs that have anti-skid exteriors are the ones that you need for camping. Sweaty hands or frost-bitten fingers are usual during camping. Specialized mugs designed exclusively for camping usually have a good grip.
5. Variety
There are usually two types of camping mugs—those that are flameproof, and others that are not. It is better to opt for the first variety. The advantage is that you can simply put your mug over the fire to prepare tea, coffee, or soup.
Camping mugs have tons of emotions and memories associated with them. So, it is of utmost importance that you choose a camping mug that can create a difference in your journey. You could also keep it as a souvenir after the camping is done. We hope this list and tips give you a fair idea about what to look for in a great camping mug.