Camping with your friends and family is a great way to reconnect with them and enjoy all that Mother Nature offers. There's something so delightful and rustic about being surrounded by fresh air, pitching up a tent, cooking food on a small portable burner, and exchanging ghost stories around a campfire. With the advent of many practical and useful things designed solely for camping, the whole experience is made so much simpler.
One of the handiest things that you can carry on your camping trip is a pillow. Let's face it; after a long and tiring day of hiking, you deserve a good night's rest. We've handpicked the best camping pillows of 2021 right here. Take a look and choose the best camping pillow for yourself.
11 Best Camping Pillows Of 2021

This camping pillow pays homage to nature in its own way as it is made of 80% recycled materials. It is compressible and filled with soft foam filling and rolls into a duffel bag for easy storage. It expands to a 4-inch thick pillow, making it comfortable for camping trips and doubles up as a makeshift pillow for long flights and drives.
Pros
Lightweight
Available in sizes ranging from small to large
Available in other patterns and colors
Brushed polyester cover
Machine-washable
Cons
The stuffing may be lumpy in some areas.
It may contain carcinogenic materials.

Imagine quenching your thirst after a long day of hiking with your favorite soda can. Now, imagine a pillow that's as small as the can. Seems almost too good to be true, right? This inflatable pillow folds down to the size of a soda can. It features a patented air valve system that allows you to inflate the pillow in less than 5 breaths and deflates just as quickly. The surface of the pillow is made of durable TPU fabric, and the base is equipped with rubber dots that help increase friction.
Pros
Latch strap keeps the pillow in place
Lightweight (100 grams)
Water-resistant
Air-tight closure
Available in other colors
Cons
It may not stay fully inflated for long hours.

If you're on the hunt for an extra soft traveling or camping pillow, you should check this one out. It is filled with innovative fiberfill that makes the pillow soft and warm. It comes with a brushed poly-flannel pillowcase that feels soft to the touch. It's a pillow that you can wash at home like your regular pillows. The best part is that you don't even need to inflate the pillow, it lofts on its own!
Pros
Machine-washable cover
Drawstring closure bag
4-channel hollow fiber filling
Available in other colors
Cons
Some may find it too bulky.

Ideal for those looking for the best camping pillow that provides optimum neck and lumbar support, this one is easy to inflate and incredibly lightweight. Made from high-quality elastic TPU fabric, it is water-resistant too. To inflate the pillow, all you need is 3 to 5 breaths, and it deflates to the size of your palms.
Pros
U-shaped pillow
Compact
2-way valve prevents air leakage
Slip-resistant back
80 grams when deflated
Cons
It may not be suitable for side sleepers.

You've probably contemplated carrying the pillows from your bedroom on your camping trip, but abandoned the thought midway thinking about the sheer size of the pillow and its space claim, haven't you? You can enjoy the feeling of sleeping on a cloud with this travel pillow for camping. Made of CertiPur-US and Greenguard Gold foam, this pillow is safe for you and loves the environment. The memory foam of the pillow allows you to mold it to accommodate your comfort levels. It comes with a sack that keeps the pillow compressed when not in use.
Pros
Hypoallergenic
Water-resistant sack
Phthalate-free
Formaldehyde-free
No chlorofluorocarbons
Cons
A pungent smell tends to linger even after the pillow has been washed or aired out.


Whether you're that passenger who sleeps through every car ride, that peaceful person on the plane who just needs a decent pillow or the first one to hit the sack on camping trips, a pillow such as this one is a necessity. It provides memory foam like cushioned support and puffs up to 4-inch thickness for exceptional comfort.
Pros
Lightweight
Available in 3 sizes
Micro-suede removable cover
Machine-washable
Drawstring closure knapsack
Cons
The pillow is filled with small chunks of foam, which may be uncomfortable for some.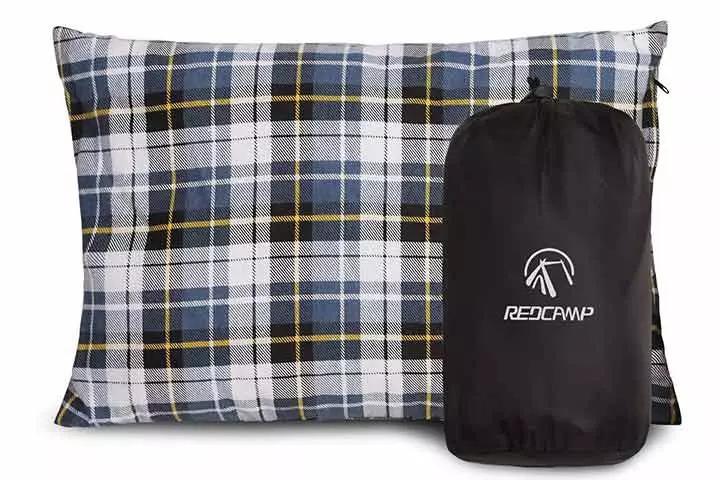 Although this pillow looks small, let it not be the deciding factor for the comfort it provides. Filled with high-quality hollow fiber, this pillow feels soft and is incredibly durable. It features a non-woven fabric lining, and the removable flannel fabric comes with a zipper. When you're not using it, you can fold it to a small size and store it in the drawstring bag provided.
Pros
Lightweight
Compact
Available in other patterns and colors
Machine-washable pillowcase
Cons
The pillow is not machine-washable.


Ask any frequent camper what you should take along with you on your camping trip, and the most seasoned ones will immediately tell you to invest in a good inflatable pillow. A high-quality pillow such as this can make you fall asleep in seconds and keep your head and neck comfortable throughout the night. Made of 100% cotton, all you need is 5 seconds and 5 breaths to inflate this pillow.
Pros
Ultra-light: weighs 4 oz
Folds easily
Storage pouch included
Suitable for side sleepers too
Cons
Some may find the width too small for their liking.


If you like to carry a travel pillow for your long flights, you will certainly take to this camping pillow instantly. Its curved design fits your neck perfectly to assure you a good night's sleep. You can also place it on your lower back and use it as a cushion as it hugs the contours of your body. The interior of this pillow is made of memory foam, and the cover is made from super soft velour.
Pros
Easy to roll and store
Zero-pressure memory foam
Soft inner cover
Machine-washable outer cover
Cons
Some may find it slightly stiff.


Are you ready for your next adventure? If yes, get your hands on this durable yet lightweight camping pillow immediately. It is filled with shredded memory foam, and the outer shell is machine-washable and water-resistant. It's easily reversible from travel to sleep mode as it comes with a 100% cotton cover.
Pros
6.5-inch thickness
Available in 2 colors
Packs down to a compact size
Memory foam filling
Cons
The pillow is not washable.


Take your significant other on a camping trip they will remember for the rest of their lives, especially because of how comfortable these pillows are. Made of 80% polyester and 20% TPU coating, this one is probably the best lightweight camping pillow. The pillow supports the neck support and is water-resistant.
Pros
Set of 2
Easy to inflate and deflate
Packs down to a small size
Easy to clean
Available in vibrant colors
Cons
Some may find the surface area too small.
With so many options to choose from, finding the best camping pillow can be a challenge. If you keep these following points in mind before purchasing one, your search will be a lot easier.
How To Choose The Right Camping Pillow?
While most camping pillows available in the market are rectangular, you should look for one that fits your sleeping pattern. If you toss around a lot in your sleep, a rectangular one should work well. However, if you sleep like a stone, a square-shaped pillow will be the best choice. For side sleepers, U-shaped memory foam pillows are the best bet.
If you're the type who doesn't carry too many things on a camping trip and wouldn't mind a bulky pillow, inflating and deflating a pillow will not pose a problem. However, if you think that a pillow shouldn't take up much space, look for an inflatable pillow. You will find many in the market that you can inflate in as little as 5 breaths and deflate as quickly into the size of a soda can.
Sleeping on the ground with a sleeping bag will feel a lot different from sleeping on our comfortable beds. This is why it is crucial to carry a pillow that provides optimum support to the head and the neck. Look for a pillow that is at least 4 inches thick or inflates to this size.
A pillow is necessary for camping trips, but that doesn't mean that it should weigh you down when you already have a pile of supplies that you need to carry along. Most inflatable pillows weigh less than 100 grams, while regular memory foam filled pillows weigh about 400-500 grams.
Frequently Asked Questions
How can I wash a camping pillow?
If your pillow is not machine-washable, apply a liquid detergent on the pillow's surface and brush it lightly. Rinse it off with lukewarm water and let it air dry.
Why do you need a camping pillow?
If you desire a good night's rest after a long tiring day of hiking and trekking, a camping pillow is necessary. Sleeping on the ground without any support for your head or neck can make you feel miserable the next morning. You may end up with a headache, a pulled muscle, or some other type of sprain you had not anticipated. This is why a pillow is one of the first things you should buy for a camping trip.
Walking under the moonlight, hugging trees, listening to a flowing stream, and being engulfed by earth's beauty is a surreal experience. Camping is a fun activity to take part in, but a few useful products like a camping pillow can drastically change the way you camp forever. Now that you've looked at the 11 best camping pillows of 2021 and how you can choose one that right for you, we hope that we've made your search easier.