During a camping trip, you should take all the tools and equipment to survive in the wild. One of the essential camping gears is owning the best camping plates. These plates allow you to consume food hygienically. They are built for camping, lightweight, durable, and require low-maintenance. They also do not stain and take up little space in your backpack.
If you plan to take a camping plate on your next trip, here are our suggestions.
10 Best Camping Plates
Wealers offers a pack of six lightweight stainless steel camping plates that you can use during a beach expedition, trekking, barbequing, or camping. They are easy-to-handle and can be washed by hand or dishwasher. They come in a stylish travel bag for portability.
Features:
Sleek design that occupies less space
BPA and toxin-free plates
Designed for all weather conditions
Made of high-quality stainless steel
Measures 8.5 inches in diameter
The single pack stainless steel camping plate is easy to store and convenient to clean. The rounded edges make it easy to scoop food. It is an ideal pick for camping, fishing, and hunting. It makes a great cookware item for barbeque as well.
Features:
Measures nine inches
Made of 18/10 chef-quality stainless steel
Lightweight and easy to carry
Convenient to clean
Has heavyweight steel clad bottom
Eat healthy with these camping plates made from natural wheat fiber. Truly stylish and free of chemicals, these plates are a great item to buy and make an excellent addition to your camping gear.
Features:
100% BPA-free and environmentally friendly
Unbreakable and lightweight
Highly durable and sturdy
Easy to clean by hand or dishwasher
Microwave and oven-safe
Colorful and vibrant
Measures 7.8 inches in diameter
These stainless steel camping plates are rust-resistant and come in a pack of six. They are suitable for camping as well as for daily use at home. These unbreakable plates feature rounded edges and are suitable for use by kids.
Features:
Measures eight inches in diameter
Lightweight and durable
Free from toxins and BPA
Easy to wash by hand or in a dishwasher
Convenient to stack and saves space
GSI's enamelware plate with a fantastic finish could make your camping expeditions more fun. This camping plate is a good option to pack along as it is lightweight and durable. The innovative outdoor plate is a cool alternative to regular plates.
Features:
An attractive enamel finish
Easy to stack
Lightweight and easy to carry
Measures ten inches in diameter
Dishwasher-friendly
Sturdy and strong

Bisgear offers a set of six sectioned, round stainless steel camping plates that you can pack for outdoor adventures and indoor use. They come with a mesh travel bag to carry them with ease. These kitchen items are easy to store and stack and made from non-toxic materials that are free from odor and stains.
Features:
Plate is divided into three sections for portion control
Made of high-quality 18/8 stainless steel
Measures 10.25 inches in diameter
Safe to use in the dishwasher, fridge, and freezer
Highly durable and rust-resistant
Easy to carry
A great thing to pack for camping and treks, these three camping plates can make barbeques, camping, and picnics more fun. These stainless steel round plates are convenient to store, easy to clean, and easy to carry. They come with curved lips that make the ends smooth.
Features:
Measure 8.5 inches in diameter
Lightweight and easy to use
Made of 100% food-grade stainless steel
Dishwasher-safe
Highly durable
This camping dinnerware set contains one of the best camping plates and bowls to carry for hiking, camping, and mountaineering. The dinnerware is made from BPA and latex-free materials. The set contains two big plates, small plates, big bowls, small bowls, big plates/bowls, and small plates/ bowls each. It comes with a superior quality storage bag to carry it with ease.
Features:
Made of heavy-duty food-grade stainless steel
Scratch and rustproof
Easy to clean and dishwasher-safe
Free of BPA, lead, and latex
Easy to stack and store
One of the best camping plates made of aluminum, these are designed with three compartments to keep different food items separate. The camping plate is extremely lightweight, making it an ideal choice for most campers.
Features:
Made of anodized rustproof aluminum
Measure 12 inches in diameter
Easy to carry and easy to wash
Three compartments allow different foods in one plate
Crafted using bamboo fiber and corn starch, these are for people who want an eco-friendly camping plate set. It is one of the best options comprising a plate, a bowl, and a cup, that make a perfect combination for treks and camping.
Features:
Sustainable and biodegradable
Free of PVC, lead, phthalates, and other chemicals
Easy to wash and also dishwasher-friendly
Lightweight and easy to carry
Sturdy and tough
How to Choose The Right Camping Plates?
When you have the right camping plate, you can make outdoor meals easier and enjoyable. Here are some points you must always consider when buying a camping plate set.
Material: Depending on your budget and choice, you can select from an extensive range of materials that are used in crafting camping plates. Some of the most popular materials are stainless steel, anodized aluminum, wheat fiber, etc.
Weight: When you are out for a trek or camping, you want to keep the weight to a minimum. Therefore, always look for camping plates that are light and easy to carry.
Size: Camping plates come in different sizes, but the most common is between eight and ten inches.
Cleaning: You would certainly want bowls and plates that are easy to clean, given that you may not always have access to running water.
Strength: When you are out for an outdoor adventure, you should always prefer packing sturdy camping plates.
Outdoor adventure is more fun when you have fewer hassles with the essential gear. Plates make your mealtime hygienic and easier in the outdoors. If they are lightweight and unbreakable, then it's even better. Just make sure you get the right kind of set with all you need to make your camping experience pleasant and comfortable.

Recommended Articles
The following two tabs change content below.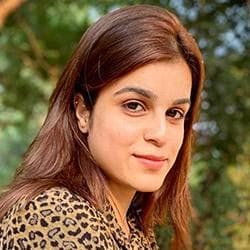 Sakshi John
Sakshi did her graduation in Journalism from the Madras Christian College, Chennai, before starting her career as a freelance writer. She is into blog writing and for MomJunction, she covers various topics, including products to buy for your kitchen, furniture, and other home requirements. Previously, she interned as a content writer in a cyber security firm. As a content writer, Sakshi...
more