It can be quite a hassle to carry wet, bulky towels back from a camping trip. And when you are out on an adventure trip, it is not practical to wait for the thick towels to dry before packing them. It would be wise to invest in the best camping towel for such situations. These towels are compact, fast-drying, and highly absorbent. These towels are not bulky and are perfect for carrying on outdoor trips, be it the beach or a river.
This article will help you decide on the right camping towel to take on your next trip. We have also included a buying guide based on various factors, such as comfort, design, price, size, material, and packing.
13 Best Camping Towels
The microfiber towel from Rainleaf is a perfect fit for any outdoor activity, such as camping, backpacking, gymming, swimming, yoga, and beach hopping. It is available in multiple colors and sizes, including 12x24in, 16x32in, 20x40inc, 24x48in, 30x60in, and 40x72in.
The super-soft towel can absorb five times more water than its weight and dries incredibly fast. It istreated with Silvadur anti-microbial technology to keep it odor-free for a long time and comes in a mesh carry bag with a convenient hand snap loop.
Pros
Fast-drying and super absorbent
Has a hanging loop
Comes with a carry bag
Lightweight and ultra-compact
Cons
Could be abit rough for some
The set of camping towels from OlimpiaFit comprises three sizes, 50x30in, 30x15in, and 15x15in. The towels are available in multiple colors and can absorb three to four times their weight and dry ten times faster than regular cotton or terry cloth towels.
The anti-microbial property of the towels removes the need to wash them often. Each towel in this set has a hanging loop and an elastic band, which makes folding easy. You also get a compact mesh carrying bag and won't have to worry about packing and luggage space.
Pros
Quick-dry and super absorbent
Ultra-compact and foldable
Made of 100% microfiber
Hypoallergenic
Easy to clean
Cons
Available in multiple colors, the Bogi microfiber camping towel is eco-friendly and smooth. Its microfiber fabric can absorb seven to nine times its weight. The towel is available in four sizes, including 16x32in, 40x20in, 60x30in+16x16in, and 72x32in+16x16in. It comes in a breathable bag with a snap loop for hanging and carrying safely.
Pros
Dries quickly
Soft and lightweight
Compact and highly absorbent
Can be used for multiple purposes
Cons
If you are planning a camping trip, you can consider buying this towel from Youphoria. It is available in different colors and three sizes of 20x40in, 28x56in, and 32x72in. The towel can hold up to five times water than its weight and can be used for multiple purposes such as camping, bathing, workouts, and sunbathing on the beaches. You can even roll your wet clothes up in this towel to absorb the water from the clothes.The bag has a sewn-in hanging loop, which adds to the convenience when storing and drying.
Pros
Effective drying, absorbent, and lightweight
Mildew and odor resistant
Easy to fold and pack
Top-notch quality and antibacterial
Cons
The two premium-quality camping towels from Relefree are delicate and super gentle on the skin. The big towel can be used for bathing, and the small one as a hand or face towel, dish towel, gym towel, or puppy towel. The suede-type plush microfiber camping towel can absorb two to three times more water than its weight and dries ten times faster than the regular towels.
Pros
Compact and super soft
Dries up easily
Ultra-absorbent and sand-free
Easy to hang and fold
Cons
The quick-dry camping microfiber towel measures 30x60in and is perfect for beach and swimming trips. The towel is highly absorbent and capable of soaking up to seven to nine times more water than its weight.It is ideal for traveling, biking, trekking, and kayaking. The suede-like fabric of this towel is antifungal and antibacterial. You also get a small towel in the pack, along with a nylon and mesh pouch.
Pros
Lightweight, soft, and compact
Antibacterial and anti-microbial
Foldable and saves storage space
Dries up quickly
Versatile and premium-quality
Cons
Ends of the towel may fray
The set from ScorchedEarth includes big and small microfiber towels that are soft, compact, and easily absorb more water than the regular towels. The towels are not bulky and can be used for various purposes, such as swimming at the beach, traveling with limited luggage, attending hot yoga sessions, hitting the gym, running a marathon, or setting up camp after a long hike.They come in a travel case that makes it super easy to carry.
Pros
Super absorbent
Lightweight and compact
Available in different sizes and colors
Multifunctional
Dries up easily
Cons
The towel set from Wildhorn can be an excellent addition to your camping backpack. They come in three sizes and three colors, thus, perfect for your entire family's needs. The soft and lightweight towels are best for a pat-and-dry routine, especially for people with sensitive skin. They are made up of soft and tender material and dry quickly.
Pros
Portable and ultra-absorbent
Made of 100% microfiber
Easy to carry
No fading of colors
Comes in a carry bag with an attachment clip
Cons
If you are traveling and looking for a disposable set of soft cotton towels, this set of 200 compressed mini towels can be a good choice. All you need to do is put in one to two milliliters of cold or warm water for a few seconds, and the towel will expand. The towels save a lot of space and are super convenient to carry. You can also use them for outdoor activities and in the kitchen, bathroom, and office.
Pros
Super soft, portable, and hygienic
Easy to use and store
Convenient for traveling
Multipurpose, small, and lightweight
Cons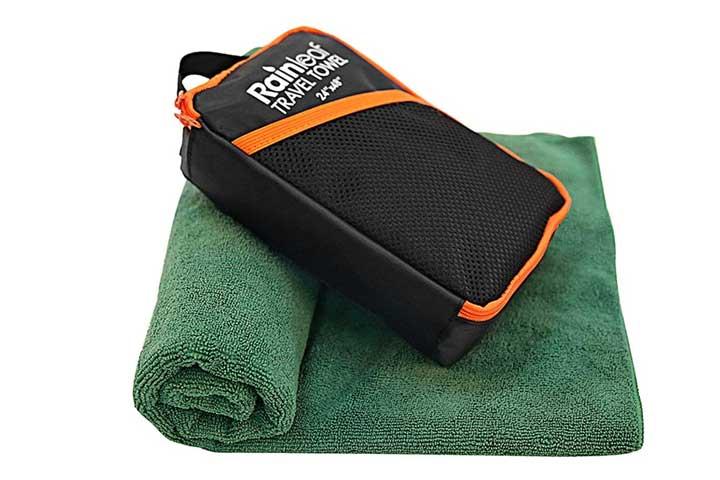 If you are looking to buy a small towel for a weekend trip, this microfiber towel from Rainleaf is a good option. The fabric is lightweight and dries up three times faster than the regular towels. You can find it in different sizes of 12x24in, 16x32in, 20x40in, 24x48in, 30x60in, and 40x72in. It comes with a well-designed, re-usable free zip carry bag, which is perfect for your travel, camping, backpacking, gym, sports, and swimming needs.
Pros
Available in multiple colors and sizes
Antibacterial and absorbent
Easy to hang and dry
Made of polyester and polyamide
Cons
Cannot be tumble-dried
Could be slightly rough for some
The super-soft towels set includes one large towel measuring 54x30in and a medium towel measuring 43x22in. These camping towels weigh four times lighter and fold five times smaller than a standard sports towel. The luxury towels can dryten times faster than regular cotton towels and comes neatly packed in a mesh bag.
Pros
Quick–dry and sand-free
Breathable carry pouch
Handy hanging straps
Lightweight and premium-quality
Odor-freepack and breathable case
Cons
The water-resistant towel pack includes four towels and one mesh bag. Each towel has a unique color seam and is soft and gentle to touch.These towels are made of 100% sterilized fabric and can be air-dried. The family towel pack can be folded and stored neatly in the bag for portability.
Pros
Light and absorbent
Soft and durable
Quick-drying and compact
Water-resistant carry bag
Cons
May soak debris
May stick to the skin for some

The lightweight microfiber beach towels can bea great addition to your camping experience. These come in a pack of four and are super soft to touch. The brightly colored stripes make the towels attractive and functional. These towels can be folded into small size and packed in luggage, beach bag, backpack, and yoga bag.
Pros
Bright and stylish
Made of sand-resistant microfiber
Compact and foldable
Quick-drying and lightweight
Cons
May not be highly absorbent
How To Choose The Right Camping Towel?
Here are a few features to look at when purchasing a camping towel.
Size: These towels come in varied sizes to suit the preferences of different users. For instance, small towels are suitable for children and serve as hand and face towels. On the other hand,big towels can be chosen for adults and used for multiple purposes. You may even opt for combo packs with different-sized camping towels as per your preferences.
Material and comfort: When traveling to a humid and wet climate, opt for a breathable, durable, and soft microfiber towel. Even linen is a good option, as it is anodor-free fabric, soft to touch, and dries quickly in sunlight. You can also choose synthetic fiber as it is not bulky and dries quick.
Storage/packing: Camping towels that come with a bag or a case are easy to carry and pack. Even if they are wet, storing the towels becomes more convenient with a mesh bag.
Price: You should always look for towels that fit your pocket. Neither gooverboard to buy expensive towels nor get low-quality or cheap ones as they might cause skin irritation.
A camping towel is useful to pat or blot the water from your body and often come handy for other purposes. It can be used to wipe down a wet tent or shelter or even the inside of a bag.A camping towel is a must-have for those who love outdoor adventures, such as backpacking, hiking, camping.
Some camping towels are multipurpose and can even be used as beach blankets, picnic or yoga mats, wall blankets,tablecloths, sunshades, or shawls. Now that you know how essential it is to own a lightweight, packable, quick-drying towel, get on for yourself soon.
Recommended Articles: