Camping is an amazingly adventurous outdoor activity where you get to explore nature and connect with your loved ones. However, the one thing that can turn your camping trip either adventurous or into a disaster is the camping gear, especially the camping utensils. Nothing can make your camping trip more exciting than delicious food. The delightful scrambled eggs, the grilled foods, and healthy camping treats will not only elevate your mood but will also help you stay more energetic and fit for your trip.
When you are on a camping trip, you will surely crave a hearty dinner, and thus, it is important to choose camping utensils that are not too bulky and are multi-functional. If you are confused about what utensils to pack for your upcoming camping trip, here are the best camping utensils that will help you satisfy your food cravings during the trip.

Top Products From Our List
11 Best Camping Utensils
A camping trip will become more exciting when you have all the cookware you need for your trip. This camping silverware is a multi-functional set that you need for saving space in your backpack. The handy set expands in full size and makes it easy to eat without creating a mess.  Plus, the utensils fold like pocket knives so you can store them easily and save space for other gear.
Features
Made using non-stick stainless steel with a polished finish
Anti-corrosion and durable utensil set
Comes with a knife, spoon, and bottle opener
Camping fork is removable
The knife features a sharp blade and easily slices food.
A fine cutlery set can become your travel companion, and this portable cutlery set is exactly that and it can easily slide in your bag. If you are not a fan of plastic cutlery, pick this high-grade stainless steel cutlery set with a mirrored finish and ergonomic shape for daily use. The cutlery set also consists of a straw cleaning brush so you can easily clean the straws and cutlery set when you are outdoors.
Features:
Lightweight and compact set ideal for traveling
Dishwasher-safe and easy-to-clean
Ergonomically-designed, anti-slip cutlery
Shiny and adequately coated set
The 8-piece portable set consists of a knife, dinner fork, chopsticks, spoon, and straight straw, a bent straw and straw cleaning brush.
A lightweight and sturdy cutlery set is a must when you are packing for your camping trip. This cute and versatile 3-piece cutlery set is both lightweight and strong. The set consists of a knife, a spoon, and a fork. Plus, it also comes with a carabiner clip to hold all the items together. The cutlery set is resistant to corrosion and high temperature, and can also be cleaned using a dishwasher.
Features:
Reusable, non-toxic cutlery set
Doesn't get stained or cause allergies
Odorless and flavourless made using 100% food-grade material
Features shaper knife edges
If you are going on a camping trip with your family, you will need this 24-piece compact and elegant tableware set. This high-quality set is made using heavy-duty metal and is double-coated with fine blue-glazed enamel that looks elegant and luxurious. The stainless steel edges make this set durable and suitable for traveling. You no more have to worry about breaking and losing your utensils on the camping trip when you have a sturdy set like this.
Features:
Comes with 4 dishes, 4 6" bowls, 4 flatware sets, and 4 mugs
Dishwasher-safe and serves 4
Lightweight and compact
Durable parts that don't include any plastic
Bowls and mugs are deeper and hold food comfortably.
If you want to make your camping trip a memorable experience, carry this 5 Spork steel flatware kit with you. This ergonomically crafted Spork set includes 5 utensils that are made using stainless steel and are corrosion-resistant. You can sip your soups and stews using the deep spoon while you can use the sharp knife for cutting fruits and the fork for eating your sausages.
Features:
Functional and practical flatware set
Lightweight utensils for backpacking
Reusable and easy to clean tools
The set comes with 5×8″ sporks
Serrated edges and indestructible design
Enjoy your meals outdoors with this multi-use camping cookware and kitchen utensil set. This set comes in a compact organizer that holds all your cookware in its designated pouch. The organizer prevents the cookware from scratching or getting damaged while traveling. The set includes a utility knife, serving fork, scissors, and a spatula, a cutting board, tongs, ladle, wine opener, folding Spork, rice paddles, and a carabiner.
Features:
Multipurpose kit for camping, BBQ's, sports etc
Portable and compact kit easily fits into a backpack
Water-resistant and tough cotton woven organizer
Cutlery is made using heavy-duty stainless steel and ergonomic handles
The fork features sharp, damage-free construction.
This cookware set consists of all the necessary items that you may need for cooking as well as for other activities like boating, sports events, BBQ etc. The complete cookware set is made using heavy-duty stainless steel, so you don't have to worry about rust and corrosion. Plus, all the items come packed in a portable, cotton-woven bag that will easily hold and organize your cookware in place. The bag makes a great mini kitchen and comes with spatula, serving fork and spoons, paring knife and peeler. Tools like chef knife, sheath, scissors, tongs, cutting board etc. are also available for the comfiest outdoor dining experience.
Features:
Durable and reliable cutlery items
Easy-to-clean and dishwasher-safe
Portable and concise
Reusable and multi-use tools
The organizer comes with separate sections for each item.
If you don't want any silverware and are looking for lightweight and functional utensils, here are the tritan sporks that are reusable, feather-weight and affordable. This Spork flatware is BPA-free and can be used for eating your soups, salads, and pancakes while you are on your trip. The sporks are made using environment-friendly material that is safe to use. Made using tritan, the sporks are durable and will not break off.
Features:
Sporks with serrated edges
Extremely lightweight, colorful, and compact
Doesn't hold stains and odor
Dishwasher-safe and easy-to-clean
Does not contain plastic
If you are looking for a heavy-duty cutlery set for eating your pizzas, soups, salads, and Chinese food, this is a perfect pick. This professional and functional cutlery set comes with a knife, spoon, fork, and chopsticks along with a carabiner. The cutlery set is super light but is made using 99% titanium and thus, is strong and durable.
Comes with a carabiner clip so you can bind all the items together
Titanium chopsticks are sturdy but lightweight and Corrosion-resistant.
Super easy to clean with water and soap
High-quality scratch-resistant titanium
The set comes in a compact, odorless small carry case.
The cutlery set is non-allergenic and non-toxic.
Nothing makes a good travel companion than a portable stainless steel eating utensils set. This set comes in a small pouch which prevents the cutlery from scattering in your travel bag.The cutlery items are made using heavy-duty metal while the set weighs only 5.3 ounces so you can carry this lightweight set anywhere you go. All the items are easy-to-clean and are reusable.
Features:
Rust and corrosion-resistant set
Eco-friendly and travel friendly
Comes with a convenient neoprene carry pouch
Comes with a sturdy bottle opener
The set comes with full-size forks, spoons and knives.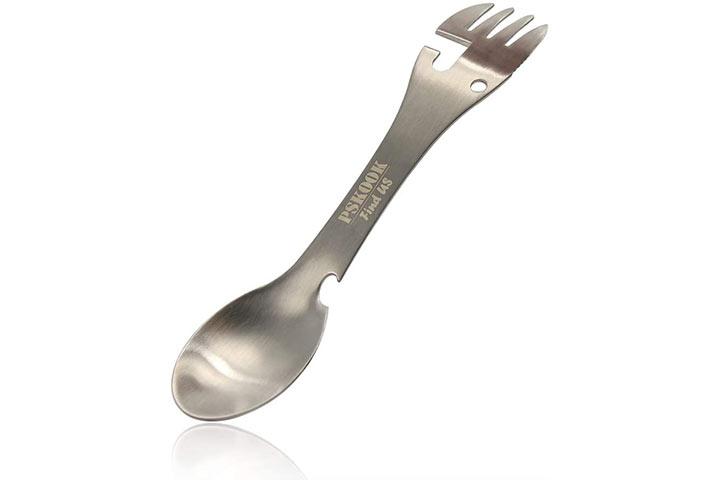 If you are a solo traveler and need a multi-use camping utensil set here is a 5-in-1 functional multi flatware that you can carry along with you. This outdoor tool works as a fork, a spoon, as a can and bottle opener, and as a knife. Plus, the outdoor Spork comes with a carabiner so you can easily attach it to your backpack and never lose it on your trip. The tool is made using premium-grade 340 stainless steel and thus, is durable.
Features:
Comes with an S-binder to connect or hang it conveniently
An eco-friendly tool to prevent waste
The serrated edge can also be used for cutting fruits and vegetables.
The fork tines size is long enough for different foods.
The tool comes with serrated edges to serve as a knife.
Now that we know what are the best camping utensils available, let's have a look on how to choose the right utensils for camping and adventurous trips.
How To Choose The Right Camping Utensils
Being on a campsite means you will not have enough ingredients, a dishwasher or storage to store your utensils. This means that you will have to choose your camping utensils wisely. Here are the things to keep in mind while choosing camping utensils.
1. Cleaning and reusability
On your camping site, you will not have the convenience to wash your utensils properly, so choose the utensils made using stainless steel material. These utensils are easy to clean and will not carry any residue. Refrain from using plastic utensils that are not durable and instead choose Tritan utensils that are lightweight, durable as well as easy to clean. These utensils can be cleaned using warm water and a little soap, and are also reusable.
2. Functionality
When you are on a camping trip, you will require the most functional and multipurpose utensils. For example, a complete set with forks, knives, spoons, serving utensils, scissors etc. can be considered. Go for a set that includes utensils for eating as well as cooking so you can make your backpack lightweight.
3. Material
The most common utensils are made using stainless steel, titanium, plastic, aluminum etc. If you want a very lightweight cutlery set, go for titanium utensils. These are strong and lightweight. The plastic utensils are not eco-friendly but are available at a reasonable price.  Aluminum and stainless steel utensils are heavier compared to the other two options but are sturdy and affordable. 
Camping utensils comprises different tools that are needed for eating when camping. This set generally includes a fork, knife, spoon and lightweight cookware. When you don't have home-like convenience for cooking and eating, the right camping utensils can offer convenient meals for outdoors. So if you are planning a camping trip and are looking for some functional camping utensils, the above given are the 11 best camping utensils you can consider.
Recommended Articles: