A camping watch has several features that can make your outdoor adventures convenient. It helps you find directions, predicts the weather, displays sunrise/sunset times, and tracks your health and fitness too. Some watches also connect to the InReach satellite messenger for sending messages.
We have compiled a list of the best camping watches to choose from for your next trip.
11 Best Camping Watches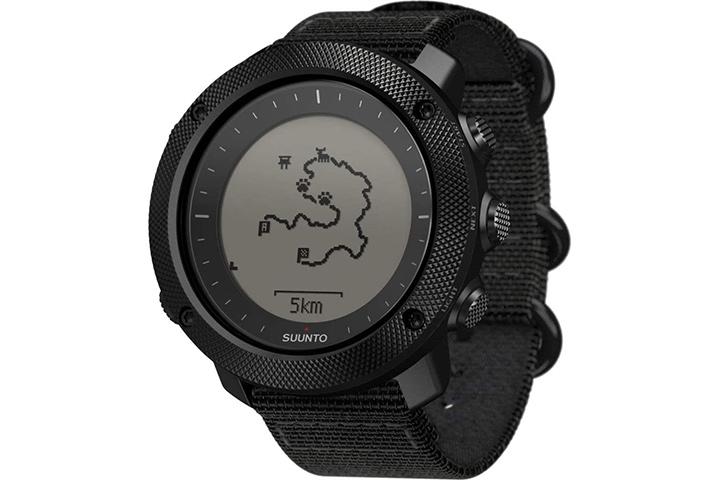 The Traverse Alpha Camping Watch is handmade in Finland and could be the perfect choice for hunters and anglers. It is a stainless steel watch built to military standards and features an altimeter, barometer, compass, GPS, weather alerts, and activity tracking. It has hiking, hunting, and fishing modes, and gives sunrise and sunset alerts as well. The best feature is its automatic shot detection that keeps track of time and location every time you fire. The watch is compatible with the Suunto Movescount App (iOS and Android).
Pros
Power-saving mode
Durable
Water-repellent strap
Location-based moon phase calendar
Versatile
Cons                                                         
The button placement could have been better
Battery may not last long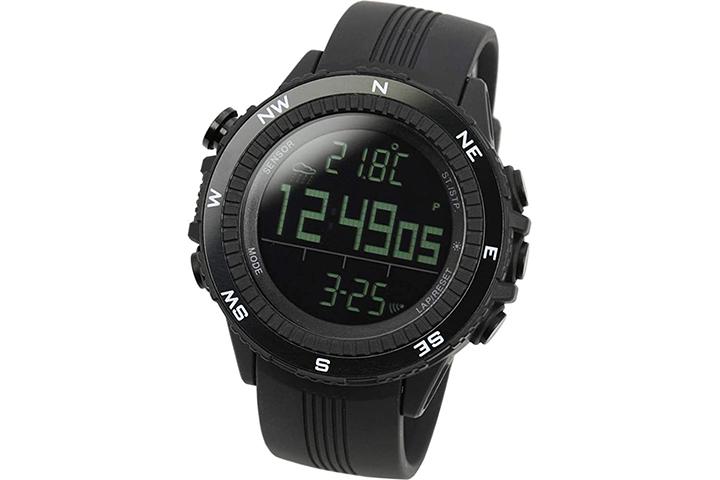 Manufactured by Lad Weather, this camping watch has a plastic case, stainless steel case back, polyurethane strap, and acrylic glass. This is the first model of the Sensor Master series and follows the global standards of altimeter, barometer, and compass (ABC) watches. The watch shows four weather forecast icons of sunny, partly cloudy, cloudy, and rainy. It can be set up in less than five minutes and is useful for hiking, climbing, camping, cycling, and fishing purposes.
Pros
Quartz watch movement
Accurate compass
Strong and durable strap
Waterproof
Cons                                                         
Does not have GPS
May be bulky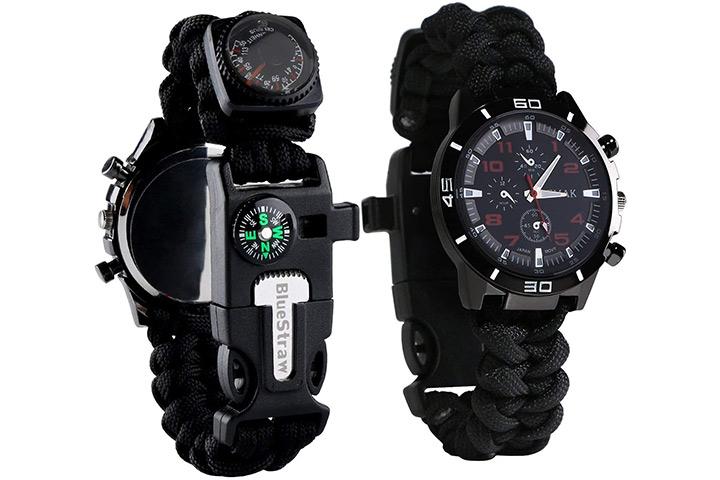 The Bluestraw Watch features everything you need for survival on your camping trip. It has a compass, whistle, thermometer, fire starter scraper, and paracord. The fire starter scraper can be doubled up as an emergency knife, and the parachute cord can be unraveled into a three-meter rescue rope. This unique bracelet-design is perfect for wrist sizes of seven to nine inches.
Pros
Multifunctional survival gear
High-quality build
Fashionable and trendy
Decent alternative to paracord
Cons
Not waterproof
The bracelet is not adjustable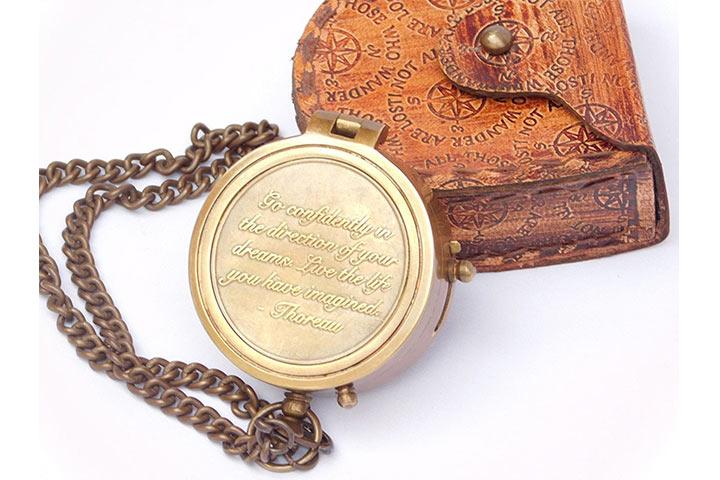 The unique sundial watch with antique brass finish and Thoreau's engraved quote could be an attractive gift option for an avid camper. It features a detailed copper compass and a leather case. It comes with a brass keyring as a complimentary gift.
Pros
Classic, vintage design
Accurate compass
Intricate inscriptions
Can make a good educational tool
Antique brass finish
Cons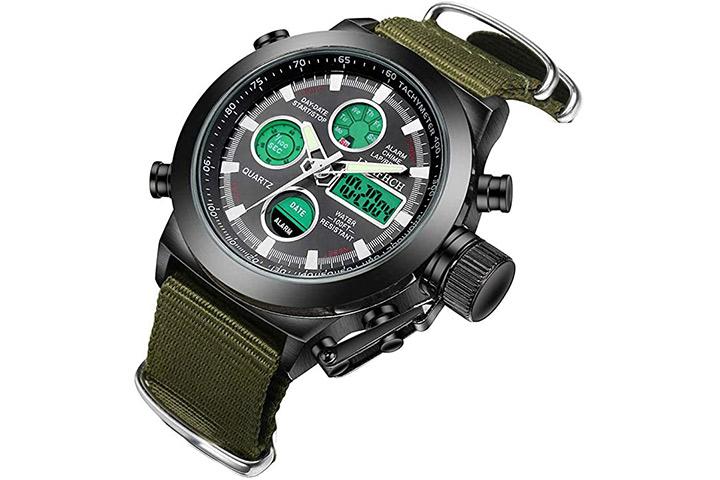 The military-style camping watch shows time in analog and digital formats. It has a green EL light that shows the time and date. The time displayed on this watch is as accurate as the airplane's computer time. Amidst all the features, the placement of the knob is an absolute show-stealer.
Pros
Perfect size
Not too bulky
Highly accurate
Comfortable strap
Multifunctional
Waterproof
Cons                                                         
Some users report watch slipping and falling off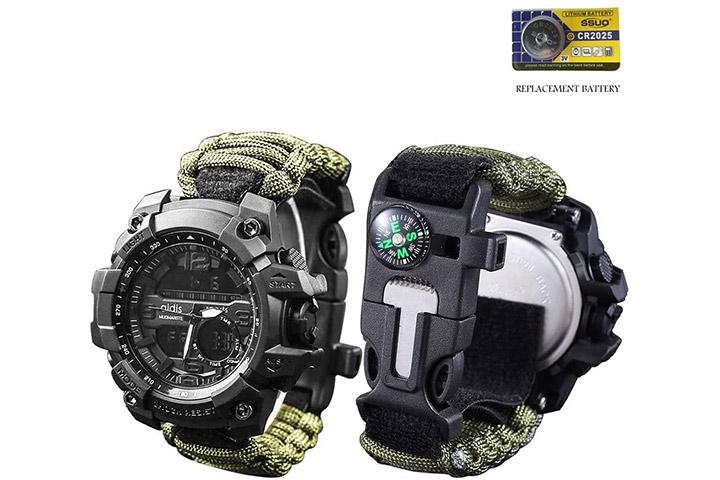 The Vikano Survival Bracelet Watch can also be used as a sports watch. With its adjustable and waterproof wrist band, it can even be hung on your backpack. The parachute cord of the watch can be unraveled into a 1.6-meter rescue rope. It has a built-in compass, emergency whistle, corrosion-resistant, and anti-aging features. The bracelet watch is suitable for marine activity and surface water sports, but not scuba diving. 
Pros
Two-in-one wrist strap
Multifunctional watch
Well-equipped
High-quality build
Sturdy
Cons                                                         
The band may not fit well on small wrists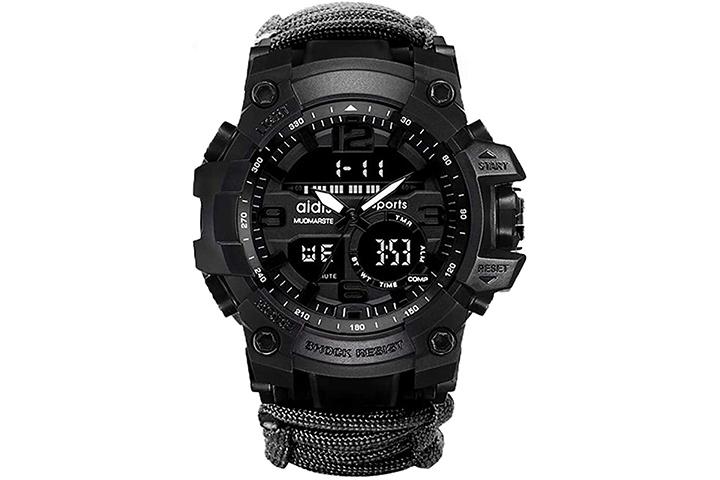 If you are looking for a waterproof watch with a compass, whistle, sickle, fire starter, and a paracord, this could be a good pick for you. It has an 86-cm-long rope capable of holding about 250 pounds of weight. The set-up is easy, and the watch is convenient for everyday use. 
Pros
Waterproof
Impressive backup battery
Dual-time display
Rugged and durable
Adjustable wrist band
Cons                                                         
Not suitable for soaking in water for a long time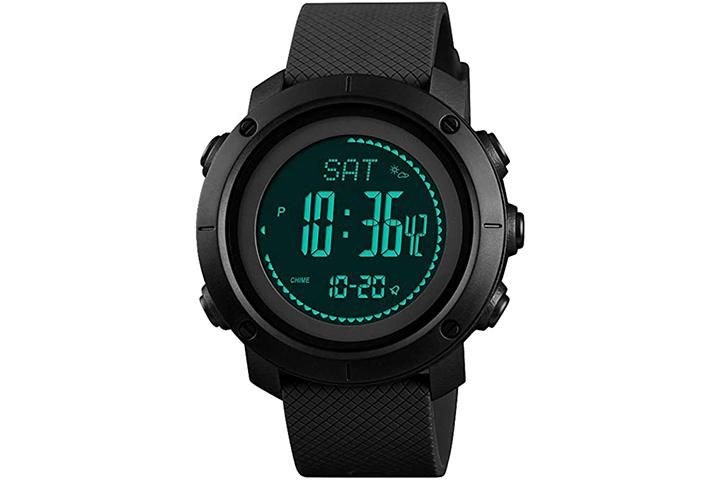 This classic black watch is water-resistant up to 50 meters and highly durable. It includes a timer, stopwatch, world clock, three alarms, a calendar, and more. The watch is also suitable for various business, casual, indoor activities, and everyday use.
Pros
Multifunctional
Offers accurate readings
High-quality Japanese quartz movement
Durable and shock-resistant
Stylishlook
Cons                                                         
Not advisable for long underwater activities
Functions may seem complicated for everyday use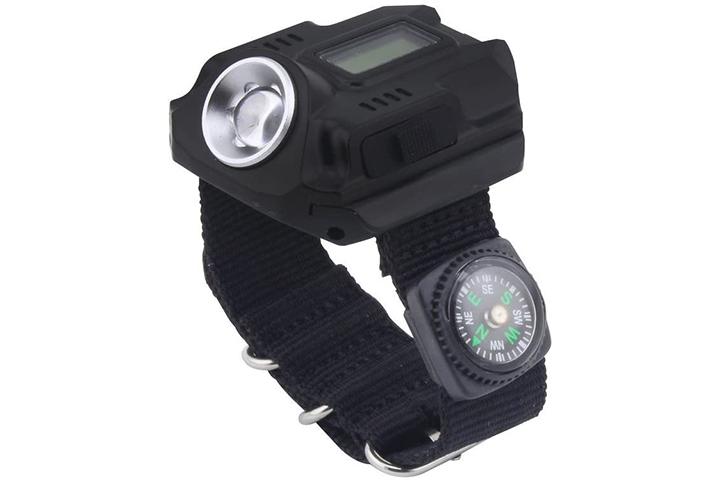 The portable LED wristwatch is an ideal pick for nighttime adventures. It includes an adjustable nylon wristband with a metal buckle for a great clasp, with high, low, flash, and SOS light modes. The watch is suitable for everyday camping, hiking, hunting, sports, and other outdoor activities.
Pros
High-quality build
Adjustable wristband
Rechargeable lithium-ion battery
Built-in flashlight
Cons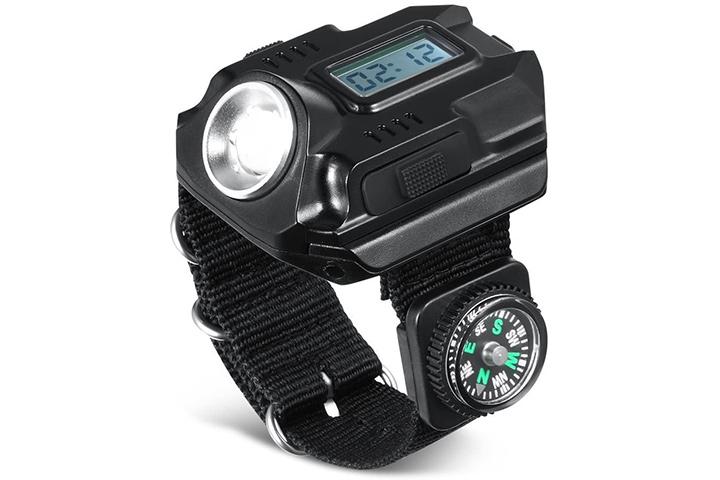 The Sunderpower wristwatch has a well-built and seamlessly stitched adjustable wristband. The manufacturer claims that the flashlight can work up to 1hr 30min on high and 7hr 30min on low mode.
Pros
Tactical flashlights
Waterproof
Multifunctional
Adjustable wristband
Rechargeable
Cons                                                         
No indicator light to show the remaining charge
Compass may not be accurate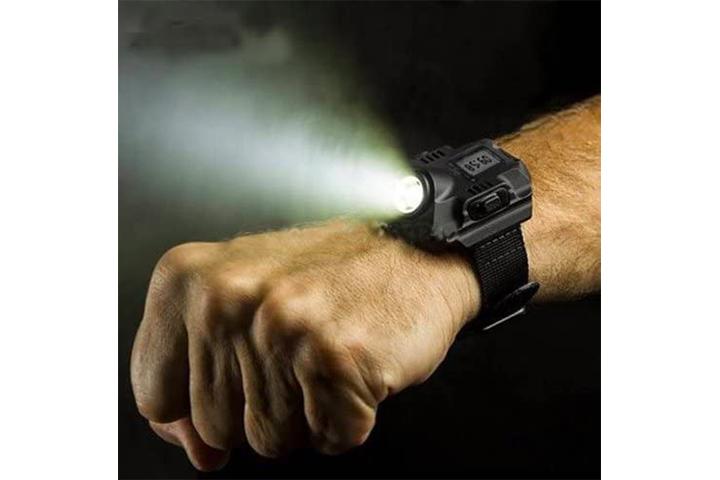 The mini and light camping wristwatch from Maxbei is ideal for any sporting or outdoor activity. It is waterproof and has a built-in rechargeable lithium-ion battery. The watch is sturdy and comfortable for everyday use.
Pros
Time-display function to set time
Adjustable wrist band
Heavy-duty build
Comfortable to wear
Cons                                                         
Battery may not last long
How To Choose The Right Camping Watch?
Here, we list some important factors that you consider to choose the best camping watch.
Budget: The prices of a camping watch may vary based on their features. Fix a budget based on your requirements and then sort out options. Listed below are a few options for your idea:

$10–$200: They have basic ABC (altimeter, barometer, compass) and GPS features, and are suitable for hikers.
$200–$500: They are trendy and offer GPS and atomic timekeeping for greater accuracy. These watches are suitable for explorers and adventurers.
$500 and above: They come with bike sensors, heart rate monitor capability, and downloadable routes. These are good for ultra-marathon runners, mountaineers, and professional trekkers.

Durability: Straps, case, hardware, and stitches contribute to the durability of the watch. It is essential to know specifications and read reviews to find a durable watch.
Design: If you want to buy a watch for camping and everyday wear, pay attention to its design and style. Some may blend with casual wear, while some may not. Choose wisely by keeping in mind when you are likely to wear the watch.
Features: If you are looking for a basic model, you will get an altimeter, barometer and compass, temperature sensor, and lap timers, whereas advanced models will include GPS, thermometer, wi-fi connectivity, water-resistance, heart rate monitor, etc.
Can Hiking Watches Be Used Offline?
Most of the camping watches can be used offline for navigation purposes. But they do not support mobile syncing.
Your choice of the best camping watches should be based on your personal preferences. Take some time to determine which one is worth your money and time. Also, read reviews to know if it serves a specific purpose. We hope this list and buying guide will help you buy the best camping watch.