Cleaning your house can be a tiring task if you don't have a useful canister vacuum cleaner. In case you have a big bulky vacuum cleaner, the process even becomes more tedious. This is where canister vacuums come into the picture. Canister vacuums unlike traditional vacuums are lighter and easier to move.
Such vacuums are loaded with wheels that make cleaning easy and faster. If you are looking to investing in the best canister vacuum cleaner and don't know where to begin, then this post is just for you. We have chosen a few versatile canister vacuums with pretty cool attachments. Check this list of the 11 best canister vacuums this year!

Top Products From Our List
11 Best Canister Vacuums To Use In 2021

Eureka Mighty Mite 3670 Corded Canister Vacuum Cleaner is one of the most powerful vacuums on the market. With its amazing features, it has gained a reputation among the customers. You can trust this canister vacuum cleaner for quick and efficient cleaning of carpets, wooden floors, tiles, staircases, and upholstery. The prime features of this product are its deluxe floor brush, bare-floor nozzle, and easy to use fingertip controls. The vacuum cleaner is quite sleek and can be easily stored in small spaces. This coded vacuum cleaner lets you drag dust from nooks and corners easily.
Pros
Compact
Light in weight
Affordable  
Cons   
Does not contain HEPA filter
The fully loaded features and handy usage makes this product the best canister vacuum cleaner. The Kenmore Elite 81714 Pet-Friendly Canister Vacuum has impressive features like exceptional suction strength, an adjustable telescoping wand, and a 26-foot cord that lets you reach places without any restriction. The HEPA filtration system comes with a special Pet Powermate that helps you suck fur and hair from all over the place. It is a bagged canister because of which you will have to replace bags now and then. Despite being a bagged canister, there is absolutely no need to constantly empty filters and wash them out. The most beneficial attachment to this vacuum is the dusting and crevice tool with suction control which helps you clean all types of surfaces be it hard floors or delicate curtains.
Pros
Pet-friendly
Has an ultra-plush nozzle
Stair grip feature
Comes with manual pile-height adjustment
Cons
High power suction force that might be a little difficult to handle.
When looking for something that makes your life easy and simple, opt for the Ovente bagless canister vacuum. It comes with a pet brush, floor brush, and a combo of crevice nozzle and bristle brush. The power features of this bagless canister vacuum are the HEPA filtration system, automatic cable rewinder, and the telescoping wand. With the HEPA filtration system, you can easily capture all types of allergens, dust, and tiny airborne particles. The telescopic wand can help you reach distant areas like the ceilings, corners, and tops of windows. 
Pros

Fast and efficient
Easy maintenance
Stylish design
Beneficial for people with allergies
Cons
Rug cleaning might be a little difficult
This is the ultimate solution to all your cleaning problems! With the Hoover CH30000 PortaPower commercial lightweight canister vacuum cleaner, you can clean tight places, large spaces, and even sharp corners with ease. It is highly compact and weighs just 18.4 lbs. You can ditch being exhausted and clean up great spaces in less time. Other than spaces, you also can use this canister vacuum to clean draperies, upholstery, and vehicles. The 33-inch long cord makes detailed cleaning easier. It has everything that one looks for among the best vacuum cleaners nowadays. 
Pros
Less user strain
Good for commercial use
Great for carpets and ceramic floors
Comes with easy to empty fabric bag
Cons
When looking for the best bagless canister cyclonic vacuum cleaner, one must opt for Ovente Vacuum Cleaner. It serves as your cleaning buddy and gives you relief from performing tedious cleaning tasks. It comes with several tools designed for cleaning different spaces and fixtures. You can expect it to trap all airborne dust particles, dust mites, and every small and large dirt in one go. This easy-to-use 1400 W canister vacuum has a floor nozzle to clean hard surfaces, retracted brushes to dust off carpets and mats, crevice and bristle brush for radiators and corners, a furniture nozzle, and a multi-angle brush. This means it has all the features of a decent canister cyclonic vacuum.
Pros
Comes with numerous attachments
Powerful suction
Easy to extend
Convenient to use
Cons
All those who need a portable canister vacuum cleaner will surely thank us for introducing them to this one. This well-designed, red canister vacuum is portable and comes with a 6 quart HEPA bag. You can even change the bag timely due to the indicator light that notifies you when the bag is full and needs to be changed. It is one of the best canister vacuum cleaners and is loaded with attachments that can help us get rid of dust from places that are hard to reach. This lightweight vacuum comes with a 1400 W variable speed motor that powers up the cleaning process. The compact design of this vacuum is great to use at both home and office.
Pros
Has a retractable cord
Traps air particles like dust, dirt, mites.
Comes with a telescopic metal wand.
Good to clean crevices, rugs, floors, and upholstery.
Cons
Might feel noisy to some people
The Dyson Cinetic Big Ball Animal Canister Vacuum Cleaner is one of the best vacuums ruling the market. The trademarked Dyson Cinetic technology is powerful and is known for separating microscopic dust and dirt particles to keep your surroundings clean without having to clean your vacuum time and again. This bagless vacuum does not have filters, thereby saving the time spent on cleaning the dirty filters. The best feature of this canister vacuum cleaner is its ejector level that puts dirt, hair, and all such gross material directly into your garbage bag without dirtying your hands. You get to freely move the vacuum because of its Dyson ball technology. The 21-foot cord and attachments that are stored on the handle, along with a turbine head that pulls dust from hardwood and low-pile carpets and a counter-rotating brush head designed specifically to remove hair from surfaces are the key highlights of this bagless vacuum.
 Pros
Has HEPA filtration system
Comes with a rotating wand
Attachments can be reused with the use of adaptors.
Certified by the Asthma and Allergy Foundation of America.
Cons
May make sounds when pulled backwards
Powerful, lightweight, and a great product overall, the Vacmaster Bagless Canister Vacuum is probably one of the best vacuum cleaners and is ideal for most families. What's great about this model is that it has a powerful 18 KPa suction which makes carpet and sofa cleaning easy. It is equipped with a HEPA filter that traps dust and allergens. The swivel hose makes it a great choice for reaching the hard-to-reach places. It eliminates twisting and tangling and makes your cleaning process simple and easy.
Pros
Easy to carry
The automatic cord rewind feature
58 lbs in weight
Portable design
Cons
Users might take a little time to use it.
This canister vacuum cleaner as the name suggests was created especially for cleaning up after cats and dogs. The 1200 W powerful suction vacuum comes equipped with an Active AirClean Filter to give you relief from any lingering pet odor. The special comes with a Flexible Handheld STB20 Mini Turbo Brush attachment for cleaning upholstery, stairs, furniture, and other tight spaces that are prone to attracting pet hair, dirt, and more. The 18-feet power cord with an automatic cord winder makes the cleaning process hassle-free.
Pros
Versatile product
Compact design
A great bag volume of 4.5 liters
Comes with a 5-level height adjustment electro+motorized brush
Cons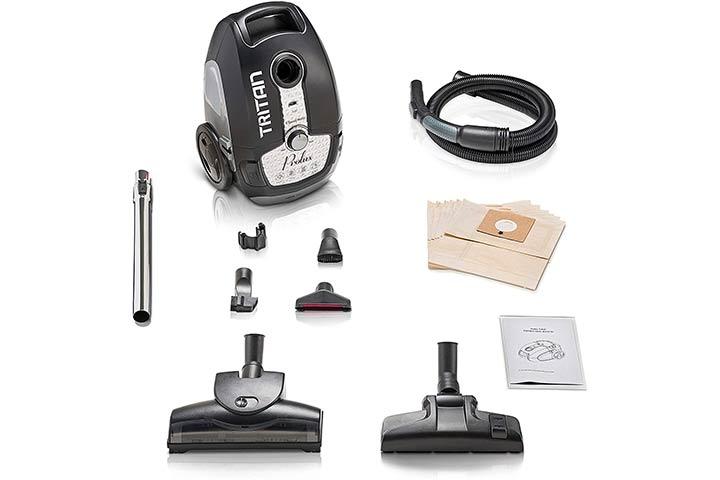 If you are looking for a good quality vacuum cleaner to keep your home clean economically, then this is surely the best-bagged canister vacuum for you. It is designed in a way that works conveniently for users. The prime feature of this vacuum has to be its 3-stage HEPA filtration and 140 CFM of suction power that leaves your entire space clean and dirt-free. This canister vacuum has rubber wheels that keep your floors protected. It has a convenient cord length which lets you nook and corners clean perfectly. A wide turbo nozzle with an air-driven brush roll to clean rugs and carpets is extremely helpful. It also comes with a universal floor tool to switch between cleaning hard and soft floors. The crevice tool, upholstery tool, and duster brush that comes with this vacuum let you keep your house dust-free.
Pros
Compact body
Emits no noise while cleaning
Has automatic unwinding feature
Very light in weight 
Cons
Some may find difficulty in using the attachments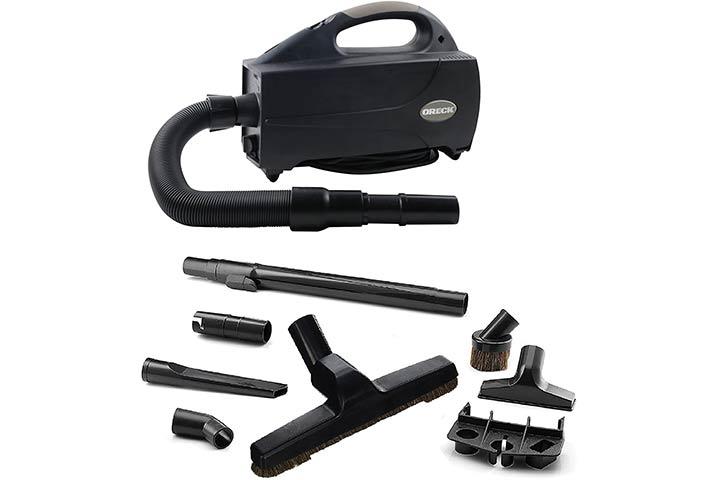 When it comes to choosing a portable, lightweight yet effective vacuum cleaner, the Oreck Compact Canister Vacuum is one the best vacuum cleaners. It weighs just 5.5 pounds and is more portable than the regular canister. It comes with a shoulder strap and a telescoping extension wand for picking dust from hard-to-reach places like window frames, ceiling fans, and fixtures. The cord length is a 20-foot cord so you can carry it wherever you find the mess. It is perfect for cleaning hard floors and carpet, along with high ceilings with the included tools. Its powerful bag keeps dirt from escaping back into the air.
Pros
Easy-to-carry design
Has a HEPA inner bag
Inexpensive replaceable vacuum bags
Comes with a telescopic wand and on-board tools
Cons
Flexible hose might be difficult to attach
Factors To Consider When Buying A Canister Vacuum

You must evaluate the following factors before buying a canister vacuum. These factors are important and need your attention:
Motor size- This is the key factor as a vacuum cleaner operation is determined with the motor size. The larger the number of motor size, the better it is.
Bag capacity- Cleaning the bags, again and again, can be a tedious task. Thus, it is important to check the bag capacity and opt for the maximum capacity one.
Airflow- It is measured in cubic feet per minute. It is considered that the more airflow the better it is.
Material- Portability and design depend on the material used. Opt for the material that is durable, light, and needs less maintenance.
Ergonomics- Handling and usage are really important. One cannot use the product to its maximum utilizing capacity if it is not comfortable to use. So, choose one that feels simple and easy to use.
Total cost- Cost and fixing charges matter the most. Always try and choose something that is pocket friendly yet goes a long way without any major fixations.
So, this was all about the best vacuum cleaners that you can opt for in 2021. The list has all types of items that might suit your requirements.  You can read the details and choose as per your choice. Hope this article is informative for you!