Sitting in even the most expensive car can put you off if it has a foul smell. An ultimate car fragrance plays a role in adding class and style to your car. The fresheners are essential car accessories to make the vehicle smell good all the time. They are designed with leak-proof technology to ensure that they do not spill on bumpy roads. For a blissful ride in your car, we have shortlisted the best car fragrances in India for your to buy.
Types Of Car Fragrances
Hanging cardboard air fresheners: These are scented cardboard pieces that are economical and last up to eight weeks.
Non-hanging paper air fresheners: These are oil and fragrance thin paper fabrics that emit a sweet smell while absorbing the foul smell. They are useful for up to three weeks.
Sticky gel fresheners: The sticky gel infused with scents filled in a bottle is placed on the dashboard to emit fragrance for a fresh feel.
Vent sticks: These are clip-on sticky objects attached to the vent that emit fragrance every time air flows inside the car.
Oil wicks: They are small plastic bottles filled with oil and wick that emit fragrance when you turn on the AC.
Aerosols: These are spray cans to use inside the car to get rid of the foul smell.
Oil diffusers: They include modulators to control the fragrance to release in regular intervals. They can be attached to the AC vents and last longer.
Plug-ins: These are cost-effective and are attached to the electric supply unit and diffuse aroma inside the car on heating.
11 Best Car Fragrances In India
Godrej aer is a thoughtfully designed luxury car perfume with an easy-twist mechanism. The gel-based fragrance with its minimum evaporation technique is long-lasting for up to 60 days. Its spill-proof technology allows you to take it on bumpy roads seamlessly. The freshener can be adorned on your dashboard or can be kept in the car cup holder. It is designed to retain the same fragrance till the end and is available in eight refreshing fragrances.
The unique fiber fragrance cakes from Involve Your Senses is an organic car perfume to freshen up your car. It is powered to sustain in SUV and sedan. The leak-proof technology ensures it does not spill on bumpy roads. It lends a consistent smell in all weather conditions for a longer time. The fragrance is free of ammonia and is safe to use.
Available in fresh, energizing fragrances, Aeron is a gel-based car freshener. The environment-friendly gel prevents musty mildew and undesirable odor. This long-lasting fragrance can last up to five to eight weeks. You can place this durable gel in your car or home for an even supply of fragrance. The compact design can be kept in any corner of your vehicle.
Involve Your Senses is a high-performance gel perfume for cars. This mild fragrant scent is a clean, fresh fragrance of lemon blended with exotic, masculine notes. It is a long-lasting and effective air freshening solution. Formulated from high-quality ingredients, it is available in five luxurious fragrances. It does not contain CFC or any harmful chemicals.
The contemporary designed rotating car perfume, Motozoop, is powered by solar energy. Its nano-aroma core is equivalent to five ordinary scented tablets. The high-quality cologne fragrance is formulated with plant extracts to give an aromatherapy effect. It is safe to use as it is non-irritating and does not contain alcohol. This reusable car freshener uses high-quality bottom glue to fix it quickly on your car dashboard.
Designed stylishly, Airpro Air Freshener provides a pleasant, long-lasting fragrance for any environment. The luxury fragrance includes a 10ml fragrance oil bottle, a booster fragrance that lasts up to 60 days. You can place it on your dashboard to get rid of the unwanted odor that spoils your car's environment.
The gel-based freshener from the Amazon Brand freshens up the place and helps eliminate odor. It is available as a sealed tin pack to ensure the odor is intact until it is opened. Solimo offers a range of car fragrances such as fresh citrus, rose petal, orange zest, and lavender mist. The easy-to-use and spill-proof freshener can sit comfortably on your car dashboard.
Little Trees freshener is a hanging paper tree suitable for home or car. It is available in eight variant fragrances and packs of one, three, six, 12, 24, and 72. The long-lasting smell keeps the environment fresh and fragrant. With high-fragrance retention, it is easy to carry anywhere to surround yourself with a fresh fragrance.
Formulated with aromatic oils, this car mist is specially designed for cars to lock in fresh fragrances. Lia car mist is available in French lavender, sparkling citrus, amber spice, and ocean dream fragrances. Each bottle provides you around 500 sprays. The aroma is safe to use as it complies with IFRA standards. Spraying the nozzle in front of your AC vent at regular intervals can keep the environment fresh.
Ambi Pur air freshener's unique patented technology helps eliminate odor and replaces it with a refreshing scent. It releases a consistent fragrance that can last up to 60 days without reducing the smell intensity. The vents allow you to control the fragrance level in the car. It is an ergonomically designed bottle and is available in six variants.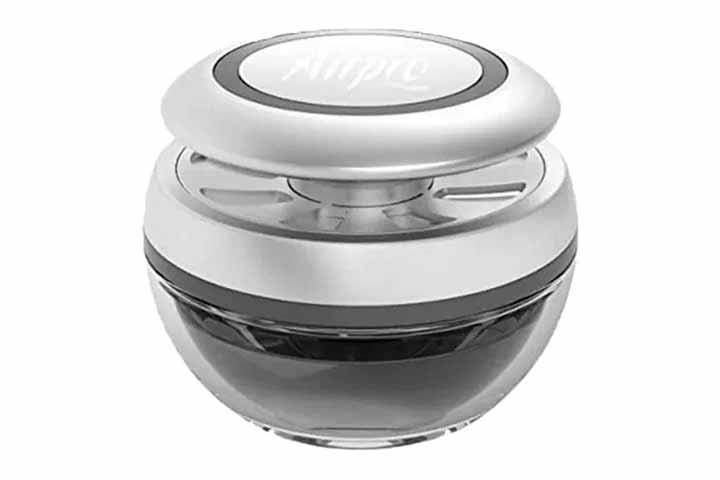 Auto Pearl Airpro is an ultra-luxury fragrance to keep the environment fresh in your car. It provides a pleasant, long-lasting French fragrance for your environment. The spherically designed bottle has a rotating cap that should move anti-clockwise to open. It is available in many fragrances to render a fresh, soothing smell in your car.
Things To Consider While Buying A Car Fragrance
Here are a few points to consider to choose the best car fragrance. 
Smell: Choose a subtle fragrance that is not overpowering, such as mint, grass, lavender, and fruits, instead of choosing something musky and dark.
Longevity: Look for a sustainable fragrance that lasts longer.
Seasonal scents: Mint is soothing for summers, flowery fragrances for spring, and wood oaks for winters.
Reviews: Check through the buyer's feedback pages. Go through the reviews about the product in terms of fragrance and longevity.
Frequently Asked Questions
1. How often should I change my car's air freshener?
When using an air freshener for a car, change them when you no longer notice its scent.
2. How to make air freshener last longer?
To let your freshener last longer, flush your AC using a disinfectant, such as Lysol. If you have automatic air fresheners with high, medium, and low settings, keep them either medium or low to last longer.
3. Do car air fresheners absorb all the odor and purify the air?
Car fresheners absorb all the odor to purify the air especially when the pack is new. You should roll down the windows in small intervals to let the fresh air circulate.
You can bring the best aromas into your car with the best fresheners mentioned in the list. Having the best freshener in your car can also reflect your hygiene sense. These fragrances prevent odor and will be refreshing for anyone who gets into the car. The fresheners listed in this post are of premium quality. So pick one that suits your taste and personality. Lastly, it is recommended that you go through expert reviews to understand which product suits your car better.
Recommended Articles: 
The following two tabs change content below.

Wedetso Chirhah holds a masters degree in English Literature from Mangalore University. He had written content for more than 15 B2B websites and edited school books before joining MomJunction as an editor. Wedetso ensures the articles meet the highest editorial standards. He enjoys making content understandable and relatable to readers, and he is a big fan of the versatile em...
more