Driving can become tiring and unpleasant when we travel long distances, especially when the car seat is not comfortable. The discomfort of poor quality seating can take a heavy toll on your back, which is why investing in a good seat cushion makes sense. A comfortable car seat cushion ensures proper sitting posture, minimizes back pain, allows breathability, and makes driving enjoyable.
There is a wide range of seat cushions to choose from, depending on your choice and comfort. This post lists some of the best car seat cushions and features to look for when buying one.
13 Best Car Seat Cushions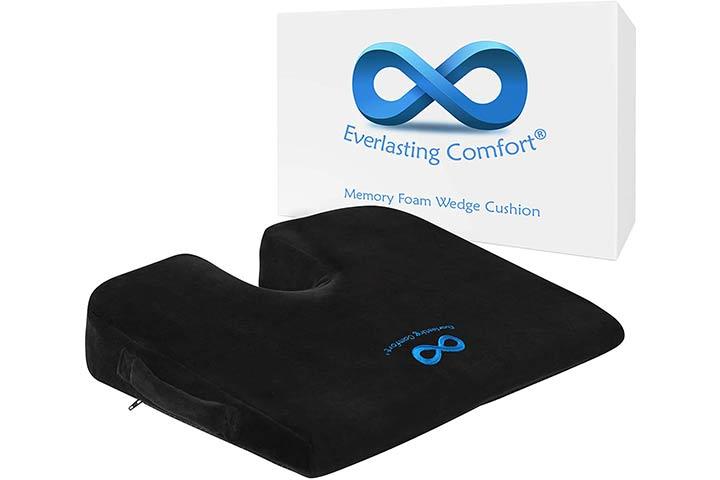 The coccyx seat cushion is made from 100% pure memory foam and designed to fit your curves. Due to the foam's sturdy nature and supportive structure, it does not become flat and retains its original position. The U-shape cutout on the rear wedge seat cushion suspends the tailbone above hard seating surfaces.
The heat-responsive technology uses your body's heat to adjust to the material's firmness and provides maximum support to your back and lower body. It can also be used as a riser for a better seating position. The non-slip rubber bottom with several nubs creates traction between the cushions and the seating surface, thus keeping it intact.
The multi-use car cushion is compact and fits into various chairs and seats. It comes with a carrying strap and has a lifetime replacement policy.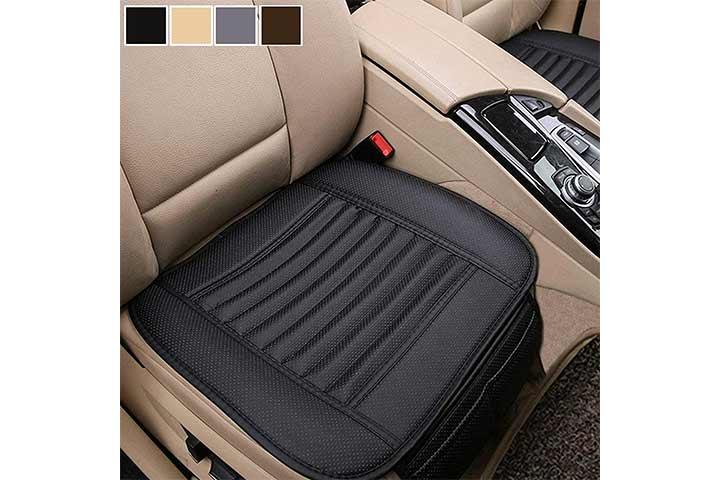 The Big Ant Seat Cover Cushion is precisely designed to keep your hip and back comfortable for a long time. It is made from breathable, absorbent high elasticity sponge and heat-insulated cloth that prevents cracking and fading of the cushion. Its anti-slip rubber prevents it from moving.
The cushion comes with two plastic chucks, two metal hooks, a flexible elastic, and a small pocket for wallets and phones. The seat mat is water- and stain-resistant and is easy to clean.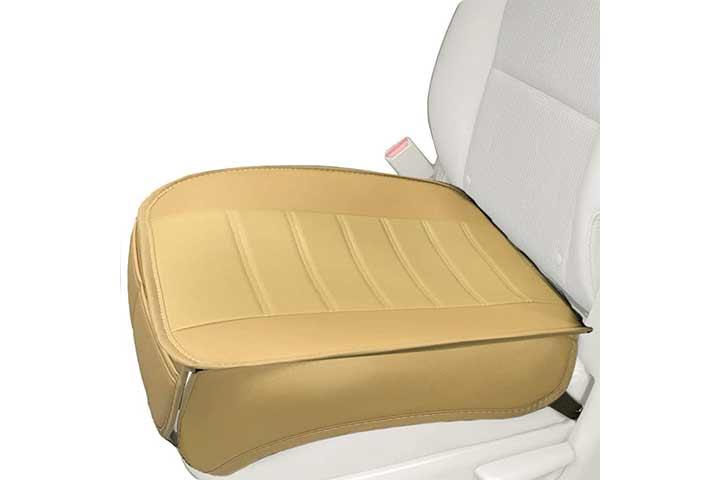 The Big Ant Car Seat Cushion is made from premium quality breathable microfiber leather, high elastic sponge, and heat-insulated cloth to control humidity and temperature. It relieves fatigue by keeping the lower back comfortable for a long time. The bottom pad has an anti-slip rubber to prevent the cushion from moving.
It comes with durable accessories, metal hooks, plastic buckles, and plastic chucks with thick elastic for added comfort. There is a small, handy pocket in the front, and its strong PU material is easy to clean and is water-resistant.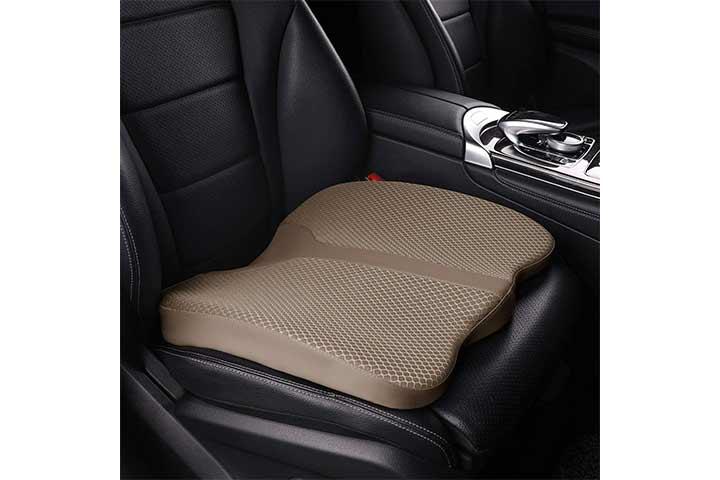 The cushion's unique orthopedic and ergonomic design helps relieve pressure and pain like sciatica, tailbone pain, and leg pain. Its inner core is made of high-density memory foam that provides the utmost comfort and support to the back while driving. It is an oversized cushion that naturally increases the seat's height and keeps it flat. The breathable mesh fabric and anti-slip bottom with a retractable buckle and an adjustable strap add to the seat's comfort. It is easily removable and washable.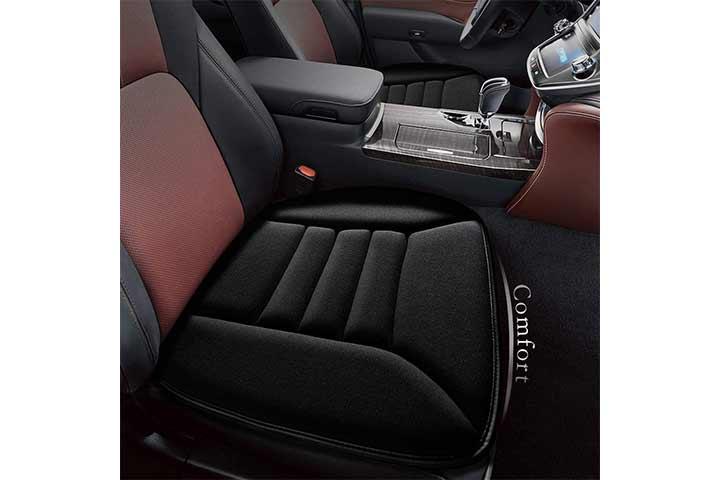 The Kingphenix Car Seat Cushion is unique with the superior quality material build. Its polymer memory foam and breathable fabric give you comfort when seated for longer durations. The thick, anti-slip silicone gel reduces the coccyx pain and stress. It is compact, portable, easy to install, and suitable for various seats and weather.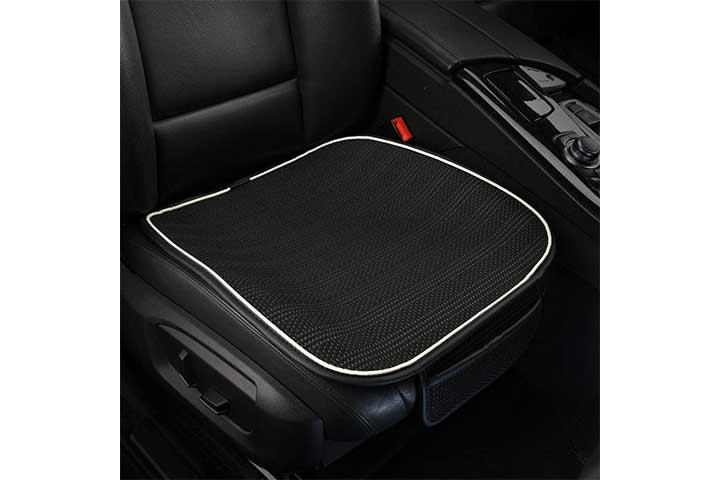 Elegantly and comfortably designed, this car seat cushion is made of good quality breathable material and can withstand wear and tear. It has an efficient rubber cover with anti-skid technology. The cushion has a handy front pocket, and its universal size can fit any car seat. It is compact, easy to install, and will not interfere with the airbags.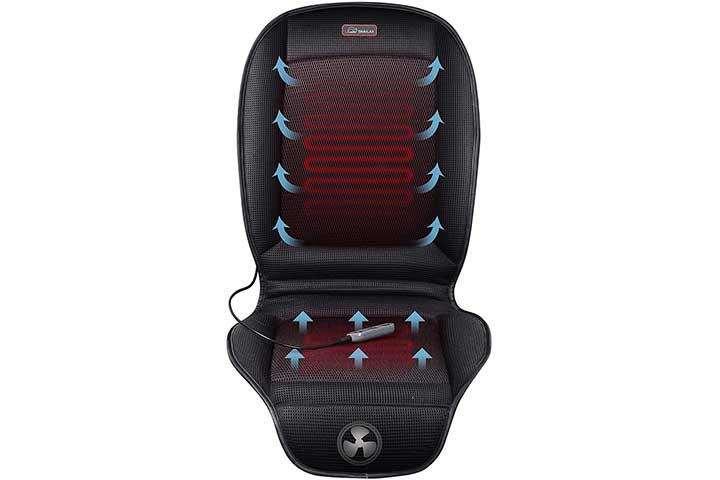 The Snailax offers climate-controlled and moisture management seat cushions. The two heating pads with the auto shut-off option provide complete heat to the body and back, keeping you warm during the winters. Assisted by breathable quick-dry 3D mesh, it offers superior ventilation.
The cooling layer provides the required comfort and keeps you cool and dry during the drive. This universal dual-function seat cushion has an anti-slip rubber bottom and adjustable double straps to fix it to any car seat or chair.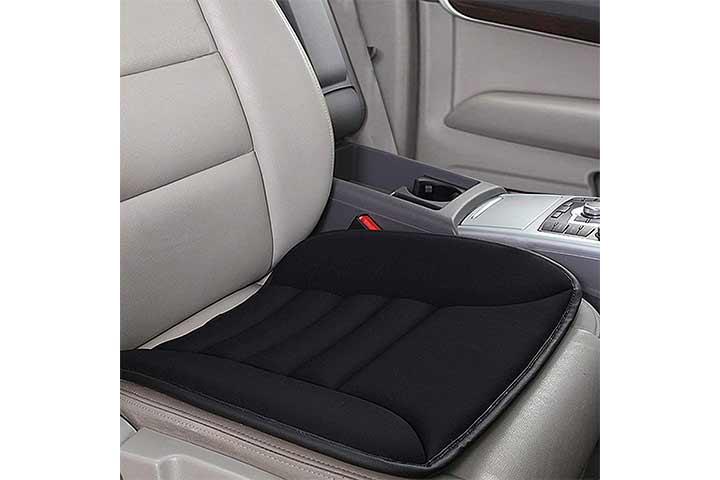 The Big Ant Car Cushion comes with a three-layer design that makes the car seat more comfortable. The first water- and oil-resistant layer helps maintain the cushion in good condition. The middle memory foam layer retains the shape, and the bottom anti-skid layer keeps the cushion firmly in one place. The waterproof cushion pad is easy to install and clean.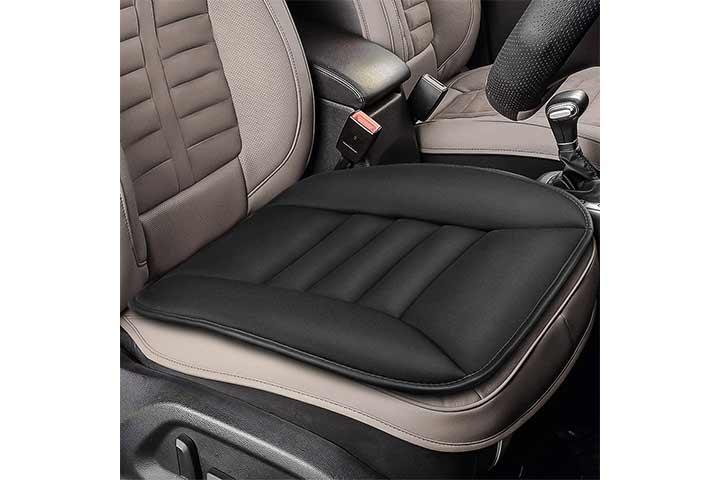 The Tsumbay Car Seat Cushion is made of breathable fabric and supreme quality memory foam that makes the seat comfortable. Its memory foam retains its shape throughout, thereby reducing pressure on the coccyx or tailbone. It comes in a universal size that fits most seats, making it a multi-use cushion. The bottom anti-slip rubber pad keeps the cushion in place, and its plum buckles ensure stability. It is compact, lightweight, and dustproof.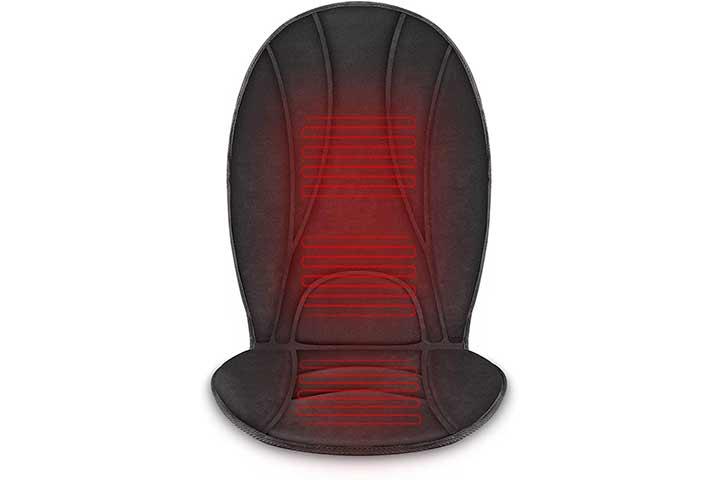 The Comfier Heated Car Seat cover is 100% ultra-cozy soft polyester and provides ample comfort. It is a portable and lightweight heated cushion that accurately fits most car seats. The twin elastic straps and an anti-skid rubber bottom keeps it secure. There are two heating levels and three built-in heating pads that keep the back, thighs, and hips warm. The overheat protection system and the heating pads shut off automatically to ensure safety.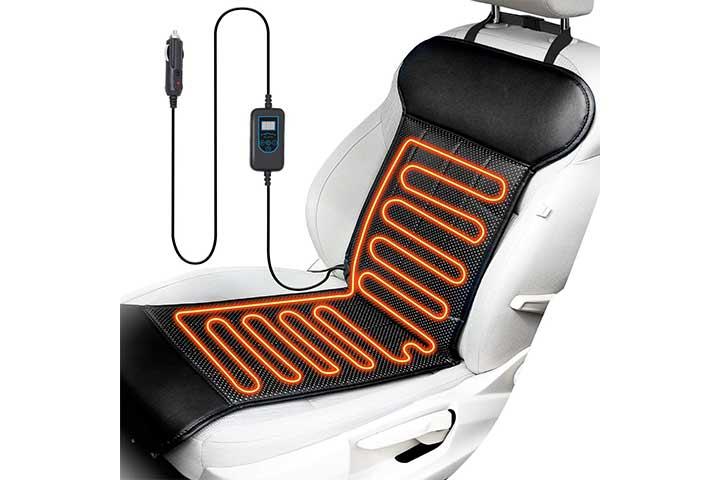 The Eluto car seat cushion is made of PU leather and sponge, with PU leather perforation for the heat dissipation effect. The climate-controlled seat cushion conforms to the American standard CA117 sponge and ensures safety. An intelligent temperature control switch prevents overheating, and a cigarette lighter with a 10A fuse prevents fire and electrical accidents. Made of CE ROHS safety standards, it is safe to use and is a good fit for most DC 12V car seats.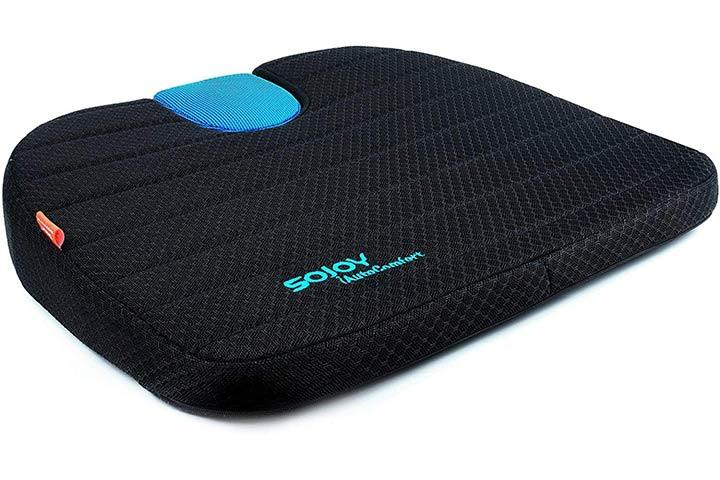 The Sojoy Car Seat Cushion's superior quality material ensures the seat retains its shape even when you sit on it for long. It is durable and offers the utmost support and comfort to the back. The covers are easy to clean and are waterproof, with an adaptable top surface and removable zipped covers. The anti-slip microbead bottom prevents sliding and provides comfort for the tail bone or coccyx. It keeps your lower body cool and is easy to carry along.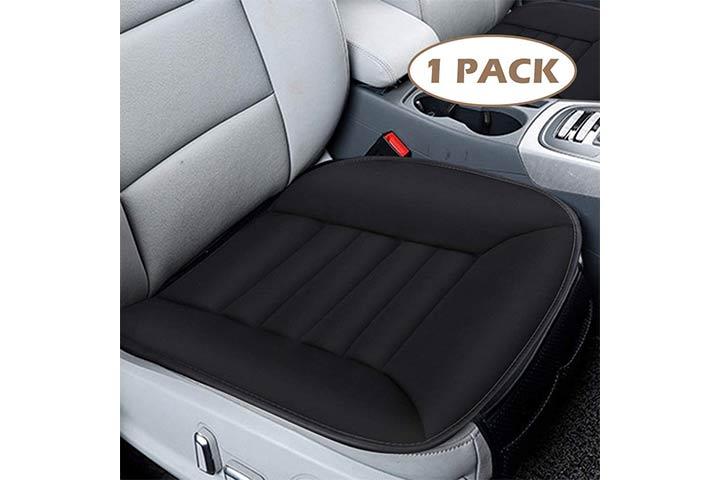 The Myfamirea Car Seat Cushion has a three-tier structure and is an ideal fit for most car seats. A breathable outer layer provides complete air circulation to prevent sweat. The middle memory foam is ultra-soft, comfortable, allowing you to sit for longer. The bottom layer has an anti-slip rubber that keeps the cushion in place, and the plum buckles provide stability to the seat cushion. This car seat cushion also acts as a seat protector to protect it from scratches, dust, and water.
How To Choose The Right Car Seat Cushions?
Here are a few points to keep in mind while buying a car seat cushion.
Ergonomic design: The car seat cushion should be strong and firm enough to support the body weight and help relieve the pain and pressure from your lower back and coccyx. Consider the design with a cutout at that section where the tailbone or coccyx sits. The cushion's contour should fit and mold to the shape of your buttocks and hips while preventing any pressure on the sensitive parts.
Interiors protection: The cushion should be thick and wide enough to protect the car seats from rough wear and tear.
Quality and durability: The car seat cushion should provide complete back support and relieve the lower back's numbness experienced when you sit for long. It should be made from genuine materials and remain in shape for a long time. Consider anti-slip fabric that holds the cushion in form without getting torn and damaged.
Breathability: Sweating when you're driving is not very comfortable, especially on a hot summer day or while on a long drive. Choose a cushion with an open structure that prevents interior heat accumulation and allows free air-flow.
Size: Consider the dimensions of the car seat. It is better to go for a universal fit that can fit any car seat.
Filling: Some cushions come with different filling materials such as polyester, fiberfill, or solid foam. Learn about various fillings, go through each of the pros and cons to choose the ideal one.
Maintenance: Cleaning a stubborn stain or dirt is always a tedious task. Therefore, consider taking a cushion cover that is water- and stain-proof, easy to clean, or machine-washable.
A good quality seat cushion can make driving enjoyable and reduces strain while driving. Different styles of car seat cushions are suitable for various purposes. Quality, durability, and comfort should be the primary factors to check while choosing car seat cushions. We hope our curated list and the buying guide will help you buy the best car seat cushion of your choice.
Recommended Articles