Cook your favorite food efficiently with our list of the best carbon steel pans. Carbon steel pans let you cook your food without having to worry about it sticking to the pan or burning. High-quality carbon steel pans and pots can help you cook food faster, are lighter to carry and offer several benefits similar to cast iron pans.
So, carbon steel pans have gained popularity among seasoned chefs and amateur cooks. You can easily use these pans on a stovetop or in an oven. Pans with a flat bottom are also suitable for wood-burning stoves and outdoor grills, offering even heat distribution and quicker cooking time. Browse through our list of available options and features to choose a suitable one for your kitchen.
How To Safely Use Carbon Steel Pans?
Listed here are a few good ways to use carbon steel pans and pots.
Remove the wax coating: Carbon steel pans often come with a coating of wax, which should be removed using hot water, dishwashing soap, and a scrubber.
Find out how to season carbon steel pan: A carbon steel pan normally has to be seasoned before use, and this is usually done using a mixture of salt, potato peels, and oil. Some manufacturers, however, might provide specific instructions on how to season a carbon steel pan. Proper seasoning of the pan will prevent the food from sticking to it, ensure it lasts longer, and keep it from corroding or rusting.
Check if it can be used on the stovetop or in an oven: Carbon steel is generally considered safe. Pans made from carbon steel can be used safely in an oven, on a stovetop, on an induction plate, and even on a grill. Read the manufacturer's note to check for compatibility.
Check if it can be used for frying and grilling: Most people choose a carbon steel frying pan as it allows for vegetables, meat, and fish to be fried or grilled to perfection with a crispy layer.
Clean it as per instructions: Carbon steel pans should not be put into a dishwasher. Always follow the manufacturer's instructions and use soap and warm water when cleaning the carbon steel pan.
Top Products From Our List
11 Best Carbon Steel Pans
Created from 99% Iron and 1% carbon, this French carbon steel pan is elegantly crafted. The product is free of chemicals, such as PFAO and PTFE, and comes with a wax coating to protect the surface. The seasoned pan gets better over time, and food will not stick to it. The rivets are long-lasting and keep the ergonomically designed handle securely attached to the pan.
Pros
Good 2.5 – 3mm thickness
Resistant to warping
Pan is curved, making it easier to stir fry
Ensures even heat distribution
Two handles for easy lifting
Cons
Use this pre-seasoned carbon steel pan, which has oil baked into its pores, to cook eggs on a stovetop or grill food when outdoors. The carbon steel pan is superior to steel pans, as it has a heavy gauge and can be used at high temperatures. Three rivets are used to attach the handle to this skillet securely. This option is outstanding among carbon steel skillets as it allows for good heat retention when cooking on high heat or consistently low temperatures.
Pros
Superior 12 gauge carbon steel
Requires less seasoning
Scratch-resistant
Develops a non-stick surface with use
Cons
With this small, round-bottomed wok, stir frying vegetables or anything else for a large family becomes hassle-free. It is created from heavy-duty carbon steel that is extremely durable and does not rust or corrode when maintained well. The wok turns black as it is used and once seasoned, the coating on its surface ensures that meat and rice do not stick to it. It has a heat-resistant wood handle that offers a secure grip to minimize the chances of slipping.
Pros
Additional rounded helper handle
Large 14-inch diameter
15 gauge quality carbon steel
Hammered and created by hand
Cons
Round bottom does not suit electric or induction plates
This black carbon steel pan is shaped like a wok for cooking large quantities of rice or stir frying vegetables and meat. As the wok allows for superior heat retention, the food cooks faster. It also has a flat bottom and can be used on induction ovens or an electric oven cooktop surface. It comes with a lid and caters to the many cooking needs in different households.
Pros
Metal spatula included
Wide pan with a diameter of 12.5in
Comes with a link to a YouTube video guide on how to use
Cons
Black coating tends to peel
This is a large-sized wok ideal to stir fry veggies for multiple table servings for the whole family. It is the best carbon steel pan available in terms of its large diameter and heavy-duty metal composition with a thickness of 2mm.
It also has a long ergonomic handle made from phenolic resin that is heat-resistant for enhanced comfort, while the smaller handle allows for easy handling and serving. The flat base makes it compatible with induction ovens or flat electric stoves.
Pros
Large diameter of 14 inches
Resin-coated helper handle
Loop on the handle allows for easy hanging
Durable
Cons
Factory coating could be tough to remove
Seasoning the pan could be tricky
This large steel frying pan made from 99% pure iron and 1% carbon is a good option if you want to make crepes or tortillas. The rivets on the pan are placed by hand to attach the handle securely. Created from PFOA- and PTFE-free materials, the pan comes with a natural coating of wax and ensures that it remains free of rust when in transit. The flat bottom carbon steel pan is suitable for a flat cooktop surface, such as induction and electric stoves.
Pros
Ergonomic handle with superior grip
Created from 3mm thick warp-resistant steel
Capable of withstanding temperatures of up to 400°F
Evenly distributes temperature from the heat source
Cons
With a large diameter and a small rim, this carbon steel pan is designed specifically for creating paella that contains seafood or vegetables. It enables even distribution of heat for the contents to cook faster. Using this pan, you can cook enough paella for up to five people. It also has a flat bottom with a pitted finish and can be used on an induction oven or a grill outdoors.
Pros
Two easy-to-grip stainless steel handles
Easy to clean with steel wool
Rigid pan with enhanced durability
Large diameter of 15in
Cons
Might develop scratches
May bend when exposed to excess heat
With this black carbon steel pan, you can cook biscuits in an oven or stir fry vegetables on a cooktop surface. The flat-bottom pan has a good diameter and can be positioned on almost any cooking surface, including outdoor grills and camp stoves. It can withstand high temperatures of up to 600°F and is preferred by professional chefs. The handle on the carbon steel frying pan is riveted securely. The material makes the pan lighter than similar cast iron pans.
Pros
Resistant to corrosion/rust
Large pan with a diameter of 10in
Pre-seasoned carbon steel pan
Non-stick surface becomes better with use
Easy to clean and maintain
Silicone coating of wax keeps it free of rust in transit
Cons
Bottom is not perfectly flat
Might become rusty
This skillet can be used to fry eggs, braise meat, or grill chicken in an indoor oven and is perfect for those who prefer steel skillets. The 14-inch long and two-inch deep skillet has an ergonomic handle with a concave finish for easy gripping. The material used in its build allows the pan to heat evenly, and its flat bottom is suited for home cooks who have a small kitchen.
Pros
Vents on the handle prevent heat from reaching it
Pre-seasoned carbon steel pan
Rivet-free pan is easy to clean
Cons
Meat tends to stick
May warp with time
This chemical-free utensil is a cross between a wok and a pan. The carbon steel pan is popular among professional chefs as has a unique handle that can be detached without tools when it has to be used in an oven. It is similar to a blue carbon steel pan and can withstand temperatures of up to 550°F. The pan has a flat bottom that makes it compatible with an induction plate or a flat cooktop surface.
Pros
Large diameter of 12.5in
Resistant to scratches
Free of PFOA and PTFE
Ring on the handle for easy storage
Spout on pan enables easy pouring
Heat-resistant handle
Cons
Instructions for seasoning may be incorrect

With this carbon steel pan from Yosukata, you can cook a large quantity of stir fried vegetables or rice for your family. The steel frying pan is ready to use and has a heavy ergonomic handle that gives you a secure grip when cooking or tossing vegetables. It is made from high-quality chemical-free materials and has a rounded bottom and a large diameter. The build allows for home cooks to try out various cooking techniques with ease.
Pros
Factory-seasoned carbon steel pan
Large diameter of 14in
Heat-resistant handle
Additional helper handle
Uniformly thick pan
can be easily cleaned with water and sponge
Cons
Black coating might flake off
How To Choose The Best Carbon Steel Pan?
When looking for a carbon steel frying pan, you will find many options. To choose one that's best for you, here are a few things you should consider.
Shape of the pan:  If you often need to cook for a large gathering, a wok-shaped carbon steel frying pan could be a good choice. The wok allows the juice to settle at the bottom and keeps it from evaporating to get absorbed by meat and vegetables. Opting for carbon steel skillets is a good option if you want to bake biscuits or grill meat or chicken. However, a large, flat-bottomed carbon steel pan is ideal if you want to cook rice dishes, such as paella.
Shape of the pan's bottom: Woks generally have a rounded bottom, but some with flat bottoms can be used on induction and electric stoves with a flat surface. Round bottom pans cannot be used on such stoves.
Consider the type of carbon steel used: Generally, a French carbon steel pan is considered high quality and is preferred by many. A black carbon steel pan is also very popular, as is the blue carbon steel pan that has a special protective coating and is designed to last longer.
Check if the rivets are securely fitted: Rivets in a carbon steel pan can come loose or break, so make sure you pick a sturdy one. A pan without rivets is better and easier to clean too.
Check the coating on the pan: Some pans come with a coating that makes them non-stick from the first use. Others gradually develop a non-stick surface as they are used.
Unseasoned or seasoned carbon steel pan: Most carbon steel pans come with a wax coating that keeps them from rusting. The coating has to be removed before they are seasoned and used. However, some pans are pre-seasoned to reduce the amount of work you have to do before using it.
Frequently Asked Questions
1. Can a carbon steel skillet be used on a glass stovetop?
Yes, a carbon steel skillet can be used on a flat glass stovetop. Do read the manufacturer's instructions before using it.
2. Can I use a carbon steel skillet for eggs?
Yes, you can fry eggs in a carbon steel skillet. Since the pan is made of metal, you don't have to worry about safety when using a carbon steel pan for cooking eggs, vegetables, meat, or fish. Just make sure that the pan you choose is free of any chemicals.
People who love using Chinese and Mediterranean cooking techniques prefer a carbon steel pan when they do not have cast iron pans. These pans come in various sizes and are routinely used by professional chefs and home cooks who love their versatility as they can be used for deep-frying, grilling, and baking.

Recommended Articles:
The following two tabs change content below.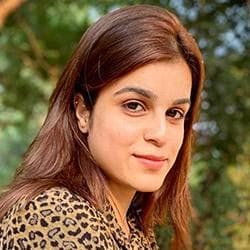 Sakshi John
Sakshi did her graduation in Journalism from the Madras Christian College, Chennai, before starting her career as a freelance writer. She is into blog writing and for MomJunction, she covers various topics, including products to buy for your kitchen, furniture, and other home requirements. Previously, she interned as a content writer in a cyber security firm. As a content writer, Sakshi...
more