For avid travelers, campers, or families with children, the space in the boot may not be sufficient for the luggage sometimes. However, if you do not wish to compromise on the space in the car, then opting for one of the best cargo boxes from our list could help.
Cargo carriers are additional storage compartments that can be mounted on a car. They are available in various shapes and sizes and have tools to fixate them on the car tops. These increase the storage space and are ideal for long car journeys.
There are a few features you should be aware of before purchasing them. To know them, read some of our selected products for you.
Top Products From Our List
10 Best Cargo Boxes
Made of durable and UV-resistant ABS plastic, the cargo box from SportRack is spacious and resistant to impact strikes. It has a rear lid opening that makes accessing cargo easy and safe. The box has a lock to secure your belongings and fits easily on various car racks, including round, square, and factory racks.
Pros
Aerodynamic and waterproof
Safe and extra-large
Durable, easy to use, and secure
Easy to clean with water and soap
Can hold up to 100lb weight
Doesn't require tools for installation
Cons
The roof-mounted cargo carrier accommodates five to seven pairs of skis or three to five snowboards, has a dual-side opening for easy and quick access from the car's sides, and clicks when the roof box is mounted correctly. It has a pre-installed quick-mount feature and an automatic locking lid that makes it more secure.
Pros
Optimal space efficiency and snug vehicle fit
Full truck access
Slide-lock system and key system compatible
Additional space of 22cu ft
Cons
May not be suitable for small hatchbacks
The Thule cargo box has a diamond-textured aeroskin surface and an aerodynamic shape to cut through the wind easily. Made of durable material, this cargo box has dual-side openings to operate from either side of the car. It has a quick-grip mounting system and secure lock to keep the contents of the box safe. You can carry skis or snowboards easily in this box.
Pros
Dual opening for easy loading and unloading
Oversized secure lock
Easy to grasp even with gloves on
Suitable for Xporter, round bars, AeroBlade, and other racks
Cons
Installation could take time
The rooftop cargo box from Thule has sturdy U-volts and reinforcement plates for secure mounting on the car. It has a heavy-duty design to protect the gear and a passenger-side opening for easy loading and unloading. This cargo box fits well on Thule rack systems, round bars, and most factory racks.
Pros
Space-saving design
Durable and versatile
Ideal for small loads like camping gear and golf clubs
Includes two locks to keep the contents of the box secure
Cons
Made of high-density material, the Sportrack cargo box offers increased stability. It has a U-bolt mounting hardware kit for easy installation and passenger-side opening that allows convenient access. You can keep the box's contents secure when traveling, with a lock that comes with the package.
Pros
Made of high-density UV-resistant material
Durable and safe
Easy to attach and remove
Fits Sportrack rack systems, square bars, round bars, and most factory racks
Cons
May not be suitable to carry heavy loads
The cargo box from Yakima has a dual-sided opening for easy access. It has internal lid stiffeners that offer durability and a sleek and aerodynamic design that reduces wind noise. You can carry heavy hauling gear for two campers or snowboards and skis up to a length of 180cm conveniently. It can be an ideal choice for Yakima round, aerodynamic, and square bars.
Pros
Suitable for cars, wagons, and SUVs
Includes SKS locks
SuperLatch security for secure lid
Available in five sizes
Cons
Lock mechanism may have issues
Best suited for road trips, the sleek aerodynamic design from Goplus reduces drag and noise. It has metal lid stiffeners for added safety at the bottom of the roof box and a dual-sided opening that makes accessing the contents easy from either side of the car. The box is suitable for square, round, and other factory bars.
Pros
Made of high-quality, sturdy ABS material
Waterproof and withstands different weather conditions
Suitable for cars, vans, and SUVs
Easy to install and remove
Super latch security to keep lid intact
Cons
May not be suitable for large vehicles
The Yakima cargo box has improved hatch clearance and is suitable for cars, hatchbacks, and SUVs. It can store the belongings of up to two campers effortlessly. It has an aerodynamic design that reduces drag. The quick-dial mounting hardware that comes in the package makes it easy to mount.
Pros
Easy to install and use
Super latch security to keep lid intact
Compatible with Yakima round, square, and factory crossbars
Universal roof rack fit
SKS locks included
Integrated push-button for security
Cons
May not be suitable for all cars
Easy to assemble and aerodynamically designed cargo box from Car Top reduces noise. Made of high-density polyethylene, it has a UV inhibitor that protects against cracking and fading. It has a dual-side entry that makes loading and unloading easy from either side of the car.
Pros
Ideal for shorter roof lines and smaller cars
More storage space compared to other cargo boxes
Weather-tight seal for added security
Can be mounted on a roof rack
Cons
May require crossbars and racks to fit the box
The Inno cargo box has an inner mat to protect your gear and minimize the noise. The memory mount system enables quick installation and has a matte black finish for a rugged look. The hinges of the cargo box are made of high-quality material for added durability.
Pros
Dual-side opening for easy access from either side
Secure locks to keep the contents intact
Easy to install and clean
Stiff and solid top
Cons
How To Choose The Right Cargo Boxes?
Consider these features while buying a cargo box for your car.
Size: Most cargo boxes easily fit on the car's roof rack system, which contains crossbars that bridge the width of the roof. If you own a hatchback, the cargo box should not interfere with the opening of the door. The ideal cargo box size depends on the type of car you own.
 Assembly and mounting: While some people like to leave the cargo box on the car roof, others prefer using it only when needed. Most people fit the cargo box when they're traveling long distances and remove it later. Choose a box that has easy-to-grip knobs for easy and quick assembly. With the right kind of roof bars, the cargo box's mounting and dismantling become effortless too. Also, look fora model that fits most rack bars.
Storage: What you intend to carry in the cargo box determines the kind of box you should choose. For heavier items, consider a sturdy and rigid box. Also, pay attention to the amount of space it will take when stored in the garage. If storage is an issue, consider using a cargo bag instead of a cargo box.
Security: Cargo boxes are more secure than cargo bags. Most cargo boxes have a secure lock that keeps your contents secure. The automatic locks also help contain spillage while driving on the road. Also, cargo boxes have an option of mat lining inside that keeps the box's contents intact and prevents damage.
Material: Some of the best cargo boxes made of premium material can be a good choice for luxury cars. They look better and create little noise when compared to the other models.
Having a cargo box on top of your car gives you a great deal of additional space. It allows you to carry those extra set of vacation clothes, ski equipment, or other things. Purchase a cargo box that suits your needs and lasts for years.

Recommended Articles:
The following two tabs change content below.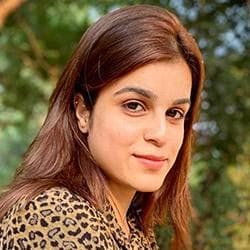 Sakshi John
Sakshi did her graduation in Journalism from the Madras Christian College, Chennai, before starting her career as a freelance writer. She is into blog writing and for MomJunction, she covers various topics, including products to buy for your kitchen, furniture, and other home requirements. Previously, she interned as a content writer in a cyber security firm. As a content writer, Sakshi...
more