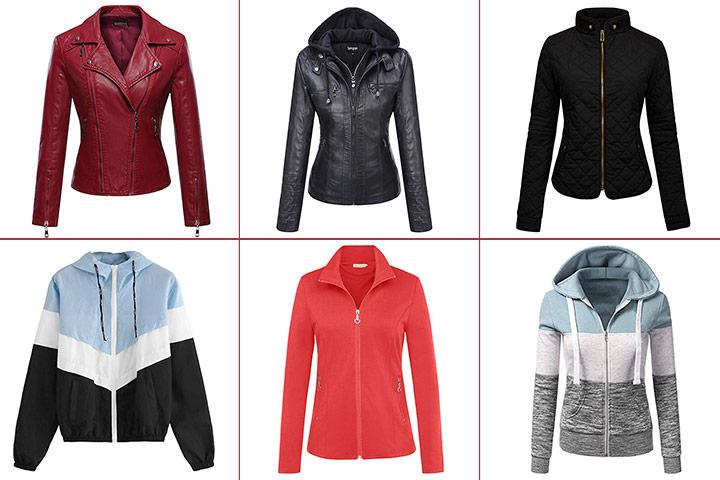 How do you jazz up an everyday outfit? By adding something funky or vibrant? Well, that may be one way to look amazing. But have you ever thought of trying on a jacket? Nope, we are not talking about a heavy or formal one. But one that complements your look and takes your style quotient up by a notch. Explore some of the best casual jackets for women, and you would be spoilt with choices. They are fun, lightweight, and look uber-chic.
In this MomJunction post, we list some chic yet comfy jackets that you may love to wear anytime, regardless of the season or occasion.
17 Best Casual Jackets For Women
Casual jackets for women can make even a plain outfit better, complement a simple look, or just help you stay warm on a cozy spring day. Let's have a look at some of the best options available.
1. Amazon Essentials Women's Full-Zip Polar Fleece Jacket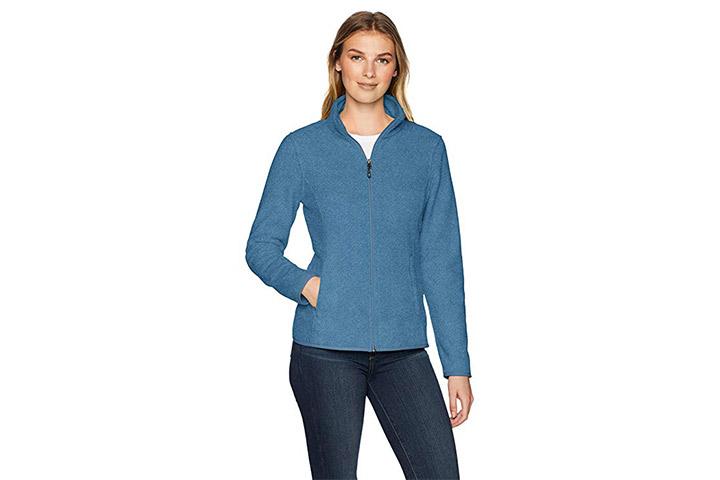 Ideal for a casual day outing, this fleece jacket is made of 100% polyester. To give you a well-fitted look, this jacket comes with contoured seams on both sides. Its full zipper in the front would give you a snug fit, and the base layer will keep you warm. Available in more than ten color variants, this jacket is super easy to maintain and can be washed in the machine without any hassle.
2. Riders by Lee Indigo Women's Stretch Denim Jacket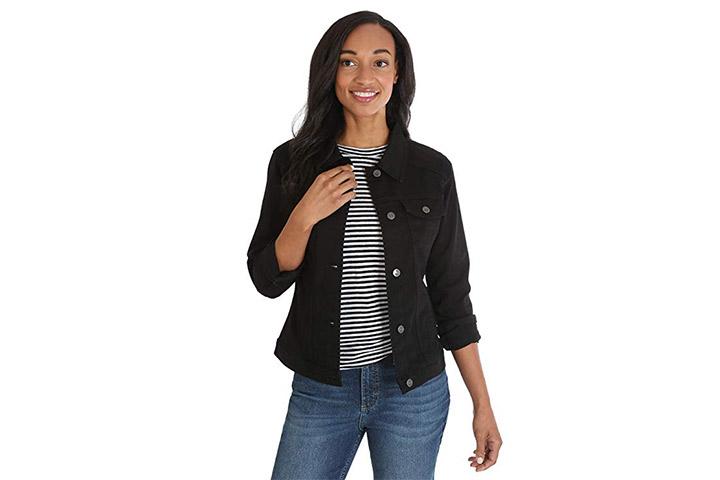 This stretchable denim jacket is crafted using a combination of premium fabric materials such as cotton, rayon, polyester, and spandex. The button detailing adds an extra spark to this jacket, which comes in five variants offering a classic straight fit for maximum comfort. You don't have to worry about storing your knick-knacks as this jacket comes with two flap closure pockets on the top and two on the sides as well. It is suitable for machine washing.
3. Tanming Women's Faux Leather Moto Biker Short Coat Jacket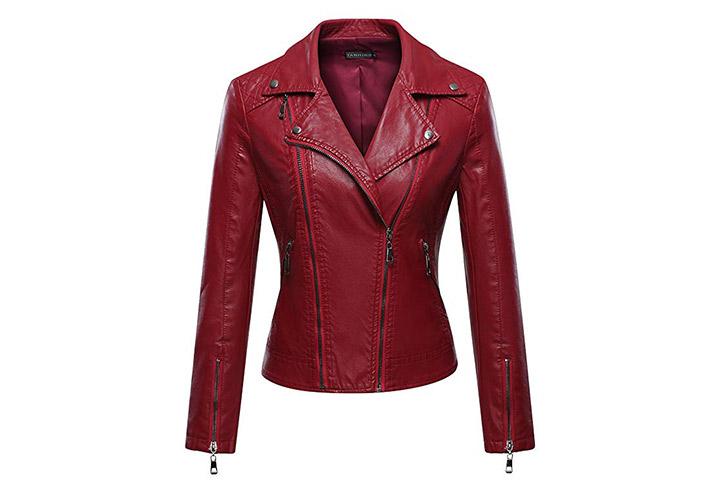 Wear this when you want to add that oomph factor to a plain outfit. This faux leather jacket looks like a biker jacket and is available in 16 style and color options. The outer layer of this biker jacket is made of 100% polyurethane, and the lining is 100% polyester. It has a slanted zipper on the front and two side pockets with zip-up closures.
4. Sofra Women's Thin Cotton Zip Up Hoodie Jacket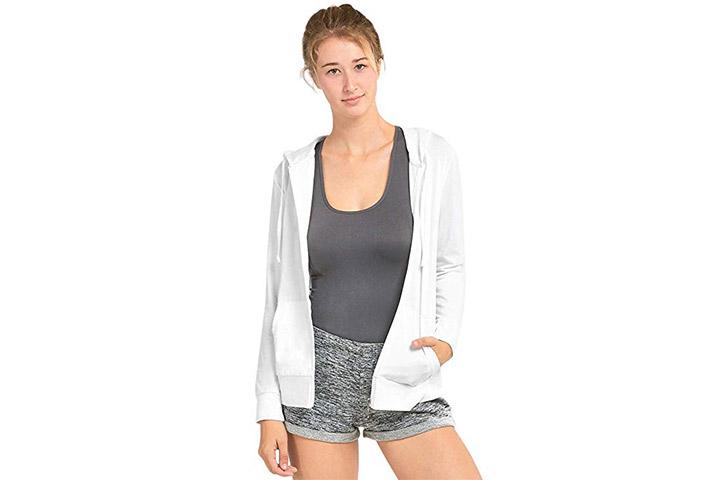 There are winter coats, formal blazers, hoodies, and so many more options. But if you need a simple cotton jacket that can be worn at any time of the year, then the Sofra thin cotton jacket for women should soon become a part of your wardrobe. This cotton and spandex blend jacket comes in more than 20 color options and four sizes. It has a complete zip-up closure in the front and two side pockets.
5. Anna-Kaci Women's Sequin Long Sleeve Front Zip Jacket with Ribbed Cuffs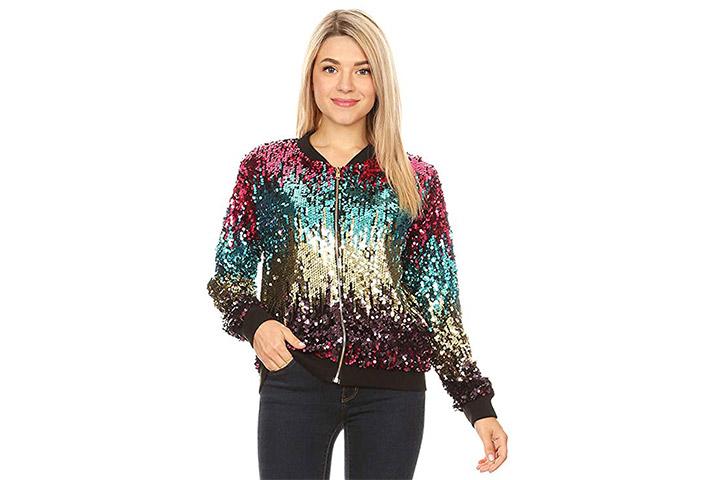 Love yourself a little bit of sequin and glitter when you dress up? Then this Anna-Kaci casual jacket for ladies is just what you need for an evening out with friends or when you want to doll up for a party. It is available in 11 variants, each uniquely stylish. This sporty yet sparkling bomber jacket is both chic and comfy, has a soft rib collar, and the cuffs are also smooth on the skin. The inner lining ensures protection from rubbing or scratches by the sequin. If you love some bling, add this to your party collection now!
6. Springrain Women's Casual Stand Collar Detachable Hood PU Leather Jacket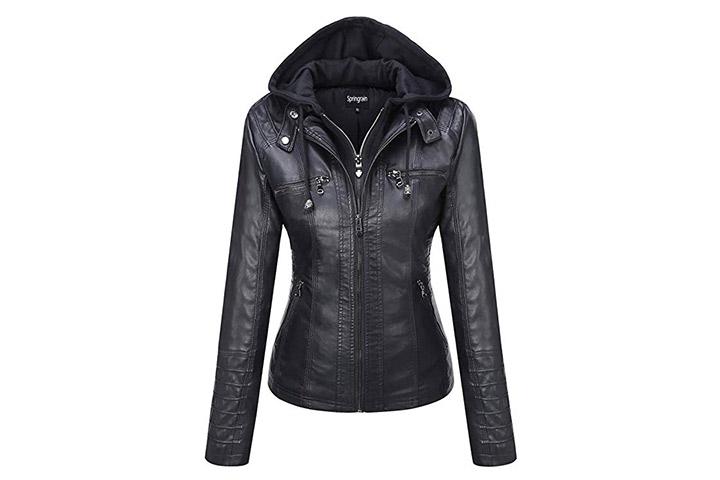 Looking for a casual yet glam jacket? Add this one by Springrain to your wardrobe then. The princess cut fitting, both at the front and back, gives this jacket an uber-chic look. It has a full zipper closure and comes in five trendy colors. The ruffled collar with a detachable hood may help you stay warm on windy and cold days. It has multiple pockets to let you store your trinkets, coins, or small wallets comfortably.
7. Made By Johnny MBJ Women's Military Anorak Safari Hoodie Jacket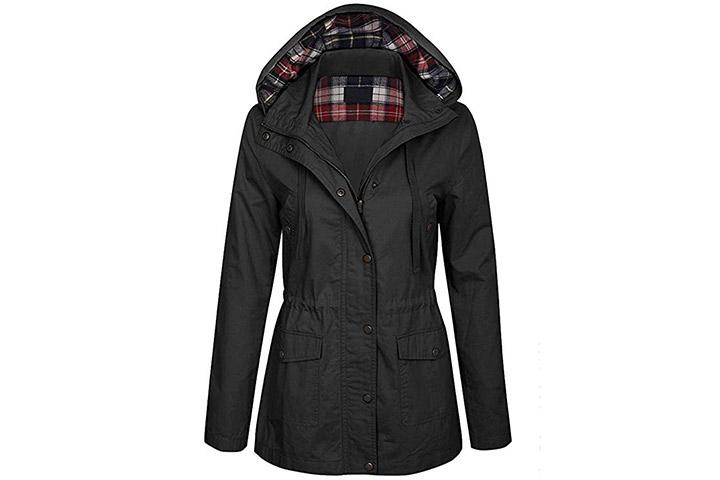 Have you wanted a military-style jacket that you can wear every day? Try the Anorak Safari jacket by MBJ then. Whether you pair it with jeggings or shorts, this MBJ jacket can be a fun addition to your closet. It has button tabs that can convert the sleeves from full length to three-fourth, as per your convenience. The jacket also has a thermal interior lining and a drawstring hoodie to keep you warm. You can pick from 25 design variants in this model.
8. POGTMM Women 3/4 Sleeve Blazer Open Front Cardigan Jacket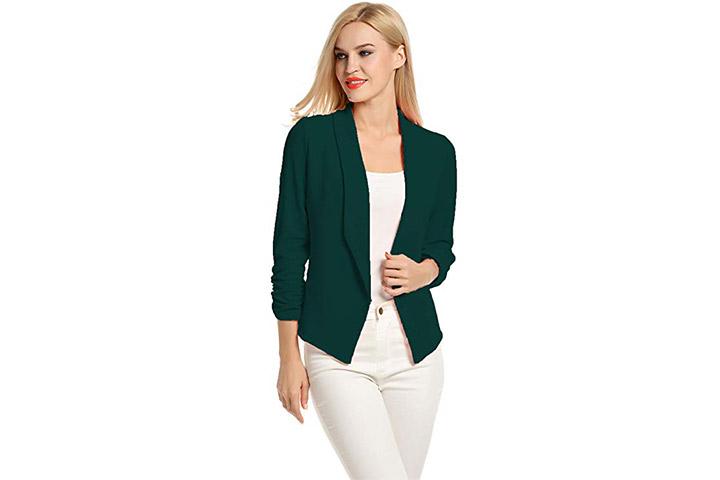 Who says blazers have to be in shades of black, blue, or gray only? Try this smart casual women's blazer, available in more than 20 solid color variants, for your next interview or office meeting. The blazer jacket is made of 100% polyester, has an open front, and ruched three-quarter sleeves. This casual blazer can be washed in the machine but requires a little care.
9. Yeokou Women's Casual Sherpa Lined Zip Up Hooded Sweatshirt Jacket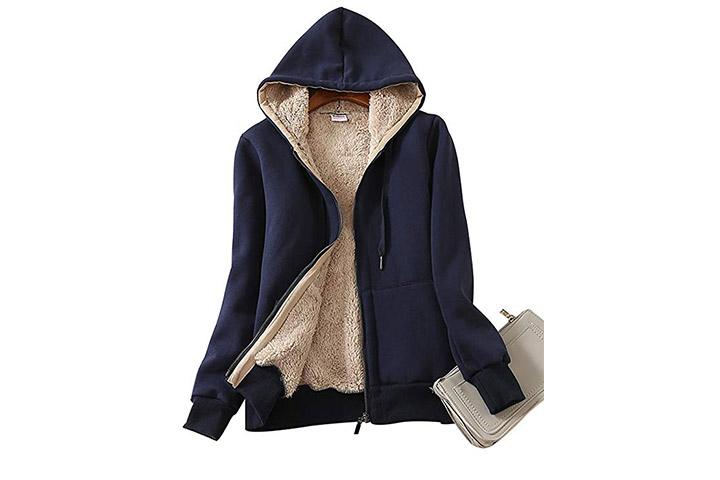 Do you like sporting hoodies? If yes, then give this fuzzy one a try. It comes in five color options and has a warm fleece liner throughout the coat, including the sleeves and hoodie. This hoodie coat also comes with two warm pockets and ribbed style hem cuffs. This jacket purchase may be all you need for those mild but windy cold weather days.
10. Lock and Love LL Women's Casual Military Safari Anorak Jacket with Hoodie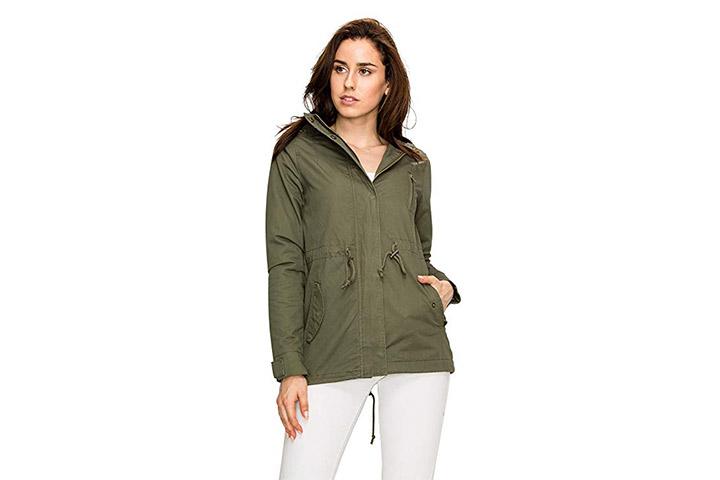 The Lock and Love women's military-style casual jacket is sure to make heads turn. Available in over 35 color and style variants, this one comes with button tabs to convert the sleeves from full length to 3/4th length, as and when you want it. It has a complete inner lining, adjustable drawstring at the waist, and an option of zip up or button closure. What makes it unique is the light-weight material used in designing this jacket.
11. NE PEOPLE Women's Lightweight Quilted Zip Jacket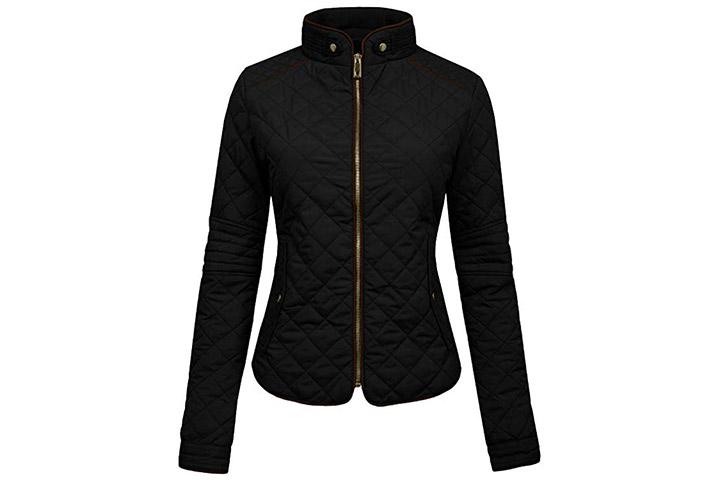 Smart casuals are in vogue now, and if you like to follow the trend, then this quilted jacket could become be your next favorite purchase. The quilt detailing adds a unique style to this jacket and makes it attractive. It comes in 12 colors and gives you a nice fitted feeling too. The only downside is the maintenance of this jacket, as it needs to be hand washed and ironed on low heat.
12. Luvamia Women's Open Front Blazer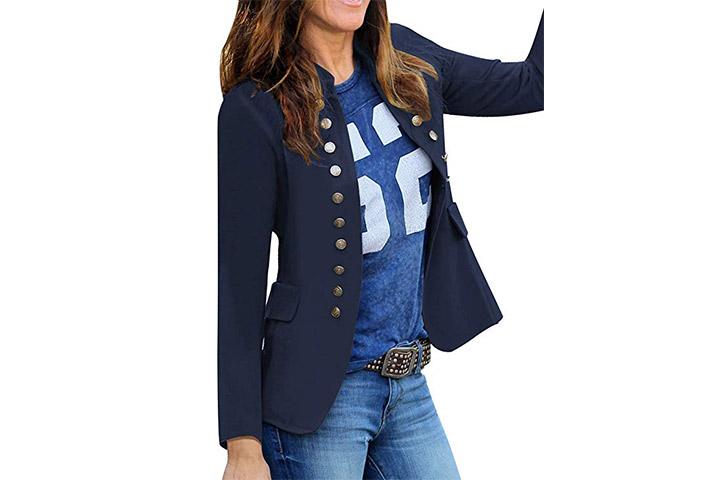 Do you like power-dressing? If yes, then this blazer is just made for you. It is available in eight solid colors and plaid pattern options. The bold-buttoned closure adds a unique charm to this blazer. The jacket has an inner lining to keep you warm, and two front pockets for holding your keys, wallet or other pocket-sized possessions. Though it requires handwashing, this chic jacket like this is worth your time, effort, and money as well.
13. SweatyRocks Color Block Drawstring Hooded Windbreaker Jacket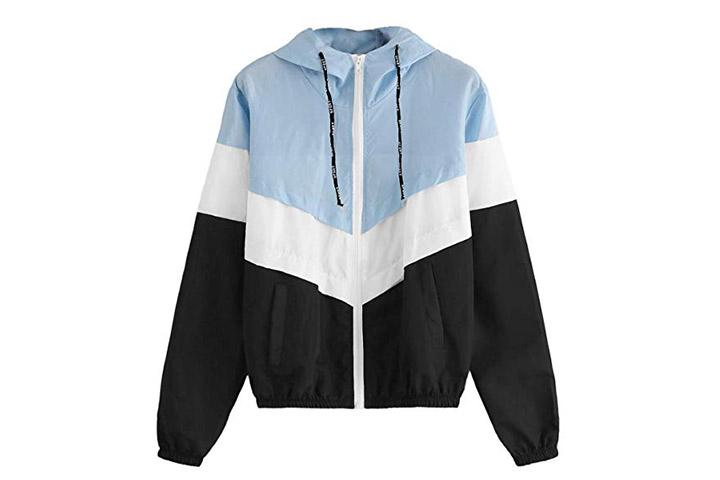 Don a sporty look with this color block windbreaker jacket. It comes in almost 40 color and design variants to suit every woman's tastes. This outdoor jacket has a zip-up front closure, drawstring hoodie, and full sleeves. It is made of polyester material that dries quickly and can be washed in a machine, therefore easy to maintain.
14. Newbestyle Women's Casual Color Block Zip Up Hoodie Jacket with Pocket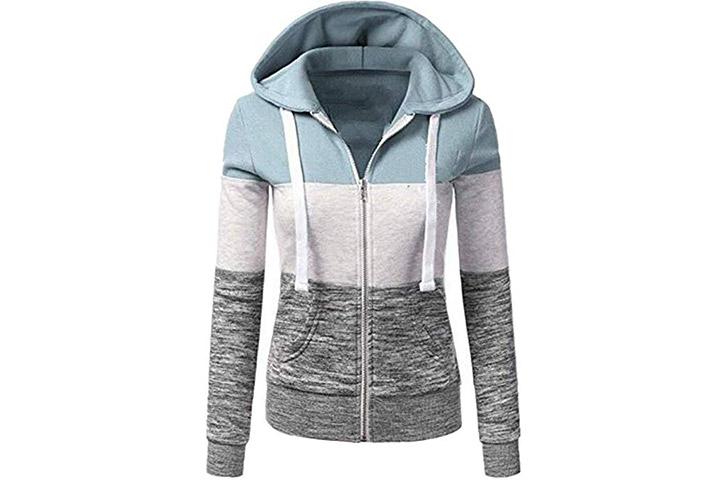 Another casual color-block hoodie, but in a more fitted style, this one would be a good investment if you are looking for something soft and cozy. With 20 color variants, you are spoilt for choices. This jacket is crafted using a blend of cotton and polyester fabric and is light in weight. Its inner fleece lining ensures you stay warm and long sleeves, hoodie, and two side pockets would provide maximum comfort.
15. Floerns Women's Ripped Distressed Casual Long Sleeve Denim Jacket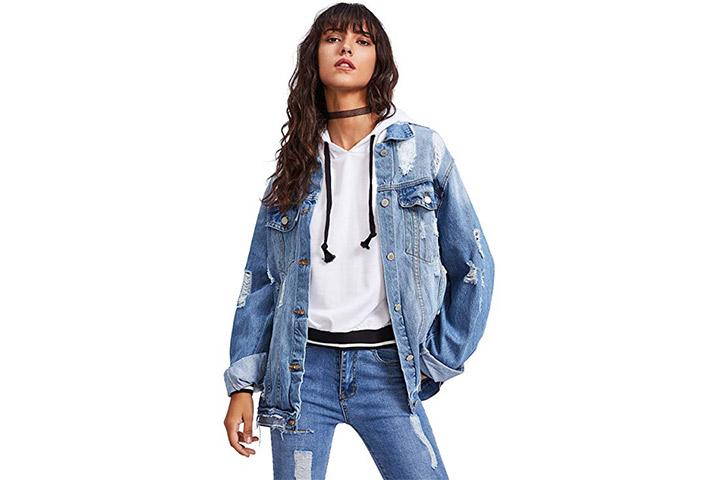 Denim jackets are lit! Pair them with skirts, culottes, shorts, trousers, dresses or just anything. This regular fit casual denim jacket by Floerns is made of a non-stretchable fabric. The ripped detailing gives it a grunge and Rockstar appeal. It has front button closure, long sleeves, and a turndown collar. You can choose from nine different denim shade options.
16. WenVen Women's Casual Military Hooded Anoraks Jacket with Drawstring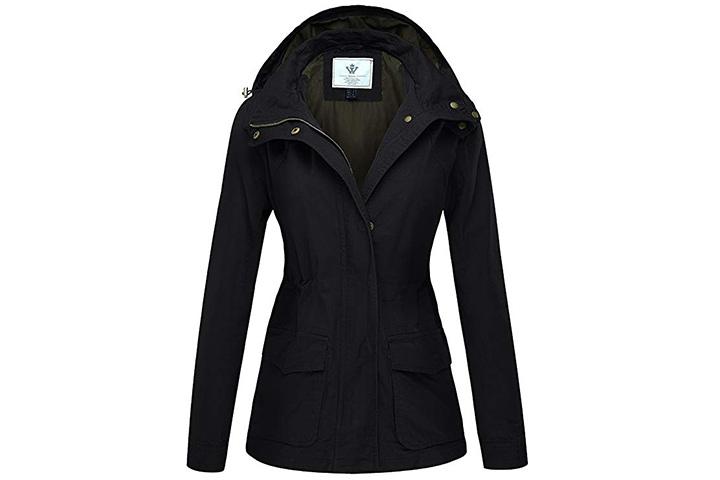 Another casual color-block hoodie, but in a more fitted style, this one would be a good investment if you are looking for something soft and cozy. With 20 color variants, you are spoilt for choices. This jacket is crafted using a blend of cotton and polyester fabric and is light in weight. Its inner fleece lining ensures you stay warm and long sleeves, hoodie, and two side pockets would provide maximum comfort.
17. Kate Kasin Women's Stand Collar Sport Jacket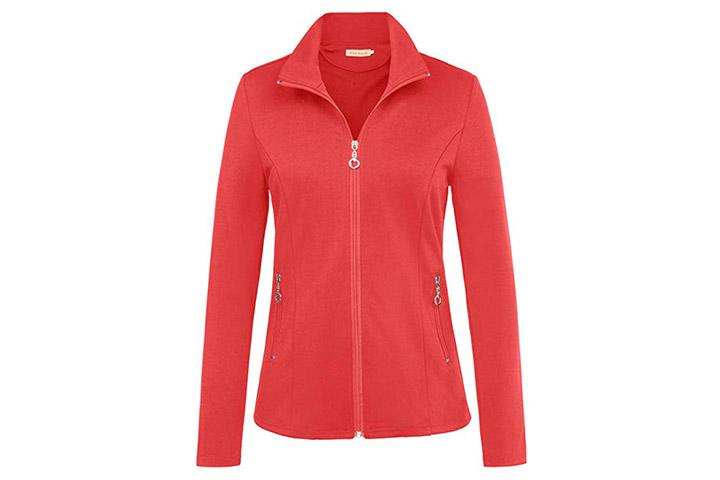 Simple yet stylish, this jacket by Kate Kasin is perfect for days when you don't want to put in too much effort to get ready for an outdoor trek or adventure sport or just want to layer up on a cold, windy day. It has a regular front zip-up closure and comes in nine colors that you can choose from. Made of premium quality fabric, this jacket has zip-up side pockets and solid full-length sleeves. Ideal for handwashing, it can also be washed in the machine.
How To Choose The Best Casual Jacket?
Buying a casual jacket may not be such a casual or simple activity. When you are spoilt for choice, it can get tricky. Here are a few pointers to keep in mind while adding ladies' casual jackets to your cart.
Size: Just because it's a casual jacket doesn't mean you do not pay any attention to the size and fitting. Only when you buy the right size, it would look oh so, perfect on you!
Detailing: Pay attention to the pockets, zipper, buttons, sleeves, and basically every little feature of the jacket. You don't want to fret over a tiny detail after spending a considerable amount on the jacket.
Comfort: Sometimes, even when you buy the right size, it may not make you feel comfortable. Look carefully if that jacket you are buying would give you max comfort, especially around the armhole, neck, and bust.
Material: Buying a jacket made of a premium quality fabric is important for it to last long. But if you are looking for something to wear occasionally, then you may as well look for a pocket-friendly alternative.
Style: What's in fashion is irrelevant if a jacket does not make you look and feel like an absolute diva. Isn't it? So, choose a style that makes you feel happy.
Be you! Be a trendsetter. You are one in the universe. Everything you own or add to your closet has to keep that magic going. And remember to wear your confidence with every outfit. The best casual jackets for women would look so dapper when you pair them with a powerful smile.
Now that you have so many options to choose from, you can upgrade your closet with some amazing jackets, and don't forget to tell us about them in the comments section below.