The ceiling fan is the most common electrical appliance you might shop for when renovating your homes or shifting to a new place. The affordable device circulates the air in all directions and cools the entire room. It is a low power consuming appliance, available in several sizes and designs in the Indian market. Read on the post to know the best ceiling fans in India and buy the one that satisfies your needs.
Types Of Ceiling Fans
Here are the different types of ceiling fans available on the market.
Standard ceiling fans: These are the most common fans available since long back. They have three to five blades, and some will have light in the center. They are installed using a down rod hanging to the ceilings.
Energy star ceiling fans: These fans can be used on high and low height ceilings. They make use of efficient motors and aerodynamic blades that ensure energy efficiency.
Flush mount ceiling fan: These fans are installed in homes with ceilings less than 8ft tall. They are installed directly in the mounting brackets without a down rod.
Remote-controlled ceiling fans: These fans have a remote control using which you can easily control fan's speed and direction.
Dual-motor ceiling fans: They have dual motors with a wider reach. The central motor of the fan is attached to a horizontal rod.
13 Best Ceiling Fans In India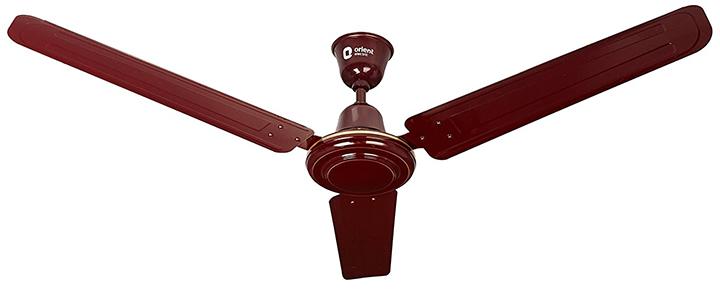 Orient Electric Apex-FX is a classic device available in two white and brown colors and features a powerful motor ensuring great air circulation. The 78W power fan motor is energy-efficient and made using premium-quality copper. It has an aluminum blade that provides even air delivery in the entire room. The double ball bearings help eliminate the unnecessary noise.
Pros
Power-efficient
Double ball bearing for smooth operation
Compatible with inverters
Two-year warranty
Cons
Fan may face mild heating issues

The 380RPM fan delivers cool and even air in the entire room. It features three wide blades with a 120mm sweep and operates at 66W power. The fan is available in several colors and has a two-year warranty. It is sturdy and durable, made of metalized steel and aluminum.
Pros
Energy-efficient
Smooth functioning
Long-lasting
Makes minimal noise
Cons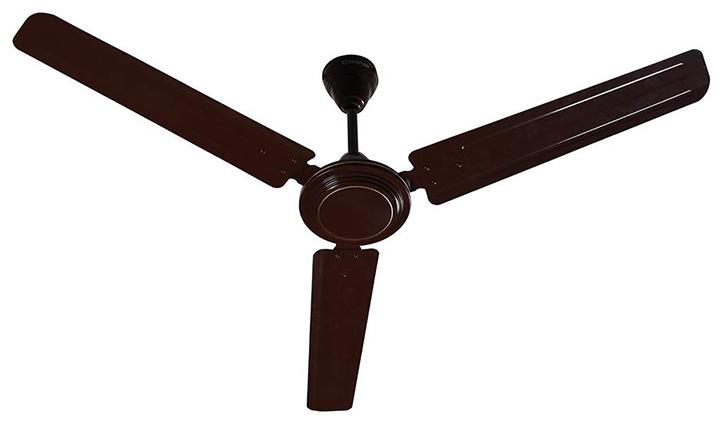 Crompton is a high-speed fan with three efficient blades and a 48-inch sweep. The 370RPM fan features a double ball bearing that ensures the fan runs smoothly without making noise. It is an energy-efficient product that works on 75W power.
Pros
High speed
Powerful motor
Saves energy
Two-year warranty
Cons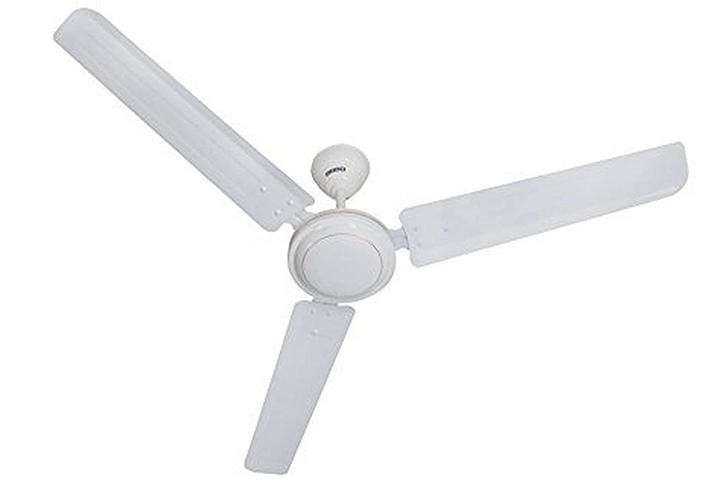 The energy-efficient Usha 350RPM is a high-speed fan that works efficiently on low voltage. Its glossy, powder-coated paint enhances its look and gives it a majestic finish. The three blades are at high angles and provide wider air circulation.
Pros
Robust design
Low maintenance
Effective at low voltage
Two-year warranty
Cons
May not be energy-efficient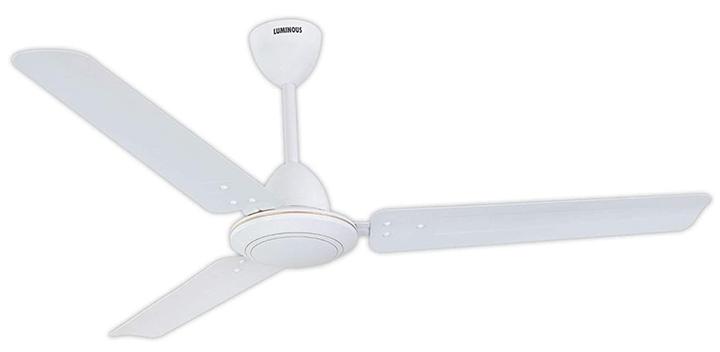 Luminous Morpheus offers a rust-resistant 380RPM ceiling fan, featuring a powerful motor. The robust product features three aerodynamic fan blades that provide cool air and even air delivery. It is a 75W power-consuming ceiling fan and is energy-efficient.
Pros
Excellent performance
Rust-resistant
Better air thrust
Power saving
Cons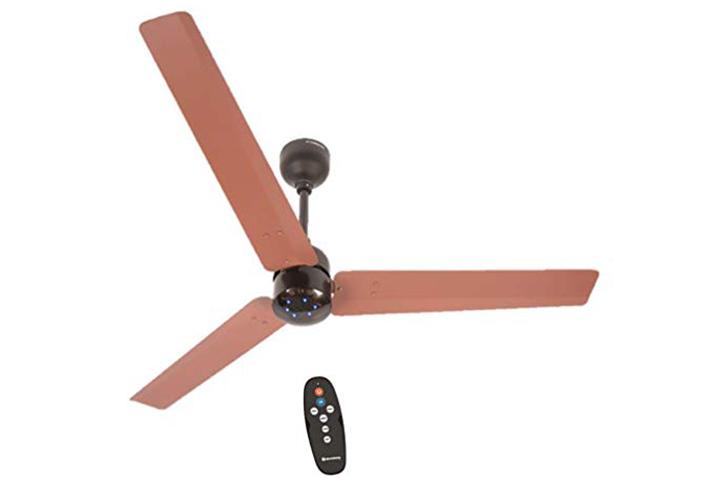 The remote controlled Atomberg Renesa ceiling fan is convenient to operate from anywhere in the room. It has a BLDC motor that consumes only 28W power even at the highest speed. The high-speed fan features a LED indicator light and works well at fluctuating voltage levels. It has a three-year warranty.
Pros
Long blades
Low power consumption
Apt for large spaces
Convenient
Cons
Design could have been better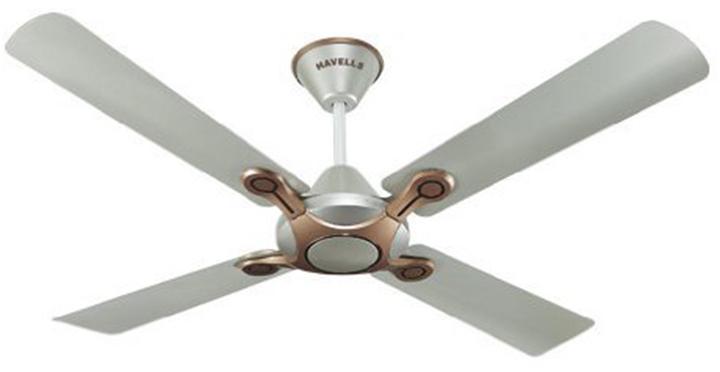 Havells Leganza offers an aesthetic design ceiling fan with four 48-inch size fan blades. It is available in dual-color combinations, one pearl white-silver, and another bronze-gold. The fan uses an HPLV motor that efficiently saves power and provides brilliant air circulation. The robust appliance has a rotation speed of 350RPM.
Pros
Uniform air delivery
Energy-efficient
Durable
Two-year warranty
Cons
Installation process is time-consuming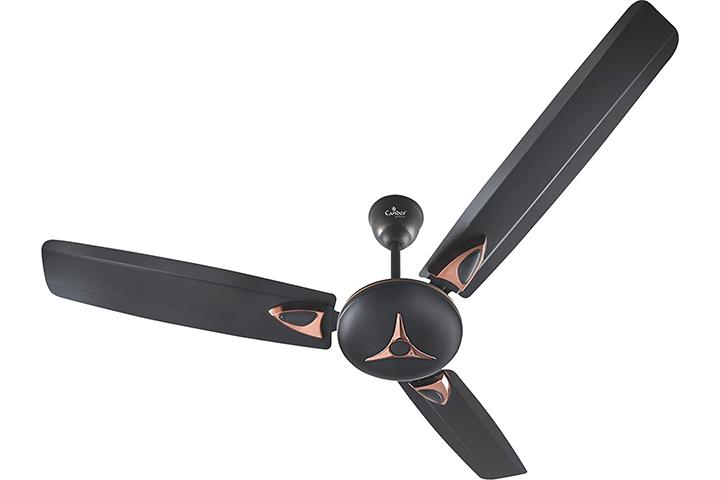 The Candes Star ceiling fan features a premium copper motor, double ball bearings, and non-corrosive aluminum body. It is a 400RPM fan with three dynamically balanced 1200mm wide blades that ensure even circulation of cool breeze. The high-speed fan has a three-year warranty period.
Pros
Sleek look
Sturdy built
Non-corrosive
Even heat dissipation
Cons
Might make a whirring sound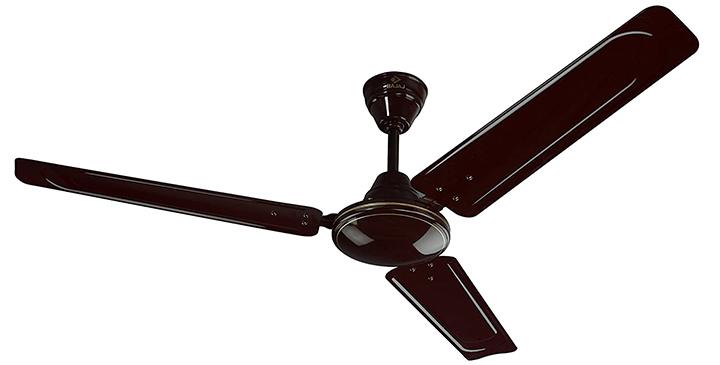 The energy-efficient ceiling fan instantly provides high-speed air circulation at 56W power. It features three 1200mm ribbed blades that enhance stability. The double-ball bearing feature improves the load-bearing capacity and ensures longer life. It includes a two-year warranty period.
Pros
Energy-efficient
Minimal noise
Even air circulation
Instant performance
Cons
Relatively light in weight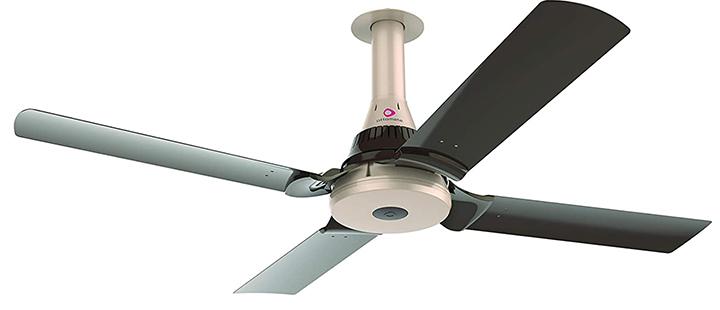 The Ottomate ceiling fan is a superior design product that features a high torque 14 pole powerful motor and provides three- and four-blade options. It has dust-resistant blades that do not require regular cleaning. The elegant appliance is available in different colors and ensures even air circulation.
Pros
Can be upgraded to a smart fan
Uniform air circulation
Robust motor
Two-year warranty
Cons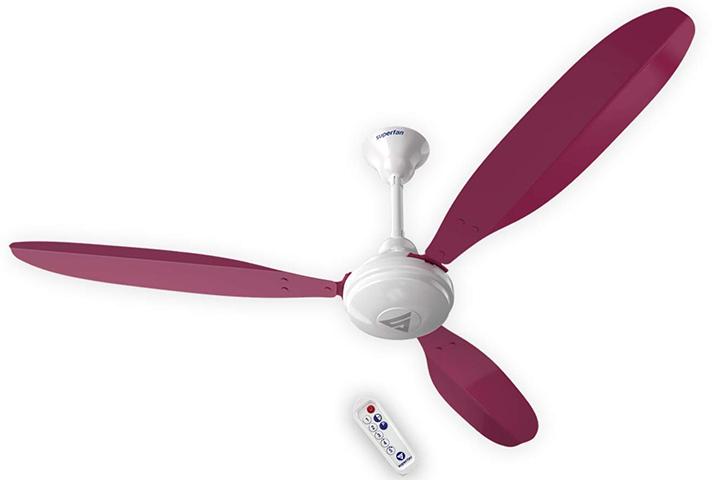 The low power consuming electrical fan can be easily controlled using a remote control. It has a sturdy built made of premium-quality aluminum and consumes low power of 35W. The fan provides stability and does not slow down with any voltage fluctuations. Its powerful BLDC motor ensures even air delivery.
Pros
Remote controllable
Strong built
Stable air delivery
Eco-friendly
Long-lasting
Cons
Can create noise on full speed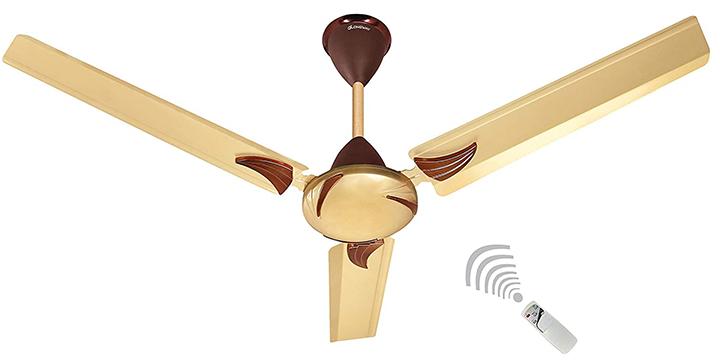 The high-speed Longway ceiling fan has sturdy built with a dust-resistant powerful motor. It features three aerodynamic fan blades with a 1200mm sweep that efficiently provides even air delivery. The double ball bearing feature of the product ensures minimal noise and smooth functioning. With a speed of 400RPM, the ceiling fan is easy to control with wireless remote control.
Pros
Robust built
Two-year warranty
Less noisy
High-speed air delivery
Cons
Remote control might not last longer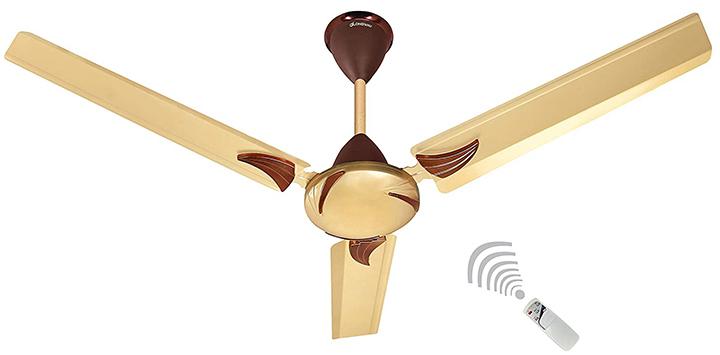 The OGSmith royal ceiling fan is a remote-controlled powerful appliance with three aerodynamic blades and a copper motor. The rust-resistant fan blades are made of premium-quality glass-filled ABS that ensures durability. It has a speed of 390RPM ceiling fan is a glossy finish appliance.
Pros
Powerful motor
Uniform air circulation
Three-year warranty
Remote controllable
Cons
Might create a buzzing sound
How To Choose The Right Ceiling Fan?
Here are some important factors to consider while buying a ceiling fan.
Space: The room's space plays an important role in deciding the size of the fan. You may consider a 1200mm sweep, or you could go for a larger or smaller sweep size depending on your room area.
Remote controlled: If you wish to enhance your comfort and operate the ceiling fan and adjust its speed from any corner of the room, look for a remote-controlled fan.
Motor: Look for a ceiling fan with a BLDC motor as these sturdy motors consume less energy, ensure cool air circulation and create minimal noise.
Fan blades: Most models available in the market feature three blades as they are symmetrical and provide even air circulation. Some prefer buying a fan with four blades as they are less noisy.
Design: If you wish to have an appliance that goes with your room's decor, find a product with an aesthetic and elegant design that fits your room. You may pick from several models having beautiful designs and vibrant colors.
The ceiling fan is an essential electrical appliance you may need in every room of your home. It is an energy-efficient appliance that smoothly delivers cool air in the entire space and makes minimal noise. Pick the right product from the above options to comfortably enjoy cool air all-day.
Recommended Articles: