When we talk of knives, we always think stainless steel as it has long been known as sturdy and durable. The only problem is that they have to be frequently sharpened to keep up to their strong reputation. Who wouldn't love a knife which is not only sharp and high quality, but also low maintenance? That's where ceramic knives step into the picture as they encompass all these features.
Crafted with zirconium oxide or zirconia, ceramic knives are quite a bit harder than stainless steel knives, and also maintain their sharpness for quite a bit longer. Also, they are lightweight and don't absorb odors, flavors, stains, or fall prey to rust. Though not the best choice for hard foods, they are great for cutting, dicing, and peeling fruits and vegetables. We hope our review of the 11 best ceramic knives will help you identify some of the best options in the market today. But before that, it's important to know the different types of ceramic knives that are available so that you can find the best option for your specific requirements.
Types Of Ceramic Knives
It is the most common ceramic knife. It features a long and broad blade with a plain edge, and is widest at the base, tapering up to a finely pointed, slightly curved tip. It's perfect for chopping, mincing, and dicing, and is a great all-rounder.
This one is very similar to a chef's knife but is slightly slimmer and smaller. It's narrow blade tapers to the top and makes clean cuts. It's good for cutting smaller foods as it's cutting is more precise.
This works beautifully for a fast up-and-down chopping motion, and is perfect for precise cutting, mincing, and dicing. These knives have long, slightly tapered blades that are sharp and straight with a drop point for more intricate and precise cutting. They also usually feature a dimpling along the blade that prevents food from sticking to the knife. They are perfect for preparing sushi, as the dimpling on the blade prevents it from sticking, and the large, broad blade can be used to scoop and transport the chopped food.
It features a narrow blade with an extremely sharp edge, usually tapering to a pointed tip. It measures about 6 inches and is great for cutting and piercing meat and cartilage. They are lightweight, maneuverable, and are available with rigid and flexible blades.
This one has a slim and short blade with a pointed tip and is ideal for precise cutting, developing, and peeling. It's usually used for cutting, chopping, and slicing fruits and vegetables, and for more intricate work like trimming, peeling, and removing seeds from fruit and vegetables.
This one has a hatchet style blade and is the largest type of ceramic knife. Also known as butcher knives, they have a rectangular, flat blade, are used to chop up raw meat, and can even cut through bone. Their broad, heavy, and flat surface can also be used for crushing ginger or garlic against a chopping board.
This kind has a specially designed long, evenly sized, serrated blade to cut through bread and other softer items without crushing them.
Top Products From Our List
11 Best Ceramic Knives
Brighten up your kitchen with these vibrantly colored ceramic knives in orange, blue, and green that are extremely sturdy and sharp. This extremely well designed set includes a 6-inch chef knife, a 5-inch utility knife, and a 4-inch paring knife. With minimal surface resistance and an ultra sharp edge, they slice through food effortlessly. These knives have 15 times better edge retainment than steel, with a perfect balance. Crafted with premium-quality zirconia and forged using a cold isostatic pressing process before being heated, the blades of these knives are stronger, sharper, and harder. These knives feature a classic white blade, colored handle, and matching sheaths for each blade.
PROS:
Rust-proof
Abrasion-proof
Eco-friendly
Soft touch handle
Anti-slip design
Lightweight for nimble use
CONS:
May not be ideal for harder foods

This sleek and stylish ceramic knife set features white blades and black handles, and includes a durable 5-inch santoku knife, and a 3-inch paring knife. Each knife comes with a matching black sheath which protects the blade when not in use so that you can store it safely. Expertly crafted with zirconia, you can be sure of precision as the blades slice through food effortlessly while slicing, chopping, mincing, or dicing. The knives feature ergonomically designed, soft grip handles that are non-slip and extremely comfortable. These knives are easy to clean and can be washed in the top rack of the dishwasher, though hand washing is recommended.
PROS:
Rust-resistant
Wear-resistant
Stain-resistant
Doesn't oxidize
Razor sharp edge
CONS:
Can't be used on hard or frozen foods

Crafted with zirconia, this sharp ceramic knife set never corrodes, nor does it absorb any smell, taste, or food element, and works perfectly for slicing fruits, vegetables, and boneless meats. With a black handle and black blade, this set includes a 6-inch chef knife, 5-inch utility knife, 4-inch fruit knife, 3-inch paring knife, and a Y-shape vegetable peeler. Ergonomically designed, thes lightweight knives weigh half of a metal knife, have an arched handle, highly controlled grip, and give the best support for maximum performance.
PROS:
Rust-proof
Stain-proof
Wear-resistant
Anti-slip
CONS:

This incredibly convenient, thoughtfully designed, and carefully crafted set of ceramic knives includes a 6-inch chef's knife, a 5-inch santoku knife, and a 4-inch paring knife so that all your cutting, slicing, and prepping needs in the kitchen are looked after. All the knives have super sharp blades and will retain their sharpness for many years. Their blades are rust-proof and will not give your food a metallic smell or taste. With ergonomically designed, lightweight handles, these knives offer a balanced and comfortable grip.
PROS:
Crafted with zirconia
Each knife has a protective sheath for storage
Easy to clean
Comes packed in an elegant gift box
CONS:
Some feel the blade could be attached to the handle more securely.

This safe and healthy set of knives retains the original taste, nutrition, and color of your food, and has no chemical reaction. Crafted with nano-scale density zirconia, this ceramic set comprises a 6-inch chef knife, 5-inch utility knife, 4-inch fruit knife, and a 3-inch paring knife that are ergonomically designed and lightweight. Each knife comes with a protective sheath to store them when not in use. Their handles are constructed with ABS plastic and TPR with a hand guard design that is easy to hold and have a good, comfortable grip. They have minute pores and do not absorb odors, oils, or salts, and are stain-proof. Well designed and of premium quality, this ceramic knife set makes a good gift item and would be the delight of any kitchen.
PROS:
Rust-free
BPA-free
Easy to clean
Polished surface
10 times harder and sharper than stainless steel knives
CONS:
Some feel the knives could be better balanced.

An asset in any kitchen, these ceramic knives are comfortable to hold, lightweight, and well balanced, and slice, cut, dice, and peel food effortlessly. They feature strong and durable blades that are forged by using the cold isostatic pressing process before being heated, and provide precise and intricate cutting. The TPR handles are ergonomically designed with a soft grip, non-slip handle that is extremely comfortable. It comprises a 5-inch chef's knife with a pleasing green handle and a 3-inch paring knife with a soft pink handle— both knives come with a protective sheath of the same color as the handle. The blades retain their sharpness up to 15 times longer and are twice as hard as stainless steel blades.
PROS:
Long-lasting
Hygienic
Easy to clean
Rated 8.5 on the Mohs scale for hardness
CONS:
Some may find the sheaths very tight and hard to pull off.

Make cutting, slicing, chopping, and dicing a breeze with this set of 3 knives made from high quality zirconia, and which stay sharp up to 10 times longer than steel. Crafted with zirconium oxide infused, white blades, they do not transfer flavors or odors to food as they are non-porous. It includes a 6-inch chef knife, 5-inch slicing knife, and a 4-inch paring knife that feature rounded SafeEdge back corners to protect your fingers, and are fitted with high-quality sheaths for protection and safe storage. In addition, this ceramic knife set comes with ergonomically designed, non-slip handles with a good grip in a stylish orange color.
PROS:
Rust-proof
Stain-resistant
Corrosion-resistant
Comes packed in an attractive gift box
CONS:
Some feel the blade could be thicker.

This 4-inch paring ceramic blade knife has a premium quality, healthy, and hygienic ceramic blade which is super sharp and does precise cutting, peeling, mincing, trimming, and chopping of fruits and vegetables. Its blade maintains its sharpness up to 10 times longer than stainless steel blades, and does not need to be sharpened. It features a pleasant green and white TPR handle that is ergonomically designed and anti-slip, making it extremely comfortable and soft to hold. The handle has a special rounded back corner that protects your fingers while using the knife. The blade is protected by a matching green color hippo shape sheath for safe storage when not in use.
PROS:
Rust-proof
Wear-resistant
Durable
Lightweight
Does not cause oxidation of food
CONS:
Cannot be used on hard foods

These elegant and smart-looking ceramic kitchen knives feature stylish black handles and blades, and the set includes a 6-inch chef's knife, 5.5-inch santoku knife, 4.5-inch utility knife, and a 3-inch paring knife. The blades are made from zirconia in Japan, stay sharp 10 times longer than steel knives, and are perfect for cutting and slicing fruits, vegetables, and boneless meats. They have very dense sub-micron particles, which makes the ceramic non-porous and prevents it from staining or transferring flavors and odor to food. Ergonomically designed, their handles are comfortable with a good grip, and the knife is perfectly balanced for clean and precise cutting.
PROS:
Lightweight
Rust-proof
Easy to clean
Dishwasher-safe
Corrosion-resistant
Does not oxidize food
CONS:
Not to be used on hard or frozen foods

This exceptional ceramic knife set comprises a black handle 6-inch bread knife, a blue 6-inch chef knife, a red 5-inch utility knife, an orange 4-inch fruit knife, a green 3-inch paring knife, and a yellow handle peeling knife. This knife set is perfect for precise cutting of fruits, vegetables, and boneless meats. The blades are made from premium-quality zirconia and are extremely sharp, and each knife has a matching sheath to protect the blade. The handles are ergonomically designed, and are soft and comfortable to grip. All your chopping needs for food prep will be conveniently looked after with this ceramic knife set.
PROS:
Rust-proof
Does not react with any food
Does not oxidize food
Retains original color, taste, and nutrition of food
CONS:
Some feel the blades could be thicker and sturdier.
Can only be hand washed

Comprising a 6-inch chef's knife, a 5-inch utility knife, and a 4-inch paring knife, this elegant ceramic knife set features black handles and white blades and comes equipped with black protective sheaths. Crafted with zirconium oxide, they are forged using cold isostatic pressing process before being superheated, and are sharper, stronger, harder, and lighter. This set's handles are perfectly weighted and balanced, and have a comfortable grip for precise chopping and carving. This ultra-hard, sharp, and high-density blade retains its sharpness for long and does not react with any food, preserving the original taste, freshness, nutrition, and color of the food. It makes a great gift item too as it comes packed in an attractive gift box.
PROS:
Rust-proof
Eco-friendly
Anti-slip design
Will not transfer food odors
SafeEdge back corners
CONS:

Now that you have been through our review of the 11 best ceramic knives, let us share a few guidelines you can keep in mind while choosing your perfect kitchen partner for your food prepping requirements.
How To Choose The Right Ceramic Knives
Ceramic knives come in a variety of lengths, though a standard knife is about 8 inches long from the tip to end. The length of a ceramic knife can otherwise vary between 4 to 12 inches. Standard length knives are ideal for most cutting that is done in kitchens. Shorter knives are perfect for more precise and intricate tasks like dicing, peeling, and mincing, while longer knives are better for making fillets, carving, and slicing through thicker pieces of meat.
The most obvious feature that everyone looks for in a knife blade is that it should remain sharp for a very long time, and be strong and durable. The 'Tomato Test' is a great indicator of your ceramic knife's sharpness— place the blade on top of the tomato and pull the knife towards you. It should pierce the tomato's skin easily and not dent or crush it.
Also, the blade should be rust-proof, resistant to the growth of bacteria, and should not react to salts, oils, and fats. Blades come with different curvatures and can be straight, or slightly curved to make slicing and chopping more convenient. Blades can also feature evenly spaced indentations or dimplings that prevent food from sticking to the knife, like in the case of sushi.
The edge of a ceramic knife may be straight, serrated, single, or double-edged. Bread knives have a serrated edge that is jagged, and cuts through food in a way that it doesn't crumble or collapse. Straight-edge blades give a much smoother cut for dicing, slicing, and chopping. Single-edge blades have a bevel or a slight angle on one side, and slice through softer foods like vegetables, and boneless meat. As the name suggests, double-edge blades are angled on both sides, are more versatile, and can be used for a wide variety of cutting tasks.
Weight, balance, and control
The weight of a ceramic knife decides the control and balance the user has. Ceramic knives in general are lighter than stainless steel knives, but a lot of other factors determine its weight as well. Some blades taper towards the tip which makes them even lighter and more maneuverable. Full-tang knives, where the part of the blade at the handle end of the knife is visible, are heavier than hidden-tang knives. A knife's bolster, the small part that connects the blade and handle, also affects the knife's weight. Such knives are stronger and more balanced than those without a bolster.
A forged ceramic knife is made from separate units of metal that are shaped and compressed using excessively high heat. Such knives are highly durable, well-balanced, and remain extremely sharp for a long time. A stamped ceramic knife is crafted from a flattened sheet of metal. Such knives have lightweight blades and are more budget-friendly, but don't remain as sharp as forged ceramic knives.
A ceramic knife's handle can be made from several different kinds of materials like carbon fiber, fiberglass laminate, stainless steel, titanium, and aluminum, and can also be bought in various styles and colors. A well-designed handle will be ergonomic, comfortable, and stable. It ensures a good grip, is anti-slip, and also prevents the knuckles from hitting the chopping board or touching the food.
Every kind of ceramic knife is designed for a specific purpose like a cleaver ceramic knife is specifically suited for cutting raw meat and bone, but some ceramic knives have more versatility than others.
The weight, balance, how comfortable it is to hold, and the sharpness of its blade, all determine your ceramic knife's ease of use. Choose one with just the right weight and balance, and which suits you best.
Let us now look at some ways in which ceramic knives are different as compared to stainless steel knives, and what makes some people swear by ceramic knives— though both have their pros and cons.
Ceramic Vs. Stainless Steel Knives
Contrary to their name, ceramic knives are actually harder than stainless steel or any other metallic knife. That along with their wear-resistance means that their blade remains sharper longer than a metal blade. At the same time, this hardness makes a ceramic blade more brittle, and it can easily break or chip if dropped. A steel knife's blade wears out quickly because metal is thin and soft. They require frequent sharpening as they dull quickly. Steel blade knives can be easily sharpened at home, but it's not recommended to try sharpening a ceramic knife at home. Most sharpeners can't handle them as they are so hard, and they often break.
Ceramic knives have tiny pores and contain no metal, so you don't have to worry about them rusting or staining. Bacteria and dirt cannot embed in them, nor can they transfer flavors or oxidize food. Also, they require no scrubbing, just a quick wash with soapy water to remove odors and clean them.
Stainless steel knives can corrode when exposed to water or the acids found in some foods. They have larger pores in which dirt and germs can get trapped, and they can transfer odors and flavors to foods. You need to scrub them while washing to remove strong odors like garlic or they will transfer the odor to other food. Food like apples can oxidize and turn brown when cut with a steel knife.
Ceramic knives usually weigh about half of a stainless steel knife of the same size. This makes them easier to hold and control, and doesn't tire your hand.
Ceramic and stainless steel have different functions in the kitchen, so it's best to have both options available. Ceramic knives are superb at finely slicing, dicing, and chopping fruits and vegetables with minimal effort. They don't do as great a job at finely mincing, or cutting thick root vegetables. Stainless steel knives are ideal for cutting and chopping. Their flexibility and heaviness give you extra leverage when cutting harder, denser, and heavier meats and vegetables.
Everybody loves a knife that is sharp, hygienic, lightweight, and very easy to maintain— and a ceramic knife is just that. With the various types available, you can cut, slice, dice, mince, and chop vegetables, fruits, and boneless meats with perfect ease. Made of zirconium oxide or zirconia, a ceramic knife is ideal for anything that isn't too heavy or hard, and doesn't transfer odors, flavors, or oxidize food. Ceramic knives, though largely unheard of till quite recently, are gaining traction in leaps and bounds and are a must-have in every kitchen. We hope our review of the 11 best ceramic knives will help you make an informed decision in finding the best choice for your kitchen needs.
The following two tabs change content below.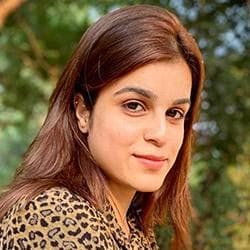 Sakshi John
Sakshi did her graduation in Journalism from the Madras Christian College, Chennai, before starting her career as a freelance writer. She is into blog writing and for MomJunction, she covers various topics, including products to buy for your kitchen, furniture, and other home requirements. Previously, she interned as a content writer in a cyber security firm. As a content writer, Sakshi...
more