Dust and pollutants have become the new normal in urban life, and the only way to protect the skin from damage is to choose the right skincare products. Although many products are available in the skincare market, charcoal face washes have become popular because of their cleansing and exfoliating properties.
Charcoal can remove blackheads and impurities, thereby rejuvenating the skin. These facial cleansers are made of organic oils and can balance your skin and give you a natural glow. If you want to make the skin smoother and brighter, try one of the best charcoal face washes mentioned here.
17 Best Charcoal Face Washes
Biore's daily charcoal face wash is formulated for deep de-clogging of skin pores. It contains charcoal powder, glycerin, and other carefully selected ingredients to keep the skin fresh and breathable. The face wash can clean and purify the dermal pores specially targeted for female users, providing oil-free, smooth skin. One of the best charcoal face washes, it is twice as effective as any basic cleanser. The formula tested by a dermatologist makes it suitable for daily use.
Pros
Use of natural charcoal
Natural purification of pores
Easy blackhead removal
Suitable for makeup removal
Noncomedogenic
Based on the skin-purifying technology derived from Japan
Result visible after first use
Oil-free
Cons
May not suit sensitive skin types
Can result in itchiness if used on dry skin
L'Oréal Paris is a daily facial cleanser suitable for all skin types and ranks among the top in the activated charcoal facial cleanser category. Natural ingredients such as Moringa seeds and Peppermint leaf extract will increase charcoal efficiency, deeply clean the skin pores, and trap excessive oil, dirt, and impurities. Its expert beard care formula for men keeps the skin soft and rash-free after shaving.
Pros
Suitable for excessive sebum removal
Skin moisturization and hydration
Used with the right beauty combination, it helps fight wrinkles, skin sag, and dryness
Leaves the skin fresh and healthy
Usable as both wash and cleanser
Fit for day/night usage
Quick lather face wash
Long-lasting use
Fit for sensitive skin
Cons
No SPF protection
Not suitable for tanned skin
Brickell's natural charcoal face wash for men is one of the most popular organic facial cleansers for daily use. Its deep cleansing formula uses natural ingredients and is ideal for most skin types. It can gently remove oil and microbial deposits in the skin's deep pores, leaving your face naturally fresh, clean, and glowing. In this face wash, the activated charcoal can also keep the skin hydrated and supple while protecting the skin from damage related to dirt deposits.
Pros
Suitable for dry, sensitive skin or combination skin type
Natural and organic at 99% and 60%, respectively
Effective dead skin cell removal
Acne prevention
Deep cleansing of pores
Packed with the goodness of natural ingredients like charcoal, aloe vera, antioxidants, Vitamin E, jojoba oil, and olive oil
Lightly scented with essential oil combo
Long-lasting for about two months when used twice daily
Cons
Breakouts possible with varying skin type
Viking Revolution's charcoal face wash for men is effective and has a pleasant aroma. Its formula includes natural ingredients effective in deep cleansing, exfoliating, and removing dirt and oil. Backed by experts, its regular usage can condition the skin and minimize the irritation after shaving. You can use it every day to combat dry skin and blackheads.
Pros
Use of coconut charcoal for exfoliation and deep cleansing
Free of harmful chemicals
Skin hydration
Expert blackhead and acne removal
Use of natural ingredients like Vitamin C, Vitamin E, and aloe vera
Toxin purification without skin damage
Suitable for normal, dry, and oily skin
Skin smoothening for a comfortable shaving experience
Cons
Not all may like the peppermint fragrance
This natural facial cleanser is one of the best charcoal facial cleansers on the market. It leaves a rich lather that can penetrate deep into the pores and effectively cleanse the skin or remove oil and dirt. Its activated charcoal formula gives the skin a perfect detox experience, making the facial dermis softer and cleaner than ever.
Natural oil extracts added to its advanced formula can revitalize and moisturize the skin, add a softening effect, and enhance freshness. After the first use, experience deep purification, one of the essential benefits of a charcoal face wash.
Pros
100% natural
Recommended charcoal face wash for oily skin and acne-prone skin
Hypoallergenic
Vegan
No harmful chemicals
Suitable for both men and women
Antioxidant-rich triple tea extract
Wrinkle and dark spot removal
High safety standards with GMP certification
Refreshing citrusy fragrance
Cons
Does not have a pup for ease of use
TruSkin's black charcoal face wash formula has a magical effect that can deeply cleanse pores and improve acne-prone skin. Regular use of it can also diminish pores and reduce the chances of pore-clogging gunk. It is also suitable for blemish-prone skin. The gentle non-drying formula helps the skin restore congestion and moisturizing effect. The facial cleanser is rich in natural formula antioxidants, which can add to the youthfulness of skin.
Pros
Suited for dry, sensitive, and combination skin types
No harsh chemicals
Vegan-friendly
Coconut-derived activated charcoal
Guaranteed freshness with USA-based packing
Natural fragrance
Unisex suitability
Granule-free exfoliation
90-day refund guarantee from the manufacturer
Cons
Powerful and concentrated product 
Oriental Botanics' facial cleanser is rich in activated coconut based charcoal and vitamins, allowing deep cleansing of the skin and promotes glow. In addition to that, this facial cleanser also contains natural extracts of orange blossom and green tea, which can protect your skin from free radicals and irritants and ensures gentle deep cleansing for all skin types.
Pros
Paraben- and sulphate-free
No harmful chemicals or SLS added
2X cleaning as against primary cleanser effect
Prevention of acne breakouts with anti-inflammatory properties
Suitable for both men and women
Best suited for oily, acne-prone skin
Pimple and blackhead prevention
Dispensed through convenient pump bottle
No stretchy skin after use
Cons
Chilogy's natural charcoal facial cleanser is a carefully selected formula suitable for healthy and glowing skin. It has cleansing, repairing, and healing properties with minimal use. It contains antioxidant ingredients such as coconut oil, sunflower oil, olive oil, aloe vera gel, organic orange peel, Rooibos leaf extract, white and green tea, and vitamins B5 and C, which help improve the natural firmness of the skin. Maintain skin moisture and prevent pimple breakouts.
Pros
Infused with detoxifying activated charcoal
Cruelty-free
No parabens or sulfates
Suitable for adults, teens, and children
Natural and organic ingredients
Smoothens rough and wrinkly skin
Helps skin regain firmness
Anti-aging properties
30 days of return, no questions asked
Light and refreshing natural citrusy fragrance
Cons
May cause dryness in sensitive facial regions like around the eyes
Initial pore breakouts on sensitive skin possible
No exfoliation
Oxy's face wash is formulated considering women's skin sensitivity and beauty requirements. Its deep wash charcoal scrub can provide a perfect exfoliating experience. In contrast, activated charcoal infusion ensures deep cleansing of skin pores and provides extra nourishment for healthy and glowing skin with regular use.
Pros
Charcoal-infused gentle skin nourishment
Available in two capacities – 130gm and 200gm
After-wash freshness with the minty feel
Suited for sensitive, oily, or combination skin type
Effective oil removal
Usable with some of the best charcoal face washes
Cons
Can result in stretchy skin
Beau Brummell's charcoal-based foaming face wash for men provides an innovative formula that can remove excess oil, deep cleans your pores, and boost your glow. This charcoal face wash attacks blackheads and removes acne.
Its natural ingredients such as black pepper oil also lend antioxidant properties, neutralizing free radicals for rejuvenating the skin. The perfect combination of organic green and charcoal clay makes your skin glow and exude a natural fragrance.
Pros
Sulfate and paraben-free
PEG and SLS-free
Zero artificial and synthetic fragrance
No mineral oil
No artificial dyes
Suitable as a daily skin cleanser for men
Suitable for combination skin
Cons
Can be mild for excessively oily skin
Stay Sharp Naturals charcoal facial cleanser for men targets dust and dirt in the pores, making your skin feel softer, look younger, and more radiant. Just pour a small drop of this face wash and lather to effectively absorb the dust and dirt in the skin pores. Follow simple daily skincare routines, including washing your face to clean and revitalize your skin naturally. The gentle face wash is suitable for all skin types, including sensitive, acne-prone skin.
Pros
No harsh chemicals or toxins
Paraben-free
Infused with organic aloe
Other skin-loving organic ingredients
Hydration of dry skin
Skin moisture retention with anti-aging properties
Deep pore cleansing with activated coconut charcoal
Pleasing fragrance
Effective toxin removal
Used as face and body wash
Cons
Price a little north of similar products
Requires use of a moisturizer on excessively dry skin post face wash
This innovative formula can detoxify facial skin while cleaning dirt and dust. One of the best charcoal face washes, It effectively cleanses the skin with a gentle, non-drying formula, widely acclaimed. This formula allows the foam to open the skin pores soothingly. Use it once or twice a week to experience convenient cleansing and make the skin fresher and younger than before.
Pros
Dermatologist-developed
Complete fragrance-free
Tested for allergy
Easy gel wash for deep pore cleansing
Useful for all skin types
Long-lasting use
Cons
Daily use without moisturizer can leave the skin dry and stretchy
Bad Ace face wash can remove excess oil, exfoliate, and rejuvenate the skin. Charcoal can help remove dirt and particles on the surface of the skin. Cracked walnut shells can remove dead skin cells, remove dirt and oil, and clean the face. Peppermint helps promote better blood flow to the skin, thereby improving its elasticity and strength, while bamboo can make your skin look healthy, soft, and radiant.
Pros
Cruelty-free
No paraben and Mineral oil
No artificial color
No talc or formaldehyde
Non-greasy, matte texture for easy lather
Formulated with natural ingredients for gentle cleansing
Refreshing Summit Rain fragrance with a woody feel
Strict quality and standardization check
Suitable for everyday use without dehydration
Cons
A little high priced
Not suitable for very dry skin
Lather & Wood Shaving Co. charcoal face wash for men can deeply cleanse the skin and make the pores more breathable and revitalized. Activated charcoal can easily remove toxins and make the skin soft. As useful as a charcoal peeling mask, it leaves a gentle, soothing sensation on the skin. Combined with moisturizing organic aloe vera, it can keep the skin moisturized.
Pros
Unisex face wash
Mild herbal fragrance (Aloe vera)
No harsh chemicals
Loaded with natural extracts
Fit for daily face washing needs
Suitable for all skin types, including normal, dry, oily, and combination type
Kickstarts the shaving experience with a suitable scrub
Long-lasting
Cons
A bit abrasive and may not suit sensitive skin
Black Wolf Nation face wash with activated charcoal formula rejuvenates the skin by deep cleansing the skin pore lining. This charcoal mask attacks blackheads and whiteheads by combining two of the best anti-acne ingredients: salicylic acid and charcoal. They work together to dissolve dead skin cells and protect the skin from acne.
Pros
Cruelty-free
Paraben-free
Effective toxin removal
Suits all skin types
Strong antimicrobial defense
Rich, natural, and skin-friendly ingredient mix
Fresh yet subtle talcum fragrance
Suits everyday use
Available in two capacities, five and ten ounces
Cons
Can result in occasional rashes on sensitive skin
WBM Men Care charcoal face wash is rich in vitamins and moisturizing extracts. It has deep cleansing properties and quickly rejuvenates dry or acne-prone skin. Its charcoal infusion helps to absorb impurities, rejuvenate the skin, and make the pores breathe. The addition of natural oils can also nourish and soothe the skin.
Pros
Rich amino acid formulation
2X deep cleansing as against basic cleansers
Easy storage and use
Also works for dry, acne-prone, or oily skin
Sweet and mellow honey/wheat germ oil fragrance
30-day money-back guarantee
Cons
May irritate sensitive skins
Can dry up the facial skin with everyday use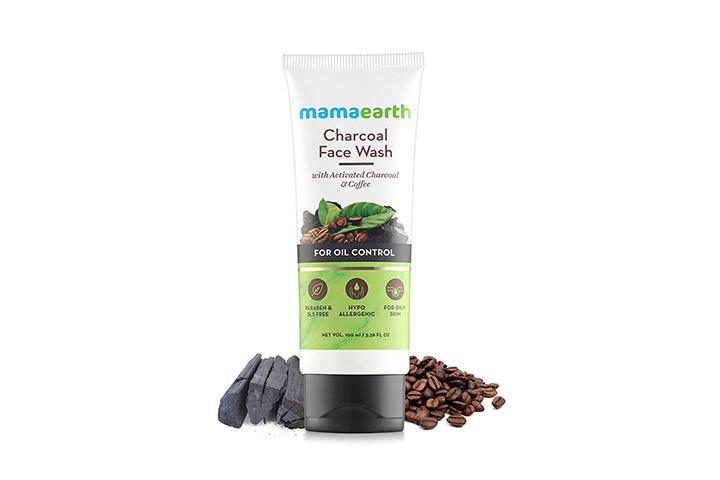 This charcoal-infused face wash can deeply clean the pores with exfoliating charcoal and coffee extracts to help control pore breakage. The addition of clay helps make the skin glow and the pores free of impurities and excess oil. You can also use it to remove makeup effectively. Through deep detoxification, the skin can regain youthful vitality like never before.
Pros
Dermatologically tested with first MadeSafe certification in Asia
Natural, toxin-free ingredients
No mineral oil used
Paraben and sulfate-free
No artificial preservatives
Zero synthetic colors or fragrance
Unisex
Cons
Can have an unpleasant smell
Suitable only for oily skin type
How To Choose The Best Charcoal Face Wash?
Take a look at a few essential things you must consider when choosing from some of the best charcoal face washes for your skin.
Your skin type: Before choosing a charcoal facial cleanser, determine your skin type. This is crucial to prevent irritation and even acne outbreaks. Charcoal-based face washes are formulated, keeping in mind the varying skin sensitivity of individuals, ranging from normal to dry, oily, and combination skin.
Activated or nonactivated charcoal: Check if the deep cleansing effect results from the activated charcoal infusion or whether the manufacturer uses any other active ingredients.
Targeted user: Charcoal-based face washes are specifically formulated, keeping in mind the varying cleansing routines and skin type of men and women, or can be conveniently used by both genders.
Other ingredient mixes: Another essential factor to consider is the ingredients used in the face wash. It is strongly recommended to research all the main ingredients used in charcoal face washes. Make sure to go through the product's label for ingredient inclusion to best select your required product.
Scrub, face wash, or both: While some charcoal facial formulations are available as face washes, you can also get your hands on scrubs. Choose a suitable product based on your regular deep cleansing and exfoliation requirements.
Use of harmful chemicals: Harmful chemicals used in beauty products do more harm to the skin than good, leaving it blemished or exposed to impurities. Make sure that the ingredients do not contain sulfates, parabens, or other harmful chemicals.
Frequently Asked Questions
1. Can charcoal lighten the skin?
Yes, activated charcoal-infused facial cleansers and scrubs can help lighten the skin through exfoliation. The active ingredients also help reduce blemishes and dark spots, making the skin clear and smooth.
2. How often should I use a charcoal face wash?
The frequency of using charcoal face wash mainly depends on the overall formula of the cleanser. Although some are suitable for daily use, some are best suited for alternative day cleansing, or preferably once a week.
3. Is a charcoal face wash ideal for oily or dry skin?
Not all charcoal face cleansers are suitable for dry skin. Check the manufacturer's user manual to ensure if the facial cleanser is meant for oily or dry skin or both.
Taking care of the skin is possible when you have the right kind of facial cleanser to protect it from damage. Using the wrong facial cleanser may cause dirt to stay in your pores. Whether it is charcoal-based or otherwise, check the ingredients and suitability of the face wash before purchasing one.
Recommended Articles: 
The following two tabs change content below.

Poulami Nag
Poulami Nag is a writer and associate editor at MomJunction. She did her MA in English from Miranda House, University of Delhi and has qualified UGC-NET. Her journey as a content writer began in 2017 and since then she has garnered diverse interests along the way. Her knowledge of literature and language has given her an eye for detail and...
more