Charcoal masks are usually peel-off masks that help remove dust, impurities, and toxins, resulting in a clearer and brighter skin. Their anti-bacterial properties are believed to help balance out the skin tone and complexion. Here, MomJunction talks about some of the best charcoal masks that you can check out for satisfactory results.
17 Best Charcoal Masks
O'linear's charcoal mask efficiently takes care of all the impurities and also removes blackheads in one go. The presence of vitamins C and E make this mask useful for deep cleaning of the skin and pores. Apart from vitamin C, it is also filled with the natural goodness of rice and apple extracts.
O'linear offers a gel-based face care tube plus charcoal mask for deep cleaning and removing any toxins and impurities on the skin. The presence of bamboo extracts helps in evening out the complexion without triggering any allergies. This mask doesn't hurt when you peel it off and could be suitable for sensitive skin too.
Proven to remove blackheads and clean the skin, this charcoal mask also cleanses the pores and reduces the aging signs, such as wrinkles and fine lines. This is because of the presence of some powerful antioxidants and argan oil that nourish and tighten the skin that becomes loose as you age. This pack comes with a brush that allows convenient application all over the face and neck.
This skin-purifying face mask contains activated charcoal with skin-cleansing properties, along with pink clay, kaolinite clay, blue clay, and skin-smoothening lecithin. This mask helps in getting rid of toxins from pores and also helps in acne-treatment. Lecithin helps in locking the moisture in for extended periods and acts as the perfect moisturizer for the skin.
This detox peel-off charcoal mask exfoliates the skin to remove toxins and dry and dead cells. This mask contains bamboo and vitamins A, B5, and E to keep aging effects like wrinkles at bay. The mask also hydrates the skin and is popular for its intense cleansing activities, which leads to clearer and smoother skin.
Aprilis offers this intense charcoal mask that contains a combination of natural ingredients, such as aloe vera for its balsamic properties, shea butter to provide intense moisturizing, jojoba oil for its anti-inflammatory properties, and mud from the Dead Sea that is supposedly rich in minerals. This mask reduces the size of the pores to prevent acne and eliminates excess oil from the skin, resulting in a brighter complexion.
A unique charcoal face mask sheet, this one contains collagen properties that clean the skin from deep within. Made of the authentic Japanese Binchotan charcoal that takes care of the fine pores, it gives a fresh lift to dull skin. The abundance of minerals and the presence of Hyaluronic acid in this mask sheet helps tighten and brighten the skin. The mask also works well as a hydrating agent.
This peel-off black mask is responsible for eliminating all kinds of toxins from the skin, such as blackheads, dry cells, and dead cells, exposing a soft skin underneath. The mask also has anti-aging properties and cleanses all pores of black and whiteheads. It is suitable for all skin types and works to restore your original complexion and bring back the skin's youthful glow.
Tree To Tub offers this purifying mask that contains natural ingredients that safely clear away the impurities on the skin and also rejuvenate and replenish it with all the vital vitamins. Hyaluronic acid tightens the skin while aloe vera soothes and hydrates it. The unique combination of bamboo charcoal, Bentonite clay, and kaolin clay help extract the impurities from within, leaving a clean and youthful skin in its wake. It also has vitamin C that helps treat any inflammation.
The bamboo charcoal in this mask helps removes acne, dark pores, and other blemishes, resulting in oil-free skin. It also helps remove blemishes, oil spots, acne marks, and other marks on the skin by cleaning and hydrating it. The mask may also help reverse the side-effects of radiation from the computer on the skin and keeps it healthy and smooth.1
Vassoul peel-off blackhead mask works in many ways to clean the skin, remove the excess oil from the face and clear it of any impurities. This deep-cleansing peel-off mask also firms your skin by thwarting radiation from the computer and adding brightness to dull skin. Added benefits it offers include improved blood circulation when you massage the face during application, which eventually leads to younger and healthier skin.
The 12 face sheets masks in this pack are made from the age-old Korean skincare and beauty regime and work on the principle of hydrating the skin while giving it a deep-clean. It is flexible and works for both dry and oily skin. Designed specifically to clean the pores and prevent acne, these face masks also have collagen properties that help in skin tightening and absorbing the excess oil from the face.
The VANELC mask uses a very effective technique to remove blackheads with the help of activated charcoal, leaving the facial skin blemish-free. This also contains bamboo extracts that are known to promote radiant, smooth skin by cleaning the skin inside out. The combination of carbon black and glycerin in this mask also acts wonderfully on the skin. The pore mask, which acts specifically on pores to reveal a cleaner and brighter skin, does not hurt when you peel it off.
Disaar's blackhead mask contains antioxidants along with bamboo extracts that specialize in deep pore cleansing. This mask reduces the size of the pores and nourishes your skin fully with its pore-clogging techniques. This product is fit for daily use as it is made with a simpler combination of water and glycerin, and other safer ingredients such as polypeptide collagen that gives the skin a youthful glow.
A perfect option for a deep cleansing skincare ritual, this facial mask performs two simultaneous functions on the skin. The activated charcoal gives it an intense clean while the presence of sugar allows you to exfoliate your skin, leaving it fresh, supple, and clean overall. The sugar molecules clean the skin on any impurities or toxins, while also removing the dead skin cells, to give a smooth finish to the skin.
This deep-skin cleansing mask helps in removing the stubborn spots from the skin, which others usually can't. It can also remove fine facial hair and keeps the skin intensely hydrated. This kit comes with a brush that allows easy application of the mask, uniformly covering to clean the facial skin thoroughly. This is ideal to use before makeup for a smooth finish after you're done.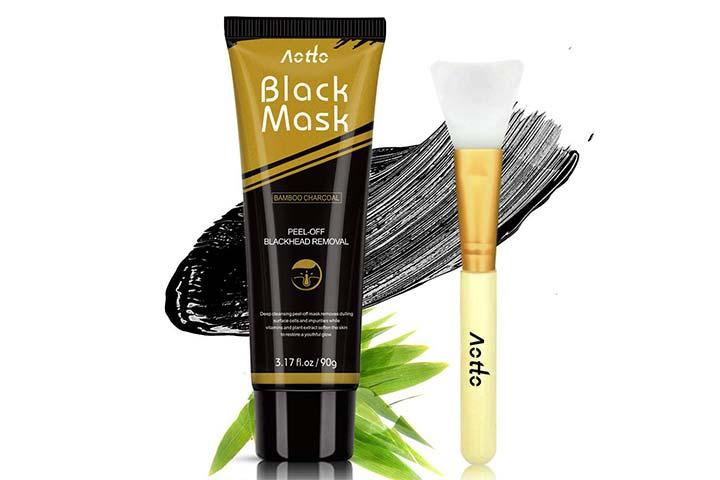 This deep cleansing mask with activated black charcoal technology cleans the skin from deep within, removing all blackheads and whiteheads. Free of harsh chemicals, parabens, dyes, mineral oils, or animal oils, this mask is made using natural ingredients, reducing the risk of allergic reactions or breakouts on the skin. It is also a cruelty-free product and suitable for vegans too.
How To Choose The Right Charcoal Mask?
Here are a few pointers that can be used to select the best facial charcoal mask.
For dry skin, an essential oil-based mask that has jojoba oil or hyaluronic can keep your face hydrated and supple, giving it a youthful glow.
For oily-skin, a clay-based mask could help, as the clay absorbs the excess oil and soothes the skin. Clay also cleans out pores, thus preventing the recurrence of black and whiteheads.
Masks having activated black carbon and bamboo extracts are also beneficial for a deep clean.
Masks that are made using a natural composition, without any harmful chemicals, are ideal when you have sensitive skin.
How To Apply A Charcoal Mask?

Clean the skin with a good face wash and follow it with the exfoliating to clean the skin surface.
Take a quarter or pea-size amount into a bowl and use a brush to spread it across your face evenly. Using your fingertips also works in more delicate areas like the upper lip and near the ears.
Wait for ten minutes to let the mask dry, and then peel it off gently and slowly from the edges towards the center of the face. If the mask isn't dry, you will not be able to peel it easily.
To peel the mask, start from the bottom of the chin or neck and move upwards to the cheeks, nose and forehead. This helps easy removal of dirt and toxins.
Use cold water to wash off the remnants of the mask, followed by a moisturizing ritual to hydrate the pores.
Uses Of Charcoal Face Masks
Some of the benefits of a face mask are mentioned here..
Instantly removes impurities and toxins on the skin.
Exfoliates the skin by allowing the dead cells to degenerate from the skin surface. This occurs because of the coarse texture of the face masks.
Clay-based charcoal masks are effective in removing the excessive oil from the skin
Promotes skin tightening as it cleans the pores and reduces their size, allowing the skin to shrink accordingly.
Some masks that contain anti-inflammatory properties may help treat acne.
Hydrates the skin from within and allows the skin to breathe.
 Safety Tips To Take While Applying The Charcoal Mask
Charcoal masks have several skincare ingredients, but not all may suit you. So, check the list of ingredients before you buy a mask. Do a patch test by applying a small among on your hand or cheeks. Leave it for ten minutes and wash. Wait until 24 hours to see if there is a reaction and use it accordingly.
Widespread use of charcoal masks is not recommended as frequent uses will rip the skin off vital minerals and vitamins. Once or twice a week should be good enough.
A glue is used to bind the mask together. When the mask is peeled, this glue strips the skin of its essential oils, leaving it dry and prone to vulnerabilities.
Avoid using any other lotions or makeup after peeling the mask, as the skin is very tender and devoid of any moisture. Using a mild serum or moisturizer can be helpful during this period.
Check instructions to peel off the mask in time and avoid keeping it longer than needed.
Frequently Asked Questions
1. Do charcoal masks really work? 
Charcoal face masks help in removing impurities on the surface of the skin while pulling out the dirt from the pores as they are peeled off. The various natural compositions of these masks hydrate the skin.
2. Can charcoal mask remove blackheads?
Yes, charcoal masks can remove blackheads too. When you peel the mask off, they take away the dirt from the clogged pores along with blackheads as well as whiteheads.
3. How to make a DIY charcoal mask at home?
A DIY face mask contains a mixture of clay, essential oils like apricot or jojoba, glycerin, and water. Aloe vera gel can be added for that extra soothing effect. This, when topped with activated charcoal powder, forms the perfect DIY mask. Some sugar granules may be added to create that exfoliating effect.
Charcoal face masks rejuvenate, cleanse, and replenish the skin of all impurities and toxins. If the usage is controlled and the instructions followed, charcoal face scrubs can give you a fresh look. However, follow the safety tips and do not overuse it.