Cheese knives are a category of kitchen knives designed to cut up the cheese with absolute precision. Since different types of cheese have different consistencies, you should invest in the best cheese knives for a smooth cutting experience. While using the knives, it is important to use a cheese board as the base to have a smooth cheese-cutting experience.
The article below lists some of the best cheese knives available in the market and gives informative tips on choosing the right one.
Types of Cheese Knives
Each cheese knife is curated for a purpose. Learn the different types of cheese knives for a better understanding.
Soft cheese knife: Also known as an open work blade knife, it has holes to keep soft cheeses from sticking to the surface.
Hard cheese knife: It has a long straight blade with sharp edges and cuts the cheese without crumbling it.
Cheese spreader: A spatula knife with dull edges and a rounded blade for spreading soft cheese on crackers and bread.
Flat cheese knife: Also called cheese chisel knife, it is used for breaking big hard cheeses. It is a flat blade with a sharp bottom edge.
Narrow plane knife: A trapezium-shaped knife used for cutting cheese and chipping away at the block.
Pronged cheese knife: A fork-tipped spear that allows you to cut a piece of cheese and pick it with the prongs for serving.
Gorgonzola knife: It is similar to a cheese spreader used for spreading creamy cheeses. It has a sharp edge to cut through the cheese rinds.
Cheddar cheese knife: Also known as a cheese cleaver, it is a wide rectangular blade with long sharp edges to cut slices of hard cheeses.
Parmesan knife: It has a stubby triangular blade with a pointed edge for breaking chunks of dry and hard cheeses.
Slim blade cheese knife: It is a narrow blade with sharp edges to cut soft to semi-hard cheeses.
11 Best Cheese Knives
The Boska Copenhagen set consists of mini stainless steel knives to handle soft, hard, and spreadable cheeses. The knives have hollow handles that make them lightweight.
Features
Set of four mini cheese knives
Strong and durable knives
Made from premium stainless steel
Dishwasher-friendly
Ten-year guarantee
This versatile cheese cutting knife is suitable for different types of cheeses, fruits, and vegetables. The unique open surface blade design reduces friction and prevents the cheese from sticking. No matter what cheese it is, these knives produce the perfect slices.
Features
Made of quality-crafted stainless steel
Sharp serrated edge
Durable Bakelite handle
10-inch long with 5.5in blade
The Freehawk Knife Set includes one semi-heart-shaped knife for spreading cheese, two rectangular-shaped knives for spreading and slicing, and one prong fork for serving. This modern and stylish cheese knife collection could make a thoughtful present for any cheese lover. They are a classy addition to your dinner tables and party trays.
Features
Made of premium stainless steel and bamboo wood handles
Ergonomically designed handles for a comfortable grip
Lightweight construction
Easy to store
Convenient to wash
The unique patented blade design cuts the cheese perfectly without leaving any residue on the blade. It conveniently slices the cheese and can also be used for cutting bread, fruits, and vegetables.
Features
Made from ULTEM resin
Heat- and stain-resistant blade
Works well with hard and soft cheeses
Dishwasher-safe
Easy to store
Comfortable grip
The Icosa Living Lunar Cheese Knife Set is a gift-ready set of six different knives. It comprises four cheese knives, one cheese fork, and one cheese spreader to handle soft, hard, and semi-hard cheeses. The premium feel and sleek design of these sophisticated knives make them a classy addition to your dining collection.
Features
High-quality stainless steel knives
Ergonomically designed handles
Sharp edges for spreading, slicing, and serving cheese
Even weight distribution improves balance for precise cuts
Shipped in an elegantly-designed gift box
The Hecef cheese knife set consists of three knives with a teardrop-shaped handle design and bronze grain finish. Their longer blades offer balance and make the cheese-cutting process easier. They are ideal gift options for various occasions.
Features
Made using high-quality stainless steel
Comprises hard cheese knife, pronged knife, and chisel knife
Handles with non-slip coating offer better grip
Non-stick coating on blades reduces the chance of sticking on the surface
Lightweight and durable
The Hammer Stahl Knife has a cut-out blade, so the cheese does not stick on the surface. It can easily cut soft and hard cheeses, fruits, and vegetables. The quad tang designed handle offers a comfortable grip and improved balance.
Features
Made of high-carbon German stainless steel
Added fork tip allows slicing and serving
World-class cutting edge
Pakkawood handle with phenolic resin adds appeal and strength
Lifetime warranty
The Laguiole Knives Set comprises a cleaver, a spreader, and a serving knife. They can cut and spread different kinds of cheeses, including hard and soft. Nicely packed in a wooden gift holder, they make a useful present for any cheese lover.
Features
Each knife measures 6in long
Made of premium stainless steel
Multicolor ABS plastic handles
Easy to clean
Dishwasher-safe
Stainless steel rivets offer durability
The La Cote Cheese Knives could be a perfect knife set for its versatility. It is a set of six knives comprising two hard cheese knives, two soft cheese knives, and two cheese cleavers to handle different kinds of cheeses. These exquisite knives have pakkawood handles with a smooth glossy finish.
Features
Made of Japanese stainless steel
Moisture-resistant handles
Each wood veneer handle has different grain and color
Long-lasting finish and construction
Perfectly rounded 4-inch long handles
This could be the best cheese knife set, including one parmesan knife, one chisel knife, and one pronged knife. Designed for luxury and comfort, these can be ideal gift options for anniversary, house-warming, and other special occasions. They are strong and durable cheese knives, making a lovely match to your flatware.
Features
Made of 18/10 stainless steel
One-piece stainless steel construction
Presence of nickel prevents corrosion
Ten years warranty
Sturdy and long-lasting
Bekith offers a complete set of eight cheese knives designed to cut and slice different kinds of cheeses. They are lightweight and easy to store in the kitchen. Suitable for cutting and serving, these attractive knives could be a perfect addition to party trays and dinner tables.
Features
Made of premium stainless steel
Attractive wooden handles
Corrosion-, stain- and rust-resistant
Non-stick knives
Cuts soft, crumbly, firm, and semi-soft cheese
How To Choose The Right Cheese Knife Set?
Consider the following important features when planning to buy cheese knives.
Type: Slicers and mini cleavers are used for cutting hard cheese. Knives with holes work for soft cheeses while spoked-tipped knives are ideal for aged cheeses. Depending upon the kind of cheese you prefer using, pick a set that has the right knives.
Material: Consider knives made of either stainless steel or high-carbon steel. They are durable and resistant to corrosion and rust.
Design: The knife should be smooth, easy to use, and comfortable to hold.
You can use a sharpener to keep your stainless steel cheese knives in perfect condition and increase their lifespan. If the blade is porcelain or other malleable material, you can use automatic sharpeners.
Owing a set of good cheese knives can be a boon for those who use a lot of cheese in their dishes. You can either have a standard cheese knife or go with a set of two, three, or more cheese knives designed to deal with different kinds of cheeses. Go through the list and features of cheese knives and make an informed choice.

Recommended Articles:
The following two tabs change content below.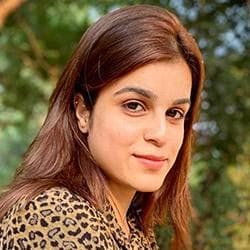 Sakshi John
Sakshi did her graduation in Journalism from the Madras Christian College, Chennai, before starting her career as a freelance writer. She is into blog writing and for MomJunction, she covers various topics, including products to buy for your kitchen, furniture, and other home requirements. Previously, she interned as a content writer in a cyber security firm. As a content writer, Sakshi...
more