A good cheese slice could make your taste buds tingle, especially when it has the right texture and density. Whether it is for a sandwich, sub, or roll, you will need that perfect slice of cheese that is not too thick or thin, large or small. But cutting the right-sized slice with your regular kitchen knife could be tricky and almost impossible sometimes. If you use cheese often in your cooking, you need the best cheese slicer to create that perfect dish.
A good cheese slicer helps slice both soft and hard cheese smoothly, without leaving any mess or sticky residue on them. In this post, we list some of the best cheese slicers you can buy today.
Types of Cheese slicers
Different cheese slicers, mostly handheld or tabletop, can be used to cut different types of cheese. Based on their mechanism, cheese slicers can be categorized into three types.
Cheese plane slicer: A cheese plane slicer is a handheld tool used to slice hard cheeses. It has a sharp-angled blade that is set in the metal base to cut thin, even slices. It is the best choice to cut slices from a large block of hard cheese for sandwiches.
Rolling cheese slicer: This is a T-shaped slicer with a sturdy handle and a roller with a wire that helps slice the cheese. It is best suited for soft and semi-hard cheese. However, it often comes with an adjustable setting that can help alter its mechanism according to the size of the cheese.
Wire cheese slicer: A wire cheese slicer can be used for all types of cheese and is a simpler version of professional cheese slicers. It comes with a base usually made of wood, stainless steel, or marble, to serve as the cutting board and has a wire and a handle that helps cut the slices with precision. Wire cheese slicers can also be used as serving boards.
15 Best Cheese Slicers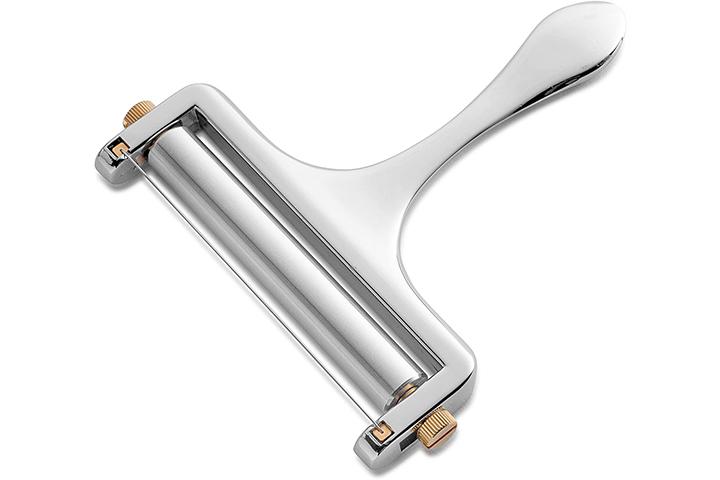 The adjustable stainless steel wire cutter is a convenient, handheld cheese slicer that can slice paper-thin, perfectly even slices of up to 1/4″ thickness. It is a piece of ideal kitchen equipment with a solid cast zinc alloy body that is elegant-looking and durable. It comes with two replacement cutting wires and a one-year manufacturer warranty.
Features:
Designed to work well with soft, semi-hard, semi-soft, and hard cheeses
Can be used for slicing cheese blocks up to 3.5″ wide
Weighs around 7.2oz and allows the user to adjust the thickness of the cheese slice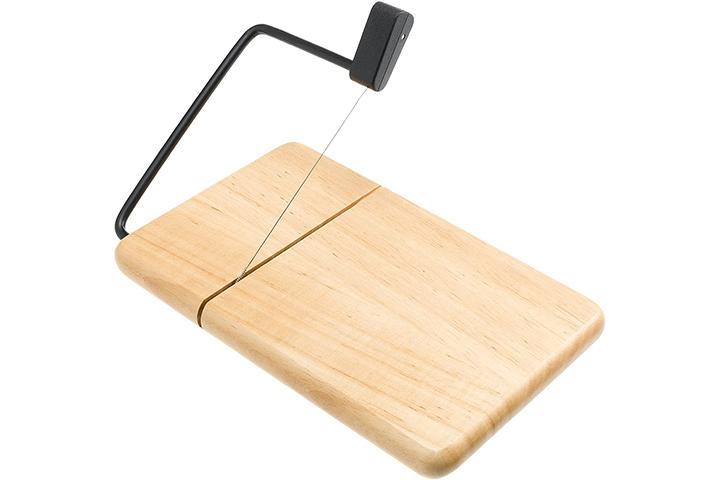 The Thick Beechwood Cheese Slicer is equipped with a built-in black arm and handle grip. The stainless steel cutting wire easily digs into the hardest of cheeses, giving you the perfect slice of desired thickness. The beechwood slicer comes in a full-color box and is small enough for use while picnicking. It can also be used as a serving tray, and its sophisticated looks make it ideal for presentation at a party. Its high tensionless stainless steel cutting wire can cut through semi-soft cheeses without sticking and hard cheeses without breaking.
Features:
Weighs 1.25lb and has a natural finish on the beechwood board, giving it a stylish look
Comes with a replaceable wire and a lifetime manufacturer warranty for breakage
Board measures 9½" x 6″
Has non-slip rubber feet
Can be washed using a mild detergent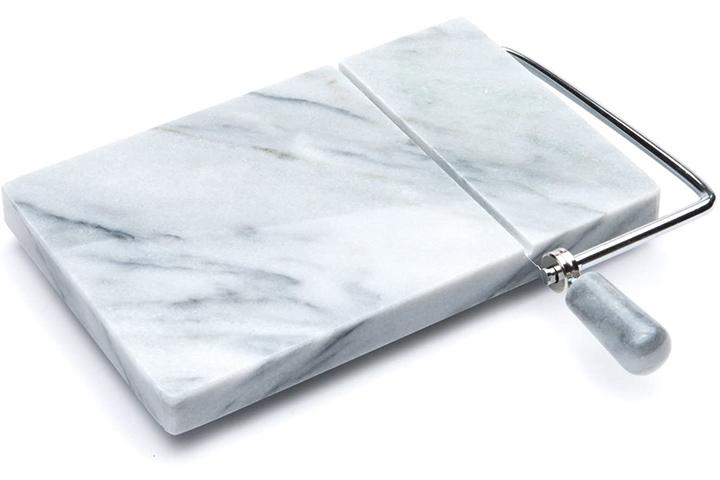 The white marble cheese slicer with elegant plating is ideal for serving a cheese delicacy. The high-quality marble cheese slicer can be used for neat;yslicing soft and hard cheese, owing to its robust stainless steel wire. It has rubber feet to keep it from slipping and makes slicing the cheese easy. You can slice the cheese evenly and perfectly each time, even if it is from a huge block of cheese. Plus, the marble base does not absorb fats, moisture, or odors from the cheese.
Features:
Made from 100% marble that stays cool and is naturally non-stick, making it apt for cutting and serving all types of cheeses
Stainless steel wire cutter does not need any sharpening
Comes with two replacement wires and plastic feet at the bottom to protect your countertop
Weighs 3lb and measures 5 x 8.25 x 1.25″
Can be washed by hand using mild soap and warm water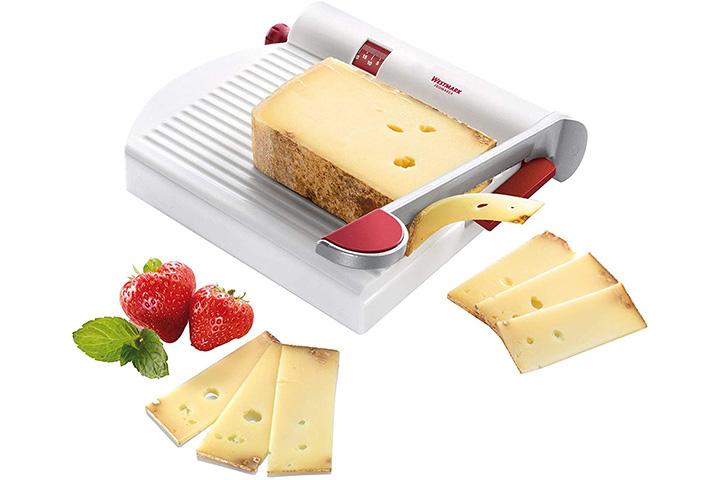 The Westmark cheese board comes with a sharp stainless steel blade that cuts through the hardest cheeses and even meat. It has a base made from high-quality food-safe plastic with rubber feet at the bottom to protect your countertop and prevent slipping. The thickness of the slice can be easily adjusted while cutting, and the slicer has a comfortable cast aluminum handle that will last for a long time. 
Features:
Multipurpose product can be used for cutting vegetables, meat, and cheese
Equipped with an ergonomic handle and adjustable scale
Comes with a five-year manufacturer warranty and full refund policy
Weighs 14.9oz and measures 9.25 x 9 x 2.13″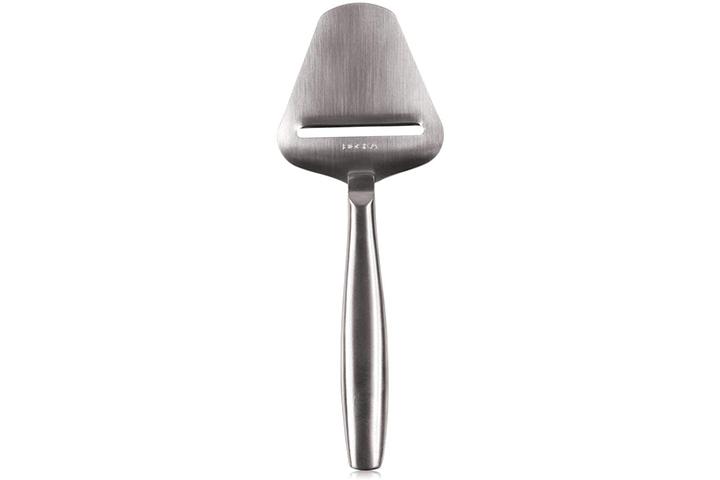 The stylish and sleek handheld cheese slicer is hollow inside, making it lightweight. It easily cuts through semi-hard and hard cheeses, and its blade is made from a high-quality one-piece stainless steel, with a sharpness that lasts for a long time. The ergonomic handle makes it comfortable to use and helps slice uniform, clean slices of cheese.
Features:
Very light in weight and highly durable
Comes with a ten-year manufacturer warranty
Weighs only 2.05oz and with a 2″ opening
Can be easily washed in the dishwasher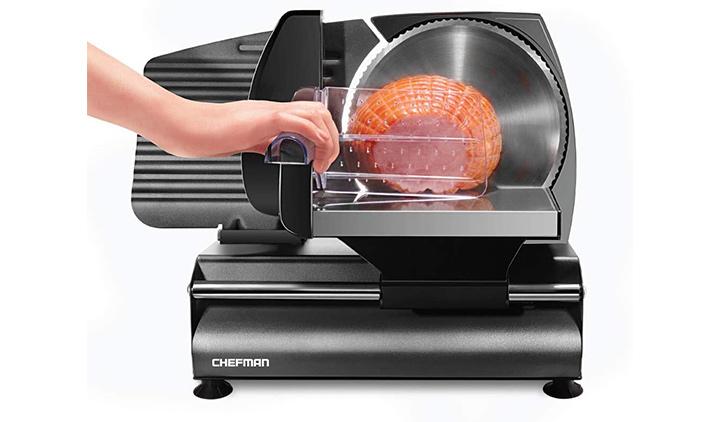 The Chefman electrical slicer comes with a powerful 180-watt motor and a notched stainless steel blade with an adjustable thickness dial. It is sleek and compact for easy storage in kitchen cabinets and countertops. It has a removable and retractable 7.5″ stainless steel blade and an easy-to-clean die-cast aluminum housing. The equipment is sturdy with non-slip feet, blade safety guard, and food pusher to ensure that the food slicer stays in place. It also strengthens your grip while operating and features an on/off button.
Features:
Can be used for cutting cheese, meat, bread, fruits, and vegetables
Weighs 9.46lb and measures 14.5 x 12.5 x 9″
Comes with a user manual for easy operation and a one-year manufacturer warranty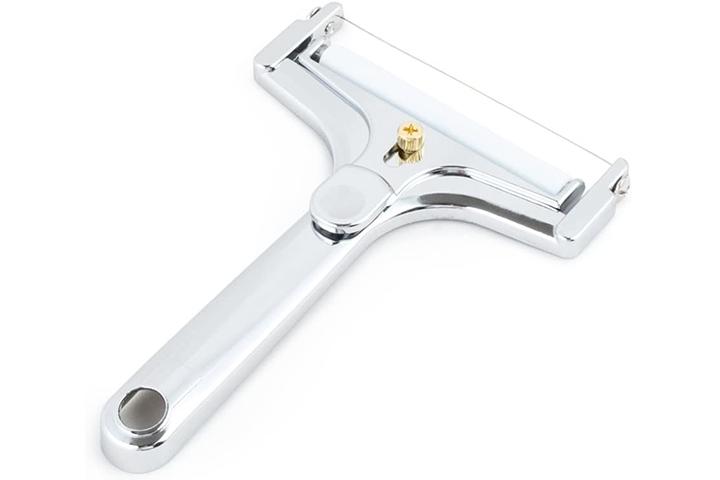 This handheld cheese plane cheese slicer is cast from a single piece of zinc alloy and can be adjusted to give wafer-thin slices or chunky slices of up to ¼" thickness. The Fox Run Slicer handles the cheese with ease and is convenient to wash and handle. 
Features:
Can handle cheese blocks up to 3.5″ wide
Does not need sharpening and comes with two replacement wires
Weighs 3.2oz and measures 6 x 4.5 x 0.5"
Easy to clean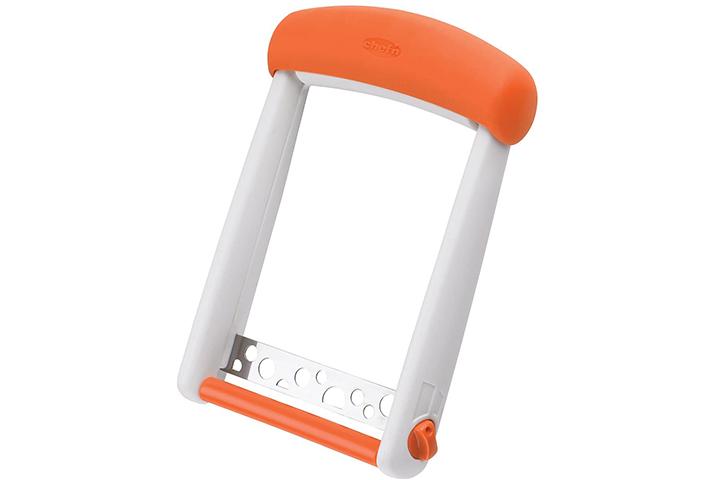 When you want to make paninis or burgers for dinner, this slicer is all you need to slice that semi-soft block of cheese. It is a kid-safe kitchen tool because of its blunt stainless steel knife. It can slice through the cheese with the rolling guide bar facing out and pressing down. The thickness can be adjusted by simply twisting the dial near the blade. 
Features:
Has three different thickness adjustment settings
Weighs 4.8oz and measures 6.25 x 4.5 x 1.25″
Dishwasher-safe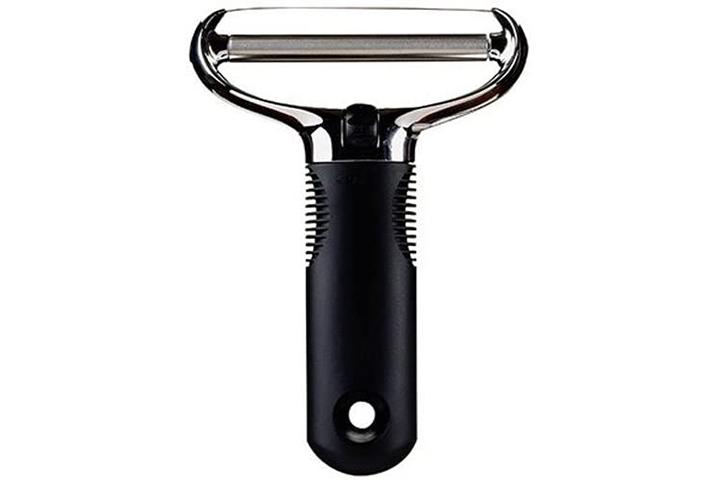 The sturdy cheese slicer from Oxo can cut thick or thin cheese slices. Made of a die-cast zinc body, it has a soft, comfortable handle. It has a replaceable wire facility and comes with an extra wire. Its tensioning wheel allows you to tighten the wire when loose. 
Features:
Highly durable and easy to use
Weighs 7.2oz and measures 4.25 x 1 x 10.5″
Ideal for slicing cheese blocks that are 3.5″ wide

Made with stainless steel wires, this slicer can be used for semi-soft to hard cheeses and all types of cheese, including cheddar, mozzarella, parmesan, gouda, and gruyere. The fine-gauge cutting wire can slice through easily without straining your hands or wrists. The slicer is equipped with dual wires to cut thick or thin slices — just hold the cheese block and cut through it with firm pressure.  
Features:
Sturdy, durable, and rust-resistant
Weighs only 1.58oz and measures 9.25 x 0.25 x 0.25"
Dishwasher-safe and easy to clean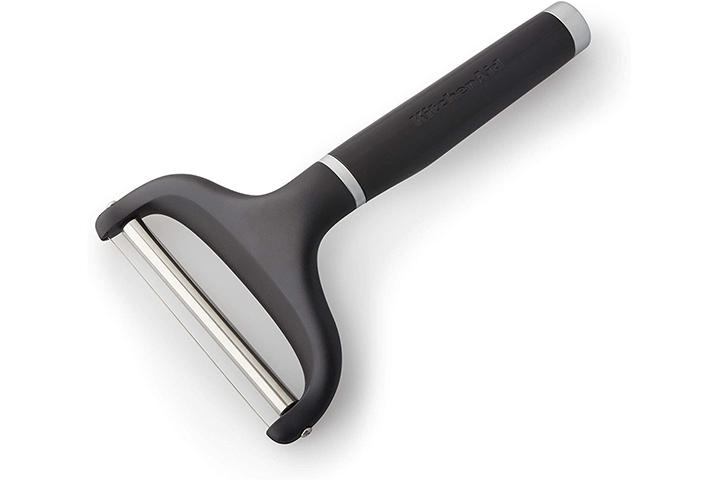 The handheld cheese slicer has a heavy-duty tempered 301 stainless steel wire to work through hard and semi-soft cheese. Its handle is well-balanced and ergonomically designed to give you a smooth and comfortable slicing experience. The KitchenAid classic cheese slicer is ideal for getting evenly cut slices by just gliding it on a cheese block's surface. 
Features:
Weighs only 5.7oz and measures 1.93 x 4.76 x 7.84″
Comes with a one-year hassle-free replacement and limited lifetime warranty
Dishwasher-safe and easy to clean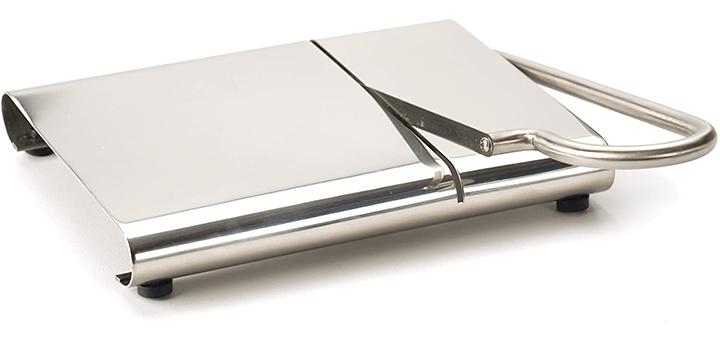 The sleek satin-finished modern stainless steel cheese slicer has a solid, sharp four-inch stainless steel blade with a non-skid grip. It can be used to cut through cheeses, meats, and vegetables. You can also display the stylish and decorative slicer on the countertop of a well-designed modern kitchen. 
Features:
Has a base that measures 7″ wide and 5-1/4″ deep
Has dimensions of 7.75 x 7.5 x 0.75"
Dishwasher-safe and easy to clean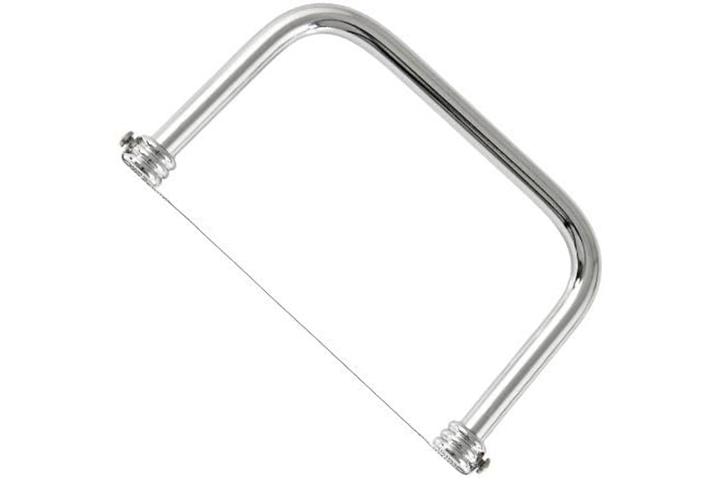 The Cheese Lyre helps in slicing soft cheeses such as fresh mozzarella and gourmet cheeses that crumble or smash easily or lose their shape under the weight and pressure of normal cheese knives. It can also be used for slicing other types of soft food such as eggs, gelatin, jello, pickled foods, soft chocolate desserts, and so on. It has a stainless steel handle, and the wire is set into a shallow v-channel on the edge of the bar that wraps back around several times. 
Features:
Handy and easy to use and clean
High-quality material used in its construction
Weighs 2.89oz and measures 0.5 x 5 x 3"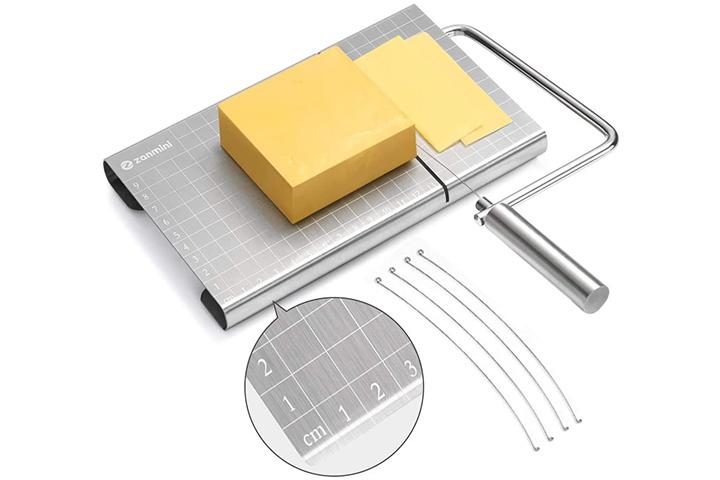 Zanmini Cheese Slicer can cut semi-hard and soft cheese, fruits, vegetables, and handmade soap. This adjustable cheese slicer has clear and accurate grid-scale lines, which let you obtain the precise size and thickness of the slice as per your requirement. The scale also helps you make flatter shapes and can be used to measure the cheese size. The slicer cuts neat, clean, straight, thick, or thin slices uniformly.
Features:
Easy to use, install, and clean
Stainless steel wire cheese cutter
Handle with a comfortable grip
Equipped with four replaceable cheese slicer wires
Made with high-quality stainless steel and non-slip rubber feet to prevent slipping and scratches on the countertop
Comes with a 12-month manufacturer warranty
Weighs 1.25lb and measures 9.53 x 9.21 x 0.79"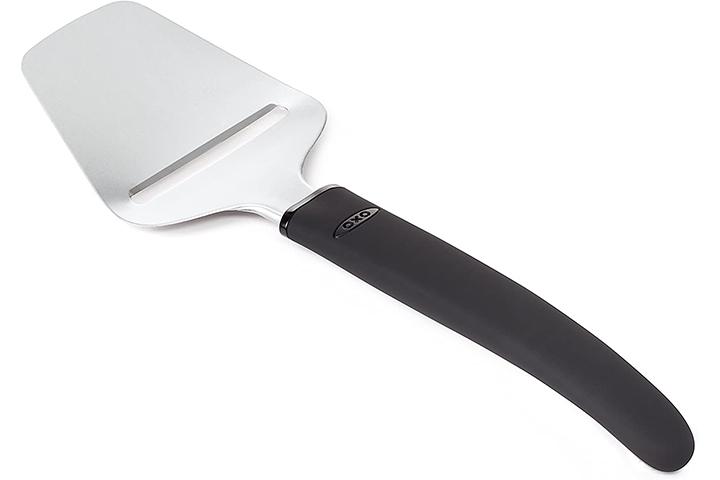 The Oxo cheese slicer can effortlessly slice hard or semi-hard cheese with one smooth glide. The sharp blade helps cut thin or thick slices depending on the plane's angle, while its non-stick head releases cheese after each slice. It has an attractive, sleek design and a non-slip handle for a comfortable grip. 
Features:
Weighs 2.46oz and measures 9 x 2.75 x 1.13″
Dishwasher-safe
Design allows effortless slicing of cheese blocks
How To Choose The Best Cheese Slicer?
To help you evaluate and choose the best cheese slicer, we have listed a few points below.  
Functionality: Pick a slicer that works well with all types of cheese. Understanding the functionality of the product and your needs – what cheeses do you use and how often – helps you choose the right product.
Size: The handheld slicers are sleek and comparatively smaller in size as compared to slicers with base. Based on your needs, you may identify the right one for you.
Maintenance: Choose a slicer that requires minimum maintenance and is easy to clean.
Budget: Cheese slicers come at varying prices based on the materials used and the various features. If your budget is low, a handheld cheese slicer could be a good idea. Otherwise, a slicer with a board could be the right buy.
Thickness adjustment: A cheese slicer that allows you to adjust the thickness of the cheese slices based on your requirement is ideal.
Versatility: A cheese slicer that can also be used for slicing a variety of cheese and food items is always a good investment. Its versatility can make it an important kitchen tool that you may frequently use.
Warranty: A manufacturer warranty allows you to have faith in the product and its durability. Moreover, the warranty saves money that you may spend on replacing the parts of the slicer.
Tips To Use The Cheese Slicer
Use the slicer as suggested by the manufacturer. Read the instruction manual if necessary.
Though the slicers can cut through any form of cheese, it is better to remove the cheese from the refrigerator 15 minutes before you would like to slice it. If the cheese has been in the freezer, thaw it before using it.
Set the thickness as per your requirement. If you have picked a plane slicer or rolling wire slicer, you can adjust the thickness by wrist angle. Some may also have levers or screws to do so.
Slice the cheese right. Cheese slicerscome in different shapes and sizes and usually have a cutting side and a blunt side. Use the sharp side for cutting.
Clean your cheese slicer to prevent the formation of bacteria and mold. Regular cleaning also ensures the blade is sharp. Follow the cleaning instructions to maintain the cheese slicer's sharpness for a long time.
Frequently Asked Questions
1. Can a cheese slicer be used to slice other foods, such as meats or pieces of bread? 
Multipurpose cheese slicers can be used for slicing other food items such as herbs, meat, vegetables, handmade soap, and so on. A cheese slicer with a board and a cutting wire could be used for slicing a variety of foods.
2. Should I buy a cheese slicer with a marble or wooden cutting board? 
It depends on your personal choice as both wooden and marble cutting boards are elegant looking and efficient for slicing cheese. Both types of cutting boards can also be used as serving trays and require hand washing to avoid staining the base with the oil or food colors. However, a wooden board is a little lighter compared to a marble base.
There are a variety of cheese slicers that you can pick from, keeping in mind their features, your requirements. Use our buying guide to choose the best cheese slicer for your culinary needs. Next time, when you have your guests over, serve them a neat platter of cheese and crackers or wine and cheese cut by your newly bought cheese slicer!
Recommended Articles: