Imagine a delicious cherry pie or a cake topped with cherries. Isn't it tempting? Most of us love cherries, but taking out the pits is not easy and time-consuming when you're cooking or baking. For years, people have been using the traditional kitchen supplies to scoop out cherry pits.
But did you know there's a tool designed especially for the task? It is called a cherry pitter, which makes the task easy and safe. You can use it to remove pits and from olives and other fruits too. A cherry pitter can be especially useful when giving young children the fruit, as unpitted cherries can cause a choking hazard for them.
Whether for home or commercial use to make cherry jams or canned cherries, our list of the best cherry pitters can make your job easier. So, scroll down and take your pick.

Top Products From Our List
11 Best Cherry Pitters To Buy
The sleek Oxo pitter is efficient and trendy and has a single sharp pike that pierces into each fruit with precision. The die-cast zinc pitter measures 5.75×1.25×4.75in and weighs 0.315lb. The splatter shield is made of clear plastic and acts like a chute that directs juice downwards and keeps the work area, hands, and clothes mess-free. It is corrosion-resistant and beautifully finished. You can use it for fruits of different sizes without squashing or bruising them.
Pros
High-quality metal
Sturdy and durable
Non-slip base
Comfortable handle
Easy to clean and store
Cons 
Sometimes the pits get stuck
The Norpro deluxe pitter has a 1.75-inch vacuum suction base that holds the cherry in one place. You can remove the pits quickly without squashing or bruising the fruit. The easy-to-use, no-mess cherry pitter has an automatic spring-loaded plunger that enables you to load 10 to 15 cherries at a time. The 1.2lb pitter can eliminate seeds from other fruits like olives too. It is made of durable, heavy-duty metal and is suitable for use when baking, canning, and freezing foods.
Pros
Lightweight and sturdy
Easy to clean
Automatic feed tray
Easy to disassemble for storage
Cons 
The Cuisipro pitter is made of silicone and is eight inches long. It has a locking mechanism that keeps the pitter closed for easy storage. The deep silicone cup keeps the juice from splattering and makes the process mess-free. The scoop front picks up the fruit and rolls it into the cup. Weighing 12.6g, the holder has a generous size that fits big and small cherries and even black and green olives.
Pros
One-hand operation
Locks closed
Flexible fins
Dishwasher-safe
Ideal for cherries and olives
Cons 
Too much pressure may squash the fruit
The Prepworks pitter is a revolutionary kitchen accessory with a simple stapler design. It has a unique feature that lets you extract pits from four cherries at a time. The plastic device measures 7×2.9×2.2in and has a spring action mechanism with metal spikes. It has a red base container fitted at the bottom to collect the pits and juice, which also acts as a splatter shield saving you from the mess.
Pros
Compact and unique design
Dishwasher-safe
Non-skid bottom
Switched locking mechanism for easy storage
Cons 
Whether you want to bake a cake with cherries, put them on desserts, eat them, or you want olives in your salad, the ProTensils pitter is a simple tool that can pit six cherries or olives at one go. A plastic base at the bottom collects the pits and the excess juice. The spikes are made of rust-proof alloy metal to create neat holes to remove seeds from multiple cherries. The cherries need to be aligned so that the pit sits in the center for pitting accuracy.
Pros
Ideal for various fruits
Made of heavy-duty material
Unique and modern design
Easy to use and clean
Locking system to shut and store
Cons 
May have precision issues
The cute designer cherry pitter from Talisman Designs store can entice your children to help with the pitting process. The six-inch tool looks like a happy cartoon standing on its red feet. Place the olive or cherry in its open mouth and press the head. The seeds and juice are pushed in a clear plastic container, and the fruit is left in the mouth. Its cleverly designed buck teeth in front protect the hands and fingers from touching the sharp pikes.
Pros
Dishwasher-safe
Efficient and unique
Made of BPA-free, FDA-approved plastic
Safe for children
Cons
Could have a slower extraction rate
Preparing food with cherries and olives can be a breeze with the Chef'n QuickPit pitter. You can operate it with one hand, and the seeds are directly dropped into a bowl or the trash can. It is easy to use by inserting the cherry into the nook and then pulling the trigger to pop the seeds out. The cherry pitter has no sharp blades or pikes and is safe for children to use.
Pros 
Hand-held tool
One-handed design
Simple operation
Top-rack dishwasher safe
Cons 
Doesn't have an attached container to collect pits
The Westmark stoner is an ergonomically designed pitter with a stable handle that makes it comfortable to use. Made of long-lasting cast aluminum with a powder-coated finish, it is a reliable kitchen tool with arms to hold the cherry in place when pitting. It makes the pitter resistant to corrosion and abrasion and removes the pits with minimum wastage.
Pros 
Can be disassembled for cleaning
Dishwasher-safe
Lightweight and sleek design
Durable
Blade and arms work in perfect sync
Cons 
Doesn't have a splatter guard
The small and simple cherry pitter from Oriflame has an ergonomic design and is easy to operate with one hand. Made of high-quality ABS material along with food-grade silicone, this pitter is safe and durable. It has a convenient scooper to make picking the seeds easy. The pit falls into the attached bowl at the bottom, and the soft squeezing mechanism minimizes the mess. This pitter has a lock latch to close and store.
Pros
Ergonomic design
Easy to use
Compact and modern look
Dishwasher-safe
Ideal for picnics and outings
Cons 
Can pit only one cherry at a time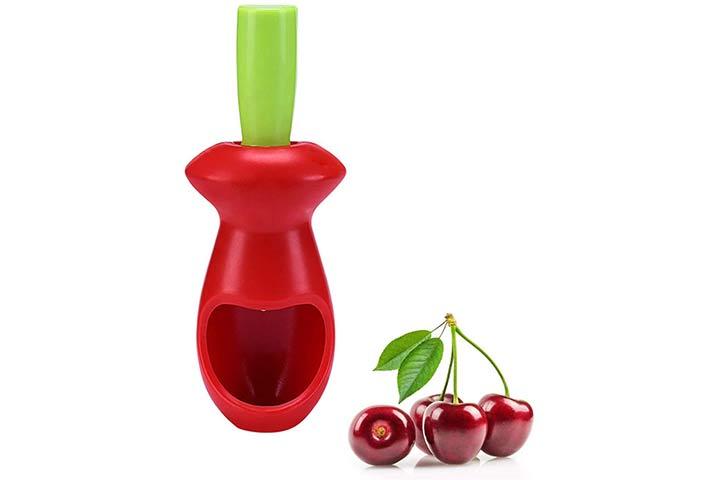 Made of ABS food-grade silicone, the KitchenPal pitter tool is safe and does not cause fatigue. It is ideal for bing and rainier cherries, jujubes, and red dates that can be used for ice creams, cakes, juices,  jams, and other desserts. The hand-held press design stabs out the seed easily, making your job effortless. The pitter is portable, dishwasher-safe, and easy to clean.
Pros
Durable and easy to use
Time-saving design
Made of food-grade safe plastic
Attractive and unique design
Cons
May have a lower extraction rate
The Nurch cherry pitter is made of 304 food-grade high-quality stainless steel that is durable and sturdy. It comes with a comfortable handle and arms to hold the fruit in place and remove the pit neatly with no juice loss or cherry squashing. The fruit core picker is easy to carry and can be stored anywhere. It is a perfect tool to carry for picnics or to the park.
Pros
Ergonomically shaped handle
Locking system for storage
Compact and easy to use
Durable and sturdy
Cons
Can pit only one fruit at a time
How To Choose The Right Cherry Pitters?
With plenty of cherry pitters available in the market, here are some pointers to keep in mind to choose the right one.
Hand-held or counter-top: If you are looking for a small, portable cherry pitter, the hand-held ones are a good bet. They are easy to use at a picnic or outdoors. They are also safe and easy to use with one hand. In case you have a cherry tree in your garden or regularly use cherries and olives for desserts or salads, you can buy a counter-top pitter that is more stable and can pit a larger number of cherries in less time.
Child-friendly: If you have children at home, they are likely to join you in the cherry pitting task. Make sure your pitter has a child-friendly design, devoid of blades and sharp parts. Some pitters have safe mechanics, keeping the pitting prongs away. Some pitters also come in shapes that appeal to children to do the task themselves.
Material: Pitters are primarily made of food-grade plastic, aluminum alloy, or stainless steel. The plastic pitters are lighter, safer, and more attractive, available in different colors and shapes, while the metal ones are heavier but look classier. They are usually more durable than plastic pitters. Chrome-plated steel is a good option for metal pitters as it is corrosion-resistant. 
As yummy as they taste, cherries and olives need to be pitted before consumption, which can be a tedious task. It is not advisable to give children or elders cherries with seeds as they could choke. Whether you have cherries as snacks or use them regularly for salads and desserts, a cherry pitter can make your job easier. We hope our list helped you find the best tool suitable for your needs.
Recommended Articles: 
The following two tabs change content below.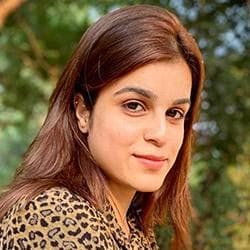 Sakshi John
Sakshi did her graduation in Journalism from the Madras Christian College, Chennai, before starting her career as a freelance writer. She is into blog writing and for MomJunction, she covers various topics, including products to buy for your kitchen, furniture, and other home requirements. Previously, she interned as a content writer in a cyber security firm. As a content writer, Sakshi...
more