There are multiple reasons you should invest in the best child-proof door knob covers. First, you can't keep an eye on your child everywhere in the house. For instance, it can become a task to watch your child when you are in the kitchen, in an important meeting, or engaged somewhere else. Moreover, it is very easy for the little mischievous ones to slip out into the balcony, washrooms, or front door and cause a ruckus in no time.
These door knob covers can be a life-saver for you as children cannot yank it off no matter how hard they try. So, go ahead and choose a helpful device that can keep your child safe and secure.
Why Do We Need Child-Proof Door Knob Covers?
Having child safety door knobs can be a good idea if you have toddlers at home. Here is why.
You can keep them out of the areas, such as the kitchen, bathrooms, basement, and backyard, where they are not supposed to be.
Toddlers may get locked or lock you inside a room and may not know to open the door. Child-proof door knobs can prevent such mishaps.
Sometimes, their tiny fingers may get stuck in the door knob or hinges. Having child-proof knobs could help in keeping them safe.
11 Best Child-Proof Door Knob Covers
The value pack has four door knob covers made of hard plastic. The cover has a sleek design and can be easily installed on the door knob. It measures 3x2x2in and is lightweight. The safety cover can fit almost all kinds of door knobs that are spherical. It lets adults open the door conveniently but prevents children from doing so. You can get these covers for a hassle-free and practical solution to keep your toddler away from doors.
The child-proof door knob cover is made of eco-friendly and soft PP and TPR material and requires no tools or drills to install. The pack contains four safety door knob covers that deter toddlers from opening doors. It has passed physical and mechanical properties tests and can be fixed and removed easily as per your requirements. You can use these covers for drawer knobs too.
The door lever lock is designed using a new patent technology that doesn't allow your child to lock you in a room. It has a simple design and can be easily fixed on any door knob. All you have to do is remove the 3M adhesive and stick it onto the door and use a fishing string to remove it once done with it for good. You can lock and unlock the lever based on your requirements. One pack contains two locks.
Simple and ergonomic in design, the door knob cover is made of good quality material and has tapered edges that provide additional protection. The cover has a sculpted design, and it securely fits any standard-sized door knob. It is easy to install and remove and comes in a pack of two. The safe door knob covers can also be used for table and counter drawers.
You can keep your toddler out of laundry and kitchen areas by installing this easy-to-fix door knob cover. It has a subtle and sleek design that fits well on all rounded door knobs. The cover is made of non-toxic and safe polypropylene material and requires no tools for installation. The kid-friendly design is safe for children to hold but discourages them from opening the doors. The pack includes five safety covers.

Get this value pack that contains four child-proof door knobs to keep your child safe. It is bigger than most other covers and fits the standard door knobs of the house. The knob cover is 2.6×2.6×2.63in in size and is made of non-toxic, odorless, and safe polypropylene fiber. It comes with double protection and can be quickly installed on the door knob without any tools.

The safety cover for the door knob comes with a lock guard, which protects from accidental locking. It is made of good quality materials that are non-toxic and safe for the children to hold. The pack contains two door knob covers, each measuring 2.5x3x3in. It fits well over any rounded door knob and opens with a twist. You can open the door easily, but your children cannot.
Convenient to fix and remove, the door knob measures 8x5x1.5in and can be installed without the use of any tools. Once removed, it can be used again – all you need to do is open it and snap on the knob of your door or desk. It is translucent and can be gripped easily by an adult. Your children would not be able to open the door with this knob cover. The safety covers are available in packs of three, six, and nine.
You can keep your child safe and prevent from opening the doors or locking you by installing this quality door knob safety cover. Made of plastic, it can be installed and removed whenever you want to. It is manufactured as per the safety standards and is compatible with almost all the standard-sized door knobs. The pack brings you four door knob safety covers of the same size.
You can prevent your child from locking doors with this high-quality child-proof door knob. It has a universal design and easily fits on a regular door knob. It has rounded edges and can be snapped on to the knob for installation in one go. The pack contains eight door knob safety covers that can be fixed on most door knobs. The design lets it merge with the interior decor of the home and does not make it look odd.
The pack contains four door knob safety covers and two finger pinch guards. Both are easy to fix and ensure the child's safety. The child-proof door knob is designed to be fixed to any standard-sized door knob. It measures 5.4×4.2×4.1in and is sleek and reusable. Once installed, the knob cover prevents your little one from opening doors, and the finger pinch guard saves your child's tiny fingers from injury.
Tips To Choose The Right Child Proof Door Knob Covers
There are different varieties of door knob covers available for children's safety. Considering these tips will help in selecting the right products.
Pick a door knob cover that is compatible with the knobs in your home. Not all safety covers fit all door knobs.
Look for the size when buying the safety door knob cover, it should fit the knob properly and should not be either too small or too big. Otherwise, the door may not open even when adults try.
Choose quality safety door knob covers that are easy to fix and remove from the door knob covers.
Try to pick reusable child-proof door knob covers.
It is always better and cost-effective to get a value pack of safety knobs that contains three or more than three products.
You can compare different child-proof door knob covers with respect to their features, types, and prices before selecting one for your house.
The main reason to buy child-proof door knob covers is to ensure your child's safety at home. Therefore, do check the features of every product carefully and then decide which one could be the most appropriate for your home. Fix the safety door knob covers on the doors where you don't want your toddler to explore and be stress-free regarding their safety.
The following two tabs change content below.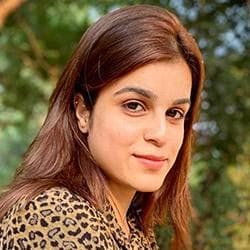 Sakshi John
Sakshi did her graduation in Journalism from the Madras Christian College, Chennai, before starting her career as a freelance writer. She is into blog writing and for MomJunction, she covers various topics, including products to buy for your kitchen, furniture, and other home requirements. Previously, she interned as a content writer in a cyber security firm. As a content writer, Sakshi...
more