Chinese cleaver by the name makes for an imagery of a burly Chinese chef smashing a thick cleaver into massive hunks of meat. An actual Chinese cleaver is anything but different from what its name might imply; it actually makes for a versatile knife capable of a lot of different tasks. Rather than just being limited to separating connective tissue from bone, a Chinese cleaver can be used to chop vegetables, crush ginger, and transfer food from the chopping board to a wok.
The Chinese cleaver is often thin, light and it can be used to carefully slice spring onions as easily as it can be used to slice strips of meat of a rotisserie chicken. It makes for a great addition to any knife set and its multi purpose features make it a valuable tool in the kitchen. We've compiled a list of the 11 best Chinese cleavers for you to buy if you're in the market for some knives.

Top Products From Our List
The 11 Best Chinese Cleavers to buy

Starting the list with one of the best Chinese cleavers in the market currently is the TUO Cutlery Vegetable Meat Cleaver Knife. It is a well known and popular option for a reason. The knife was rated as the world-best kitchen knife by wiki.ezvid.com and it is made from premium quality materials such as high carbon German steel and Pakkawood. It can be used for various kitchen tasks such as slicing, dicing, and cleaving pieces of meat. The blade is very versatile and can be used for vegetables as much as it can be used for different types of meat. With its aesthetic appeal, high quality components and functionality, It makes for a great tool for use in the kitchen.

As versatile as Chinese cleavers are sometimes you need a good cleaver first and versatility second. SKY LIGHT Cleaver Knife is the heavy cleaver which does the basic task of cleaving well. The blade of the cleaver is made from X50CrMoV15 stainless steel and the high quality stainless steel measures at 58+ on Rockwell Hardness Scale which indicates its toughness and durability. The cleaver is also corrosion and stain resistant and its edges measure 17 degrees per side giving it high precision to cut and slice. Loved by Europeans and Americans alike, this is a great Chinese cleaver to get if you want a reliable cleaver which will last for a very long time in the kitchen.

Some Chinese cleavers can look intimidating to amateurs but, fret not as the Kiaitre Cleaver Knife is a suitable option for the novice and the professionals.The blade profile of the knife is indicated by its premium high grade German stainless steel construction, which offers great toughness and high degree of resistance to corrosion and rust. The edges of the knife are honed at 15 degrees per side, which is one of the lowest compared to the competition and its high precision allows easy cutting of fruits and vegetables. With its easy to hold Pakkawood handle, the cleaver provides a comfortable, non-slip grip making it easy-to-clean. This Chinese cleaver makes for a great gifting option to new house owners and for anyone interested in the Chinese way of cooking.

A good Chinese cleaver can have multi purpose features. It can be used as a chopper knife to chop herbs and onions into fine pieces and an occasional tough meat like beef or pork for soups and steaks alike. It has a sleek and ergonomic design, the blade is made from 100% stainless steel, and the knife is dishwasher safe. The blade is sharp and corrosion resistant making for a great long term usage and it's stain resistant too. The handle is high grip and non slip making for easy use by home cooks and professionals alike. With its easy-to-clean nature and durability, this is one great Chinese cleaver for all your needs.

If you're looking for a good Chinese cleaver, loved and awarded by the Chinese themselves, the SHI BA ZI ZUO cleaver is just the thing for you. It is a heavy duty cleaver which does it all from mincing to slicing, chopping to dicing, used by many across restaurants and by the best chefs. Some of the cleaver's highlighting features include a sharp blade with a 25-30 degree edge angle on the sides and 55+ rating on the Rockwell Hardness Scale. It comes with an extended finger guard to protect your fingers while chopping and its well-polished tang handle provides superior grip. The handle is made from rosewood and comes with an exquisite finish making it the knife to show off on the knife bar. SHI BA ZI ZUO is a decorated brand well beloved by the Chinese, it was also awarded the title of " Chinese National Kitchen Knife" for its quality and sheer functionality.

The Dexter-Russell 8″ Stainless Heavy Duty Cleaver is a classic high quality cleaver with great looks and tough Made In America construction. The blade is made of high carbon stainless steel which is stain resistant and durable. The alloys used in the blade include molybdenum,vanadium, and cobalt. All of these alloys make for a strong, sharp, and tough blade which holds its edge over long periods of time. Among its unique features includes its special construction which makes it suitable for left handed people as much as it is for right handed folks. The 8 inch blade comes with a rosewood handle and it makes for a great option if you are in the market for a tough, high quality, locally made Chinese cleaver.

In the age of machine made, quickly assembled cleavers, this Chinese cleaver stands out, because Kitory Chinese Traditional Forged Cleaver is Handmade. The entire cleaver is handmade, the handle comes in high mountain century old wood which is also carved and honed by hand. The cleaver knife's blade is made from forged manganese steel, honed by veteran workers using natural knife grinders mined from Mount Emei in China. This Chinese cleaver makes for a great option for people who prefer old school construction with modern high quality materials. The steel has a very high carbon content which means it needs to be taken care of like a traditional knife with a whetstone required to keep it sharp and clean.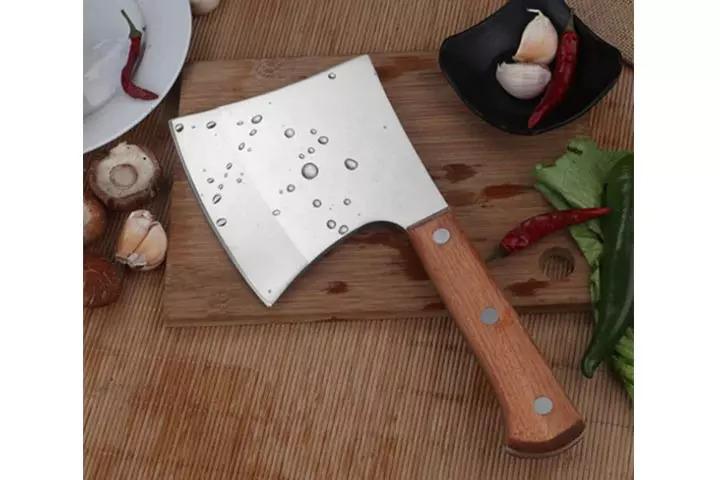 Cleavers can resemble axes at times with their broad but deceptively light blades and tight grips. The Bone Cutting Knife by Cinlinso is the axe you need for the kitchen which is just a Chinese cleaver in different guises. The axe cleaver is made from 4Cr14 stainless steel which is corrosion resistant and helps it hold its edge for long periods of time. With a slip wood handle made of Shabi pear wood it provides immense grip and protects your hands. The cleaver is great to get through tough meat and bone but it also can be used to slice and chop herbs. The Bone Cutting Knife by Cinlinso is an impressive multi purpose Chinese cleaver to take on the toughest of foods and make your life better.

"Well-built" and "simple"— the words that best describe this Chinese cleaver. This lightweight knife is easy-to-hold and easy-to-use. The handle is shaped for easy grip while cutting vegetables and the high carbon stainless steel knife is durable and low maintenance. It can be used for all the kitchen duties such as slicing and dicing with its easy grip making the tasks a breeze. Vegetable Meat Cleaver Knife by Andame makes for a great gifting option as well with its functionality and beautiful design.

Best of beauty and brawn is the fitting description for this Chinese cleaver. Its blade is forged with Japanese AUS-10 super steel cutting core with 66 layers of damascus steel cladding. This feature adds extensive edge retention, corrosion resistance, and prevention against rusting. The full tang knife scores 62+ on the Rockwell hardness scale which ensures its toughness and durability. With the military grade G-10 handle and a mirror polish finish, this Chinese stainless steel cleaver looks the part and has the functional design for use by restaurant chefs and home cooks.

Saving one of the best for the last, is the Cleaver Knife by Minli. It uses the high quality combination of components using German stainless steel for the blade and Pakkawood for the handle. The blade is sharp with edges at 15 degrees per side and it cuts through the toughest of meat easily. The handle provides a comfortable grip for all your needs while protecting your fingers. This long lasting Chinese cleaver makes for a great option for commercial use and by hobbyists learning more about making Chinese cuisine using proper tools.
Now that we have read all about the options for Chinese cleavers, Here are some helpful guidelines for you to choose the best one.
How to choose the best Chinese cleavers?
Chinese cleavers come in different sizes, weights, and lengths. Choosing a correct option can be a daunting task. Here are some basic factors to consider before choosing a Chinese cleaver.
1. Size and weight
A regular or small size cleaver is adequate for uses such as cutting vegetables and slicing thin cuts of meat. Heavy duty uses are best served with bigger cleavers capable of slicing through tougher meats such as beef or lamb.
The weight of the cleaver is also an important factor to consider as it affects the movement of hands while cutting. If the cleaver is too heavy to hold, it may interfere in daily usage of the knife. Unlike traditional cleavers, Chinese cleavers can be bigger but lighter due to its lightweight construction. Select a size which you would be comfortable with for long term regular use.
2. Type of steel used
Steel is the material of choice for most Chinese cleavers. However, they come in different types and of different grades with respect to alloy composition and hardness. It's good to research different types available to select the one which suits the best for your use. Not all types of steel are corrosion resistant.
A high carbon steel with an upper grade on the Rockwell hardness scale gives the optimum durability and cutting strength. Stainless steel is commonly preferred due to its corrosion resistance and resistance to rust while also having enough hardness to cut through most of the things.
3. Ease of cleaning
Chinese cleavers require care and maintenance for long term usage. Some cleavers are dishwasher safe and easy-to-clean. The most common option is to wash it with mild soap and water for best results. Cleavers like most knives lose their edge over time and the use of a whetstone makes a lot of difference in keeping the cleavers sharp and ready.
How to use a Chinese Cleaver
Chinese cleaver with its size may look intimidating to use but they are quite simple to use if you learn the basics. To begin with, place your thumb and index finger against the blade on the sides of the handle. Once you have a strong and firm grip on the handle, cut with a rocking forward and backward motion slowly, as you get comfortable with the cleaver you can increase your speed and include different types of meats and vegetables. It makes for a great all-purpose knife as long as it's taken care of properly and used within its limits.
A Chinese cleaver is a great addition to any kitchen. It can cut vegetables as effortlessly as it can cut thin slices of meat. It is versatile and can be used for a variety of vegetables and it also makes for a great gifting option. You can't go wrong with any of the 11 best Chinese cleavers mentioned in this list. So what are you waiting for? Choose the one which suits you the best and bring home an awesome quality tool for your kitchen!
The following two tabs change content below.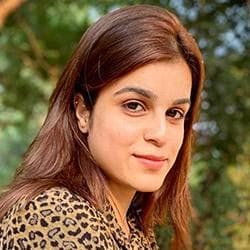 Sakshi John
Sakshi did her graduation in Journalism from the Madras Christian College, Chennai, before starting her career as a freelance writer. She is into blog writing and for MomJunction, she covers various topics, including products to buy for your kitchen, furniture, and other home requirements. Previously, she interned as a content writer in a cyber security firm. As a content writer, Sakshi...
more