Chocolate fountains are a visual treat. Watching melted chocolate flowing and spouting from a fountain is a great way to entertain guests while adding melted chocolate to the menu. Chocolate fountains, which were once reserved for the elite and found only in high-end parties, are now widely available.
They are elegant, a novelty, and make any event extra special, enough to impress your guests. They also come in many varieties across different prices and features. If you are on the lookout for the best chocolate fountains, take a look at these 11 best chocolate fountains and add that special spark to all your parties. 
11 Best Chocolate Fountains To Buy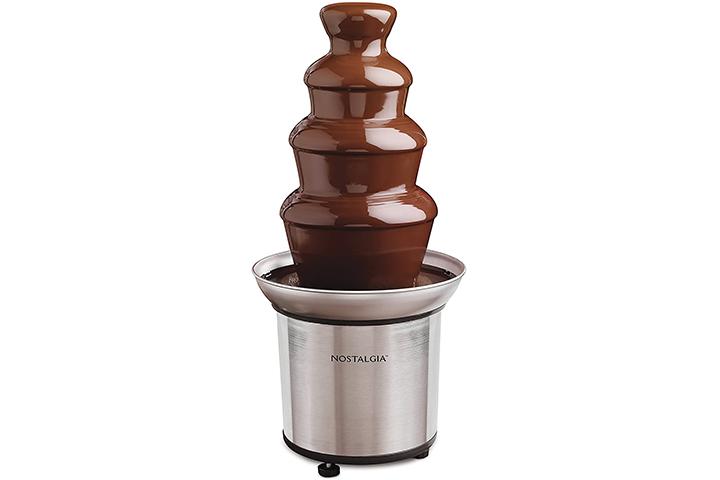 The Nostalgia CFF986 fountain is an auger-style fountain that features 4 cascading tiers. It has an elegant stainless steel finish and it is the perfect addition to birthday parties and baby showers. It is easy to disassemble, making cleaning it a breeze. Its stainless steel construction keeps the bowl heated and the sauces flowing smoothly so that you can enjoy some chocolatey opulence in peace. 
Pros 
2-pound capacity
Easy to assemble
Available in other colors
Lightweight
Cons
Some may find the fountain slightly loud.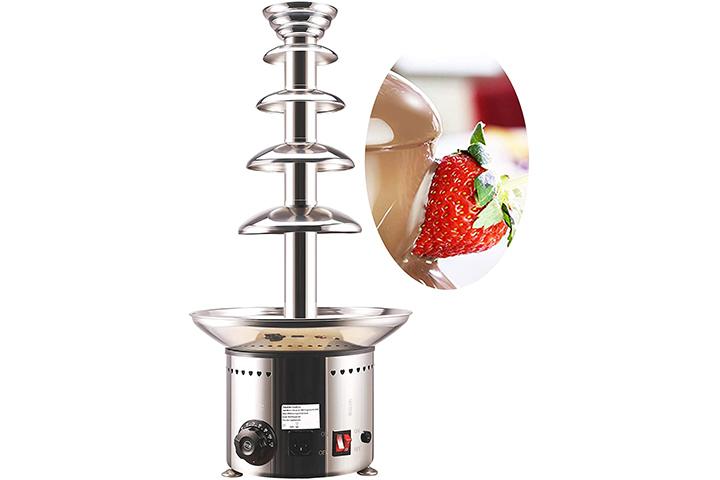 The CO-Z 5-Tier Heated Fountain is an excellent centerpiece for any party with its impressive performance and dazzling looks. It can accommodate 2.5 pounds of melted chocolate and comes with a built-in heater. The temperature control in the fountain prevents the chocolate from burning and loss of flavor. The stainless steel construction of the fountain ensures even heat distribution, durability, and corrosion resistance. It comes with a 110V motor, which is quiet and stable.
Pros 
Water-resistant seal
Quick set up
Low noise
Dishwasher-safe detachable parts
Lasts up to 10 hours
Cons
The flow may not be as impressive as expected.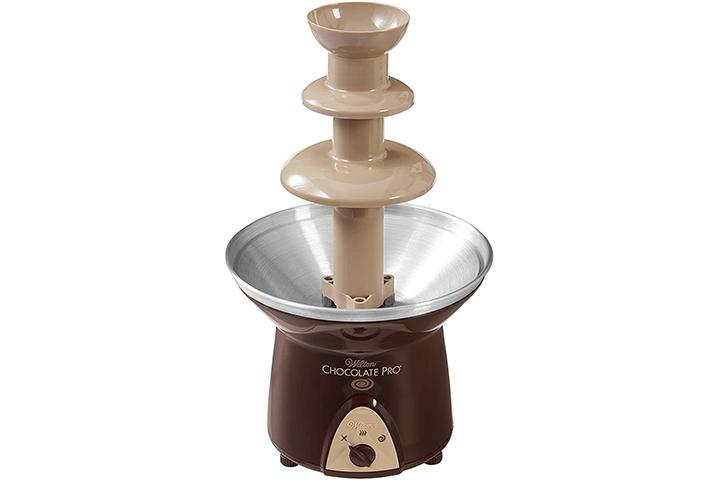 The Wilton Chocolate Pro Chocolate Fountain is stylish and compact. The fountain is designed for fun-filled parties and events, as its unique bowl design allows easy dipping of chips and fruits. It heats up quickly and comes with a firm base, which prevents slipping and avoids any untoward incidents. With a 4-pound holding capacity, and easy to clean design, this fountain is a fantastic gifting option.
Pros 
16 inches tall
Adjustable feet
Perfect spacing
Dishwasher-safe removable components
Lightweight
Cons 
It may not be ideal for cheese due to its thick consistency.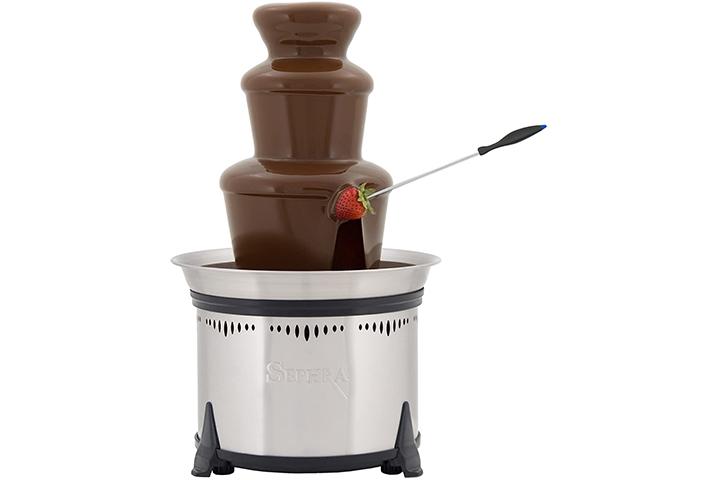 The Sephra Classic Chocolate Fountain is an 18-inch tall fountain, which is bound to leave a lasting impression on your guests. It can hold up to 6 pounds of chocolate to serve over 40 guests. The stainless steel heated basin and QuickSet tier assembly makes it an excellent fountain. The fountain functions best with its own Sephra melting chocolate.
Pros 
Whisper-Quiet motor
Easy to clean
Dishwasher-safe tiers
Simple operating switches 
Cons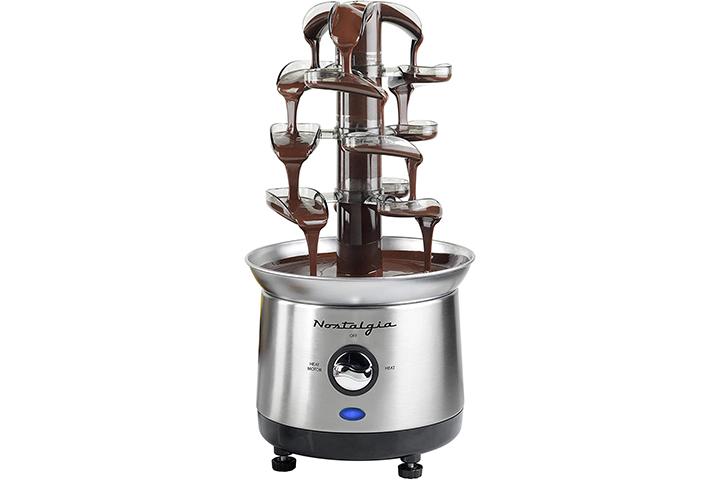 The Nostalgia chocolate fountain comes with rotary dial controls and a stainless steel base. It keeps the chocolate flowing for long hours and prevents lumping and burning. The capacity-style fountain accommodates 2 pounds of chocolate and features 4 easy to assemble tiers, making it ideal for a large group of people or a humble affair. 
Pros
Heated base
Easy to disassemble
Auger-style fountain
Suitable for cheese and barbeque sauces
Cons
It may be slightly heavy.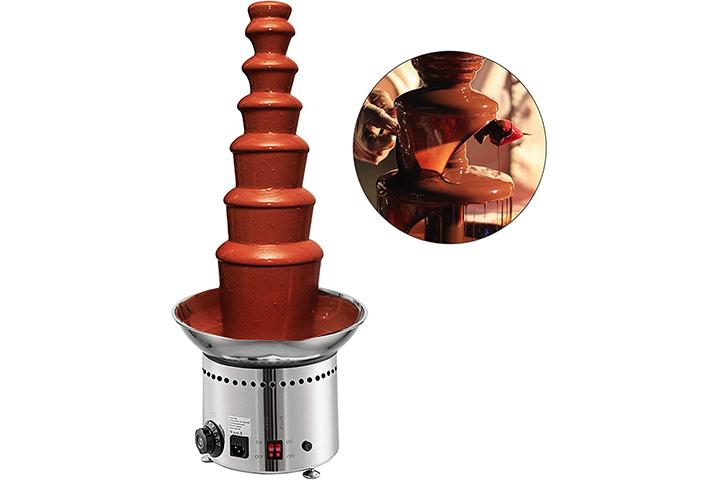 A towering chocolate fountain is the main topic of discussion at any party, and this 7-tier chocolate fountain won't disappoint you. A cascading fountain, it boasts a 22-pound capacity. The fountain is made of food-grade, 304 stainless steel, making it durable and heat-resistant. The fountain comes with a temperature control button, which regulates the temperature between 32℉ to 302℉. With its non-skid feet and height-adjustable feet, this fountain is one of the best fountains in the market.
Pros
7-tier design
Energy-efficient
Corrosion-resistant
Quick heat-up
No blockages
10 kg capacity
Cons 
One has to be careful to buy chocolates made for fountains.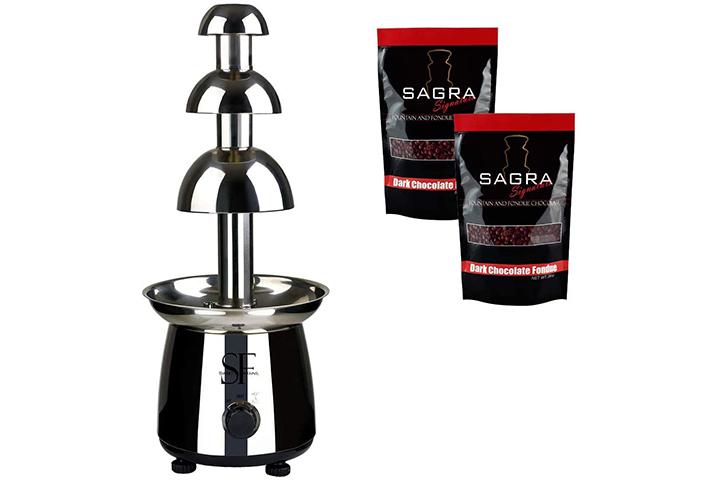 This behemoth of a fountain stands at 22 inches, which makes a view like no other with its 3 tiers and 3.5-pound capacity. The chocolate fountain is an excellent option to satisfy the cravings of up to 50 people. It comes with a stainless steel finish and is easy to disassemble. The chocolate fountain has a sturdy base and rubberized feet, which ensures stability.
Pros
Heated basin
Rotary function dial
Runs for up to 7 hours
Doesn't overheat
Cons
Some may find the flow of the fountain slower than expected.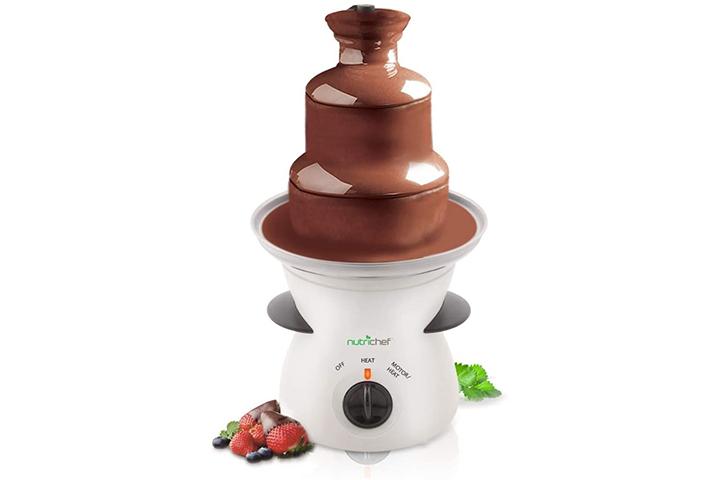 The NutriChef Chocolate Fountain can be used for fondues, sauces, and more. It features a 3-tier waterfall design, which can be used to melt chocolate or cheese for a delicious and heartwarming fondue. It comes with a simple plug-in operation and a 2-cup capacity. The high-quality electric fountain made from stainless steel and ABS plastic construction keeps the melted chocolate warm so that you can use strawberries, wafers, or bread to dip into the chocolate and enjoy. It is the ideal size for small get-togethers and or as a gift for a new home owner.
Pros 
High-powered heating element
Easy to assemble
Stable and sturdy base
Multi-tier
Lightweight
Compact size
Cons 
Some may find it slightly noisy.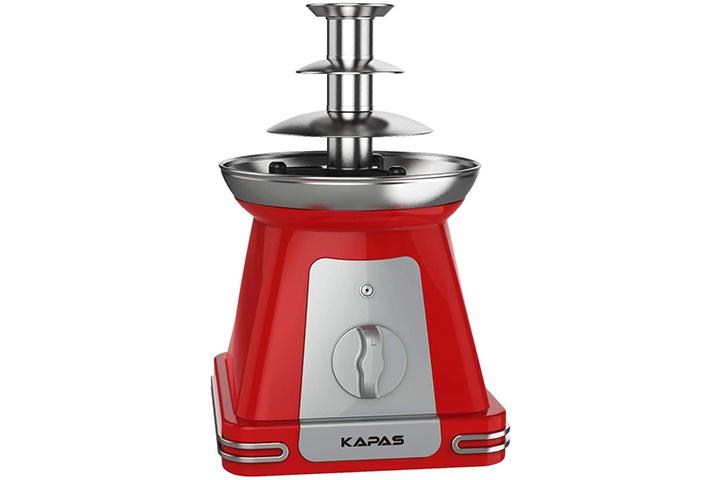 The KAPAS Chocolate Fondue Fountain is made from stainless steel and comes with a  heated bowl, which keeps the sauces flowing. The fountain is easy to assemble, disassemble, and clean. The auger-style fountain does not require an external pump and its simplicity and ease of use make it perfect for any kids' party.
Pros 
Rust-free
Sturdy base
Convenient controls
Lightweight 
Cons 
Some users found that it takes a long time to heat the chocolate.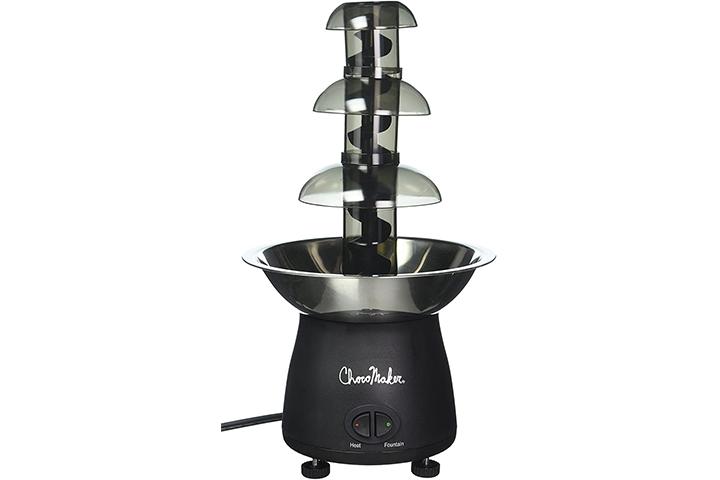 The CHOCOMAKER Chocolate Fountain is made from high-quality materials to give you the best experience. This stunning fountain was designed as a replica of professional fountains used in elite events and parties. It has 3 tiers and a 2-pound capacity. It boasts a firm base and is ideal for use at home and small parties.
Pros 
Easy to use
Keeps chocolates warm
Easy to clean
Compact
Cons 
The mixture has to be made very thin.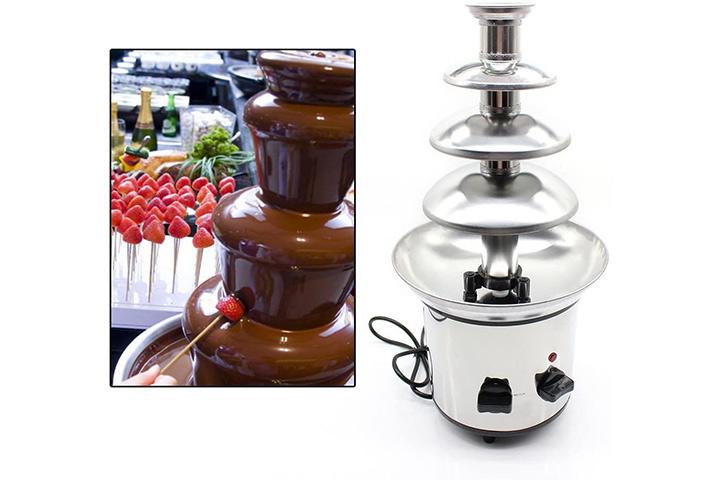 This chocolate fountain quickly melts chocolates and comes with adjustable temperature controls. Made of stainless steel and an advanced sealing system, which prevents leaking and spillage. The 4 tier design of this chocolate fountain makes it ideal for formal as well as casual events.
Pros 
Eco-friendly
Removable tower
Non-toxic
Easy to use knobs
Cons 
It may take a long time to heat.
Now that we have seen the 11 best chocolate fountains, let's take a look at a few things you should consider before selecting one for yourself. 
How To Choose The Right Chocolate Fountain
1. Capacity
If you are going to use it for home or small get-togethers, a compact fountain with a 2-pound capacity should suffice. Large chocolate fountains with multiple tiers can accommodate up to 16 pounds, which is enough to feed over 50 guests. Select a chocolate fountain depending on your needs and especially depending on the function it will be used for. Heavy commercial chocolate fountains may not be suitable for home use with concerns for space, and small chocolate fountains are best used for parties with limited guests.
2. Construction
Plastic chocolate fountains are easier to clean and lighter in weight but may not be as durable as stainless steel fountains. Food-grade BPA free plastic is the best option to settle on, if plastic is your material of choice. Stainless steel is commonly used and preferred as it is comparatively more durable, offers heat-resistance and rust and corrosion-resistance. 
3. Ease of assembly and cleaning
The chocolate fountain that you buy will require assembly, disassembly, and cleaning after each use. Remember to select one that is easy to assemble and clean as melted chocolate and cheese are thick liquids that require effort to clean. Some fountains come with dishwasher-safe removable parts, making them an ideal choice.
Frequently Asked Questions
1. How much chocolate can a fountain hold? 
Chocolate fountains come in different sizes with different capacities. The amount of chocolate a fountain can hold depends on the individual model that you buy. Small ones can hold up to 2 pounds, while large ones can hold up to 16 pounds. Do remember to check the label and manual for accurate carrying capacity of your chocolate fountain.
2. Where is the best spot to set up my chocolate fountain?
The ideal spot to place your chocolate fountain is anywhere, which is clean, sturdy, and warm. Avoid placing it directly under the air conditioner as low temperatures can cause the chocolate to get hard and lumpy.
3. Can I use a chocolate fountain outdoors?
It is inadvisable to use a chocolate fountain outdoors for a good reason. The outside temperature can change, and environmental conditions such as rain or wind can affect the fountain. It may also attract insects.
4. Does the fountain need special chocolate?
No, but it is advisable to use chocolate formulated for fountains. One can use any chocolate in a chocolate fountain, but the important thing to remember is that it has to be melted and thin with a low viscosity. Thick chocolates may clog the machine.
Everyone loves chocolates, and a fountain spewing chocolates is a dream come true for many. Chocolate fountains are that dream come to life, and they are a sight to behold. A chocolate fountain certainly elevates any event to a new level. They come in different sizes and features; all of them do the basics, and much more. Geared with the information provided above, you can choose one that best suits your needs.