Whatever may be the occasion, a box of chocolates can never go out of style. You can choose from multiple flavors and varieties, whether it's an assortment of rare cacaos or a fondue set. We've compiled a list of the best chocolate gift baskets, boxes, and samples suitable for any occasion.
Top Products From Our List
13 Best Chocolate Gift Baskets
The Ferrero Rocher collection has 48 chocolates in three flavors; the Raffaello chocolates are a crunchy treat with a silky hazelnut cream filling, the Rocher chocolates contain a whole crunchy hazelnut in the middle, with a creamy hazelnut filling and a chocolate-wrapped, crisp wafer shell, and the Rondnoir chocolates have a thin wafer, a thick, velvety cocoa filling, and a dark chocolate-wrapped hazelnut at its core. They are peanut-free and kosher-certified.
The gourmet sampler box contains twelve scrumptious biscotti, two of each with its distinctive flavors. They are made of oil, sugar, vanilla sugar, flour, and eggs, and the toppings include caramel chips, peppermint, coconut crunch, candied almonds, and more. It is presented in a sophisticated gift box and is made from high-quality, natural ingredients without preservatives, trans-fats, or additives.

Bonnie and Pop gift basket contains more than one pound of assorted truffles. It offers various flavors, including sea salt caramel, cashew cluster, peanut cluster, Bavarian pretzels, English toffee, peppermint patties, and more. Each chocolate is individually wrapped to ensure hygiene, freshness, and cleanliness. The keepsake container serves as a reminder of the occasion long after you consume the snacks.

Oh! Nuts cookies and chocolate gift basket includes a mix of 20 sandwich biscuits. The present box is separated into 20 compartments to accentuate each item. These petit fours are dipped in dark and white chocolate and topped with contrasting toppings. While the dark chocolate cookies are sprinkled with roasted sunflower seeds, caramel chocolate chips, white candy crunch, etc., the white chocolate cookies are sprinkled with rainbow nonpareils, candied shredded coconut, drizzled chocolate, and so on. These cookies are kosher-certified and non-dairy.

The assorted chocolate box from Lindt offers 40 varieties, including crème brulee, tiramisu, brownie, meringue, and more. Made from high-quality ingredients, each chocolate package has an assortment suitable for sharing or treating someone special.

European Cookies' gift basket weighs 3.1 pounds and contains 15 delicious cookies covered in Belgian chocolate. The assortment is beautifully packed and includes a double chocolate cookie with almond, a cream wafer coated with milk chocolate and white chocolate drizzles, a hazelnut biscuit, a vanilla cream roll, a semi-sweet white Belgian chocolate shortbread, a cream caramel chocolate, and more.

The gift box includes a delectable selection of gourmet chocolates with fruit fillings, almonds, and other treats. They are made with high-quality ingredients and contain chocolate ganache, raspberry puree, buttery caramel, and other fillings. This signature gold gift box contains 36 pieces of premium white, dark, and milk chocolates.

Broadway Basketeers' three-tier gift basket tower contains yogurt, cinnamon-covered pretzels, premium caramel popcorn, chocolate caramels with pecans, double-dipped chocolate peanuts, and chocolate chip cappuccino cookies. All the gift baskets and box towers are elegantly created, and you can include a personalized message for the recipient.

The chocolate gift basket includes a vintage collection of 21 chocolates, including old-time favorites like KitKat, Snickers, Milky Way, Hershey's, Twix, Cadburys' Caramello, and more. Some of these chocolates may contain peanuts, soy, and milk products. They come packed in a designed box and are suitable for any occasion.

Hazel & Creme's 20-piece cookie gift box is eye-catching with a delectable combination of flavors and textures. Each cookie is double creamed and coated in dark chocolate and savory toppings. They are handcrafted with fresh, high-quality ingredients. Every box is shrink-wrapped and placed in a modern gift box. These products are dairy-free and Kosher-certified.

The dark chocolate truffles from Ethel M Chocolates are a trademark blend of cacao that produces a high-quality, flavorful product. These chocolates contain fillings such as sea salt caramel, prickly pear, macadamia nut, satin crème, and a solid chocolate heart. You can choose between a 24-piece gift box and a 48-piece deluxe gift box. Satin Cremes, chewy & creamy caramel, nut clusters, and fruity buttercream covered in dark chocolate are a few of the many treats available. They are made with high-quality ingredients, made fresh and preservative-free, utilizing solar power to create premium chocolate.

With various delectable sweets, this beautiful gift basket can impress the recipients. The set includes Ghirardelli milk chocolate with fudge caramel, dark and caramel sea salt, Godiva milk chocolate hazelnut, Yves thuries Dulce de Leche truffles, caramel popcorn, almond tea cookies, and more. It comes in six decorative boxes with attractive packaging.

The gourmet fruit and chocolate gift baskets from GiftTree contain crisp, freshly picked apples, juicy oranges, and premium-quality succulent pears. It also includes Godiva's milk chocolate-covered pretzels that are a blend of sweet and salty flavors, salted caramel tablets, Godiva 72% dark chocolate almond tablets, and Godiva dark chocolate-covered almonds. This basket comes with a free card for personalized messages and hand-tied satin ribbons.

How To Choose The Right Chocolate Gift Baskets?
Here are a few tips you can follow for choosing the right chocolate gift baskets. 
Types of chocolates: Dark chocolates are said to be healthier than milk chocolate, although bitterer. White chocolates have a mix of milk, sugar, and other sweetening agents. Depending on the recipient, you can choose the preferred chocolate.
Personalization: Look for personalization options and choose a basket that provides options to add a personalized message. 
Variety and quality: Choose baskets with diverse treats and check the quality, ingredients list, and presentation. 
A chocolate gift basket packed with delectable, chocolaty goodies can make a delightful present.  If you are stuck in a dilemma regarding what to give someone, a chocolate basket can be your go-to option. We hope you can choose the right chocolate gift pack from our list of the best chocolate gift baskets.
Recommended Articles:
The following two tabs change content below.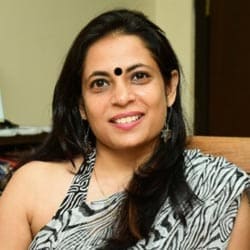 Priti Bose
Priti Bose is a poet, songwriter and blog writer. She did her masters in English, Public Relations and Advertising. Her creative skills and hunger for details make her do in-depth research on the topics she covers. For MomJunction, she writes on product analysis and reviews, especially for kids' products, toys and gifts. Before her association with MomJunction, Priti worked in the...
more