Hanging Christmas lights for the roof are among the most popular Christmas décor. Christmas light projectors are the perfect fix to get the room covered in beautiful and colorful lights quickly. There are easy to install and create a lovely, festive environment.
There are various laser light projectors to choose from today. Some are designed particularly for the outdoors, while others make a great indoor decoration option. We have come up with the best Christmas light projectors to find you the perfect pick this holiday season.
13 Best Christmas Light Projectors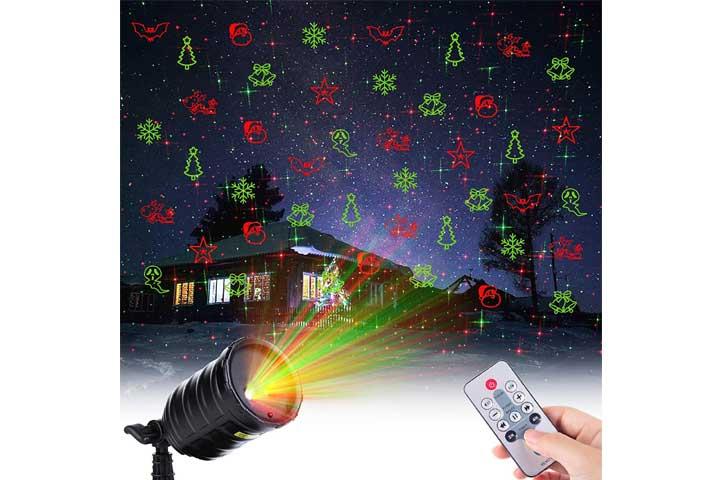 Install this Christmas projector to decorate your house in no time. This unique laser projector comes in ten different patterns, including stars, ghosts, beer, bat, Christmas tree, snowflakes, and more. It is also useful for Halloween, New Year, Christmas, and other holiday decorations.
Pros
RF (Radio Frequency)remote control to conveniently turn on/off the lights
Waterproof design to withstand snowfall and rain
Three installation modes
Projector lamp rotates 180°
Easy to setup
Offers excellent coverage
Cons
May smell of plastic when hot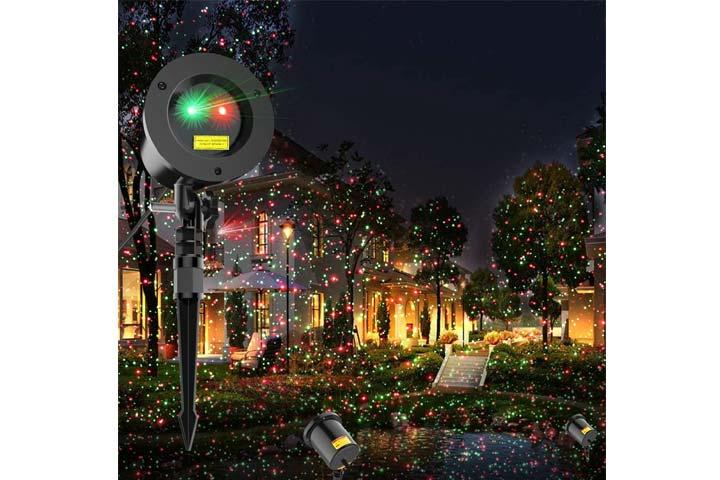 Get your home ready for the festivities with this class 3A laser light show for Christmas projecting attractive green and red dots. One light can cover the exterior walls, roof, and lawn of your house. The LED turns off after eight hours and again turns on 16 hours later.
Pros
Hassle-free installation
Offers a wide coverage of up to 5000ft2
Energy-saving projector
Waterproof grade lights
Convenient to use
Laser lights controlled by the built-in timer
Cons
Does not come with an option to control flashing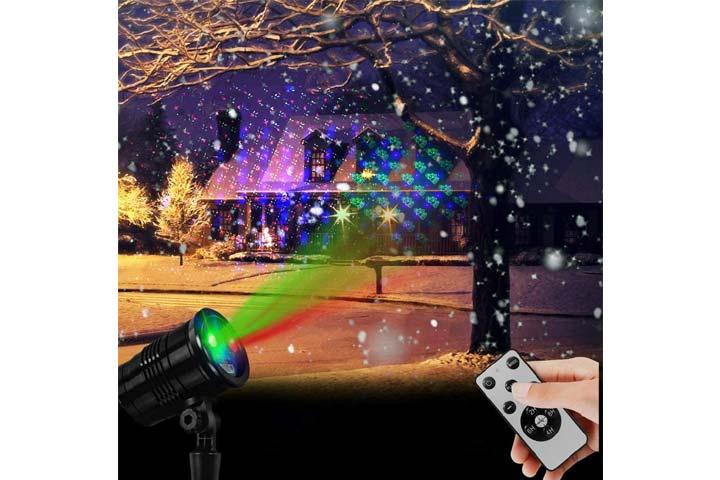 With beautiful Christmas patterns, these laser light projectors for outdoors come in five different patterns of Santa Claus, Christmas tree, snowflakes, starry sky, and jingle bells. It also features three different display modes and two unique flashing modes. With its excellent heat dissipation, it could be a durable pick.
Pros
Comes with a remote control
Covers up to 3500ft2
Allows setting up lighting display, flashing mode, and working hours
Made of durable aluminum alloy
Quick and convenient to install
Consumes 80% lesser power
Waterproof design
Cons
Working controls may not be effective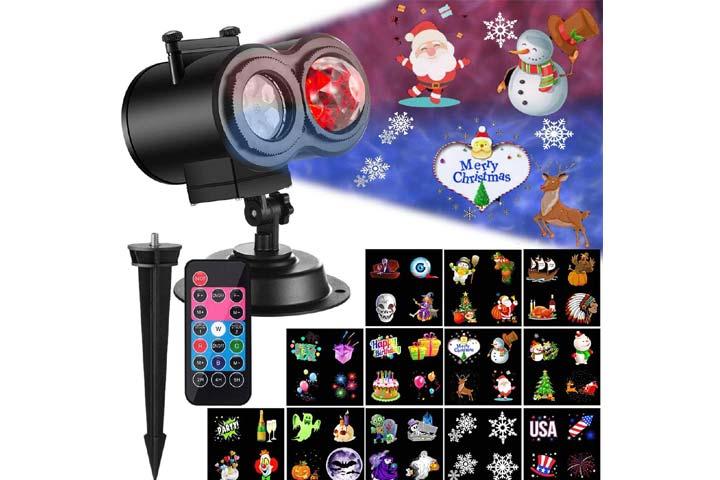 Be it Halloween or Christmas, these laser lights make an exciting choice of outdoor light projector. This two-in-one projector offers 12 different size patterns and ten color water waves to create a perfect holiday mood. It allows easy time adjustments, moving speed adjustments, and flashing speed choices.
Pros
Comes with a remote control
Waterproof lights
CE and ROHS safety certified
Includes 12-month warranty
Easy to operate
Offers hassle-free installation
Cons
Water waves may not be sharp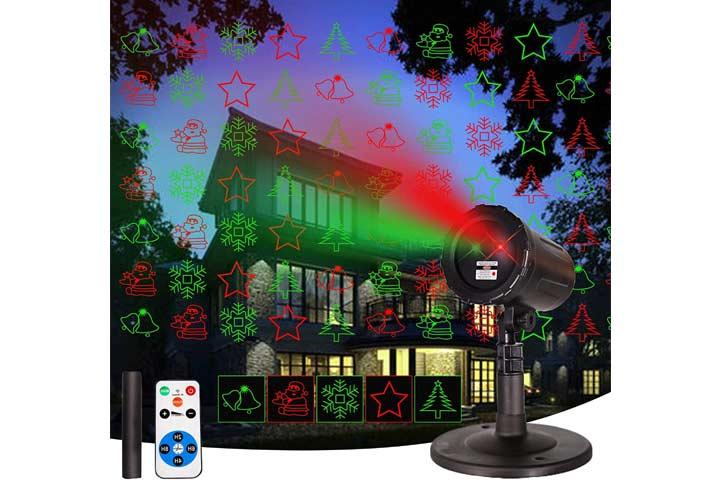 Holiday decorations are completely sorted with these outdoor and indoor projection lights. Created to offer mesmerizing illuminations, it has a 16ft long cable to connect to the power outlet. It allows you to choose from different effects ranging from energetic flash to subtle twinkle or stationery. It also has a timer that lets you choose your time settings.
Pros
Easy to set up and use
Waterproof construction
Made of long-lasting aluminum alloy
Withstands extreme temperatures
Comes with RF remote control
Consumes lesser power
Cons
May smell of plastic on heating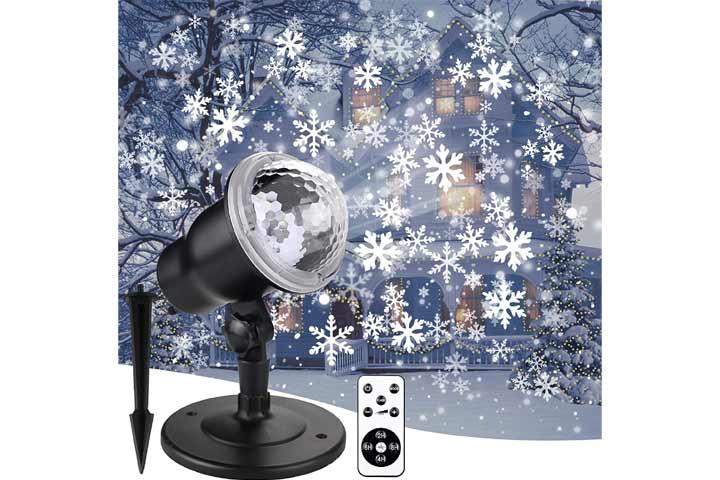 Cover your house in the snow using this snowflake lights projector with a coverage area up to 2000ft2. Celebrate Thanksgiving, Christmas, and other festive occasions with this projector with different modes for moving speed and timer settings. It is strong and sturdy to withstand different weather conditions.
Pros
Weatherproof design
RF remote control lets you change the settings
Ground stake fixes the projector firmly
Offers clear and bright snowflakes
Convenient to install and use
Cons
Remote control may not be effective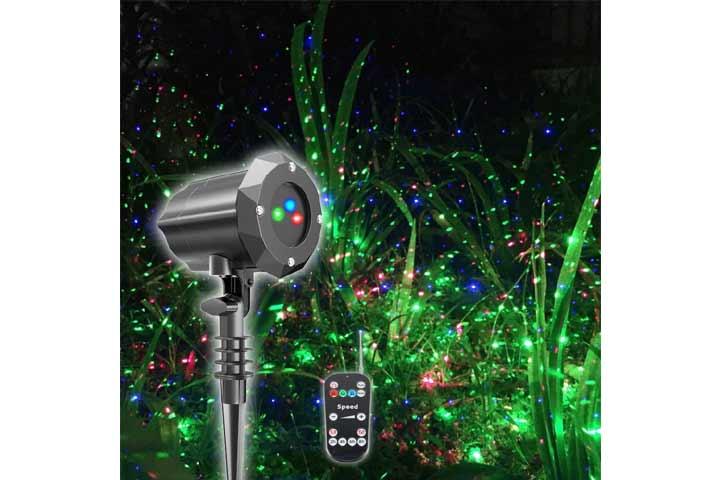 A timeless laser project in red, green, and blue colors promises beautiful and clear lighting effects. Suitable for festivals, birthdays, parties, weddings, and other occasions, this outdoor laser light has an outdoor stake extension and an indoor base stage for convenient use in different settings.
Pros
Comes with different speed and moving controls
Allows two, four, six, and eight hours timer setting
RF remote control lets you manage the lights
Offers firefly effects
Allows using a single, dual, or triple color combination
Comes with a security lock
Cons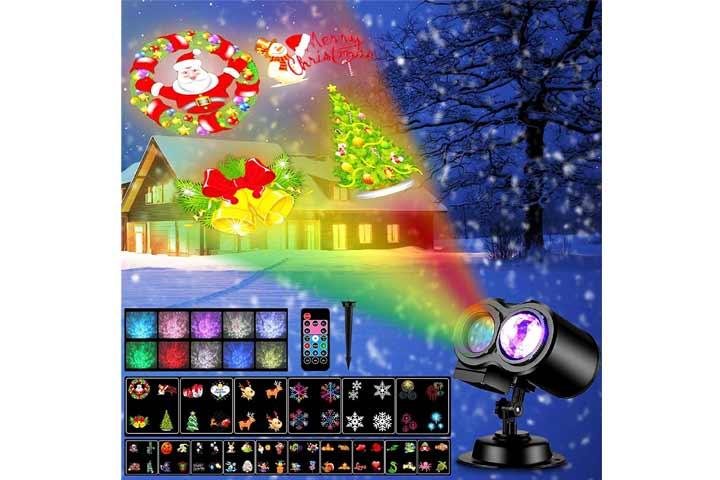 The Kabcon Christmas Projector Lights come in 16 different holiday theme pattern slides and ten different ocean wave effects. You can decorate your house, both indoors and outdoors, for any occasion with these lights. It has a timer to set the projection for two, four, or six hours.
Pros
Waterproof and weather-resistant design
Remote range of up to 40ft
Convenient to install
Can be mounted on the wall or staked into the ground
One-year warranty
CE-, ROHS-, FCC-certified
Cons
Designs on slide images may not be well made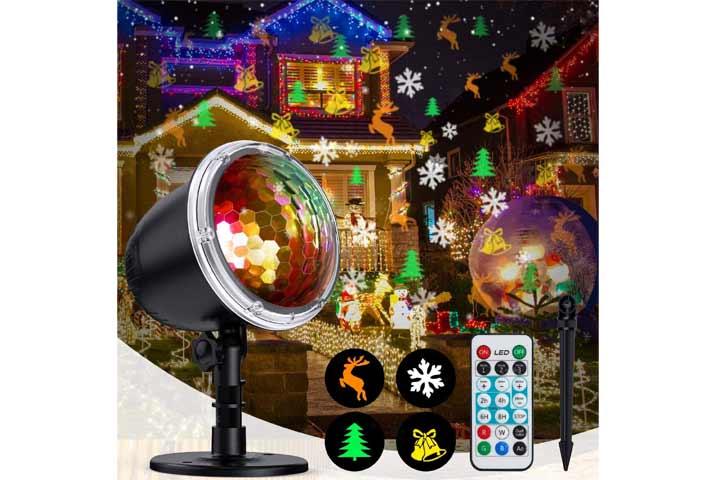 The Nuur Decorative Projector lights have four patterns, making a good option for outdoor and indoor decoration. It comes with a long ground stake and a round base to transform your space with magical lights. This all-weather design works well in any weather. You can even control time settings by opting for a two, four, or six hours timer.
Pros
Easy to install
Has an IP65 waterproof coating
Includes a convenient remote control
Offers a wide projection area
Free from hassles of changing films
Cons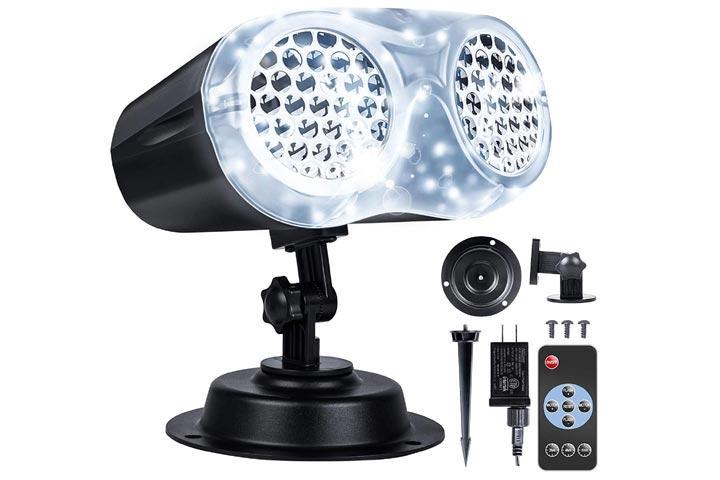 The Loftek Christmas Projector Lights offer high-clarity light that matches the honeycomb lens. It nicely blends the big snowflakes, small snowflakes, and snowfall to create a mesmerizing white winter scene anywhere. Select your motor speed, flash mode, and timer using its easy-to-use remote control.
Pros
Includes a 16.4ft long power cable
Projects vivid and bright snowflakes
Includes two mounting bases for table and ceiling
180° adjustable angle for getting the best projection
Includes remote control to manage the settings
Cons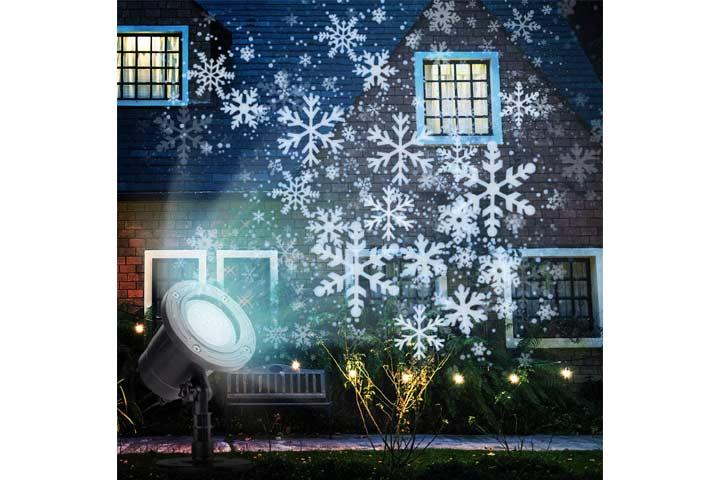 Get the real snowflake pattern on your wall with one of the best LED Outdoor Christmas lights. It combines small and big snowflake patterns that move automatically and add a perfect touch to your celebrations. This convenient and versatile option helps you decorate your house for special occasions without any hassles.
Pros
Easy to operate
Includes a round base and ground spike
Weather-resistant with IP65 waterproof casing
Can be used indoors and outdoors
Adjustable 180° lighting angle
Cons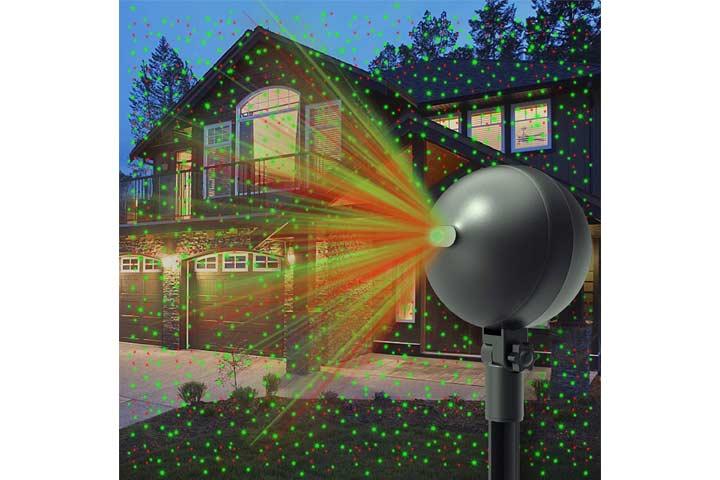 Celebrate this Christmas with beautiful red and green lights that make perfect choices for the festive season. These are designed to cover up to 1500ft2 and come with the convenience of setting the speed of the shining dots. The ground stake adds to the convenience of installation.
Pros
RF remote control manages timer and speed settings
IP65 waterproof design
Easy to install
4ft cable is long enough to connect to the power outlet
Convenient to operate
Comes with three-speed controls
Cons
May not cover large areas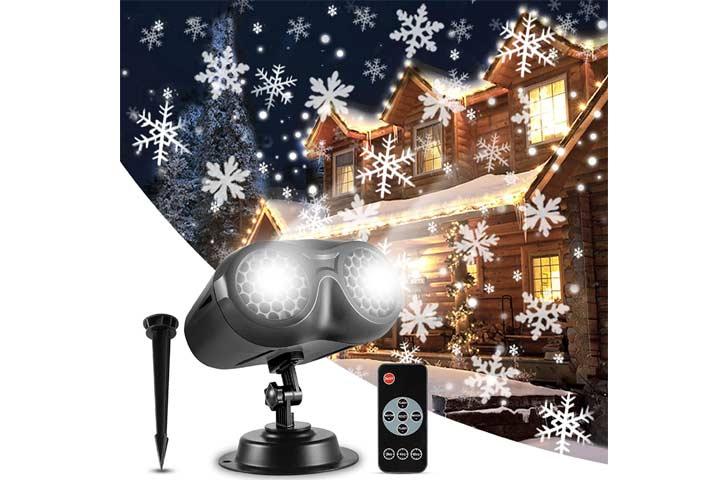 Bring home these upgraded LED lights with big snowflakes, small snowflakes, and snowfall to make it a perfect winter decor. These snowflakes mimic the look of the falling snow to make it a White Christmas for you. You can conveniently change the rotating modes to create a magical Christmas moment.
Pros
Made of premium LED lights
Includes wireless remote control
Timer function for two, four, and six hours setting
Convenient to use
Can be used indoors and outdoors
FCC-, CE- and ROHS-certified
Cons
How To Choose The Right Christmas Light Projector?
Here are a few essential points to consider when buying Christmas light projectors.
Projection area: Your pick depends upon the area you wish to decorate. It could be the front wall of your house or exterior sidewalls. Measure the area to choose the lights that fit your requirements.
Waterproofing: Look for waterproof lights to withstand any extreme temperatures outdoors.
Length of the cord: Shorts cords will require an extension. Therefore, go with light projectors that come with longer cords.
Remote control: Buying light projectors with remote control is ideal. They allow you to control and manage timers, speed, etc.
Frequently Asked Questions
1. At what distance should I install a Christmas light projector?
Manufacturers mention the distance limit for installing a light projector. However, the most commonly recommended distance is around five to seven meters outdoors.
2. On what surface can Christmas light project the image?
Christmas light projectors can project the images on the ceiling, wall, or in the air. They are unlike standard projectors requiring a solid background.
3. Can a Christmas light projector be installed on the roof?
Yes, a Christmas light projector can be installed on the roof, but it is tricky. The best way is to install it on a high wall close to the roof's height to set a similar projection.
We all are excited about decorating our homes on Christmas, and these projectors make the most practical, convenient, and inexpensive choices. They are easy to put on and convenient to take off. With the list of the best Christmas light projectors shared in this post, take your pick to decorate indoors and outdoors this festive season.
Recommended Articles: