A circular saw is most suitable for DIY enthusiasts who like to carry out woodworking projects at home. It is an essential tool kit for professional artisans to cut the most rigid materials.
A professional circular saw is a reliable and durable tool that can efficiently perform various tasks, such as cutting wood or metal sheets. Circular saws have several styles and design features. To help you find the perfect circular saw, we have reviewed and listed the 11 best circular saws to choose the one that suits your needs.

Top Products From Our List
11 Best Circular Saws
The high-quality laser-designed Tacklife saw has a sturdy metal handle that is comfortable to hold. You can quickly install the tool by rotating the handle, for an efficient and clean cutting line. The compact equipment is flexible to use with a comfortable bevel cutting at 90° & 45°.   The circular saw uses a 5.8amp reliable copper motor with a performance at 3,500 revolutions per minute (rpm).  Other hardware includes six 2x24T TCT blades for cutting wood and two 2x60T HSS blades for metal cutting.
Pros
Multiple blades
High performance
Robust motor
Two-year warranty period
Cons
The built of the tool can be stronger 
Skil's lightweight circular saw is equipped with a super powerful 15amp motor, which can effectively provide a speed of 5,300 rpm, thus ensuring faster cutting speed. The device includes seven ¼-inch carbide-tipped blades, which are easy to replace with a spindle lock.  The saw's 51° bevel cutting capability facilitates the multi-functional cutting process. The dust blower can provide better visibility, and the anti-snag lower guard diminishes snags when narrow cuts are made.
Pros
Lightweight
Faster speed
Heavy-duty usage
Ergonomic design
Cons
The Dewalt circular saw has a 20V sturdy brushless motor with a speed of 5200rpm, which can maintain the equipment's speed under load. The product has a long-running time of approximately 100 cross cuts of 2×4. It is also equipped with a 7¼-inch blade, which can effectively provide two 9/16-inch blade depths for cutting. The beveling capacity of 57° makes the product easy to use.
Pros
Robust motor
Long runtime
Durable
Easy to use
Cons
Battery and charger not included in the package
The compact and convenient Worx circular saw makes the cutting process easy. You can adjust the bevel cutting setting from 0-45° with the help of a joystick. The high-quality circular saw can smoothly cut metal, tiles, plastics, etc., in a single pass, and the saw blade has a considerable depth, which can easily cut and slice 2-inch logs.  You can manage the easy-to-carry tool with one hand .
Pros
Handy
Minimal fatigue
Reliable
Long warranty period
Cons
May not be suitable for heavy-duty usage
The portable Teccpo saw is ergonomically designed and ultra-light. It is suitable for both personal and professional use. The portable saw is equipped with a 480W sturdy copper motor that can provide 3700rpm, effectively cutting wood, metal, tiles, aluminum, etc., and generating minimal heat. The tool features three blades – 24T TCT for wood, 44T HSS for plastic and soft grit diamond, and a metal blade for tile cutting. The super safety saw is supported by a precision laser guide and a 7-inch scale for smooth and straight cutting.
Pros
Ergonomic design
Sturdy motor
Portable
Smooth cutting
Cons
Requires a bit of downward force for cutting
Rockwell circular saws can be easily manipulated and operated comfortably. The tool's rear motor ensures balanced hand maneuverability.  The soft and adjustable lever allows you to change the cuts on the fly. The bevel cut provides flexibility, allowing smooth cuts from 0-45°. The spindle lock button guarantees extra safety while changing the blades. The built-in vacuum port can remove debris when using the saw, thereby improving air quality and visibility.
Pros
Easy to maneuver
Ensures straight-line cutting
Smooth
Enhanced safety
Cons
The ergonomically designed Hychika circular saw is a compact tool with a soft rubber handle and dust port, which is easy to use and enhances safety. The equipment has a 4Amps copper motor that gives a stable cutting speed of 4500rpm to smoothly cut tiles, plastics, wood, PVC, etc. The sturdy gauge iron wraparound base and the robust aluminum upper cover make it durable. The circular saw has three blades – 30T for cutting wood, 36T HS for metal cutting, and a grit diamond blade for tile cutting. Advanced laser technology can ensure precise cutting.
Pros
Three cutting blades for versatile use
Great built
Compact
Precise cutting
Cons
The blade size is a bit small
The stable and well-balanced Makita circular saw is a compact tool with a powerful 15amp motor that can provide a speed of 5800rpm, guaranteeing excellent performance and long-term use. The two LED lights of the circular saw illuminate the cutting line and ensure higher precision. The beveling capacity of the equipment is 0-56°.
Pros
Compact
Reliable
Accurate cutting
Robust motor
Cons
The super powerful and lightweight Genesis circular saw is a handy tool with a barrel grip. Equipped with a 4.0Amp motor that can provide 3500rpm speed, the device is smooth enough to be operated with one hand. The blade depth allows you to make precise cuts, and the spindle lock ensures safe and quick blade replacement. The built-in dust port and vacuum adapter ensure that the cutting area is free of debris.
Pros
Lightweight
Smooth usage
Safe to use
Robust
Cons
The design could be better
The Black + Decker cordless circular saw runs on a battery that you can charge up to 20V. The motor has enough torque and a 5½-inch fast cutting smooth blade. The 12T carbide blade can cut quickly, and the adjustment of the bevel cutting allows positioning at 45° and 90°. The product has a two-year warranty.
Pros
Chargeable battery
Torque motor
Smooth blade
Quick cutting
Cons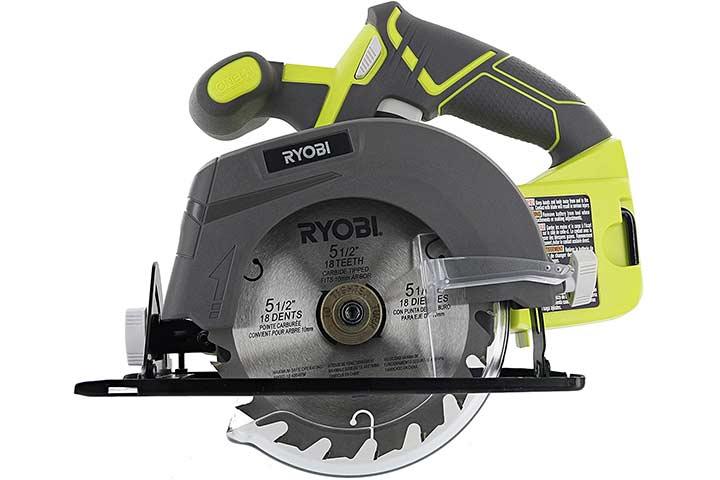 Ryobi's cordless tool has rubber molded handles to make the circular saw stable and easy to operate. The transparent polyurethane blade guard ensures improved visibility while cutting. You can adjust the cordless tool's feet to a maximum of 50°, giving you the freedom to easily cut at different angles. The left-sided adjustable handle provides better control, and the product is compatible with Ryobi's 18V battery models.
Pros
Easy to handle
Maximum visibility
Enhanced control
Compatible with multiple batteries
Cons
Blade replacement can be tricky
How To Choose The Right Circular Saw?
Here are some important factors to consider before deciding on a circular saw.
Purpose: What is the reason for buying a circular saw and its application? If you are engaged in DIY projects and need some tools for indoor projects, choose a lightweight and portable circular saw. However, a robust built tool is best suited for professional tasks.
Type: Corded and cordless are two types of circular saw available on the market. If you want the cutting process to be more comfortable, choose a cordless circular saw.
Motor: The tool's motor is the most vital part to ensure fast and effective cutting. Choose a circular saw with a 15Amp engine, as this ensures excellent performance.
Bevel capacity: The adjustable bevel cutting ability provides you with the freedom to cut smoothly at different angles, which is sometimes necessary for specific projects. Choose a circular saw with flexible bevel capability.
Warranty: Buy a product with a longer warranty period of around two years. 
The circular saw is a smooth, portable, and easy-to-use device that makes the cutting process fast and straightforward. Robust built-in tools ensure smooth operation and enhance comfort for those who like to work for long hours. These best circular saws promise a stress-free cutting process.
Recommended Articles: