After a busy day, it is essential to cleanse your face to remove makeup and impurities. However, if you have dry skin, choosing the right product with moisturizing properties can be challenging.
Certain ingredients, such as glycerine and aloe vera, have excellent hydrating properties. Plant-based ingredients are also rich in antioxidants. With their anti-aging properties, they can unclog pores and cleanse deeply, thereby keeping your skin soft.
We have compiled a list of the 11 best cleansers for dry skin to give your skin a moisturized and rejuvenated appearance.
11 Best Cleansers For Dry Skin In India
Lakme is a gentle travel-friendly cleanser, rich in avocado extract and vitamin E, and suitable for normal and dry skin. Vitamin E has anti-inflammatory properties that can prevent acne and blemishes. It contains natural ingredients that can help remove surface impurities, including makeup, and make your skin radiant. It has a creamy white texture and can be used every day.
If you are looking for an anti-pollution facial cleanser that detoxifies the face while cleaning it, Dermafique is what you need. The toner and cleanser combo pack is rich in antioxidants, prevents aging, removes dead cells on the skin, and is suitable for all skin types. Skin toner can cleanse the pores and restore the pH level of the skin. Vitamin E and pomegranate extracts can protect the skin from environmental damages. It does not contain parabens and can effectively moisturize the skin.
Kaya Clinic lightweight cream keeps your skin hydrated and youthful. Rich in AHA, vitamin B3, and vitamin E, it can lighten your skin tone within four weeks. The product is specially formulated with beads to exfoliate and remove dead cells. This non-sticky combination makes your skin smooth and fresh. For best results, it has been dermatologically tested and is suitable for all skin types.
Neutrogena is an unscented facial cleanser with a creamy texture. This soap-free cleanser is specially designed to moisturize sensitive skin. The dermatologically tested and hypoallergenic cleanser can keep your skin free from irritation. This formula retains its moisture after every wash, leaving your skin soft and refreshed. The creamy formula does not contain dyes, is non-comedogenic, and suitable for all skin types.
Instanatural is made with glycolic acid and is a natural moisturizing and exfoliating cream suitable for all skin types. Rich in hyaluronic acid, it can prevent your skin from aging and maintain vitality. The antioxidant function of vitamin C can protect your skin from radical damage. Bearberry Extract and CoQ10 work together to provide an excellent moisturizing effect and remove fine lines. The combination of these rich ingredients helps fight clogged pores and blemishes, leaving the skin soft and radiant.  It can suitably be used on all skin types.
Rich in apple cider vinegar, Aysis is a foaming face wash with antioxidant properties that can nourish and moisturize the skin, making it soft and smooth. Aloe vera extract and vitamin C help remove tan and even out skin tone, while essential oils, saffron extracts, and turmeric moisturize and brighten the skin. The cleanser comes with a built-in cleaning brush made of soft silicone that gently exfoliates and removes blackheads.
A perfectly balanced face cleanser, Pilgrim is designed with a unique Korean formula that can fight pollution and excessive oil and protect your skin from radical damage. Natural ingredients, such as white lotus and nutmeg, can make your skin vibrant and fresh, while volcanic lava ash acts as a dirt magnet, penetrates your skin's deep layers, unclogs pores, and removes grime. This non-toxic formula is vegan and cruelty-free and does not contain parabens or sulfates. It is also chemically safe and approved by the FDA, making it suitable for all skin types.
Cetaphil is a gentle skin cleanser with non-soapy formula, suitable for normal and sensitive skin. The rich, airy lather can exfoliate and unclog pores without leaving your skin dry. Vitamin E helps remove dead skin cells and retains its freshness, while glycerine helps moisturize your skin and keeps it supple and smooth. The dermatologically tested cleanser can be used effectively every day.
Rich in plant-based extracts, including cucumber, O3+ is a unisex cleanser that can keep your skin moisturized, brighten your skin tone and eliminate impurities. Aloe vera has rich antibacterial and anti-inflammatory properties, which help soothe the skin and protect it from radical damage. The cleanser is dermatologically tested and suitable for normal and dry skin.
Nature-le Arabica is a coffee-based and oil-free skin face wash suitable for acne-prone skin. Coffee extracts can increase collagen production and acts as a deep cleanser to rejuvenate your skin. Its potent antioxidant formula helps fight free radicals, while aloe vera has rich moisturizing properties that can soothe your dry skin and minimize open pores. The rich ingredients together exfoliate your skin and wash away impurities. This clinically tested formula is free from parabens, sulfates, mineral oil, and harsh chemicals.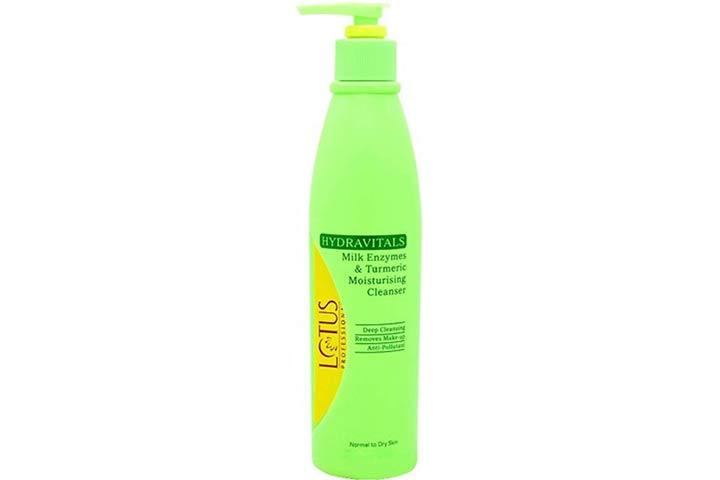 If you are looking for a cleanser that can improve skin elasticity, reduce wrinkles, and protect your skin from environmental damage and pollution, Lotus Professional is the right choice. Rich in milk enzymes, it can help remove skin impurities and brighten skin tone. The antioxidant formula of turmeric can improve your skin tone and remove blemishes.
How To Choose The Right Cleanser For Dry Skin In India?
Before choosing a cleanser for dry skin, here are a few points to consider.
Manufacturing date: Buy a product with the latest manufacturing date. Over time, the ingredients of the product start breaking down. Freshly manufactured cleansers are more effective.
Ingredients: Always check the ingredient list on the packaging. This will help you choose products that are gentle on the skin. It is even more vital to check ingredients if you have sensitive skin.
Brand: When choosing a high-quality brand, do not compromise on the price. A reputable brand always provides high-quality products. Inexpensive products may cause skin breakage.
If you have dry skin, you need hydrating and moisturizing products to nourish your skin. The ingredients of the products you use can impact the skin's texture and overall appearance. So, our list of the best cleansers for dry skin in India includes products with moisturizing ingredients that penetrate and nourish from within, do not irritate the skin, and clean the impurities thoroughly. Before buying, make sure to study the ingredient list and ensure that it suits your skin type. So, say goodbye to the dirt and grime with a suitable cleanser that doesn't damage your dry skin.
Recommended Articles:
The following two tabs change content below.

Poulami Nag is a writer and associate editor at MomJunction. She did her MA in English from Miranda House, University of Delhi and has qualified UGC-NET. Her journey as a content writer began in 2017 and since then she has garnered diverse interests along the way. Her knowledge of literature and language has given her an eye for detail and...
more