Like various new-age beauty products, cleansers have become an indispensable part of the skincare routine for many. These beauty solutions open the skin pores, removing dirt and dust from the epidermal layer. They also contribute significantly to keep the skin clear of blemishes, acne, and pimple development by hindering microbial growth and oil production, especially for oily skin prone to high sebum production.
Here are some of the best cleansers for oily skin in India for soft, supple, and clear skin.
11 Best Cleansers For Oily Skin In India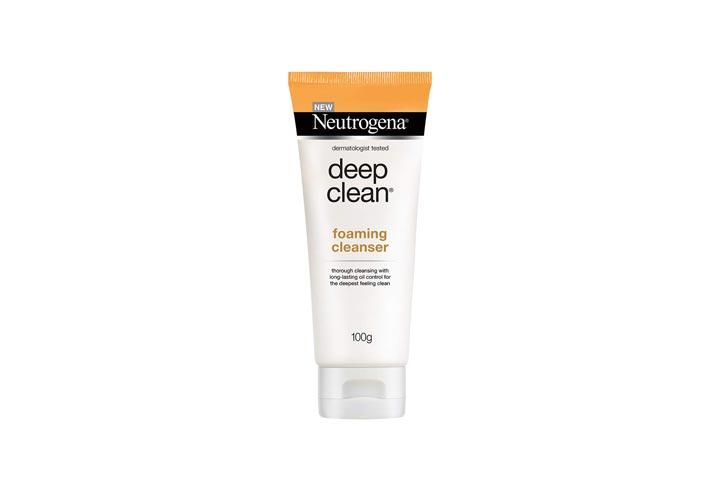 If you are looking for a deep cleansing beauty solution for moderate to high oily skin, the Neutrogena deep clean foaming cleanser could help. Apply it over wet skin, work up the lather and leave for a few minutes before washing it off to experience softer, smoother, and clearer skin.
The facial cleanser for oily skin has a clinically proven formula for effective removal of impurities, such as dirt, excessive oil, or makeup, and is 99% effective in micro-pollutant removal. Weighing 100g, the oil-free, dermatologist-tested, and non-comedogenic cleanser is suitable for men and women and works up effectively for normal skin cleansing and dead cell removal.

The Plum acne face wash carries a deep cleansing formula for excessive oil removal, leaving the skin brighter and clearer. Packed in an easy-to-use tube, the 100% vegan and paraben-free beauty solution help clear all the grime and dirt deposits. Infused with antioxidant-rich green tea, it controls sebum production, reduces acne development, while glycolic acid helps brighten the skin tone.
The face wash produces the best results when used twice a day. It is mineral oil-free and clear of any cruelty, and boasts of quality through FDA approval.

The Biotique gel-based cleansing formulation is one of the best cleansers for oily skin. It is richly loaded with the goodness of natural ingredients, such as fruit pulps, neem bark, turmeric, and honey. Formulated to hydrate the skin for long-lasting freshness and rejuvenation, the soap-free cleanser also helps lighten the skin, keeping it soft and supple. You can use it during the morning and evening every day and rinse thoroughly for the best results.

Suitable for combination and oily skin type, the Cetaphil oily skin cleanser has the goodness of beauty and healing ingredients, such as castor oil and glycerol. The liquid cleanser and toner for oily skin also works wonders on acne-prone skins, keeping the dermal layer clear of dust, grime deposit, and microbial growth. It is a dermatologist-recommended and pH-balanced cleanser that keeps the skin from getting dry.

Forest Essentials' cleanser for oily skin is rich with the goodness of natural ingredients, such as neem and saffron. It comes in eco-friendly packaging with authentic quality and ensures deep cleansing of the skin pores through dirt and grime removal. This is effective in adding skin glow while keeping the moisture intact. Use this natural alternative to chemical-infused cleansers to keep sensitive skin healthy.

If you have pimple-prone skin, this purifying salicylic acid face wash from Kaya Clinic is one of the best cleansers for oily skin. It is suitable for combination skin and keeps acne at bay through deep cleansing of facial skin pores from impurities. The formulation is mild on the skin and is infused with salicylic acid for effective pimple and blemish removal. It also helps prevent drying of the skin after use and is backed by dermatologist and is safe to use.

The specially formulated mint cleanser from Aroma Magic effectively removes excess oil and performs deep cleansing. Its potent combination of antiseptic and antibacterial infusion helps prevent excessive oil secretion, keeping the pores open for long. The blend of zinc oxide, neem seed oil, and jojoba imparts skin healing properties. Its harmful, chemical-free formulation makes it a unique cleanser to try on your skin for added suppleness.

The paraben- and SLS-free cleansing formulation from Bombay Shaving Company is suitable for normal to oily skin types. It is among the most popular cleansers with natural ingredients and antioxidant properties that help keep inflammation in check. The cleanser is enriched with wheat protein for skin nourishment and oil build-up prevention.

The gel-based Flash Facial Cleanser from Dermafiq is formulated for deep facial cleansing and suitable for normal and oily skin types. It is enriched with the goodness of natural extracts, such as orange zest, micro-pearls, and vitamin E to make your skin smoother, fairer, and suppler. The cleanser keeps your face fresh and glowing by deep exfoliation and dead cell removal.

The lemon and mint formulation makes this facial cleanser for oily skin a unique addition to essential facial and skincare regime. It is available as a handmade organic soap infused with essential oils for glowing, exfoliated, and deeply cleansed skin. This sulfate-free formulation for normal and oily skin keeps dust build-up and microbial growth at bay. It also helps limit oil production from skin pores, keeping the impurities away.

Carefully formulated basil, neem, and tea tree oil infusion, the anti-acne, natural cleanser for oily skin, is free of paraben and other harmful chemicals. It leaves a refreshing feel on the skin and helps fight infection on oily skin. The cleanser is also well-known for purifying and hydrating the skin, enhancing the natural radiance.
Things To Consider While Buying A Cleanser For Oily Skin
Consider the following aspects to choose the best cleanser for oily skin.
Skin type: Oily skin produces excessive sebum, resulting in dirt and grime accumulation. It is essential to choose a cleanser that reaches deep into the skin pores for impurity removal.
Cleansing requirement: Look for cleansers that also work as toners, face wash, etc., for added advantage.
Natural, chemical-free formulation: Select a product that remains worry-free for healthy and glowing skin. Look for vegan or organic options.
Free from artificial fragrances: Artificial fragrances harm the skin, leaving it dry and slightly flaky. Avoid these fragrances when selecting a facial cleansing product.
Oily skin can be a tricky beast to tame, especially when you are prone to clogged pores and breakouts. However, once you understand the ingredients that are suitable for your skin, you can choose products with much more confidence. The cleansers for oily skin listed here are packed with natural ingredients that soften the skin and help remove impurities, thus making you feel clean and fresh throughout the day. Besides, they are free of harsh fragrances and chemicals.
Recommended Articles:
The following two tabs change content below.

Poulami Nag is a writer and associate editor at MomJunction. She did her MA in English from Miranda House, University of Delhi and has qualified UGC-NET. Her journey as a content writer began in 2017 and since then she has garnered diverse interests along the way. Her knowledge of literature and language has given her an eye for detail and...
more