As your child grows up, they will be surrounded by plenty of toys, some of which are useful while others are just fun. One meaningful toy you can get them is a climbing toy. The best climbing toys for toddlers enable them to channel their hyperactive energy in a safe environment.
These toys are designed to help toddlers become more flexible and agile without being exposed to danger. So take a look at our list of the top climbing toys for toddlers that will keep them engaged for hours while aiding in their physical development.
11 Best Climbing Toys For Toddlers 
The product features four toys in one. The toys include climbing stairs, a slide, a basketball hoop, and a crawl-through space. Check out this video to learn more about the product.
Pros
Edges of the toy are rounded to keep the toddlers safe
Brightly colored
Assembling the components of the toy is simple and does not require tools
Helps develop gross motor skills
Cons
May be a bit flimsy
Instructions may not be clear
The set has five pieces of three-dimensional shapes made of soft material, giving each block a pillow-like consistency. The blocks can be arranged to create a toy that the toddler can climb.
Pros
One block is shaped as a climbing ramp, which makes climbing easy
Soft material of the blocks reduces the risk of injury
Blocks are heavy-duty and easy to clean
Helps enhance creativity
Cons
Might be smaller than you expect
Pieces may not hold together
This climbing toy is shaped like a giant caterpillar and can be used indoors and outdoors. It comes in sections that can be pieced together to create a  climbing toy for toddlers. Check out this product review video to learn more.
Pros
Tiny circular windows in the body of the caterpillar work as footpegs to make climbing easy
Hollow space within the caterpillar lets the toddler crawl and scramble through
Legs of the caterpillar provide stability to the toy
Brightly colored
Cons
Plastic screws may pose a choking hazard
May not snap in place
Here's a toy suitable for indoor and outdoor play, and the plastic material offers UV protection to prevent damage due to extended exposure to sunlight. This monkey bar comes disassembled as a set of plastic tubes and connectors. Take a look at this video link to get more information on the product.
Pros
Lightweight and easy to store
Once assembled, it stays rigidly in its place
Robust
Weight capacity of 150lb
Cons
Assembly might be challenging
Metal clips may not be durable
Your toddler can enjoy climbing, sliding, and crawling with this toy. The plastic material is durable, sturdy, and resistant to UV damage, which makes the climbing toy suitable for outdoor use too.
Pros
Slide is wider than usual and features side rails that provide a secure grip to the child
Small space within the toy acts as a "driving seat" where little ones can play with an attached plastic steering wheel and dashboard
Bright colors make the toy attractive
Rounded edges ensure safety
Cons
Might be small
May not be easy to assemble
This Lil' Monkey toy set includes plastic tubes, connectors, and a slide. The tubes and connectors join to form the frame, and the entire climbing frame can be folded in a few seconds for easy storage.
Pros
Slide can be attached and removed depending on whether or not the toddler wants to play with it
Made of durable polypropylene plastic
Resistant to damage from UV rays
Safety-certified
Comes with a one-year warranty
Cons
May not come with instructions
May be slightly wobbly
Step2 Play Ball Fun Climber contains a slide, which is of the right size for young toddlers. It is designed to allow toddlers to crawl through the frame. The side of the toy features a ball maze where the ball slides in a zig-zag pattern to eventually land into a tray beneath.
Pros
Painted in bright colors to attract toddlers
Helps enhance cognitive development
Helps develop sensory skills
Cons
Might not be easy to assemble
Slide is slightly short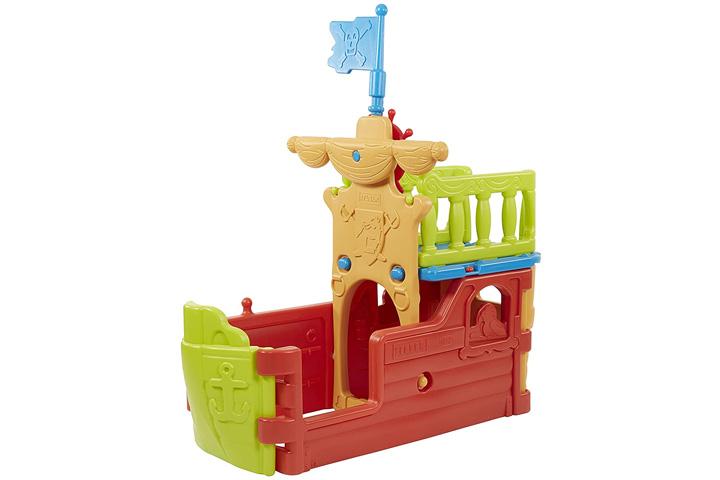 This toy is shaped like the deck of a pirate ship and has a movable wheel, a pirate insignia, and a plastic flag to give your child a realistic pirate ship experience and improve their imagination. It is brightly colored to attract children and is suitable for playschools, child care centers, outdoors, and more. A small ladder allows the child to climb up to the deck where the flag and the wheel are located. The toy consists of several panels, which are easy for parents to assemble.
Pros
Large deck for multiple children to play
Weather- and fade-resistant design
Rounded edges for safety
Greenguard Gold-certified
CPSIA-compliant
Cons
May have to be anchored for stability
Some pieces may seem flimsy
Little Tikes climbing toy comes with a slide and a swing, both attached to the same frame. The seat of the swing comes with a three-point harness for the safety of the toddler.
Pros
Slide has a gentle slope for soft landings
Rounded edges of the toy minimize the risk of injury
Swing and its support wall are removable
Easy to assemble
Cons
Swing may be slightly low
Might be wobbly
Step2 brings you this climbing toy that has a ladder on the side and a deck at the end of the ladder, which provides a safety zone where the toddler can sit. The slide has rounded edges for safety and a soft landing each time.
Pros
Safety rail works as a barrier at the back of the deck
Space below the frame allows the little one to crawl through it
Easy to clean
Long-lasting construction
Cons
Might be smaller than you expect
Screws might be slightly sharp
This slide by Little Tikes has wide steps and a stable base for safety. It has a weight holding capacity of 50lb and can be used to improve balance.
Pros
Play slide is easy to fold and unfold
Does not require any tools for installation
Durable plastic
No rough edges
Lightweight
Cons
Slide may be slightly steep for young children
May not be ideal for outdoor use
How To Select A Climbing Toy? 
Climbing toys could require the toddler to climb using their hands and legs (like monkey bars). Alternatively, the toy could require only a little climbing activity (like slides and climbers with stairs). You may consider the following pointers while picking a climbing toy for your toddler:
Indoor or outdoor: Climbing toys could be used indoors or outdoors. Choose a variant depending on where you would like the toddler to play.
Weight appropriate: The toy should be suitable for the toddler's weight. A climbing toy meant for younger toddlers may topple when used by an older toddler who weighs more.
Right height: Climbing toys can come in varying heights. Pick the one that is convenient for your toddler to climb.
Suitable complexity: Some climbing toys may be complex for the little ones to climb. Pick a toy that you feel will be easy for your little one to understand and play.
A climbing toy engages the child physically and should be used with proper precautions in place to ensure safety. We elaborate on that next.
Safety Precautions To Take While Using Climbing Toys 
Keep in mind the following three safety precautions about climbing toys for toddlers:
Check sturdiness: The materials of the toy must be durable. Check the rigidity of the joints and all the connected parts after you have assembled it.
Avoid toys with sharp edges: Sharp-edged toys may be potential hazards and may cause injury in the case of a fall. Toys with rounded and smooth edges are safer.
Discard once the toddler outgrows the toy: Once your toddler is beyond the weight limit of the climbing toy, then discard the toy even if it is in good condition. The toy could collapse or topple over a toddler if they are heavier than the toy.
Why Trust MomJunction?
Priti Bose is an expert at reviewing toys and knows fun ways to let toddlers have an engaging time at home. You can bring the playground home and boost your children's metabolism indoors by choosing the best climbing toys for toddlers from this list. Priti's has done intensive research to bring you toys of various designs, colors, sizes, and features to suit your toddler's taste.
Have you purchased a climbing toy for your toddler? Do tell us about it in the comment section below.
Recommended Articles: