Wet diapers are the leading cause of rashes and bacterial infections in children and can cause extreme discomfort when worn for a lengthy period. As a result, most parents prefer the best cloth diaper covers that are breathable, reusable, and eco-friendly.
Cotton diapers are practical, but they aren't water-resistant. Thus, diaper covers come in handy. Cloth diapers, which are generally shaped like regular diapers, are often used to cover a cotton diaper. This is because they have a leak-proof and inner layer that is water-resistant.
If you have cotton diapers on hand, your child will not need to use saleable diapers made of plastic and synthetic disposable material. Now that you know the importance of diaper covers, let's have a look at our top picks of cloth diaper covers. Also, we have included a buying guide to assist you in selecting the best one for your child. So keep scrolling.
13 Best Cloth Diaper Covers
These cotton diaper covers come in various cute and vibrant designs that will look adorable on your baby. This brand manufactures a 'one-size-fits-all' range of organic diapers that will keep your baby happy and rash-free until your child is potty trained. This diaper cover is suitable for babies who weigh from 6 lbs to 35 lbs. It is made of water-resistant polyester TPU, it can be paired with pre-folded, fitted, or flat cotton diapers and stays leak-proof throughout the night. The diaper cover also features 4 adjustable rise settings, which means that it grows along with your baby.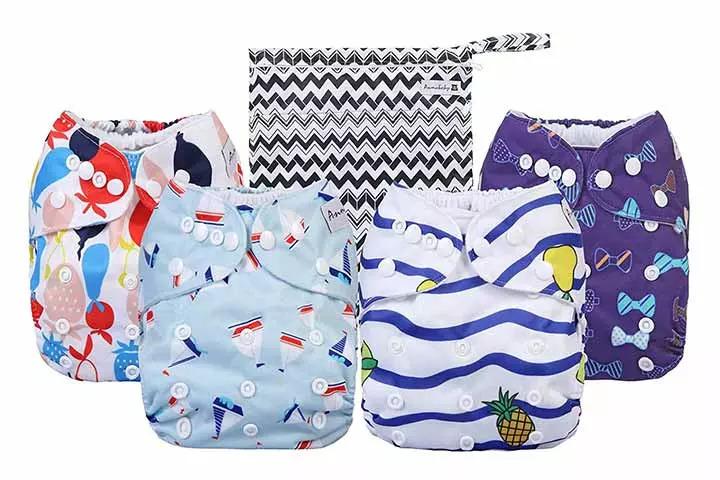 Anmababy machine-washable cloth diapers are made of pure cotton, making it the ideal choice for your baby's sensitive skin. It is adjustable upto 3 sizes and is made of an ultra-soft and water-resistant material that prevents leakages. This eco-friendly diaper is suitable for babies who weigh from 8 to 33 lbs. It comes with an anti-leak elastic,, and the outer shell is made of premium-grade waterproof polyester with TPU. To keep things fun and lively, you can choose between a host of vibrant colors and patterns.
These cloth diaper covers are equipped with double elasticated leg cuffs and a flexible and expandable waist area, making it a comfortable choice for your baby. The synthetic layer inside the diaper cover makes it leak-proof, letting your baby sleep through the night. An award-winning diaper cloth cover, it dries quickly, is eco-friendly, lightweight, and a breathable option for those who hate using diapers filled with plastic, synthetic materials, and chemicals. It also comes with laundry tabs that keep it protected when washing.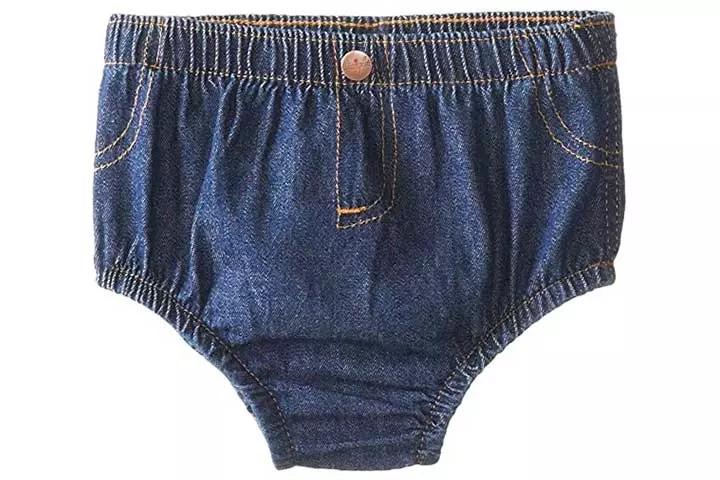 A unisex diaper cover perfect for all occasions; it is the most fashionable one you will find in the market. Made of 100% cotton, this pair will look incredibly cool on your kid and keep them dry throughout the day. It features the classic Wrangler pockets and the logo on the back, and a button in the front making it quite the stylish diaper cover.
These diaper covers are made of polyurethane laminate and are exceptionally soft and breathable. Available in some peppy patterns and colors, these diaper covers are water-resistant and come with 3 adjustable rise settings. Ideal for babies who weigh 8 to 36 lbs, this diaper cloth cover can be used several times before putting it for a wash.
Made out of 100% polyester and TPU laminate, these cloth diaper covers are super soft and leak-proof. It acts as the perfect fit for pre-folded, fitted, flat, or contoured diapers. The leg gussets ensure that there is as minimal leakage as possible, and the outer shell features 3 adjustable size settings. These diaper cloth covers are waterproof and available in many soft, pastel shades.
Made of 2 layers of PUL, this diaper cloth cover is water-resistant and incredibly comfortable to wear over cotton diapers. The double gussets and snap-lock adjustment mechanism offer a snug yet breathable fit and prevent any leakages. The daytime diaper inserts are made of 4 layers of highly-absorbent microfiber, while the night time inserts come with 6 layers. However, do keep in mind that the inserts are sold separately. Ideal for babies between 9 to 35 lbs, these covers are available in 2 sizes.
The water-resistant technology in these diapers makes it ideal for all kinds of water-related activities. These reusable diaper covers are eco-friendly, machine-washable, size-adjustable, and an excellent alternative for those who hate discarding single-use synthetic swimming diapers. Your kid can now be a true fashionista at the kids' pool party with these swim diapers that are available in a range of interesting patterns and colors.
These diaper covers use the hook and loop closure technique, which makes it simple and easy-to-use. Made of 100% polyester and urethane coating, it comes in 4 sizes ranging from extra-small to large. The TPU laminate inside the diaper cover is easy to wipe, and the double leg gussets provide superior leakage protection. The high-quality fabric is comfortable and pliable and keeps your baby rash-free. The waterproof exterior is an excellent fit for any cloth diaper.
Made of durable 100% polyester with TPU laminate, these waterproof reusable diaper covers come in different colorful patterns and are machine-washable. The elastic leg gussets and stretchable elastic on the waist keep the diaper in place and ensure that there are no leakages. You can use them with pre-folded, fitted, or flat cotton diapers, and the covers can be wiped clean between uses. Ideal for babies weighing between 6 to 35 pounds, these cloth diapers feature 2 closure options — the Aplix hook and loop closure or the KAM snap lock.
These waterproof diaper covers are made of environmentally-friendly materials and are super leak-proof. Available in simple but attractive patterns and colors, they come with double gussets for extra leakage protection, and you can adjust them up to 3 sizes. Made for babies weighing between 6 to 33 pounds, these cloth diaper covers are machine-washable as well.
This adorable and reliable diaper cover is made of waterproof polyurethane laminated polyester (PUL), which is attached to a soft microfleece inner layer, making it breathable and comfortable. The easy-to-adjust snaps and durable elastic at the legs and waist offer the perfect fit for your little one. The bright orange color adds a certain playfulness to this leak-proof and easy-to-wash to wash diaper cover. It comes with 2 rows of adjustable snaps so that you can use them for a long time.
Designed specifically for pre-folds, this waterproof diaper cover quickly changes from small to large with adjustable snap buttons. Ideal for babies weighing between 8 to 36 lbs, it comes with a front pocket to ensure that the diaper insert stays in place. The back and side double gussets let your baby move around freely without any leakages. Available in a range of colorful prints and patterns, this reusable diaper is breathable, and the interior is wipeable as well.
Now that we know the different kinds of diaper covers available in the market, it is also important to know what qualities we should look for in a diaper cover.
How To Choose The Right Kind Of Diaper Covers?
It is crucial to make the right choice when it comes to buying cotton diaper covers. It should primarily keep rashes at bay and should be leak-proof. Do keep these points in mind when purchasing a cloth diaper cover:
Leak-proof
The first and foremost thing you need to keep in mind is how leak-proof the cloth diaper cover is. If you notice rashes and leakage issues throughout the day or night, it means that the diaper cover isn't doing its job well. Ensure that the cloth diaper cover you buy is waterproof or at least water-resistant.
Soft, breathable material
The material is as important as anything else. Babies have sensitive skin, and if you don't choose a diaper cover made with breathable material, your baby might have a lot of rashes and hives. Choose a fabric like cotton that is not only breathable, but also ideal for your baby's skin.
Locking system
Ensure that your cloth diaper cover comes with well-aligned snap buttons. This way, it won't move around too much and prevents leakages. Double gussets on the leg-opening make it extra secure, while offering a lot of flexibility for your baby.
Fitting
The diaper needs to be adjustable as these diapers are reusable and will last long for a couple of months to a few years. Your baby will go through rapid growth, so it is important to choose one that is size adjustable.
Why Trust MomJunction?
Vibha Navarathna specializes in pregnancy, nursing, and childcare products. She has a passion for writing well-researched content and strives to give her readers practical information to keep them hooked. Her article is no different and includes the best cloth diaper covers that are also water-resistant. It also consists of a buying guide that will give you all the information you need to purchase the best one for you and your baby.
Recommended Articles