If you are looking for reusable, eco-friendly diapers, we have compiled a list of the best cloth diapers for you. Cloth diapers are made of soft cotton or bamboo material, preventing skin irritation and rashes. They are easy to maintain and clean, allowing you to reuse them conveniently. Thus, unlike disposable diapers, you only need a few cloth diapers to keep your baby clean and safe throughout the day. They provide optimal protection from leaks.
So, if you want an environment-friendly alternative, these cloth diapers can come in handy. They are available in various sizes, designs, and colors to suit your needs and are adjustable. Browse our list to find one that fits your baby well.
11 Best Cloth Diapers Of 2022
Gerber Birdseye 3-Ply Prefold White Cloth Diapers are perfect for parents who like all things natural for their babies. It is made of 100% cotton woven in a way that it has extra layers in the middle where it is most necessary. Customized to suit your baby's skin, it absorbs fully for comfort. The fabric is flexible, soft, and dries quickly, saving you a lot of time. It is a multipurpose cloth diaper that can also be used as a burp cloth, duster, wiper, etc. This pack of 10 cloth diapers is just the one for your child's day and night leaking needs.
Pros
Lightweight
Absorbs quickly
Machine-washable
100% recycled paperboard packaging
Cons
Might leak without a waterproof cover
Might have to soak in non-chlorine bleach from time-to-time to maintain whiteness
Are you tired of cleaning your newborn's bedsheets because of diaper leaks? Well, you have found your solution! Mama Koala's Bamboo Cloth Diaper Inserts are made of two hidden layers of microfibers and outer layers of bamboo, ensuring your baby's leak-proof sleep. You can fit it in a pocket diaper and easily reuse it till your child has passed toddlerhood. Your baby will indeed like this breathable insert diaper for everyday use.
Pros
Easy to use
Eco-friendly
Absorbent
One-size design
For newborns and toddlers
Cons
Get your kid a stylish cloth diaper that is breathable and budget-friendly. Since it is reusable, you don't have to dispose the dirty diaper and buy a new one every time. ALVABABY One-Size Cloth Diapers can be used by your kid even as they grow. These diapers have a waterproof outer layer, protecting from leaks. You can use it as a liner with a diaper cover to give your child super comforting protection. This video will tell you all you need to know about these diapers.
Pros
Adjustable
Washable
Three-layer microfiber
Premium diapers
Elastic near thighs
Buttons for easy snapping
Cons
Might not be suitable for petite babies
You can get comfortable cloth diapers, even for babies who have sensitive skin. OsoCozy Unbleached Pre-folded Cloth Diapers are woven in gauze weave using 100% Indian cotton to give your baby a robust and soft diaper base. Once your baby grows, you can trifold these cloth diapers into baby pockets to add an extra layer of leak-proof protection. These cloth diapers can be resold because the cotton is long-lasting and natural, just the right choice for all parents. Pro tip: Might have to wash 2-3 times before first use to remove natural cotton oils. Check out this detailed review video to learn more about the product.
Pros
Durable
Absorbs well
Lint-free weave
Eight inner and four outer layers of absorbency
Cons
Might shrink a little after use
Now get the qualities of the best cloth diapers, all-in-one packet! BumGenius Pocket Cloth Diaper is perfect for your little one if you often find their diaper leaking. With the best snap technique and a leak-proof patent, this diaper ensures a good night's sleep. The stay-dry fabric helps avoid soggy diapers; hence your baby won't get cranky during their nap. Your baby gets protection from moisture as the soft lining wicks it away. It is crafted using two inserts, suitable for use even as your child grows. Here's a video that will help you choose the right diaper for your little one.
Pros
Easy to use
Back and leg elastic
Waterproof cover
Stretch-to-fit sides
Cons
Might take time to dry after wash
Kanga Care Lil Joey Cloth Diaper is one of the best cloth diapers for babies with sensitive skin! This hypoallergenic diaper is crafted using gusset leak protection, which is patented. It is perfect for a newborn baby's first few days as it has a snap down front that ensures sensitive cord care to prevent unwanted accidents. This set of two diapers is suitable for preemies and newborns weighing between 4 to 12 lb.
Pros
Soft fabric
Waterproof polyester TPU
Available in fun colors and prints
Two inner gussets and four-layer microfiber
Cons
May be tight/small for some babies
It is one of the best cloth diapers for overnight wear for babies. With its waterproof shell-based technology and hybrid clothing, it helps avoid leakage for a longer period. Crafted using a double PUL layer and snap-lock system, it is great for day and night wear. With two products available in one package, this Best Bottom Shell-Snap Cloth Diaper is the perfect absorbent insert for your kid. Now you can pack for travel or go to that office party with your baby, without worrying about any blowout.
Pros
No bleach
Trim fitting
Front YKK snaps
Machine-washable
No additives or softeners
Cons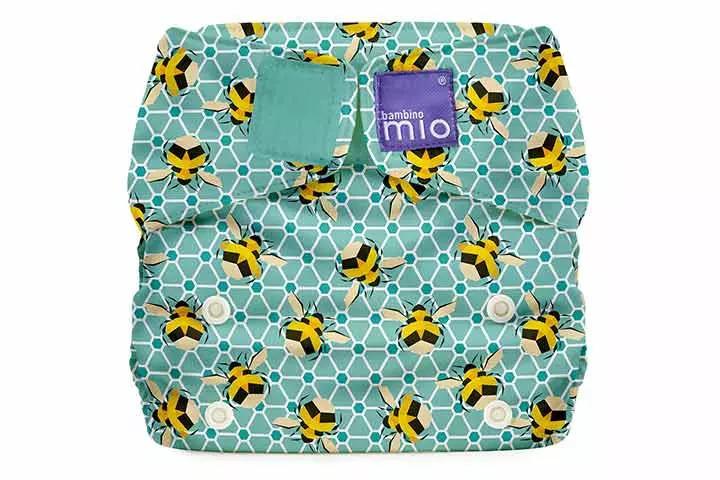 It is said that a reusable diaper should also be adjustable, so that your baby can grow into it. Bambino Mio Miosolo Cloth Nappy is all that and is also stylish and super soft to wear. It has a stretchy fabric that will allow your baby to comfortably slip into it and be carefree while crawling everywhere, without you constantly worrying about the diaper movement. The core of the diaper is concealed for absorbing a good amount of leak, which also keeps the moisture away. It stays dry, protecting your baby's delicate skin. Pro tips: Do not chlorine bleach, iron, or dry clean. Do not wash using a fabric softener. You may low, cold tumble dry them.
Pros
Tuck-in pocket
Fold back laundry tab
Available in funky designs
Water-resistant outer fabric
One-size from birth to potty training
Performs best with a booster pad
Cons
May take time to dry after a wash
May be slightly loose for petite babies
You truly will find it all with this GroVia O.N.E. Reusable Baby Cloth Diaper. It has super absorbing technology, two in-built closures, and a heavy-duty feature that makes the diaper last long. The two closure options include loops and hooks and snap closure that helps it fit easily. You get to avoid the whole hassle of prepping it up before use, as this is a ready-to-use cloth diaper.
Pros
Trim fitting
Made of polyester microfiber
Features cotton with microfleece
Water-resistant polyester TPU
Machine-washable
Cons
Might not be great for long-term use
No more getting all worked up overwrapping a diaper around your newborn's waist. This easy hook and loop cloth diaper helps you attach and remove quickly without any hassle. Thirsties Newborn All-In-One Cloth Diaper is convenient, especially for new parents. It is crafted using 100% polyester with urethane coating, making it one of the best cloth diapers for newborns. Last but not least, it has four layers of protection and ensures free movement for your kid.
Pros
Trim fitting
Waterproof
Absorbs well
Can also use with umbilical cord snap down
Cons
The Velcro might not be durable.
Don't worry about moisture problems for your baby anymore! Imagine Baby Products Stay-Dry Cloth Diaper features an inner crafted using no-pill fleece material that wicks the moisture away. On one end, you will find an absorbent soaker snapped in and on the other end it is sewed so that the diaper dries quickly. There is a gentle elastic that keeps the diaper from swaying when your baby moves.
Pros
Soft
Waterproof
Leak-proof
For newborn babies
Cons
New parents might be confused about which are the best cloth diapers for their kids. After understanding the best options of cloth diapers available, it is time to know everything there is about the uses, types, and tips of cloth diapers.
Why Choose Cloth Diapers
Whether you are a new parent or looking for better diaper options for your kid, a cloth diaper is a viable option. It might seem like they are complicated or might not hold heavy leakage, but modern technology has made things easy and possible for you. Here is why you should choose cloth diapers:
Cloth diapers are eco-friendly and sustainable options. You would be contributing to a great cause by choosing them. Most plastic disposables cause harm to the environment by filling landfills with non-biodegradable waste. You also end up protecting waterways and saving up on resources.
Many babies get rashes, skin irritation, endocrine disruption, or potentially cancer with disposable diapers. Cloth diapers do not have harmful chemicals that cause any long-term health problems.
They can be reused several times. You can simply wash them, and they will be as fresh as new. It is as good as wearing clothes or a raincoat inside out.
You save a lot of money by not using disposables. These cloth diapers last for years and can be used by many children. If you want, you can resell them too.
You can later use these as cleaning rags or craft projects.
Different Types Of Cloth Diapers
It might be confusing to select a cloth diaper if there are jargons that you don't know about. You could be looking for a full diaper and end up with a liner instead. Now we don't want that! Choose the best cloth diapers after evaluating the types and uses.
Covers: These are outer jackets of diapers. Mostly all covers are waterproof, giving extra leakage protection. You have to insert an absorbent diaper in the cover, which is the essential item. These covers are crafted using PUL, fleece, or wool. They are supported by Velcro or snap closure. You can simply get 3-5 covers and keep changing inserts as many times as needed.
Prefolds: This is the basic layer of a cloth diaper. It is a three-section, rectangular cloth that is wrapped around the baby's bottom and pinned using a snap. The middle section absorbs most leakage as it is thick-layered. These prefolds can be used in pockets as they have a waterproof exterior.
Flats: These are just square shaped cloths that can be wrapped in multiple ways to secure baby's bottoms. They are used with a diaper cover for the best performance. They dry pretty quickly.
All-in-one and all-in-two: An all-in-one is a system where you get all benefits of a perfect diaper — an absorbent, elastic, snap closure, and waterproof cover. An all-in-two is a two-part system where you get two separate layers of diaper — an absorbent inner and cover. While an all-in-one can be changed quickly, an all-in-two can be used by just removing inserts without having to wash the entire diaper every time.
Fitteds: These are elastic diapers without covers. They do not require any pins or folds. You can simply use a waterproof cover as a jacket for protection.
How To Choose The Right Cloth Diapers
Do not be confused by so many types of cloth diapers and their uses. There is no one right choice. You can pick multiple options based on your requirements. Some factors that change the diaper needs are:
Occasion: If you are leaving your baby with your parents, an all-in-one cloth diaper will be a perfect choice. For lazy days at home, you can select a prefold insert placed in a waterproof cover. If you are going for an outing, a fully waterproof, leak-proof diaper would be perfect. However, some parents prefer an all-in-two diaper where the inserts can be disposed of during long journeys.
Skin type: Baby's have sensitive, soft skin. For baby's with super sensitive skin, choose a diaper that is hypoallergenic and chemical-free. You don't want any unwelcome rashes or allergic reactions.
Size: There are diapers available in all sizes. Some diapers are one-size-fits-all, but even so, checking the perfect fit is important to avoid leakage. If you have a newborn, special newborn size diapers would be ideal. For toddlers, you can choose according to the size of your child. Elastic diapers suit well for babies with chunky thighs, while petite babies require small size diapers. And most importantly, know that babies grow fast. There are adjustable cloth diapers that change according to the growing babies, so you don't have to invest in a new set every month.
Why Trust MomJunction?
We have picked out some of the best cloth diapers for your convenience, and your baby's happy growth. The right kind of cloth diaper will be the one that best suits your baby's skin, size, and need of the hour. New parents often experiment for a couple of weeks before picking the correct one. There is no hard and fast rule as to which is the best. Cloth diapers last for years and can be reused. Hence, whatever you pick, when your child outgrows it, you can use it for other purposes.
Recommended Articles: