The best cloth napkins can make your dinner table look a class apart. An essential part of dinner-time presentations, these will add a lot of elegance to your dining table. You can use them for various occasions, such as weddings, birthday parties, regular parties, or even when you invite guests over. These can be used to wipe hands, mouth, and dishes and are available in various colors and designs. Easily available in the market, you will be able to buy one that goes with the rest of your dining table linen or even cutlery. However, to make your selection easier, we have included a list of popular cloth napkins and a few points to consider while buying them.
Top Products From Our List
11 Best Cloth Napkins

The Utopia Kitchen Cloth Napkins are a pack of 12 luxurious cotton dinner napkins measuring 18x18in each. They are a blend of 65% pure cotton and 35% polyester and are soft, absorbent, and quick-drying. Each napkin is carefully sewn with the finest-quality polycotton and comes with a generous hem. They are machine-washable and do not fade even with multiple washes in cold water. The napkins are available in multiple solid colors, and you can use them at home and business settings.
The Veeyo cloth napkins are crafted from 100% premium polyester and are long-lasting. They suit both casual and formal home decor. Each napkin measures 17x17in, and the napkins are available in 30 solid colors. Available as a pack of 12, they are ideal table accessories for weddings, banquets, cafes, and restaurants. They have strong hemmed edges and are resistant to wrinkles and stains. You can handwash or machine-wash them in cold water and gentle cycle, and iron them on low heat.
Urban Villa offers 100% cotton super soft and oversized cloth napkins suitable for all your household needs. Their perfect size of 18x18in makes handling them easy. These napkins are suitable for events and business settings and can be used as hotel napkins, banquet table napkins, party table napkins, etc. They are highly durable and withstand wear and tear even after multiple washes in cold water. You can also machine-wash them and not worry about the color fading.
The Aunti Em's Kitchen cloth napkins are made of 100% all-natural renewable cotton and woven with cutting edge air-jet looms. The tight weaves offer a personal and special touch to your dining table. Available in a festive red with a smooth finish, they are ideal for craft, printing, painting, tie-dye, or monogrammed projects. They measure 20x20in and are super-absorbent. Besides, these are highly durable and will not fray or leave any lint.
This is a pack of 24 polyester dinner napkins that are carefully cut and sewn from high-quality polyester fabric. Each napkin measures 17x17in and is soft to touch. They are suitable for small to large-sized families, and ideal for parties and events. Available in seven different plain colors, these napkins can go with your decor to uplift your dining experience. You can iron them to make them stand out. The napkins can be machine-washed in cold water and tumbled dry in low heat setting.
Tailored with a generous hem and mitered corners, the Ruvanti Kitchen poly cotton linen napkins come in a set of 12. They measure 18x18in and bring charm to your dining table. The soft cloth napkins are light and last long. You can use them as wedding napkins, hotel napkins, cocktail napkins, party table napkins, and banquet table napkins. The reusable napkins can withstand wear and tear even after multiple machine washes in cold water. The brand offers a 100% money-back guarantee on the product.
The Excellent Deals Flour Sack Kitchen Towels are crafted with 100% ring-spun cotton and have been given a tight, consistent weave. It is a set of 12 premium optical white napkins measuring 28x28in each. The smooth texture with minimal pilling and linting makes them ideal for home and commercial purposes. They become better with every wash and are highly-absorbent, quick-drying, and durable. These multipurpose cloth napkins can also be used for embroidery, painting, applique, and screen printing.
The Cotton Craft cloth dinner napkins are a blend of 88% cotton and 12% linen fabric materials. They are sewn in an old-fashioned way with generous hems and mitered corners, giving them a classy finish and making them durable. Available in a pack of 12, these oversized napkins measure 20x20in. They are available in multiple shades to suit your kitchen decor and suitable for everyday use, events, parties, etc. You can hand wash or machine-wash them, and they do not shrink or fray even after multiple uses and washes.
The Bumblebee Linens dinner napkins are crisp, lightweight, and elegant, offering an exquisite feel to any home and business settings. They are made of 60% linen and 40% cotton fabric and are soft to touch. Each hemstitched napkin measures 18x18in and is available in a pack of four. They are pre-washed and ready to use, offering a 100% satisfaction guarantee. You can handwash or machine-wash them and iron if required.
DII napkins add a subtle yet sophisticated look to your kitchen table, dinner table, and breakfast nook. They are 100% cotton napkins with checkered patterns and are available in seven different shades. These are thick and sturdy oversized napkins, each measuring 20x20in, and come in a pack of six. The napkins are machine-washable in a gentle cycle and can be tumble dried and ironed.
The everyday casual collection from Elrene Home Fashions features a set of globally inspired printed cloth napkins. They look great for indoor and outdoor gatherings, giving an eclectic look to your table. You will get 24 pieces in a pack of four different patterns, with six napkins in each set. Made of 100% cotton fabric, they are soft, highly absorbent, and durable. They measure 17x17in each and can be folded and draped as required. The delicate hems at the edges add a touch of elegance. They are easy to care for and machine-washable.
How To Choose The Right Cloth Napkin?
Here are some things you need to keep in mind when planning to purchase the best cloth napkin.
Absorbency: It is a key factor to keep in mind. Consider buying a soft napkin that has plenty of surface area and can soak up anything so that you can enjoy your meal.
Material: They are mostly made of natural fibers such as cotton and polyester, or a blend of two. Linen napkins are also popular but require more maintenance.
Embellishments: Some cloth napkins have stylish embellishments such as monograms, decorative stitching, embroidery, lace detailing, and tassels that elevate your table setting.
Durability: The inevitable spills and drips make us wash the napkins after each use, and it can lead to wear and tear. Look for consistent stitching and clean hems, and avoid linens with loose threads or visible raw edges. Check the reviews to know about its durability.
If you are looking for cloth napkins that will last you a long time, our list of best cloth napkins will help you buy the right one as per your preferences. Go through the list, remember the tips, and we are sure you will find a suitable product.
The following two tabs change content below.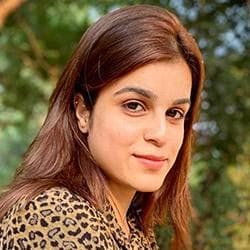 Sakshi John
Sakshi did her graduation in Journalism from the Madras Christian College, Chennai, before starting her career as a freelance writer. She is into blog writing and for MomJunction, she covers various topics, including products to buy for your kitchen, furniture, and other home requirements. Previously, she interned as a content writer in a cyber security firm. As a content writer, Sakshi...
more