If you prefer a refreshing cup of coffee to gear up for the day each morning, investing in a convenient yet efficient coffee machine can be a good decision. Although the French press, pour-over, and cold brew coffee makers have gained immense popularity, it is also true that nothing can replace a drip coffee machine when it comes to speed and ease of use.
An ideal coffee maker should occupy less space, be easy to clean and maintain, brew large batches, make different types of coffee, and be budget-friendly. So, if you are on the lookout for the best coffee maker, you have landed at the right place as we bring a list of the best coffee machines.
15 Best Coffee Machines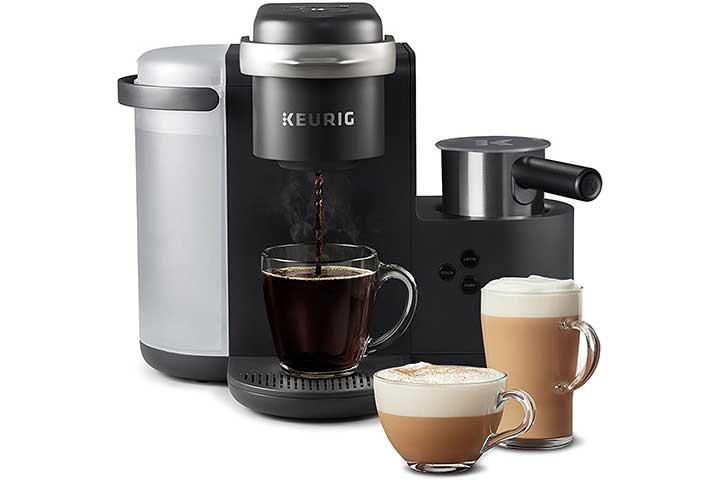 The Keurig K-Cafe coffee machine makes creamy cappuccinos and lattes in no time. Use it easily by inserting the K Cup pod and pressing the button to get your choice of hot or iced coffee. The coffee maker lets you brew six cups at once and comes with a removable reservoir to make refilling easy. It produces sufficient heat to brew coffee in a simple process, eliminating the need to go through multiple functions for your preferred cup size.
The device alerts you when you should descale the coffee maker to ensure the removal of build-up for the best-tasting coffee. It can accommodate 7.2-inch travel mugs and is equipped with a top-rack dishwasher for easy cleaning. The device is compatible with a universal K cup reusable coffee filter and can operate even at altitudes over 5000ft.
Pros
Easy to install, maintain, and refill
Compatible with all K Cups
Not too noisy
Less brewing time
Dishwasher-safe frother included
Auto turn off after two hours to save electricity
Cons
    Generic reusable pods don't work well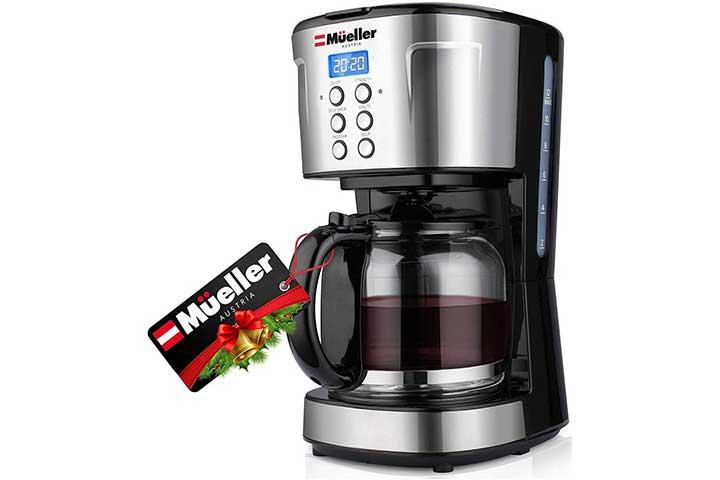 The coffee machine from Mueller Ultra offers the best-tasting coffee with ease by using your favorite grounds to give you a full pot of rich coffee. Its easy brew and precise pouring features make it convenient to use. The pause-and-serve feature lets you pour a cup effortlessly while you are brewing the coffee.
Its unique carafe design ensures you get coffee down the last drop. The supreme quality coffee maker can make your life easier as it offers easy filling due to a built-in reservoir that prevents mess and dripping on your countertops.
Pros
Easy to use and lightweight
Attractive design
Multiple brew strengths
Long cord
Auto shut off
Has a timer setting
Cons
Could be a bit noisy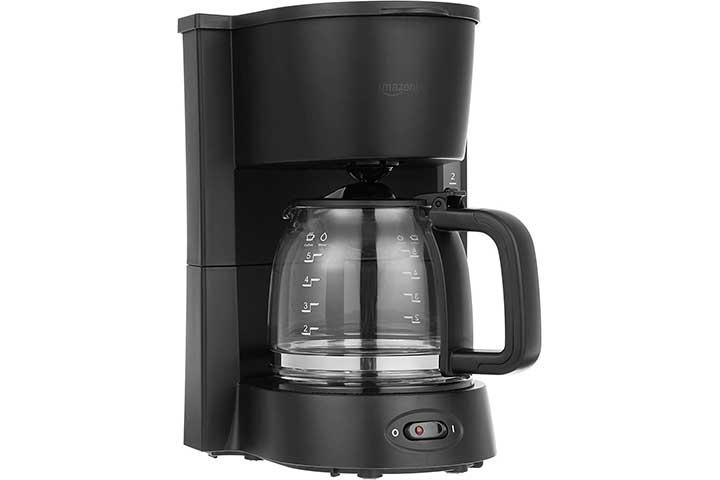 The AmazonBasics coffee maker gives you a great-tasting cup of coffee to kick start your day. The five-cup machine has a compact size and makes an excellent choice for home and office. It uses a carafe to directly brew the coffee that can be replaced after pouring a cup to continue the brewing process.
The coffee maker is equipped with a hot plate that keeps the coffee at an ideal temperature at the end of the brew cycle so that you can enjoy piping hot cups of your drink without worrying about reheating. It also comes with an easy-to-remove basket and reusable filters to save money and effort. The smartly designed coffee maker includes a front-access power button with a light indicator, an easy-view water window to check water levels, and a 36-inch long cord for convenience and flexibility.
Pros
Space-saving design
Easy-to-clean filter and basket
Reusable filter
Auto-pause function
Keeps coffee warm
Easy and quick to use
Comes with a one-year warranty
Cons
May not be dishwasher safe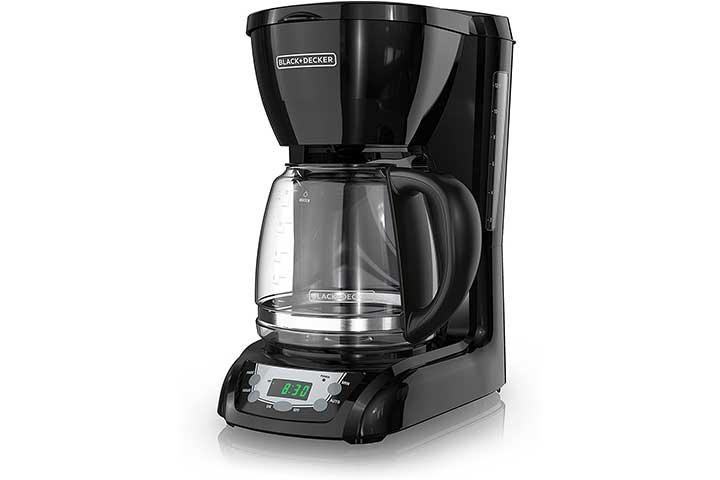 A smart coffee maker from Black & Decker, this classic machine delivers a rich cup of coffee quickly. It comes with a quick-touch feature that can be auto-programmed for 24 hours of brewing, so you get your coffee ready whenever required. Its soft-touch digital controls make it convenient to use and can be cleaned or wiped with ease.
The sneak A-cup feature temporarily cuts off coffee flow to let you pour the first cup before the brewing cycle ends without creating any mess. It also has an easy-view water window that shows you the water level and is heated at the perfect temperature to give you an aromatic cup of coffee.
Pros
Two hours auto-shutoff feature
Indicator light
Nonstick warming plate
Brew-pause feature
Small footprint
Not so noisy
Cons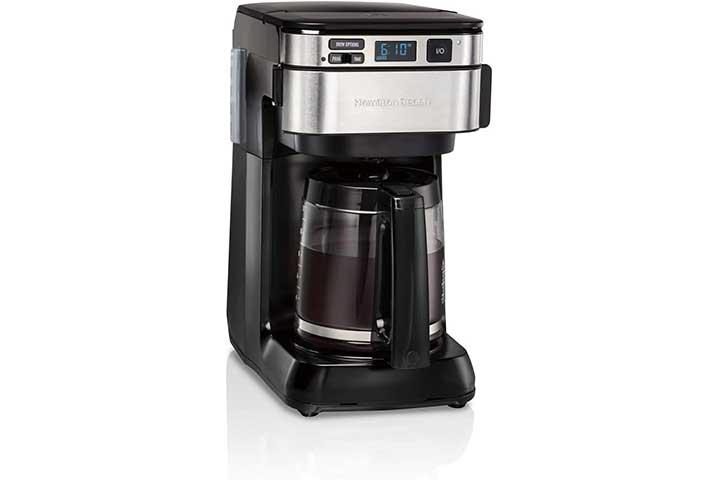 The 12-cup coffee maker from Hamilton is a front-fill coffee machine that makes pouring easy. It has a swing-open brew basket and an auto cleaning reminder so that your coffee never loses its taste. The compact coffee maker occupies less space and can easily fit into the storage cabinets.
Its easy-view water windows allow you to fill the water at the right levels, and the easy-touch programming lets you set the machine to brew for 24 hours. This easy-to-program machine is equipped with a clock and shuts off automatically after two hours of use to ensure safety.
You can choose any brew strength to match your taste and pause it any time before the brew cycle to get yourself the first cup while the coffee is still brewing.
Pros
Easy front filling
Auto shut-off and auto-pause feature
Cleaning reminder
Water view window
Occupies less space
Nonstick hot plate
Optimized brew cycle
Convenient to clean
Cons
    Heating plate may rust with time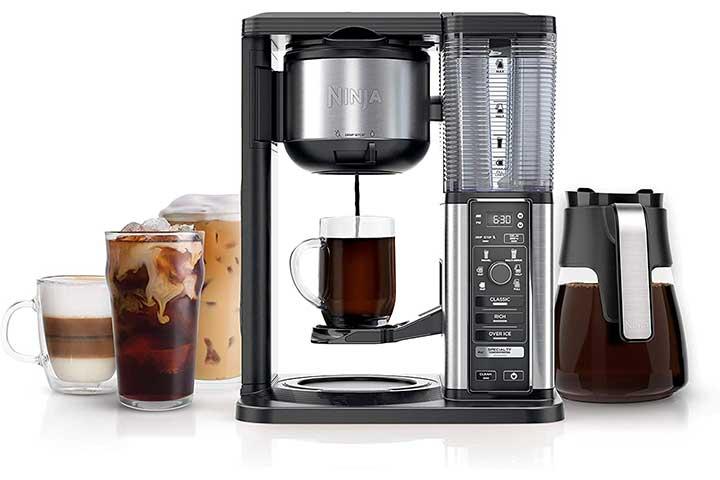 The stylish coffee maker from Ninja offers delicious cups of cappuccinos, lattes, macchiato, and other coffeehouse options. It is also a perfect option for iced drinks full of flavors and doesn't turn them watery. You are never out of options with its six different cup sizes such as a single cup, XL single cup, travel mug, travel XL mug, half, and full carafe.
The in-built frother makes fresh froth from cold or hot milk in a few seconds. It is pod-free, which means you get customized brews without unnecessary plastic waste.
Pros
Even saturation
Consistent temperature
Dishwasher-safe carafe
Easy refilling
5 feet long cord
Stainless steel finish
Cons
Burner may not work properly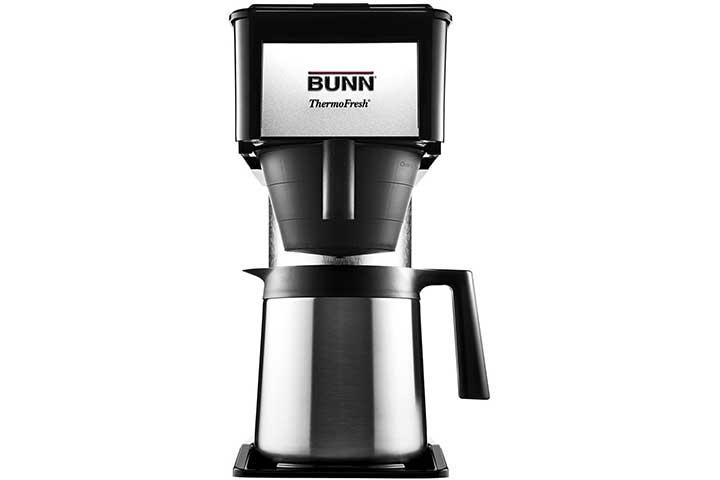 The home coffee brewer from Bunn can brew up to 10 cups of your favorite coffee in three minutes. It comes with a smart spray for enhanced flavor and has a double-wall vacuum-insulated thermal carafe to keep your drink hot for up to two hours.
The stainless steel water tank brings the water to an optimal heating temperature of 200°F. The brewer comes with a specially designed thermostat of 800w, capable of being used at an altitude of 5000ft.
Pros
Efficient mechanism
No burnt taste
Easy to clean, operate, and maintain
Occupies less space
Spray head design
Vacuum insulated care and brew lid included
Cons
Doesn't have a warmer plate
Doesn't include a steel water window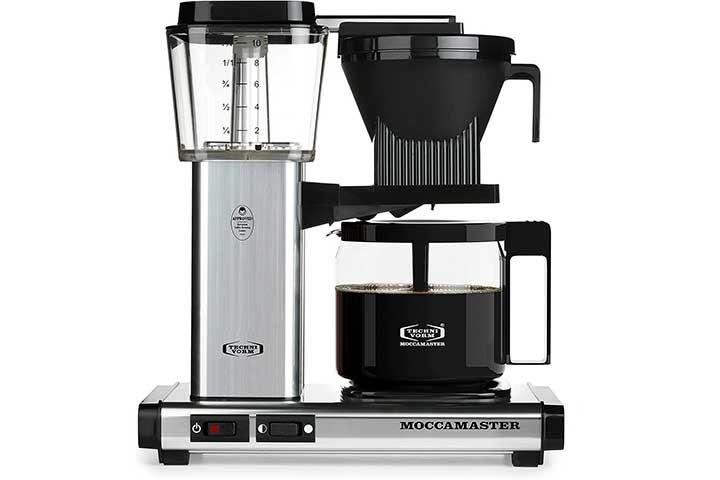 Bring a full pot of steaming hot coffee in just six minutes with this uniquely designed coffee machine from Technivorm. It comes with an automatic drip-stop brew-basket that allows you to pour the first cup of coffee for yourself by stopping the coffee flow and pulling the carafe away. Its uniquely designed hot plate with independent elements has two settings to keep your coffee hot and offer even taste till its last drop.
Its 1.25l water reservoir is made of glass to show bubbling water to produce strong coffee. The machine is equipped with two switches, one on the left for power control that switches off automatically after 100 minutes. The second switch on the right keeps the coffee at 185°F and 175°F when pressed to the right and left, respectively, without burning the taste.
Pros
Quiet and safe operation
BPA/BPS/BPF-free
Phthalate-free
Even saturation
Auto-off feature
Five-year warranty
Cons
Carafe cover may be flimsy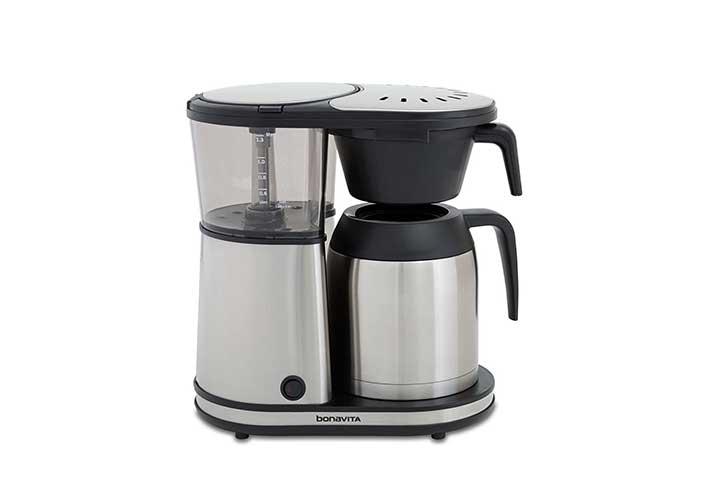 Bonavitar's exclusive coffee maker can make you a fine cup of freshly brewed coffee whenever you crave one. It works by reaching the optimal brewing temperature to offer you the right saturation and uniform flavor extraction. This coffee machine is designed to perform consistently and comes with a combination of features to brew your coffee correctly. Its advanced heater quickly reaches the right heating temperature and leaves you with a full pot of coffee in only six minutes.
The eight-cup carafe evenly distributes water on the coffee beans. The pre-infusion option imitates the pour-over brewing method by stopping the showerhead to give you a flavorful concentrate. All you need to do is follow the guided instructions to get a golden cup carafe coffee at home. Besides, it features auto-cut off to ensure safety.
Pros
Quick and powerful
Occupies less space
Wide mouth carafe
Simple operation
One-touch brewing
Dishwasher-safe
Made of BPA-free material
Even saturation
Cons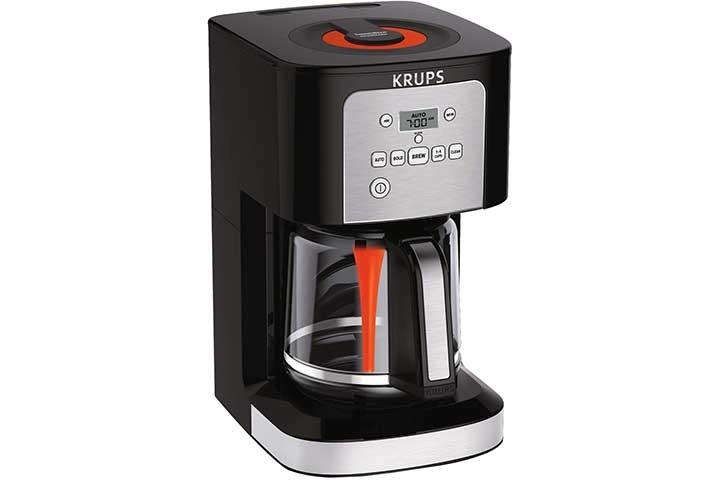 The 12-cup Krups coffee machine has convenient features that offer an exceptional cup of coffee through its three-step ThermoBrew technology for flavor optimization. Its brilliant features and settings work extensively to give you just the kind of coffee you need. The programmable digital clock functions to auto brew coffee to kick start your day. It shuts off automatically on completing the brewing process.
The machine can keep your coffee hot for up to four hours, and its auto-warm function lets you know when the brewing cycle ends, eliminating the need to watch over your coffee. Enjoy your fresh cup of coffee by pressing the one to four cup button for a small batch of coffee. Also, its filtration system has a clean setting to maintain optimal brewing with no burnt taste.
Pros
Auto-off feature
Occupies less space
Quick and easy to use
Smooth flavor
Easy to set up and operate
Cons
May not have a tight seal
May not be durable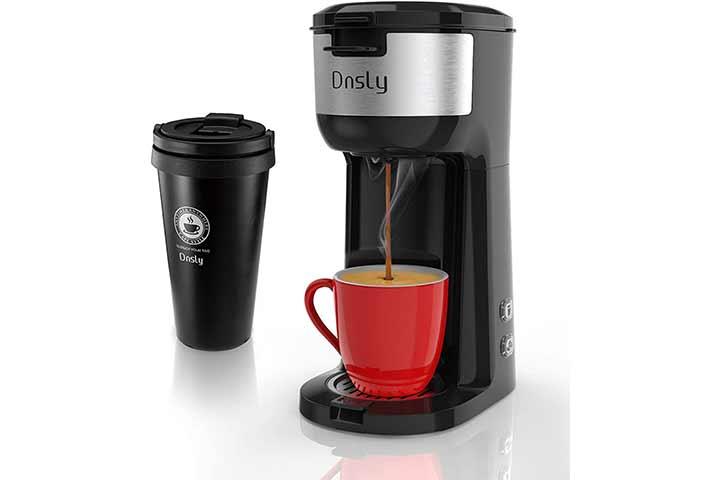 The Dnsly coffee maker can give you a fusion of the best ground and K-cup coffee. Its two-button mode allows you to select the brewing method, removing the large tray and placing a large mug to the quantity you prefer. The single-serve coffee maker has a six to 14oz capacity with a programmable auto-off and auto cleaning mode to let you effortlessly maintain the machine.
You need to press two buttons together to activate self-cleaning to save time. The easy-to-operate device can make a coffee cup in just three minutes. Its durable and compact design makes it a portable choice to enjoy your beverage anywhere and at any time.
Pros
Occupies less space
Two-in-one design
Made of BPA-free material
Quick and easy to clean
Auto-off feature
Easy to pour and handle
Free drip tray
K cup needling
Cons
  May have a small reservoir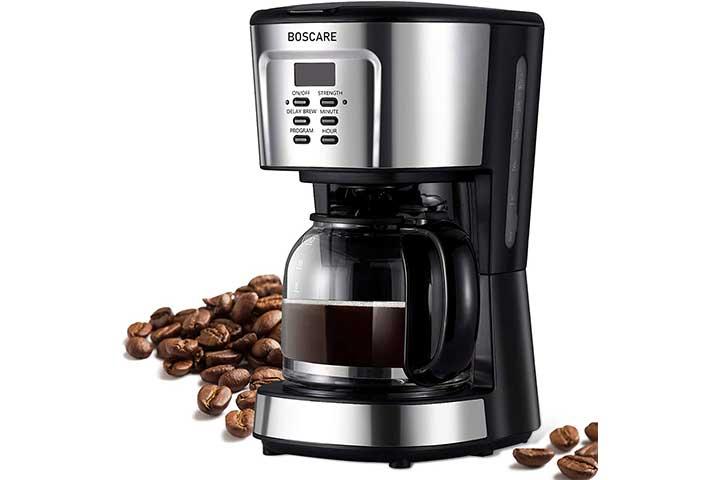 The Boscare coffee maker is handy and easy to operate with soft, quick touch programming for optimal brewing. It is made of durable material and has a removable filter basket and glass carafe, a better alternative to a noisy scratchy metal carafe. The programmable timer lets you set a brewing time of up to 24 hours to get your choice of coffee.
The machine is equipped with six buttons and an auto-drip brewer to brew up to 12 cups of coffee in just a couple of minutes. Its nonstick warm plate shuts off automatically after two hours and beeps a signal when coffee is prepared.
Pros
Easy to use, carry, and clean
Small size
Auto shut off
Dishwasher-safe glass carafe
24 hours auto brew
Easy-to-clean buttons
Visual water reservoir
Brew-pause function
Cons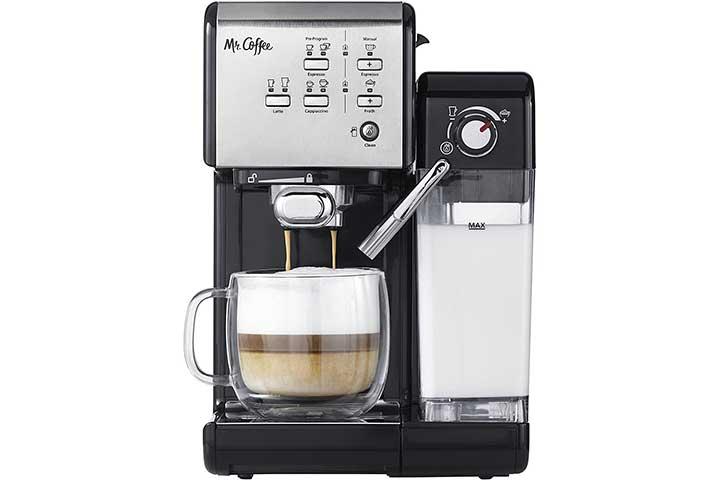 The cappuccino machine from Mr. Coffee is simple to use and gives you a warm cup of fine coffee at home. The single touch machine produces various drinks like lattes, espressos, and cappuccinos within a few minutes. It gives an airy and light foam with an automatic milk steamer by pressing a single or double shot button.
Its 19 bar Italian pump dispenses the desired pressure to extract delicious coffee flavor with no burnt taste. Plus, its milk reservoir can be removed easily and fills up to six cappuccinos or three lattes. It has an easy-to-clean reservoir that can be stored in the fridge with the leftover milk when not in use.
Pros
Even heating
Adjustable cup tray
Easy to clean and operate
One-touch operation
Occupies less space
Cons
May leak and could be noisy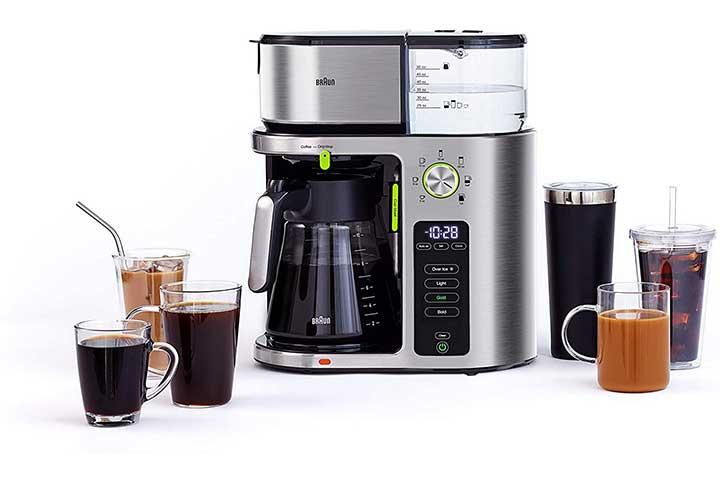 The Braun coffee machine has a consistent optimal brewing capability to get the same fresh and creamy coffee. It lets you customize your coffee using the over ice light gold bold setting to offer you either a hot or cold brew with just a touch of a button. The quick-brewing technology produces a pot full of coffee in only eight minutes, with no burning smell. The machine comes with a temperature sensor to attain optimal brewing standards.
This SCA-certified coffee maker delivers rich-tasting drip coffee with its multi-server dial. You can select the ideal brew size from seven features using a pod-free single cup serve, a travel mug, or a carafe of full size. It is equipped with a freshness indicator to notify your brew is fresh every time. You also get a BPA-free, tall, and narrow carafe that prevents moisture and bad taste.
Pros
Safe and versatile
Optimal brewing
Consistent taste
Quick brewing
Various brew sizes
Easy to use
Smooth operation
Hot indicator plate light included
Cons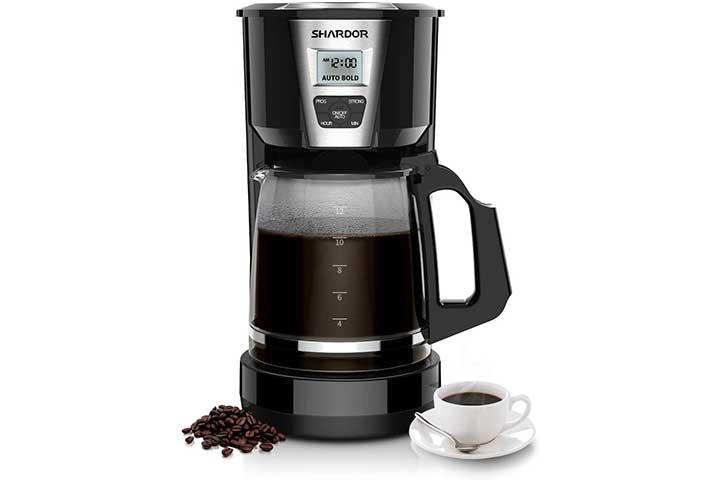 The energy-saving drip coffee maker from Shardor is capable of delivering 12 cups of your favorite brew at once. It can keep your coffee warm for up to two hours and brew 24 hours in advance to let you start with a bang. Its sturdy carafe has measurement markings for exact filling and a comfortable handle for a firm grip. The easy-view front window shows the water level that goes into making your coffee.
Its programmable function has a PROG and LCD button to set the timer for brewing and the heat preservation function to keep your drink warm. The smart spouting design stops brewing to avoid the mixing of cold water when filling water. It's easy to clean as it comes with a removable basket and reusable filter to cut off the need for disposable filters.
Pros
Comfortable pouring
Standby mode
Safe to use
Timer function
Adjustable brew strengths
Brew-pause function
Mess-free mechanism
LCD control panel
Auto on and off
Cons
How To Clean The Coffee Machine?
Below are the steps to clean the coffee maker.
Water and vinegar mix: Fill the water reservoir with a mixture of equal quantities of vinegar and water. You can increase the amount of water if the coffee maker has a dirt build-up as vinegar can effectively dissolve deposits.
Brewing and soaking: Place the filter on the basket and turn it on. When the brewing is halfway done, switch off the coffee maker and let the vinegar solution settle in the reservoir for about an hour.
Final cleaning: Now, switch on the coffee maker with the vinegar solution and let the brewing cycle complete. After this, pour out the vinegar solution. Now to flush out the vinegar scent again, refill the reservoir with fresh water and complete the brewing cycle. Repeat this step, followed by wiping the coffee maker and pot with a clean and dry cloth.
How To Buy The Right Drip Coffee Maker?
Here are the features you should consider to pick the right coffee maker for yourself from the options listed above.
Certification: SCA or the Special Coffee Association certifies a small number of coffee makers every year. So, check this seal before buying a coffee machine.
Size: A drip coffee maker comes in various sizes, and it can make the coffee-making process challenging if you end up purchasing a big machine when you do not have enough space to accommodate it. Go for a device that can fulfill your requirements and fits perfectly on your countertop. It is recommended to choose a compact machine to keep your counter less occupied.
Capacity: It is directly linked with convenience and requirements. The coffee machines can accommodate a certain amount of coffee, measured in cups. It could range from two to 12 cups of coffee, so pick one that fulfills your cup requirement based on its use for home or workplace. If you want a device for personal use, do not invest in a large cup capacity machine when your requirement is only one or two cups.
Brew sizes: If you prefer brewing for different cups, mugs, or pots sizes, ensure your coffee maker has an adjustable drip tray, sprout, and nozzle. It helps in preventing mess or spilling and is quite useful for different cup sizes of coffee needs.
Carafe: Unless you need a coffee maker for personal use, consider buying a thermal stainless-steel carafe. It makes a better choice as the glass carafe may produce off-tasting coffee.
Cleaning:It's always better to look for a coffee machine that has easily removable and less movable parts. They make cleaning easy and hassle-free.
Coffee making machines make an excellent choice to get a freshly brewed cup of your favorite coffee at home. An ideal coffee machine should be efficient, easy to maintain, clean, and operate. We hope our listed products and our buying guide help you find the most suitable coffee maker.
Recommended Articles: