Colanders are a practical tool with holes on the sides and base for draining liquids from boiled or freshly washed potatoes, vegetables, pasta, and more. So, we have created a list of the best colanders to help you choose the right one. It is a versatile kitchen tool that you can use to wash vegetables and run fruits under water. This tool makes washing ingredients easy and reduces your prep time. Made of high-quality materials, these tools are durable and long-lasting.
Available in various sizes and shapes to suit your needs, choosing the right colander may be challenging. So, go through the various products listed below to choose a suitable one for your kitchen.
14 Best Colanders To Buy In 2021
The Kitchen Gizmo colander comes with a strap n' strain design and is easy to use and store. All you need to do is fit the colander onto the edge of your pot and tilt it to strain the liquid.
This colander is made of good-quality silicone that is durable and dishwasher-safe. It is compact and small and could be a good option when you do not have much space in your kitchen.
This colander has two clips on either side that fit almost all round pots, pans, and small and big bowls. Using this colander, you can strain the liquid while the food is still in the pot, thus eliminating the need to use additional utensils. The Kitchen Gizmo colander's portable size makes it a great option to carry on camping trips.
If you are a fan of the traditional stainless steel colander, then go for this micro-perforated one from Bellemain. It has a 5qt capacity and a fine mesh that can quickly drain the water from over five pounds of pasta, without spilling it.
Made of 18/10 stainless steel, it is rustproof and dishwasher-safe. The Bellemain colander also comes with heavy-duty riveted handles that are strong enough to hold the colander in position while straining hot foods.
The stable ring base won't let it tip easily. This colander works best for straining pasta and cooked beans and washing leafy vegetables and fresh fruits.
POPCO Collapsible Colander Set is designed with ergonomic handles and can hold up to 4 quarts of leafy greens, fruits, vegetables, spaghetti, pasta, and noodles. This collapsible colander occupies less space to store. These are convenient to store in kitchen cabinets, a drying tray, and a drawer. They are made of BPA-free, PVC-free, food-grade rubber and silicone material. They have a heat resistance of up to 230 °F and are dishwasher-safe. The expandable colanders are highly durable, easy to store, and clean. The base holes allow the water to drain out fast and quickly.
Safe, convenient, and easy-to-use are the three most important characteristics of the best colander, and this plastic colander from Comfify is said to have all of them.
The space-saving design makes it convenient to store even in small kitchens. It is made of BPA-free, food-grade, and dishwasher-safe materials that are also heat-resistant up to 176℉. You get two colanders, one measuring 2qt and another with a capacity of 3qt
The soft rubberized handles are convenient to hold, while the raised bottom and side holes help drain the water quickly and prevent waterlogging at the bottom. You will get two colanders that are 8in and 9.5in wide. You can use these to drain liquids from boiled vegetables or wash fresh fruits in hot water.
This colander could come in handy for straining pasta or washing leafy vegetables. The 4qt colander from Priority Chef is made with durable and rust-resistant stainless steel.
The ergonomic design with a ring base gives you extra stability while straining hot foods. The solid steel handles on both sides give you a better grip and let you hang it to dry.
This dishwasher-safe colander has a fine mesh with closely placed micro-perforated holes that facilitate quick and effective draining. At the same time, they do not allow waterlogging at the bottom.
This colander comes with sturdy handles that can expand from 14in to 21in, making it flexible to rest over a small or large sink. The oval-shaped basket measures 13 x 9in and comes with 6qt capacity.
The concave sections of this basket help in sifting, filtering and straining out impurities in smaller ingredients. It also helps in breaking the clumps in dry food substances like flour and strain thick and wet ingredients like sauces and soups.
The U.S. Kitchen Supply colander is dishwasher-safe, and the firm mesh keeps it in shape while washing vegetables or straining liquids. It also has a mirror-finished frame and feet at the bottom for stability on the kitchen platform. This multipurpose colander could become your favorite utensil in the kitchen.
If you are a fan of colorful and fancy kitchen equipment, then this colander from Reston Lloyd could be a great addition to your kitchen. The body of this colander is made of stainless steel and coated with enamel. It comes in eleven different colors and is also a good housewarming gift for friends and family.
The Reston Lloyd colanders are manufactured with different capacities such as 1, 1.5, 3,5, and 7 quarts and are suitable for both hot and cold substances. The holes in each colander are placed such that they can quickly drain the liquid from the substance.
This colander will also work great as a fruit basket as the holes at the base will allow air circulation and help keep moisture away, thus increasing the fruits' shelf life.
Looking for a simple plastic colander? Then, give this one a try. The Chef Craft colander has a capacity of 5-quarts and contains large holes all around the base for quick and efficient draining of liquids.
It is made of durable BPA-free plastic. You can also use it as a fruit basket as the holes would allow good air circulation and keep the moisture away. This colander is lightweight and easy to carry, making it a good option to use every day.
It is also durable and dishwasher-safe. If you are searching for a simple yet durable colander, this could be your best pick.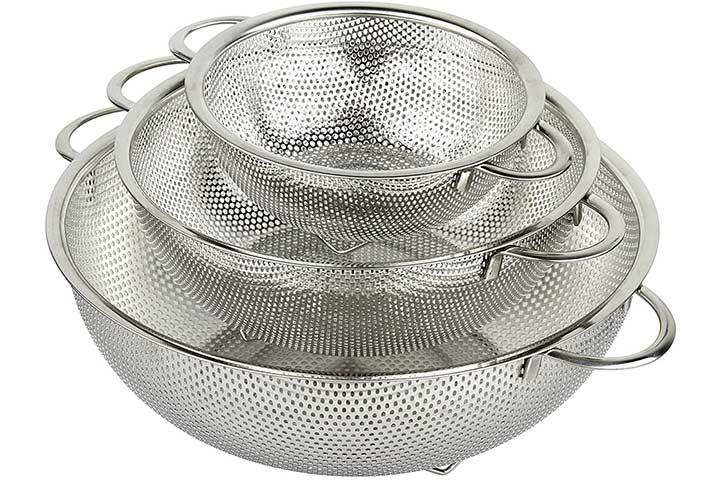 The colander's size should be considered when you're shopping for one, because smaller colanders are efficient at draining small amounts of foods, while bigger ones are needed when you have to strain huge amounts of pasta for a party or large gathering.
To cater to all your needs, HOLM brings you three stainless steel colanders, with a capacity of 1qt, 2.5qt, and 4.5qt, respectively. They are made of stainless steel and are durable, rustproof, and dishwasher-safe.
It has a sturdy base that facilitates fast and easy drainage. The fully-perforated mesh strainer is stable and does not wrap, stretch, or snag when used for washing heavy foods like fruits and vegetables. The solid-steel handles provide a better grip while draining piping hot foods.
Whether it is for washing vegetables or draining liquid from pasta, the Oxo colander does the job. It is made of stainless steel and has a perforating mesh design for quick and efficient straining. The holes in the mesh are placed around the walls and at the colander's base for efficient draining of small ingredients like rice.
The rim of this colander is lined with non-slip rubber handles for a superior grip. The base consists of four rubber stoppers for better stability. It comes in 3qt and 5qt variants.
The Kupko stainless steel colander is made of high-quality materials for durability and ease of use. The perforated mesh design with large holes helps you strain food quickly and efficiently.
If you have a big family and often find yourself cooking large quantities of food, then look no further, as the Kupko colander is spacious and has a capacity of 5qt It also has two solid handles with rubber strips for a better grip when you have to strain hot liquids.
This colander's wide mouth helps you use it for storing fruits or washing vegetables, making it a handy kitchen tool.
If you have less space in your kitchen, then go for this colander, as it comes with a collapsible design that occupies less space. The OXO colander is made of silicone and nylon, making it flexible, durable, and heat-resistant.
It has a capacity of 3.5qt and also comes with two non-slip handles for a better grip. When not in use, you can fold this colander and store it anywhere in the kitchen. Due to its flexibility, this can also be your ideal companion for camping or hiking.
This colander has a unique square shape with a long non-slip vertical handle. This design not only saves space but also aids in a single-hand operation of the colander. The vertical handle is long enough to make the whole body stand alone.
It contains vertical drainage holes that efficiently drain the water. It comes in three different colors and medium size.
With elongated holes at the base, the OXO Good Grips colander enables quick and efficient draining. It is designed with four feet to support the base for better stability. Two soft and easy-to-grip handles provide a superior grip.
The colander is made of BPA-free materials and is dishwasher-safe. The body of this colander is designed to let the food slip right to its base, and you can also shift or shake it using the ergonomically designed handles, which ensure efficient drainage of the liquid.
What To Look For While Buying A Colander?
Keep these points in mind while buying this multipurpose kitchen utensil.
Material: Usually, colanders are made of stainless steel, plastic, or silicone. If you are looking for a lightweight and flexible one, go for the silicone or plastic colanders, which are also said to be lightweight and space-saving. But, if you are looking for some sturdy colander, then stainless steel is your best bet.
Holes size: Pick the hole size based on the purpose of your colander. If you want to use it to drain liquids and wash vegetables, then go for the one which has wider holes. If you want to sift or dry and wet ingredients, you will need one with finer or smaller holes.
Capacity: Colanders come from one quart to 10 quarts capacity. If you are cooking for a family of four, then go for a colander of less capacity. However, a larger colander might come in handy while hosting parties or dinners.
Collapsible or not: Some silicone colanders are flexible and can be collapsed, taking up less storage space. So, pick these if you have a small kitchen.
Why Trust MomJunction?
Sakshi John is a skilled product writer whose focus areas are kitchenware and furniture. She performs in-depth, high-quality research to select the most efficient kitchen essentials based on user reviews and product forum discussions. Here, she brings you a list of the most durable, superior-quality colanders with various features. Sakshi also offers a list of factors to consider before choosing the right colander as per your needs.