Improving your body's overall health without making any significant changes has now become possible through collagen. An essential building block of the organs, tissues, and cells, collagen is a protein found naturally in the body for healthy skin, joints, and bones. Taking a dose of hydrolyzed collagen every day can improve the brain, gut, and joints' well-being. You will find a noticeable difference in your skin's texture, elasticity, and firmness with continuous usage. Choose from this list of the best collagen powders in India that might offer glowing and youthful-looking skin. You should consult a doctor to find out if you can use them.
No products Found
16 Best Collagen Powders In India


Plant-based collagen peptide powder contains ten pro collagen superfoods, eight anti-aging properties, and three whole food vitamin extracts, this product from Oziva comes in a 250-gram canister. It is 100% vegan and incorporates collagen-building ingredients. Manufactured to provide 45mg of vitamin C and 630mcg of biotin, this builder is gluten- and soy-free. It does not contain any artificial sweeteners and is non-GMO. The acai berry acts as a natural skin moisturizer and repairs the damaged skin. The silica from the natural bamboo shoot is the main co-nutrient for collagen production supporting regeneration and skin repair. It is rich in omega-7 and antioxidants.
The supplement contains type one and three collagen that will improve your skin elasticity. It can enhance the hair's strength, stimulate nail growth, and give you healthy-looking skin. Hyaluronic acid and vitamin C are the key ingredients known to inhibit skin wrinkles and improve overall skin conditions. It will reduce the marks on your skin by keeping it moisturized and nourished. The collagen peptides will help reduce the risk of bone fractures and increase joint mobility. It comes in a 200-gram plastic jar and is easy to use and odorless. With a unique orange flavor, this product is specifically formulated to enhance the skin texture.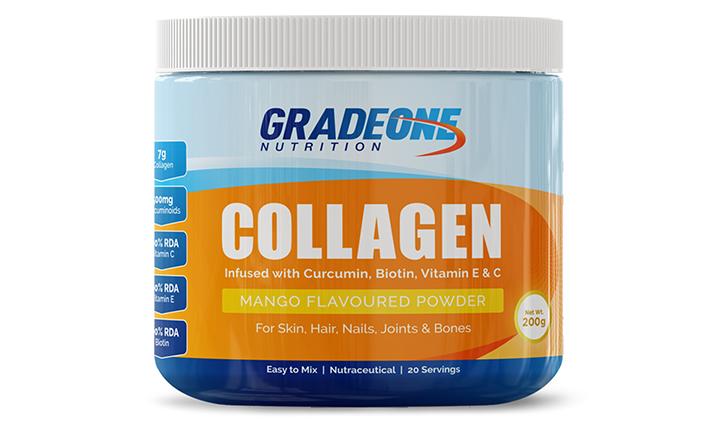 The hydrolyzed marine collagen powder is enriched with essential nutrients and contains vitamins C and E, biotin, curcumin, and 17 amino acids. It is said to promote faster metabolism, bone and joint health, and help repair cartilages and ligaments. This gluten- and soy-free product may also help improve your skin by providing hydration and elasticity and keep nails and hair strong. With anti-aging benefits, the collagen powder is paleo-friendly, non-GMO, and lactose-free.
Available in a 300-gram canister, this collagen protein powder is enriched with luxurious pearl powder. The pearls are levigated with special rose water to stimulate collagen production in your body for glowing and clear skin. It is formulated to keep your muscles tight and promote muscle growth and repair. The wheat and rice protein can easily fit your daily protein requirements. This blend controls skin pigmentation and helps improve the skin texture and complexion. It is a blend of herbs, including evening primrose oil, vitamin C and antioxidants derived from oranges, and vitamin E derived from soy, sea buckthorn, and tetrahydro curcuminoids.
The non-vegetarian collagen peptide powder from Kayos is available in a 250 grams jar. It acts as an essential building block for the body, including nails, skin, bones, joints, and hair. The product has no harmful chemicals and is free from gluten, soy, sugar, and dairy. Get youthful-looking smooth skin with this collagen peptides powder that renews and repairs the skin cells. It will lessen the potential dimpling and repairs the cartilage tissue, thereby relieving joint pain and inflammation. Specifically developed to increase your body's metabolism, this powder adds muscle mass to the frame and aids in converting vital nutrients. It also helps form muscle tissues by converting body glucose into the energy required to feed the muscle cells.
The 100% organic hydrolyzed collagen contains 19 amino acids that revitalize and rebuild your whole body. The peptides are easy to mix and easier for your body to absorb. This collagen supplement helps increase skin elasticity, combat wrinkles and fine lines, enhance the skin's moisture levels, and vitalize your hair, nails, and skin. Boost your energy and metabolism with this product as the glycinin will aid muscle development and burns more calories than fat. Free from gluten, sugar, soy, corn, and other harmful ingredients, this product contributes to the maintenance and growth of healthy tissues that will replenish the body.
Bbetter collagen protein powder comes in a 100 grams box. This marine collagen supplement powder enhances the skin's moisture level and increases its elasticity to reduce the aging signs. The product helps repair and renew skin cells. Ideal for hair and nails, this supplement boosts the keratin (a protein that forms the structural component of the hair) level in your body. Exclusively derived from fishes, this powder features a high absorbing ability and a low molecular weight. Type one collagen helps improve the skin's structure while the glycine and proline act as significant antioxidants that shield the free radicals known to cause cell damage. It comes in a hydrolyzed formula that quickly gets absorbed in the body to provide maximum benefits.
The plant-based Himalayan Organics supplement is infused with 20 wholefood and superfood ingredients that support the body's collagen production. It comes in a 250 grams canister that will lead to healthy skin. With 83mg of vitamin C and 720mcg of biotin, this powder will strengthen the skin and benefit hydration and elasticity. This product will aid in promoting nail growth and strength. The amino acids will build the hair protein and maintain the skin. Formulated to prevent follicle damage, this builder powder boosts the tissue production in ligaments, tendons, bones and, cartilages to improve overall flexibility and mobility.
Zeorwik plant collagen is enriched with biotin and vitamin C that nourishes the skin, nails, and hair. The product ensures the vitality and good health of your tendons, bones, cartilages, joints, and skin. It has no artificial flavors or colors. This protein powder is gluten-free with active probiotics and has a great-tasting vegetable and fruit blend. The product comes in a 300 grams canister that will increase protein and body fiber production. It is enriched with acerola cheery and bamboo shoots that lead to collagen synthesis and rejuvenate the skin. Loaded with antioxidants, this powder might add glow to the skin.
Packed in a 350 grams jar, this collagen peptides powder is grass-fed, pasture-raised, and hormone-free. With all essential amino acids and natural ingredients, this product goes through a comprehensive hydrolyzed process to produce pure collagen easily absorbed into the body. This collagen powder contains necessary amino acids that will replenish and rejuvenate collagen and proteins from hair, skin, joints, and muscles. It is an unflavoured hydrolyzed collagen peptide that stimulates hair and nails' growth. Developed to enhance beauty from the inside, you can add this powder to any smoothie, warm, or cold beverage.
Formulated with the goodness of Ayurveda, this collagen supplement for skin comes in a unique canister. It is 100% plant-based and has a unique anti-aging blend specially crafted for women. Enhance your skin's overall condition inside out with this collagen builder that is an exclusive blend of herbs. This blend is available in a lemon anar fusion flavor free from harmful preservatives, sweeteners, and flavors. With Aloe vera, spirulina, and vitamin E, this collagen powder will give you soft, moisturized, and supple skin and support the release and production of collagen in your body. It has amla and acerola that will slow down the anti-aging process and increase the skin's firmness.
Vegetarian and 100% pure, this hydrolyzed collagen peptide from Inlife is available in a 200 grams plastic bottle. It is enriched with hyaluronic, biotin, and vitamin C along with glucosamine. The delicious orange-flavored supplement can be added to any beverage. This product will strengthen your hair, joints, bones, skin and nails. In case you have a lean body structure, it will promote muscle growth.
Colorless, tasteless, and odorless, this powder comes in a 200 grams canister. This non-vegetarian blend has fish collagen, vitamin C, glucosamine, and arginine. It keeps the skin moisturized and supple and will improve the hair volume. The amino collagen is free from fat and cholesterol. You can use this product with hot drinks or cold coffee. The low molecular weight of fish collagen will result in faster absorption in the body for effective results.
With a pineapple flavor and vitamin C along with glucosamine, this collagen powder comes in a hydrolyzed form that is easily digestible by your body. Marine collagen will improve the immune system and contribute to various other body systems' general functioning. It will also strengthen your muscles and soothe joint pains. You will find a noticeable difference in your skin, nails, and hair after using this product. This collage peptide gets easily dissolved in water and will enhance skin elasticity. You can add it as a protein booster in your smoothies or any other recipes or desserts. It helps improve the health of cartilages and boosts collagen synthesis in your body.
Manufactured from 100% plant-based formula, this collagen supplement is rich in biotin, silica, and other significant antioxidants that will maintain healthy skin by retaining its moisture levels. Vitamin C will contribute to collagen synthesis and safeguard the skin's photodamage. It reduces premature signs of aging and wrinkles. It comes in a 250 grams canister and will induce the melanin synthesis in your body to give you plumpy, glowing skin. With Aloe vera extract, this product will hydrate your skin and help reduce skin damage and hyperpigmentation.
Available in mango flavor, this marine collagen peptide powder is hydrolyzed and gets easily absorbed into the body for after and effective results. It contains type one and three collagen and other ingredients, such as grape seed extract, green tea extract, and vitamin E and C. The product will help reduce the radical damage to the tissues and the skin, thereby giving fresh, hydrated skin. It enhances your beauty inside-out and reduces the aging signs. Manufactured to maintain the skin glow and elasticity, this product will also support joint and bone health. Packed in a 250 grams jar, this protein powder also meets the quality standards set by ISO, HACCP, and GMP. This marine collagen peptide is allergen-free and will generate energy in your body. It will also protect the skin from damage due to excessive skin exposure.
*The information given in the section has been taken from manufacturers' sources. MomJunction is not responsible for any of the claims made here. We recommend readers' discretion.
What To Look For While Buying A Collagen Powder?
Here are some factors to consider while selecting the right collagen powder. Also, you should consult a doctor before buying them.
Collagen type: Choose hydrolyzed bovine collagen peptides with a diverse amino acid profile containing type I and type III . Type I collagen comes from marine fish, and Type II is found in cartilages. The collagen powders from animal sources should come from cage-free and antibiotic-free tissues and bones.
Ingredients: Avoid artificial sweeteners, colors, and flavors. Collagen powder should be free from gluten and should contain 90% protein.
Budget: Collagen powders come in a diverse range. From plant-sources to animal-sources, there are various options to choose from. Pick a supplement that suits your personal preference and has essential amino acids with no artificial ingredients, and is also within your budget. Don't go after brand names, instead, read the labels and become a smart consumer.
Collagen is a versatile protein that regulates skin, bone, and joint health. It offers several benefits, and you can easily incorporate a good-quality collagen powder into your diet. When you buy an animal-based collagen powder, make sure it is derived from antibiotic-free and cage-free sources to offer you maximum benefits. However, if you follow a vegan diet, you don't have to fret as several brands offer vegan, plant-based options. And when purchasing one, ensure it is free of artificial colors, flavors, and sweeteners.
Recommended Articles:
The following two tabs change content below.

Lidiya holds a graduation degree in technology from the GITAM University and has over three years of experience in content writing. She uses her writing and strong research skills to bring out the most useful content to her readers. Her product articles on MomJunction reflect her knowledge in technology and present the information that the buyers need to make an...
more