If you wish to treat your skin blemishes with suitable shades, you would need a color collector. We bring you some of the best color collectors in our post to make your selection easier and quicker. Before that, you need to use a wheel to determine which color can hide your blemishes. It works on the principle that opposite colors on the wheel nullify each other. For example, green can help hide red pimples, while orange shaded concealers can hide dark circles of bluer tones. Sounds good, right? So before you venture out to buy a color corrector, go through our list of the most trending color protectors and make an informed decision.
17 Best Color Correctors
This professional color correcting palette has six concealers that work together to hide the problem areas on your skin. These colors, chosen to work together, can conceal discolorations and camouflage imperfections.
Pros
Lightweight formula for a smooth finish
Makes skin soft and supple
Different colors are helpful for different purposes. For example, red can be used for acne, yellow can fight dullness, purple or pink can brighten the skin, and green can cover redness.
PETA certified cruelty-free product.
Cons
Not suitable for people with dark skin tones
Could be difficult to wash off and clean
A little waxy to use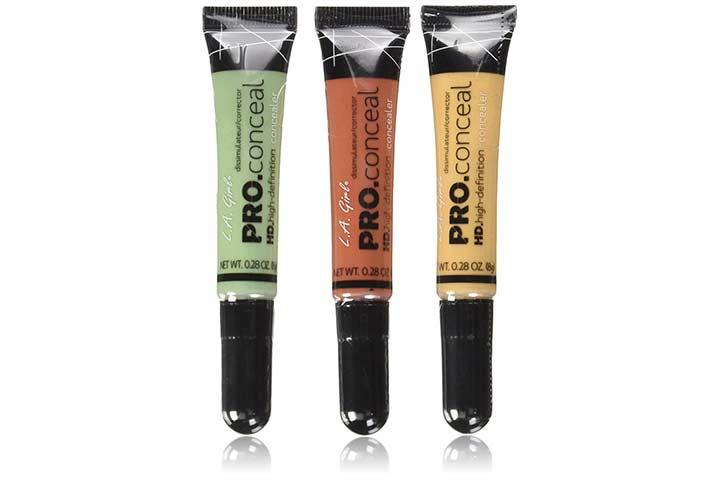 The L.A. Girl Pro Conceal Set of correctors is a crease-resistant, creamy, and lightweight textured color corrector for the skin. It is popular in the color mixture makeup industry for its ability to cover dark circles.
Pros
Long-wearing formula
Camouflages dark circles and lines under the eyes
Gives a natural-looking coverage
Evens skin tone with its opaque coverage
Cons
The concealer may not blend in well with all skin types
The colors might stain your skin
The tube might not release colors well
Colors might appear too strong
Golden Rose correct and conceal cream palettes are a complete set of concealers that are easy to blend and provide full coverage on the skin. It is best suited for sensitive skin as it leaves the skin soft and supple.
Pros
Lightweight and creamy texture
Protects skin against imperfections
Does not damage the sensitive skin around the eyes
Not tested on animals
Cons
Colors might not be the same as mentioned
The application might not be as smooth as expected
There might be uneven traces of color after application
Becca backlight targeted color corrector is a product that focuses on specific target areas of concern. The light-reflecting pearls add a subtle radiance to hide problem areas.
Pros
Papaya color to neutralize the deep blue and green colors
Gives a smooth and even complexion
Contains no parabens and talc
Blurs imperfections on the skin
Cons
Might not work well on the blue bags or dark circles under the eyes
Might not blend well with all skin tones
BECCA is an under-eye brightener with a luminescent creamy texture. It can be worn for long hours without the risk of it wearing out due to water or sweat.
Pros
Conceals dark circles or bags under the eyes
It is water-resistant
It does not settle into wrinkles or fine lines
Gives a smooth texture to the skin
Paraben-free
Cons
Might not work for people with loose skin
It might be thick and sticky
It might not smell pleasant
Sephora is a lightweight gel serum color corrector that brightens up the skin and has a unique applicator. The peach color works well for people with light skin tones and corrects a lot of skin problems, like acne, blemishes, etc.
Pros
Covers acne, blemishes
Works for light skin tone
Lightweight
Cons
Might not work on dark skin
Might not blend well with the skin
Bobbi Brown color corrector makes the skin bright and neutralizes under-eye discoloration. The product highlights your eyes by hiding the dark circles and lines around and under them.
Pros
Smooth coverage
Blends easily with the skin tone
Creamy and lightweight formula
Gives a lift to the eyes
Cons
Might crease on oily skin
May not work on the skin of older women
Suitability for dark skin tones is not clear
Pixi by Petra is a concealing cream for dark circle reduction and to enhance facial beauty. Besides minimizing the dark circles, it also nourishes the skin with its natural ingredients.
Pros
Reduces dark circles
Good for light skin tones
Waterproof and hypoallergenic
Contains vitamin C, vitamin A
Free of parabens, petroleum, phthalates, oil, and SLS
Cons
Might not give the exact color
Could make the skin look oily
May not blend well with all skin tones
These corrective colors by jane iredale are filled with natural ingredients and can be used to conceal dark eye circles and other problem areas of the skin. It camouflages dark circles, bruising, and even hyperpigmentation.
Pros
Contains tea leaf extract
Protects and calms the skin
Can reduce hyperpigmentation
Camouflages dark skin patches
Cons
Tends to dry out in less time
Might be noticeable on fair skin
The quantity might not be enough
Maybelline New York Cover Stick Concealer is a product to blemish your dark circles and skin imperfections. The product is tested by experts so that it is completely safe on the skin.
Pros
Waterproof formula
Glides smoothly and blends with the skin
Gives a natural coverage for skin
Does not clog pores
Tested by dermatologists, hypoallergenic
Cons
Might dry out soon
The colors tend to cake up soon
Might not cover completely
Bobbi Brown Corrector offers full coverage to your skin and brightens it too. It blends well in the skin and does not crease either.
Pros
Offers good coverage under the eyes
Works well for aged skin too
Does not settle into creases
Leaves a good color on the skin
Cons
The quantity may be insufficient for some
Might not stay for long
Liquid VO2 is an orange color under-eye color corrector that minimizes the dark circles on warm to medium skin tones.
Pros
Conceals dark shadows
Re-balances dark spots
Looks natural and feels weightless
Easy to use and blends well in the skin
Cons
Might be very dry
Consistency might be very runny
Very light in weight
Might not cover up dark circles
The Golden Rose concealer corrector is a product to mask any skin imperfection or bruise. It is also enriched with vitamin E to nourish the skin.
Pros
Can mask any discoloration or bruise on the skin
Can hide dark circles, correct redness
Creamy formula for easy application
Enriched with vitamin E and moisturizers
Cons
Might not work well on aged skin
Might wear out soon, and fail to give a good texture
May not necessarily become smooth on application
Temptu is a range of color correctors that are pigmented and weightless to cover all imperfections of the skin.
Pros
Gives perfect complexion to the skin
Smooth for a good coverage
Can be worn for long hours
Weightless formula
Can work for fair to dark skin tones
Cons
The formula might not blend perfectly with your skin
You may need a touch up after 12 hours
This is a product that corrects dark spots, age spots, etc. It is peach in color, gives you a good skin tone, and makes your skin look fresh and young.
Pros
Neutralizes visible dark spots, blemishes, freckles
Smoothens uneven skin tone
Lightweight, silky formula
Not tested on animals
Cons
Might not hide the dark spots completely
PuroBIO is a creamy, lightweight color corrector that hides scars and other blemishes on your skin for a finer looking skin.
Pros
Long-lasting formula
Camouflages acne, scars, redness
Gives a natural-looking and even skin tone
Fortified with apricot oil, soy oil, and vitamins that smoothen and condition the skin.
Chemical-free formula, vegan and cruelty-free too
Cons
Might not give the texture that you desire for your skin.
Amazing Cosmetics offers a creamy and pigmented corrector that works well to hide undereye discoloration.
Pros
Dual-sided corrector
Covers all spots of the face
Contains vitamin E, antioxidants
Hydrates and moisturizes skin
Never tested on animals
Cons
Might come out clumpy
The brush might be too small to use
How Does Color Correction Makeup Work?
Color correction involves covering blemishes with an appropriate hue and then lightly layering your skin with a foundation. Color correctors cover the problem areas with the appropriate color as per the color wheel. For example, when covering dark eye circles with orange or pink, apply a regular concealer over bright pigments and then tap the makeup down with a beauty blender.
Different colored concealers work for different problem areas of the skin, as described below:
Green concealer is used for redness, acne, and rosacea.In the color wheel, green is opposite red. Therefore, it is perfect for hiding any redness on your skin, be it pimples or acne scars, and giving a base for applying foundation.
Orange concealer is for dark skin tone, for dark circles under the eyes
Orange is seen opposite blue in the color wheel. If you have a darker skin tone and bluish dark circles, orange color will hide the unevenness. People with light skin tones should use peach instead of orange.
Pink concealer: for light skin toned people with dark circles under the eyes.
It comes in salmon or peach tone and is opposite blue, green, and purple on the wheel. This color corrector works best for hiding dark eye circles on lighter skin tones.
Yellow concealer: for bruises that are dark purple, dark veins, and undereye circles.
Yellow is seen opposite purple in the color wheel and hence is useful in covering any blemish that is purplish.
Purple concealer: to overcome dull complexion, for yellow skin tones
Purple, appearing opposite yellow in the color wheel, is best to remove yellow tones from your face and can be used on the spot to conceal yellow spots.
How To Choose The Best Color Correctors?
Selecting the best color corrector is a tougher task than choosing a lip shade or a nail paint. When trying to choose the best color corrector, you will be swarming in a sea of green, purple, yellow, or peach, among others, that make selecting one difficult. Here, we give you a few tips that could help you decide on the best color corrector for your needs.
1. Determine the color you need
From the color wheel, it is clear that complementary colors, any two colors that are directly opposite to each other, will cancel out. And the same goes for the color correcting makeup theory. Determine what color will suit best for your problem at hand and then choose that color corrector.
2. Find the perfect formula
By now, you have enough knowledge about what color to use for color correcting. Now you have to decide on using the type of color corrector. There are correcting sticks, liquids, and powders available in the market. Choosing the right type is as important as choosing the best corrector.
The formula for corrector depends on the texture of the skin where you will be using the corrector.
For example, use a cream or gel formula while applying products under the eye as they will blend well and be layered easily with concealer and powder. Liquid-based products work well on the rest of the face and other problem areas.
Powder-based products can look very chalky and can stick to the skin as well.
Why Trust MomJunction?
Poulami Nag is a skilled product writer and researcher who has a knack for doing in-depth analyses of beauty products to recommend the best options to her readers. She has curated this list of the best color correctors for different skin tones. Also, she has considered features such as lightweight formulation, safe ingredients, coverage, and texture to make this selection. Moreover, Poulami has included a buying guide to help you choose the right corrector.
Recommended Articles: