Coloring is a great way to encourage children's artistic abilities. However, your children may find it difficult to use paintbrushes just yet. Thus, you could give them the best colored pencils for kids to start with.
Crayons and colored pencils are a must-have for children, whether at home or school. These come in sets of primary colors, ethnic colors, and special effect colors. In this post, we bring you a selection of some high-quality colored pencils that you may get for your children to boost their creative and motor skills.
10 Best Colored Pencils For Kids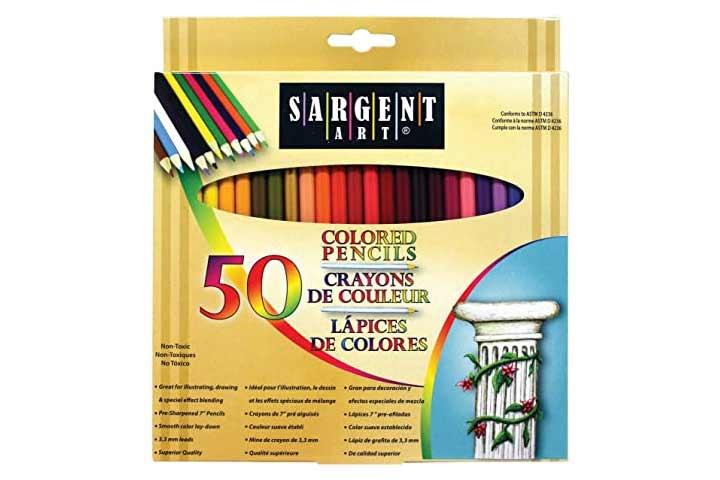 The pack of 50 assorted colors is suitable for children aged three years and above. The pencils have thick lead tips of 3.3mm diameter. The colors are subtle and nice, with a variety of shades and hues. There are 48 different shades with an extra black and white pencil. It comes in a fixed see-through window box. Check out this video to know more about this product.
Pros
Environment-friendly
Non-toxic
Pre-sharpened pencils
Ideal for illustrating and drawing purposes
Cons
May not be adequately pigmented
Some shades may be pretty similar
Your child would love these vibrant colors that could highlight details of an image in coloring and drawing books. It includes a set of 50 different colors that could be used for school assignments and home crafts. They are durable and give a long-lasting smooth finish. They are safe to color and non-toxic and are recommended for children of ages 12 and above. Before buying, have a look at this video for more details.
Pros
Ideal for DIY projects and crafts
Pre-sharpened
Smooth leads are easy to shade with
Sharpens smoothly without breaking the lead
Cons
May have similar shades
Shades like gray and grayish purples may look dull
Give your kids the Staedtler Ergosoft coloring pencil set to brighten up their coloring books. They are triangular soft lead pencils with vibrant colors. Made from wood certified by sustainable forestry, these pencils are break-proof. They come packed in a patented easel case for ease of organization and to prevent damage during transit.
Pros
Comes with a color display window
Offers a great grip
Hanging provision for the pencil box
Come sharpened
Cons
Lead may break while sharpening
Some shades are hard to differentiate
The Stabilo pencil set is suitable for drawing and painting on many surfaces apart from paper and cardboard. The woody 3-in-1 has 18 coloring pencils that can be used as watercolors and wax crayons too. The thick-shaped standard pencils allow a good grip while giving thick and soft strokes. They offer high opacity, vibrant color intensity, and are break-proof.
Pros
Kit includes a brush and a sharpener
Can be used on glass surfaces as well
Easy to remove the color from glass surfaces
Intense color on dark surfaces
Cons
Pencils may bleed when they come in contact with wetness
May stain if used on dry-erase board
This is one of the best colored pencils set for kids that enables drawing, painting, shading, and sketching. The 24 different colors provide an extra-smooth finish, are easy to blend, and give a good grip. They are break-resistant, smudge-free, and save time needed to sharpen them often. Black barrel packaging and a silver lining make this set an ideal gift for kids.
Pros
High-quality refills prevent breakage
Suitable for professionals
Offers great coverage
30-day refund guarantee
Cons
May get dull quickly
Certain shades may look alike
The range of 24 colors in Faber-Castell's eco pencils is suitable for everyday drawings and coloring books. The triangular-shaped pencils are easy to hold and give better control. The vibrant and specially formulated colors provide a smooth finish and do not flake. The wooden barrel made from reforested wood makes these coloring pencils break-resistant and more accessible to sharp. They are recommended for children aged over five years.
Pros
Dual display windows
Non-toxic
Prevents hand fatigue
Conforms to ASTM standards
Cons
May not be easy to sharpen
May have limited shades
Another set of Faber-Castell colored pencils for kids that come with skin tone and traditional color shades, these allow your kid to create illustrations, portraits, and more. The set contains 12 colored pencils, three super-soft portrait coloring pencils, and a grip trio sharpener.  Made of wood certified from sustainable forestry, these eco pencils have break-resistant leads, are easy to sharpen, and last long.
Pros
Made of graphite material
Comes in ready-to-use pieces
Sharpener sharpens smoothly
Available in 12, 27, 40, and 300 counts
Cons
Blending colors may not be easy
May be hard to find the right shade
The Roseart set of mini colored pencils could be an ideal set for home and school. Your kids would love these easy-to-hold miniature pencils that measure 3.5 inches long and give quality art. The non-toxic, durable and quality guaranteed product will not break with pressure or fall, making them long-lasting.
Pros
Pre-sharpened
Suitable for detailed line work and coloring
See-through window
Available in 12 and 24 counts
Cons
May only have basic colors
Lead may break easily
The Crayola colored pencils are the best colored pencils for beginners and suitable for classroom and group drawing projects. It is a set of 12 vibrant and bold crayon-length pencils that are pre-sharpened. It is recommended for children up to eight years of age. They are art-quality pencils, and their wide barrel makes them easy to grasp by little hands.
Pros
ACMI-certified
Round-shaped pencils
Compact size for easy storage
Provides break-free drawing
Cons
May be too small for some
May be difficult to sharpen
Give your kid a colorful surprise with this set of ten magical kaleidoscope pencils. These 5-in-1 multi-colored pencils would bring fun to any piece of drawing or art your child creates. Every stroke of these pencils gives a magical feel when the child sketches with them. The pencil barrels are thick and hexagonal for a comfortable hold and will not roll away.
Pros
Offer adequate coverage
Blending colors is easy
Vibrant colors
Do not break while sharpening
Cons
Compatible with large-barrel sharpeners
May be slightly thick
How To Choose the Right Colored Pencils For Children?
There are many types of colored pencils available but picking the right one could help your artistic child. Some tips that might be helpful are listed below:
Oil-based over wax pencils: Oil-based coloring pencils are vibrant, soft, give bright color, and easier to work.
Thick pencils: Thicker pencils are easy to hold and are better for little hands. Also, at the beginners' stage, it is good to start with thick pencils.
Short pencils: Consider shorter pencils, which are the size of your kids' fingers or smaller as they are easier to control between the thumb and index finger.
Bright and dark colors: Colors that are bright or dark are better than soft colors. Your children would be fascinated to see what they are coloring or drawing.
Triangular pencils: They encourage a solid tripod grasp. The three fingers hold the three sides of the pencil.
Why Trust MomJunction?
Wedetso Chirhah is knowledgeable about kids' products, household items, and books. After researching and comparing several online products, he collated the names of the best colored pencils for kids. These pencils are sure to please the artist in every child. Wedetso discussed their specifications, such as the number of shades, the vibrancy of colors, opacity, and more. He also provided a buying guide talking about important factors to consider when choosing the right color pencils for your child.
Recommended Articles: