Computer microphones have become a modern necessity. Whether you are chatting via Skype, making your podcasts, or recording music, or attending web meetings, you need a good quality computer microphone. Standalone computer microphones are best if you are looking to record conversations between people, make your podcast or radio show.
They help improve the sound quality of your video chats, recorded music, podcasts, YouTube streaming, and radio broadcasting via Skype. But how do you choose a high-quality microphone with many choices on the market? Check our list of the 15 best computer microphones and pick one you could use at home or office.
15 Best Computer Microphones To Buy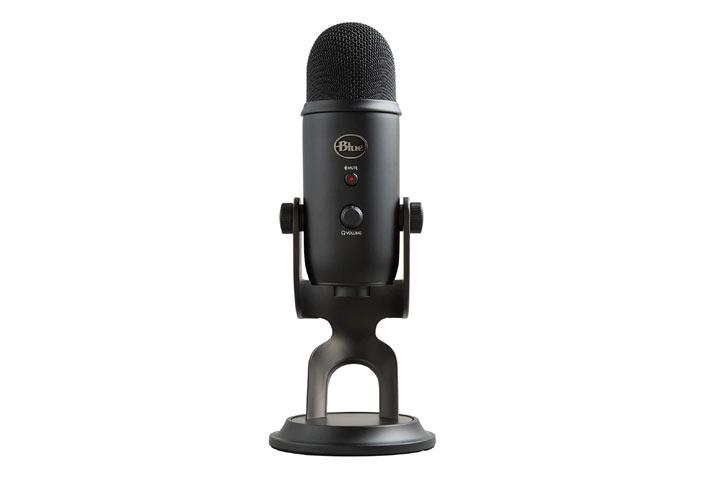 If you are looking for a USB microphone for streaming or recording, Blue Yeti'sthree-capsule array with four pickup modes is a good choice. This microphone allows you to control the volume and headphone output and is a simple plug-and-play device with original and clear sound quality. The device is perfect for recording music, YouTube videos, podcasts, Twitch streaming, and even live recordings.
It comes with a built-in 3.5mm jack and a one-click button to switch between cardioid, Omni-directional, bi-directional, and stereo mode. The microphone has a frequency response of 20HZ to 20kHZ and is compatible with Windows 7, 8.1, and 10, Mac OS 10.10 and higher.
Pros
Four pickup patterns
Simple dial control
Two-year manufacturer warranty
Mic gain control
Records sound from any direction
Zero-latency
Records directly to your PC or Mac
Cons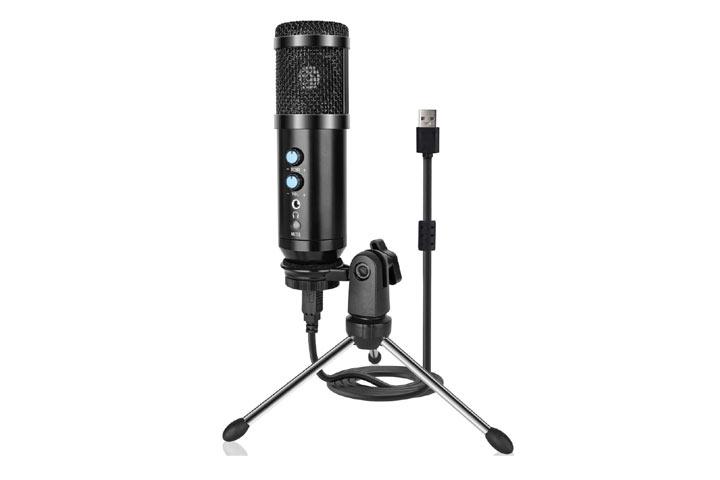 Fifine K669B is a simple plug-and-play USB recording microphone, suitable for dubbing, streaming media broadcasting, laptops, Mac Windows cardioid studio recording vocals, and YouTube videos. The condenser microphone has a sturdy metal body and a tripod stand. It is sensitive and delivers loud and clear output. The device can filter out background noise and save your video recording files for later editing and uploading.
Pros
No driver installation required
Adjustable pivot mount
Volume adjustment
Fool-proof USB installation
Compact size
Cons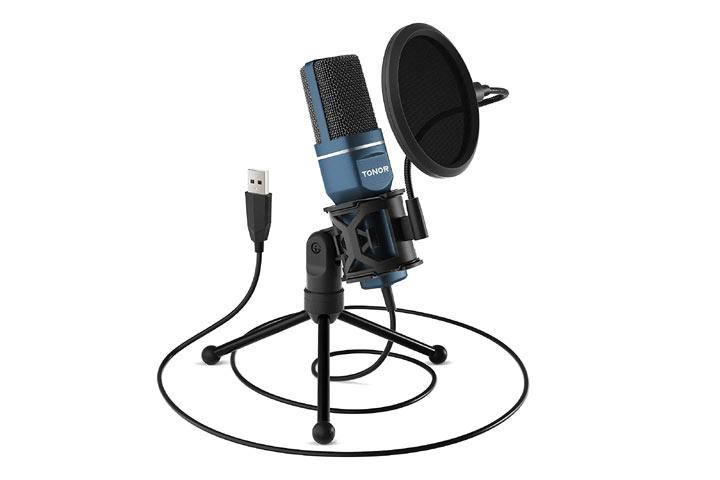 Tonor TC-777 condenser microphone has a USB 2.0 data port. The device can be installed without additional drivers and is compatible with laptops, iMacs, and desktops. The microphone is suitable for playing multiplayer games and distance learning sessions.
The microphone captures clear sound through its cardioid pickup pattern and uses a pop-up filter to leave background sounds. The tripod can be easily folded for storage.
Pros
Foldable mic tripod, easy to store
Versatile
Easy to install
Includes a shock mount
High-quality cardioid mic capsule
Cons
May not be compatible with Phones, iPad, and Xbox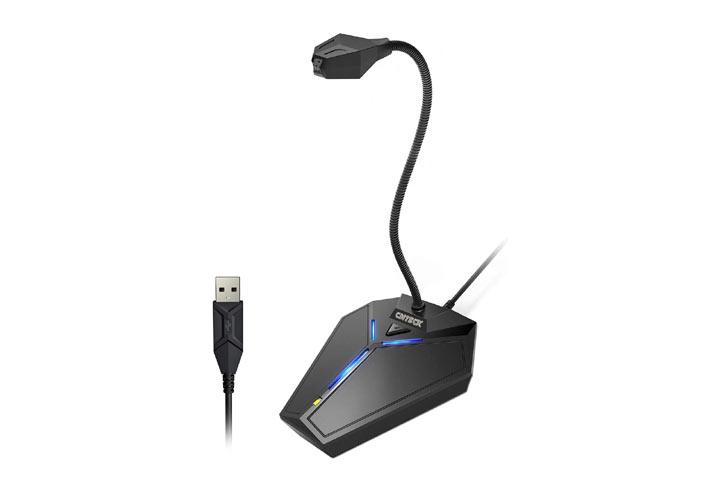 CMTECK offers a condenser microphone for laptops and PCs, compatible with Windows/Mac and suitable for YouTube, Skype, recording, games, etc. The device provides clear sound for smoothly recording vocals, podcasts, and chats with its built-in sound card. The adjustable neck is convenient, and the microphone does not require a driver. CMTECK microphone has a quick mute/unmute button and a smart chip that eliminates echo and surround sound.
Pros
LED lights design
Plug and play
Portable
Compact
Smooth recording
Omni-directional
Cons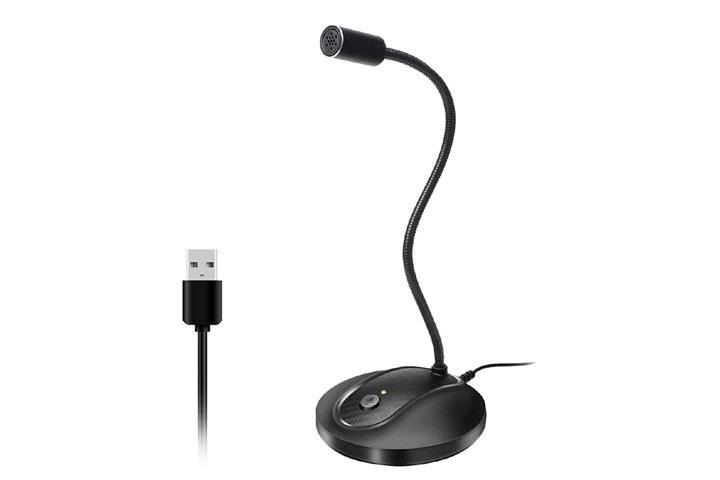 The Jounivo USB microphone uses a 360-degree metal gooseneck design with high sensitivity. The device is constructed with Intelligent Noise Cancellation technology, reducing background noise and echo, making your voice clear, with excellent sound quality. The microphone is compatible with Windows (7, 8, and 10) and Mac OS. It is equipped with a heavy-duty ABS stand and comes with a 30-day full refund policy.
Pros
Plug-and-play
Mute button
Omnidirectional
LED indicator
24 months warranty
Cons
May not be compatible with Android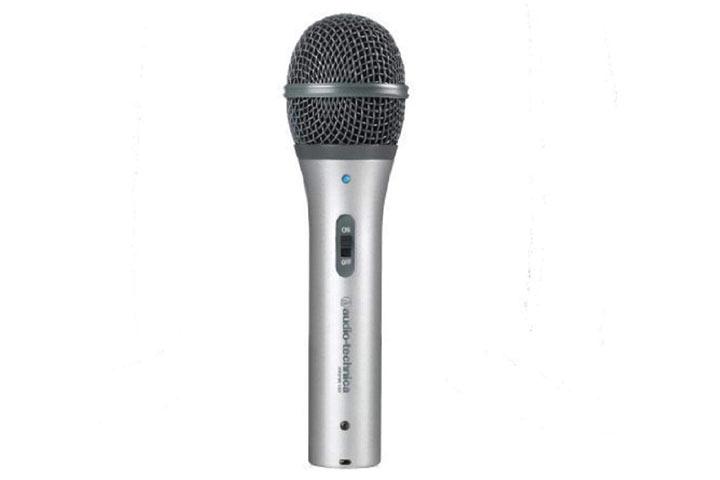 The ATR2100-USB is a handheld microphone with a USB output for digital recordings and an XLR output connected to the standard microphone input of any sound system. The microphone can be used for live performances and home studio recording, live recording, dubbing, and podcasting.
It has a high-quality analog-to-digital converter and an output level controller. The cardioid polar pattern minimizes surrounding noise from the rear and sides. The system is compatible with Windows and Mac. It comes with a tripod stand with foldable legs and a threaded stand clamp for stability.
The on/off switch works for both analog and USB operation.
Pros
Adjustable headphone volume
USB and XLR cables included
Built-in headphone jack
Extended frequency response
Durable metal construction
Cons
May need to hold it when speaking, for clarity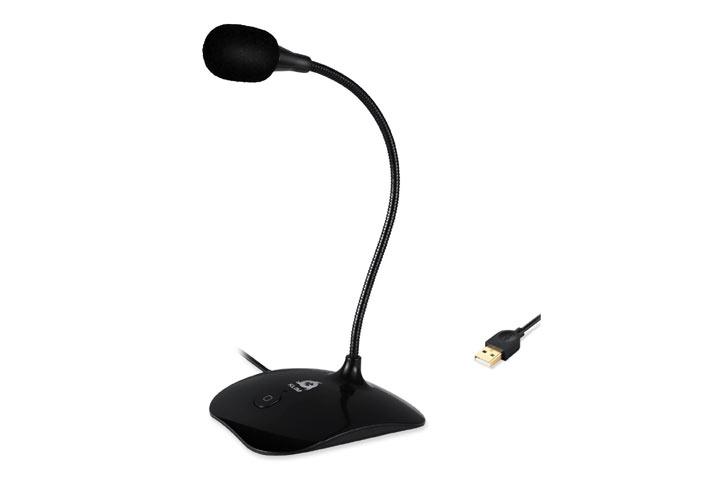 This desktop microphone provides excellent audio quality at an affordable price. It has a simple and elegant design and can be installed without drivers. It comes with a patented filter that only captures your voice and suppresses surround sound. The microphone includes an anti-pop filter and is an efficient plug-and-play device.
It has an on/off button at the bottom and is suitable for Zoom conferences, recording podcasts, or video chatting with family and friends. This USB microphone is compatible with PC, PS4, Mac, and Switch.
Pros
Stable and durable
Lightweight
Scratch-proof matte finish
Easy to clean
Includes removable foam filter
Cons
May have low audio output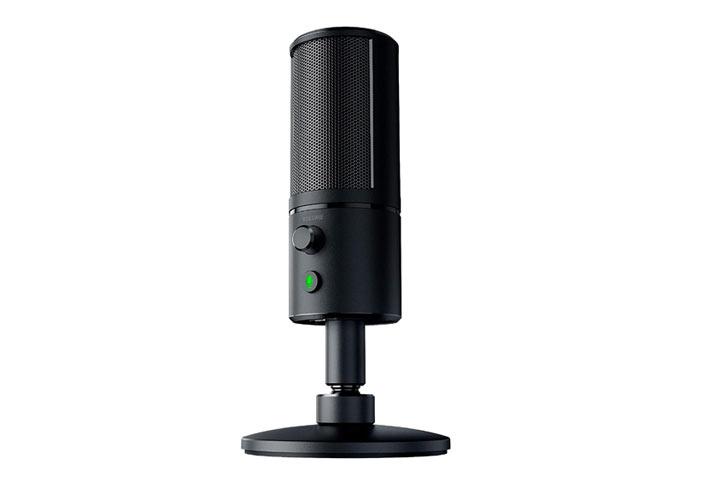 Razer Seirēn X is smaller than other USB microphones, making it a light, portable and, comfortable travel companion. This microphone significantly improves the quality of the audio stream, and its excellent filtering function blocks noise. It also has a built-in shock mount to minimize vibration. It has a stylish structure, making it perfectly suitable for any game setting. The polar pattern of the super-cardioid pickup can record sound at a narrower angle.
Pros
Ultra-precise pickup pattern
Shock -Resistant
Compact form factor
Digital/Analog Vocal Limiter
Built-in high-pass Filter
Zero-latency
Cons
May not work with Xbox
May be difficult to adjust settings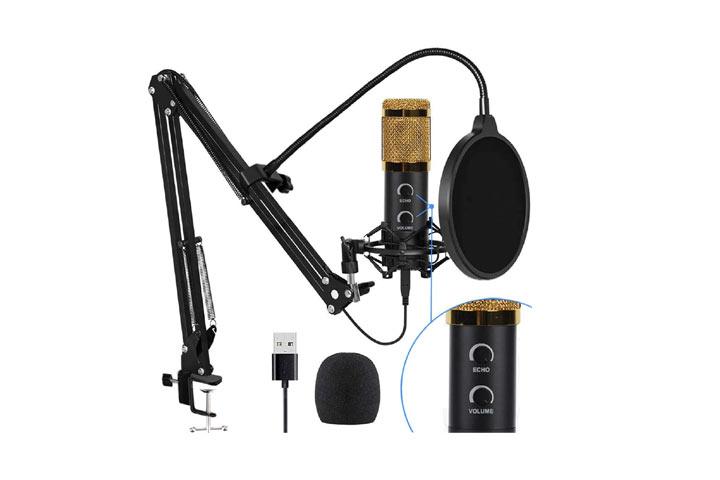 Bonke USB condenser microphone is a simple plug-and-play device. The device comes with a scissor arm stand, a shock mount, a pop-up filter, windshield foam, table mounting clips, and a USB cable. Bonke microphone can be connected to a Mac or Windows computer and does not require software installation. A professional sound chipset is installed to provide clear sound. The arm is made of durable steel and can be adjusted at any angle and height.
Pros
Bendable standing bar
360° wide adjustment range
Includes soundproof cotton
Shock mount included
Cuts out background sound
No installation required
Cons
Cannot stand on its own– needs to be clipped to the table or a stand
May not be compatible with Xbox and Cellphone ends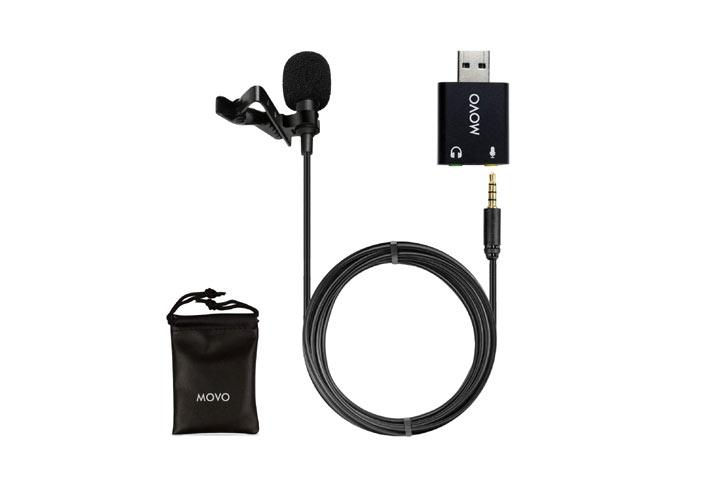 Movo M1 Lavalier can be directly plugged into a computer's USB port. A simple plug-and-use device is suitable for people who want to broadcast or record audio. This microphone has a high-quality electret condenser to capture clear audio and a windscreen that reduces background noise.
Slim design and a 20-foot long cable allow easy maneuverability. This microphone has a sensitivity of -30 dB +/- 3 dB and is perfect for podcasts, field reporting, church speakers, live streaming, or any situation that requires a quick set up for recording.
Pros
USB Plug-and-play for PC and Mac
Omni-directional pickup pattern
Includes aluminum lapel clip and two foam windscreens
One-year warranty
Cons
May be more suitable for phones than computers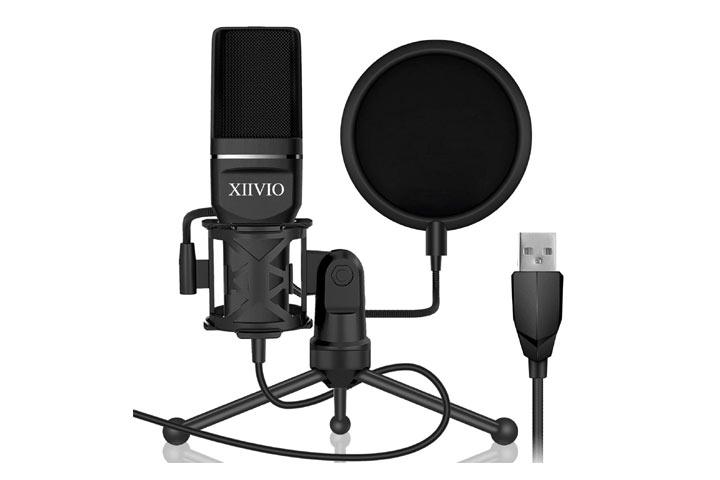 The XIIVIO computer microphone is compact and detachable. It is easy to install and suitable for broadcasting, playing musical instruments, podcasts, recordings, interviews, video conferences, games, and online chats. It has a frequency response of 20Hz-20KHz and a pro-grade condenser microphone that provides sound clarity. A 360-degree flexible gooseneck allows you to adjust the mic to any angle or position and a double nylon net wind screen pop shield filter helps remove plopping and plosion.
Pros
Plug and play
Quality materials
High-speed USB cable
Extended frequency response
12-month limited warranty
Cons
Mic should be held close to the mouth when speaking
May not be compatible with phones and Xbox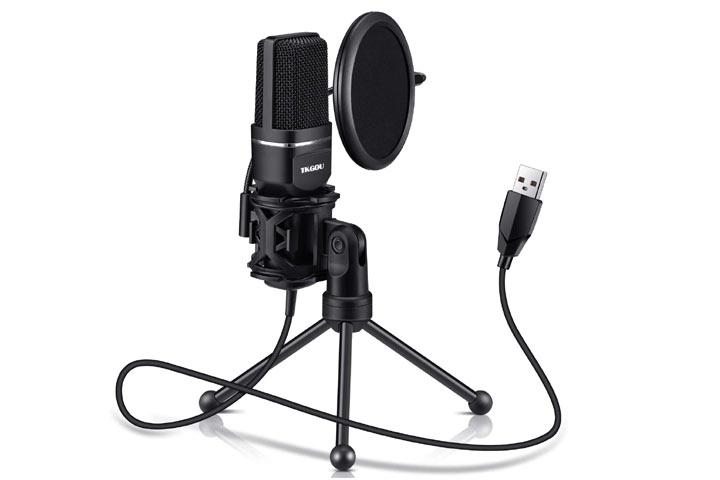 The TKGOU USB microphone is an excellent accessory for recording music or songs and podcasting. It can be easily installed on a PC or Mac. Its frequency is 20Hz-20KHz, which can produce a clear sound. The cardioid directivity eliminates static sound and isolates the sound source. The device is equipped with an adjustable pop-up filter and shock absorber, which can be unscrewed and connected to any boom bracket with a 5/8″ threaded insert.
Pros
Easy to use
Good sound quality
Includes a foldable tripod stand
Double-layer mesh screen
Plug and play
Cons
May not be compatible with Phones, iPad, and Xbox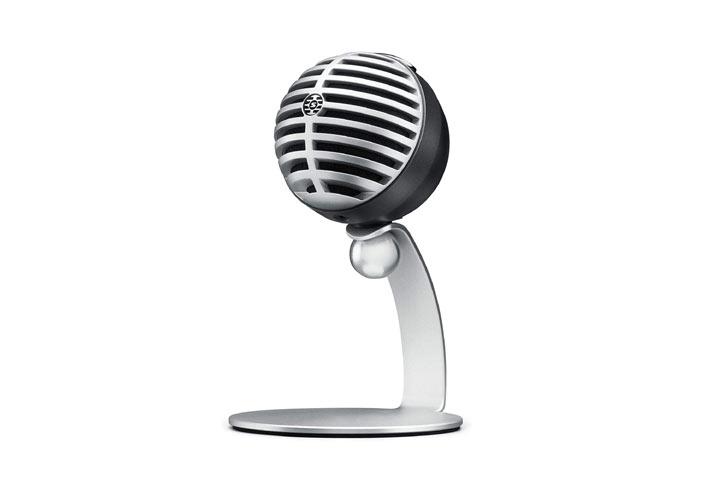 Digital condenser microphones are used to record high-quality audio. The ShurePlus MOTIV application supports Shure MV5 microphones, achieving excellent mixing effects on the iOS platform. The kit includes a headphone output for monitoring audio and three DSP presets for adjusting tweak gain. It has a custom tuning capsule with volume control and a mute button. The integrated ¼-inch threaded mount can be paired with any standard camera tripod. The condenser microphone is compatible with iOS, Android, Mac, and PC.
Pros
Includes a desktop stand
Angle-adjustable stand
Zero-latency
Low-profile design
Cons
Better quality when supported by the app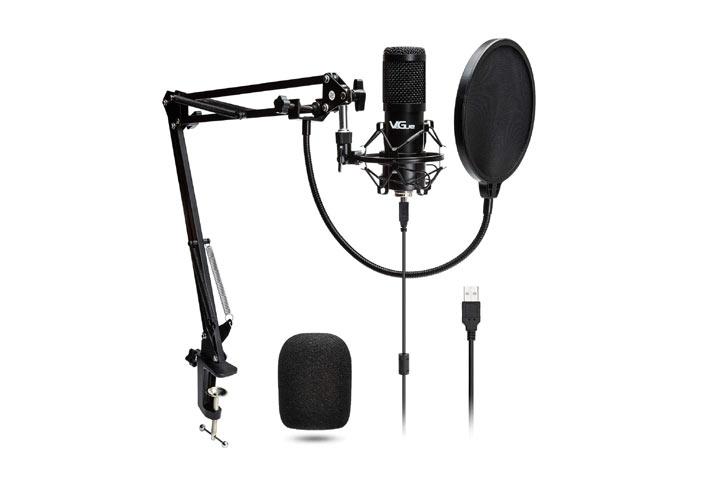 VeGeu computer microphones can be easily connected to Mac OS, Linux, Chrome OS, or Windows via A and B USB cables. It has a cardioid condenser capsule, which enables the microphone to capture original sound, and its built-in soundproof cotton can eliminate noise.
The microphone is equipped with a professional sound chipset, a large 16mm diaphragm, and a frequency response from 20Hz to 20KHz, which perfectly combines extended dynamic range, clarity, and high SPL capability. VeGeu microphones are ideal for podcasting, live streaming, gaming, music/video recording, and online chatting.
Pros
Plug and play
Durable
Pop filter blocks pops and static
Adjustable arm set
Includes a shock mount
Cons
Not compatible with Xbox and PS4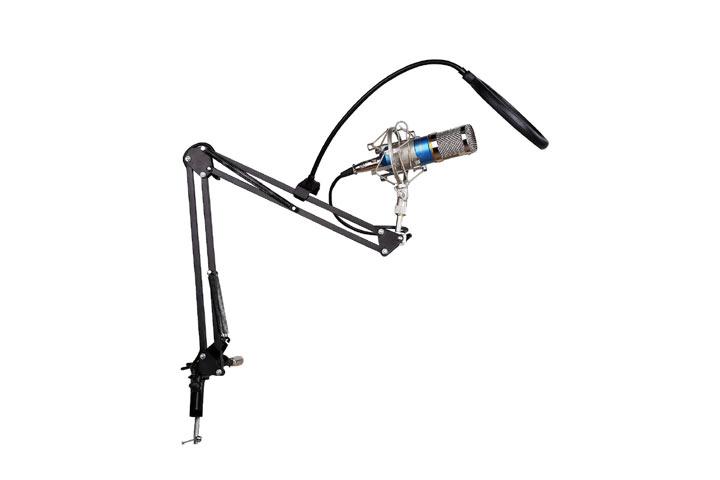 The Floureon BM-800 microphone can only be used with equipment that uses a 48V phantom power adapter to provide sufficient power. Additional gear or a 48-volt amplifier can provide rich and clear sound quality. This unidirectional cardioid condenser microphone can isolate the real voice or sound and eliminate the back-end sound.
It is suitable for broadcasting, studio recording, dubbing, and for home recording studios as well. The microphone has a three-meter-long, 3.5-inch plug-in audio interface and a sturdy body made of zinc alloy and steel. It has a frequency response of 20Hz-20kHz, which is ideal for beginners.
Pros
Cheaper price than average
Work with XLRs analog circuit for amazing results
Reduce handling noises
Best for basic use
Anti-wind cap cover to achieve clear sound quality
Includes a shock mount
Cons
Complicated
Need extra gear or audio interface
Not easy to install
How To Choose The Right Computer Microphones?
Here are some points to consider when choosing a computer microphone.
Types: There are three microphone types to choose from. Dynamic microphones are a reasonable choice for streaming. They are best for recording loud voices or sounds. In a controlled environment, condenser microphones work better because game streaming and podcasts require high audio quality. The ribbon microphone is a hidden gem in capturing high-frequency sounds.
Compatibility: The first thing you need to check is the microphone's compatibility with your gaming PC or device you want to connect. Choose a microphone that has broad system compatibility.
Latency: The zero-latency microphone is the best to avoid delayed sound or echo and bring you a real-time recording experience.
Microphone gain: This function allows you to adjust the microphone sensitivity. Choose a microphone with high gain control if you have a loud sound source or streaming a game.
Frequency response: Choose a microphone with an extended frequency response (e.g.,20Hz-20kHz.)for consistent audio.The higher the frequency range, the better the microphone.
Microphone direction: There are unidirectional, bidirectional, and omnidirectional microphones. If you record your voice, unidirectional microphones will be fine. Bidirectional or omnidirectional microphones are useful if you are recording in a controlled environment.
Accessories: Filters, acoustic panels, and different types of mounts can help improve sound quality.
When searching for a microphone for a gaming PC or recordings, you must ensure that its appearance and functionality meet your requirements. If you are a frequent traveler, choose an easy-to-carry microphone. If you are unsure about which brand to buy, it is best to choose a brand that offers a return policy. Read reviews and find your real voice through our 15 best computer microphones recommended above.
Recommended Articles: