Whether you want a glamorous look or beautiful eyes, an eyeshadow palette can add shine to your eyes and become a must-have in your makeup bag. Cool-toned eyeshadows are perfect for ladies with cool-toned complexions. They make exciting everyday wear for people with a blue tinge in their veins and give them a bright appearance.
However, with so many options on the market, determining which shade is best for your skin tone or eye color may not be as easy as it seems. In this post, we have rounded up the 11 best cool-toned eyeshadow palettes that make a worthwhile investment.

Top Products From Our List
11 Best Cool Toned Eyeshadow Palettes

This is a high-quality eyeshadow palette that is a versatile combination of mattes and satin to metallic and shimmer. The cruelty-free product certified by PETA features 16 highly pigmented shades that add beautiful color to your eyelids.

Whether it's a simple office look or a gorgeous party look, this cool-toned eyeshadow palette has an impressive collection of 12 highly pigmented shades, ranging from super wearable nudes to bolder neons. It comes with a magnetic case, a mirror, and a double-ended eye shadow applicator. With smooth matte and dimensional shimmers, L.A. Girl Beauty Eyeshadow makes a complete beauty product to add to your makeup collection.

The Covergirl Trunaked eyeshadow palette offers a remarkable range of neutral shades to achieve a perfect naked eye look. It comes with eight highly pigmented shades, including matte, shimmer, and glitter shadows. You can mix them to create cool colors and turn a regular-day makeup look into a splendid party makeup look.

Norvina Eyeshadow Palette features 14 shades ranging from bright and bold mattes to soft pastel metallics. The product includes seven metallic eyeshadows, seven matte finishes, a double-sided makeup brush, and a large mirror built into a luxurious travel-friendly package.

Ucanbe provides a combination of 15 shades in a vivid variety of highly pigmented matte, rich metallic foils, and shimmers. The brown eyeshadow palette is a perfect balance between cool and warm tones and features neutral shades and unexpected pops.

The eyeshadow palette containing 14 long-lasting and highly pigmented shades is one of the best eyeshadow palettes for brown eyes. It includes 11 soft and smooth mattes, two duo-chromes, and one creamy metallic. The 100% vegan-friendly and cruelty-free product is formulated to last long with minimum creasing and fallout.

AmoVee features 48 shades with pop colors suitable for different occasions. The highly pigmented shades with a combination of long-lasting vibrant colors are water- and sweat-resistant. The product comes with seven pieces of makeup brushes and a mirror.

This palette by PYT Beauty includes four matte cool neutral shades and four bold shimmer metallics, making it one of the best cool-toned eyeshadow palettes in a compact size. These easy-to-blend shades are rich in vitamin E and made from cruelty-free, hypoallergenic, and vegan colors. You don't have to worry about smudging or fallout.

This eyeshadow palette consists of nine cool-toned and nine warm-toned shades with a combination of vibrant and neutral colors. The cruelty-free vegan cosmetic does not contain parabens, triclosan, etc. The luxurious formula is highly pigmented, has a smooth and creamy texture, and is easy to blend. It is suitable for all skin types and skin tones.

Feverish eyeshadow palette is a professional formulation with 14 cool- and neutral-toned eyeshadow shades suitable for any skin tone. The palette is a combination of metallic and matte finishes and can be used in dry and wet forms. The product comes in a glamorous golden glitter packaging, which is convenient for travel.


Rude offers 21 cool toned eye shadows in a shimmer finish. With its long-lasting blending formula, your eye makeup will require a minimal touch-up. Each eye shadow produces an intense color payoff. The eye makeup is made of harmless and safe ingredients and has passed PETA certification.
How To Select The Right Cool Toned Eyeshadow Palettes?
Before purchasing the right cool-toned eyeshadow palette, you must consider the following factors:
Colors with wearability: Usually, every palette will have some colors that you would not use. Therefore, you must always match a palette with the colors that you will use.
Balance of tones: The ideal eyeshadow palette is a balance between dark, medium, and light tones so that you can make the most of the shades.
Pigmentation: Always choose shades with high pigmentation to avoid touch up.
Size: According to your makeup needs, you can select a suitable size. If you use eyeshadow every day, then it is recommended that you choose a bigger size.
Frequently Asked Questions
How long does an eyeshadow palette last?
Although you can use the eyeshadow palette for about two years, it is recommended to replace them after one year of use for hygiene reasons.
How should I clean the eyeshadow palette?
To clean the shadow residue around the border, you can use makeup wipes to wipe off the edges. If you need to clean the actual shadow, you can gently scrape the top layer and then use a mascara wand and dust off the dirty layer.
Eyes are the most attractive and noticeable feature of the face. These eyeshadow palettes have all the shades necessary to create a natural eye makeup effect. You can mix and match them to create several eye makeup looks. Choosing the best eye shadow palette is essential to achieve a perfect look. Browse our list of the 11 best cool eye shadow palettes in 2021 for a flawless look.
Recommended Articles:
The following two tabs change content below.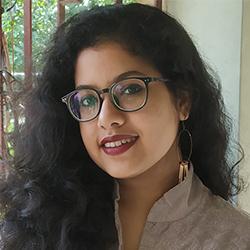 Poulami Nag
Poulami Nag is a writer and associate editor at MomJunction. She did her MA in English from Miranda House, University of Delhi and has qualified UGC-NET. Her journey as a content writer began in 2017 and since then she has garnered diverse interests along the way. Her knowledge of literature and language has given her an eye for detail and...
more