Whether you are a home cook or a professional baker/chef, a cooling rack is a vital piece of equipment you must invest in. It helps cool down your baked goods faster and evenly without creating hotspots. This handy tool keeps the food elevated from a solid surface, which increases airflow, and speeds up the cooling down process. Though this rack is primarily designed to cool baked goods, it can do much more than that. This versatile tool can help with roasting chicken or steak in the oven. Since it keeps the food slightly raised from the baking pan, it allows air to circulate throughout, cooking food quickly with uniform browning.
Now you never have to worry about your crispy chicken turning soggy or delicious cookies over baking in a pan. Check out our list of the 13 best cooling racks and pick one or more based on your needs.

Top Products From Our List
13 Best Cooling Racks Of 2021

One of the best cooling racks for cookies and cakes, this tool comes with 6 1-inch high sturdy raised feet that provide excellent air circulation all around, allowing your baked treats to cool down quickly and evenly. Made of 304-grade stainless steel, this rack is well-built, durable, and won't rust. It features mesh design with small grid holes that prevent small and delicate food items from falling through and 3 bars at the base that can support heavy foods without bending. At 11.5 x 16.6 inches, this rack can comfortably fit a half cookie sheet that measures 13 x 18 inches. It is oven-safe up to 575°F, dishwasher-safe, and non-toxic.

Do you love to bake large batches of cookies, but don't have enough space to cool them? Not to worry! We present to you a collapsible cookie cooling rack that can fit up to 3 dozen cookies at once while keeping your kitchen counter clutter-free. Featuring 3 black metal racks stacked above one another, this equipment also offers enough space for cooling cupcakes, pies, and other desserts. When not in use, it can be folded to a compact size for secure storage. It measures 10 x 16 inches when assembled and wholly expanded.

If you do a lot of baking, getting a wired rack such as this one, which is ideal for cooling baked desserts and is oven safe, is a good option. This baking/cooling rack features a durable steel wire design that enhances airflow, while the PFOA-free, non-stick finish ensures effortless release of food and easy cleanup. It can tolerate temperatures as high as 450°F and fits half-sheet pans perfectly. The best thing about this rack is that it comes with large handles for transferring or removing the rack from the oven conveniently.

With its innovative vertical design, this cooling rack by Betty Crocker takes only a square foot of countertop space while cooling a large number of perfect baked delicacies. This 3-tier model is made of steel and features a wire grid design that helps cool your baked treats faster while the non-stick coating makes cleanup a breeze. The super sturdy grid construction combined with the included extra arm (that can be folded up and locked into place) offers additional support, making the rack capable of holding heavy pies and cakes. It is dishwasher-safe and can be folded down flat for easy storage.

Whether you want to cool cakes, pies, and cookies or roast vegetables and make crispy bacon in the oven, you can do it all with the help of this metal cooling rack. It keeps the food elevated from the baking sheet or pan, allowing maximum air circulation so that your food cools down right or cooks well.  This 6-inch round rack is constructed with chrome-plated steel wire (3.6 mm), making it ultra-strong and durable and features raised feet for added stability. It is rust-resistant, does not scratch surfaces, and is oven safe up to 500°F. This product is recommended to be hand-washed with warm water and mild soap.

When you have limited counter space in your kitchen, it can get challenging to cool large batches of baked sweet treats. That's why you need a space-saving rack shelf such as this one. This 4-tiered shelf also referred to as a bread cooling rack, is designed to hold baking sheets, muffin tins, and pizza stones. When opened, it measures 13 inches in height and can accommodate several pans at once. Made of powder-coated steel, this sleek black tool is heat-resistant, which means you can directly place a hot baking sheet or pan on it and not worry about the material melting or warping. Lightweight and compact, it is easy to assemble and can be folded flat for a convenient storage solution. In addition to cooling multiple batches of baked items, this rack can also be used to air dry craft projects.

From the makers of some of the best cookware and bakeware products comes this 2-piece set that includes a cooling rack and a baking sheet. The wire rack is made of high-quality non-stick material for durability and sturdiness and features 6 raised feet to prevent skidding and wobbling. This cooling/baking rack comes with a chocolate-colored baking pan constructed from heavy gauge steel and features a non-stick coating that ensures quick and smooth release of food and can withstand the constant use of metal utensils. Measuring 10 x 15 inches, it accommodates the rack correctly and includes wide handles that offer a comfortable grip. Both the pan and the rack are oven safe up to 450°F and recommended to be hand-washed.

Excellent addition to any kitchen, this rack is ideal for cooling, baking, or grilling food. This stainless steel canning/cooling rack features right-sized grid gaps that allow plenty of airflow and even heat distribution while preventing small food items from falling through. Featuring sturdy 3-feet high legs, you won't have to worry about the rack wobbling or shifting during the cooking process. Plus, the smooth surface of the feet won't cause scratches on any pan. It is durable, resistant to rust, and is capable of withstanding extremely high heat (1470°F).

If you are a home baker, whipping up batches and batches of cakes and cookies as part of your job is normal. But if space constraint is an issue, we have a solution for that – a stackable cooling rack. This set includes 3 racks that can be used individually or stacked on top of one other. Made of 304-grade stainless steel sans coating or plating, it is rust-resistant and will last you a long time. In addition to cooling many small and large baked delicacies by allowing sufficient airflow, it is also safe to use in the oven. It prevents sticking and releases food without a hassle, making cleanup easier (dishwasher-safe). Plus, its collapsible design offers convenient storage.

E-far kitchenware set is a 2-piece cooling rack constructed from good-quality stainless steel that features tightly welded thick wires and four 0.75-inch raised feet. That sturdy material resists warping, while the stable feet allow for excellent air circulation and faster baking or cooling time.  Each rack measures 16.5 x 11.5 inches, which means they can fit inside most half sheet pans. While the mirror finishing of the racks ensures easy food release, the smooth rounded edges prevent snagging and scratching. It is non-toxic, oven-safe, and dishwasher-friendly.

For professional bakers, 1 or 2 cooling racks are never enough. That said, the more cooling racks you have, the more cluttered the counter space may look. If you want to make and cool multiple batches of delicate cakes and cookies at the same time, this P&P CHEF stackable rack is an ideal choice for you. In this package, you get 5 cooling racks that provide 4 stackable combinations. However, they can be used individually as well, whether fully opened or folded. They are made of durable and rust-resistant stainless steel and include 3.5-inch elevated feet and equidistant wires that offer optimal airflow while baking or cooling. It features smooth edges that do not scratch and tightly and solidly welded wires for sturdiness. This mirror-finished rack is oven-safe, dishwasher-safe, and can be folded down easily. Each rack measures 15 x 10.2 inches and fits inside 16-inch or larger baking pans.

Made of carbon steel metal, these Kingrol cooling racks are long-lasting, robust, and non-stick. Both racks have a crosswire mesh grid design that provides stability and can hold even the smallest of desserts, and you do not have to worry about them slipping through the slats. Each rack measures 17¼  x 11¾ inches and features 2 sets of 2 legs that elevate the rack 2 inches off any surface. You can stack them or use them individually based on your preference. Do remember to hand wash them and dry thoroughly before and after every use.

Tired of seeing the edges of your freshly baked cakes and cookies turning soft and mushy once they come to room temperature? Then invest in a high-quality cooling rack if you want to cool down your baked goods the right way. The set that includes 2 racks allows air to circulate the hot food, releasing steam faster and preventing condensation. The racks are made of a non-stick material that prevents sticking and ensures smooth release of food. Moreover, each rack can hold around 2 dozen cookies. Lightweight and small, these racks are dishwasher-safe and easy to store.
Given below are a few factors to consider when buying a cooling rack. 
How To Choose The Right Cooling Rack
Material: Cooling racks are generally made of chrome-plated metal, stainless steel, or carbon steel, all of which are durable and safe to use. At the same time, you also need to ensure that the racks are non-stick coated for easy cleanup and easy to wash in a dishwasher. Before you purchase a cooling rack it is essential that you understand the properties of each material and pick one that best suits your requirements.
Rack size: The size of the cooling rack varies depending on the space on your kitchen counter and the size of your baking pan. If you want to use the rack for baking or grilling purposes, make sure that it is compatible with the baking sheet you would be using. If you have limited kitchen space or want something that can hold large amounts of food, you could opt for collapsible or stackable racks.
Grid size: Most cooling racks are designed with strong metal wires running perpendicular to each other and intersecting each other to form a grid pattern. This type of construction is capable of withstanding high heat and heavy and large food items.
If you are on the hunt for a brand new cooling rack or want to replace your old, warped one, you are sure to find something that will suit your needs and preferences, from our list of the 13 best cooling racks. They are a must-have whether you bake a lot or only occasionally. The best things about these tools are that they are highly efficient and budget-friendly.
Recommended Articles:  
The following two tabs change content below.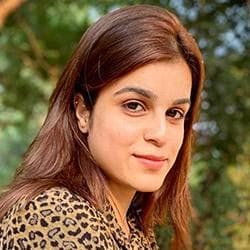 Sakshi John
Sakshi did her graduation in Journalism from the Madras Christian College, Chennai, before starting her career as a freelance writer. She is into blog writing and for MomJunction, she covers various topics, including products to buy for your kitchen, furniture, and other home requirements. Previously, she interned as a content writer in a cyber security firm. As a content writer, Sakshi...
more