If you are a fitness freak, you would know the importance of a quick and effective cool down. Whether it is after a workout or any intense outdoor activity, especially during summers, your body requires a long and cool wind down. That's where a cooling towel comes handy! These ice towels offer an easy way to lower the body temperature and cool off quickly. Simply soak them in water, wring out the excess, and snap them a few times in the air. These towels are now ready to use and will provide an icy cool effect on your neck, head, or wherever you place them. If you enjoy hiking, are a passionate runner, or if you mainly work outdoors, this product is a must have! They also come in handy to lower body temperature in the event of any fever/hot flashes or provide cold therapy for post-surgery recovery.
There are many types of cooling towels available in the market designed specifically for different types of outdoor activities. They are made of different fabrics and offer various other features apart from cooling effect. So, how would you choose the right one? Don't worry, here are 11 best cooling towels that will help you to pick the perfect one.
Top Products From Our List
11 Best Cooling Towels
This chilly pad from Froggtoggs is an innovative way to cool down. Made from hyper-evaporative material that retains water and remains dry to the touch, the highly-absorbent material can absorb up to 8 times its weight in water and sweat. With the help of simple evaporation, the wet towel can produce hours of cooling relief. With quick activation this lightweight towel can cool up to 30° and is suitable for any high level physical activity. They are highly durable and come in an easy-to-use plastic case for easy storage.
Pros
UPF 50 + UV protection
Washable by hand or machine
Recyclable and eco-friendly
Available in an attractive color range
Cons
May require more water to activate
Colors may bleed

Made with high-grade and extra-thick PVA (polyvinyl alcohol) material, this cooling towel offers long-lasting heat relief. Simply activate the towel by soaking it in water and wring it thoroughly to start using. Wear the towel around your neck for an instant cooling effect.
Pros
Thick towels
Retains more water
Plastic carry pouch with carabiner hook
Compact size
Cons
May irritate skin if used for longer durations
PVA material may become stiff when dry

This multipurpose towel is 33 inches long and 11 inches wide, which makes it apt to be used as a head cover, bandana, or a neck wrap. The towel is ideal for athletes, sports enthusiasts, and even for those who spend hours working outdoors. The towel can also be used for post-operation cold therapy. It is made of high-quality breathable mesh fabric that is silky soft and easily foldable. Unlike PVA material towels, these towels remain soft, both wet and dry.
Pros
High-quality stitching to avoid loose thread
UPF 50 protection
Available in 4 sizes
Waterproof carrying pouch with clip
Cons
The material may become warm sooner than expected

This towel is made of breathable material, which makes it hyper evaporative. It activates quickly and provides an instant cooling effect. Its lightweight mesh design makes it a perfect gym towel as it also works as a sweat towel. Additionally, these microfiber towels come with reusable pouches with matching color coded clips — a practical solution to maintain hygiene.
Pros
Pack of 4 in multiple colors
Provides UV protection
Exquisite sewing seam
Machine washable
Cons
May not be ideal for extreme heat

Made of soft and durable brushed microfiber material, these cooling towels can be the ideal companions for long workout sessions. They cool instantly and provide a chilling effect for up to 2 hours. Designed for an active lifestyle, these seamless towels offer optimal comfort both wet and dry.
Pros
Chemical-free
UV Protection
Machine washable
Multiple color range
Cons

This lightweight cooling towel is made of polyester and is soft and breathable. The towel uses moisture to draw sweat away from the skin and keeps it cool and comfortable. The towel stays cold for up to 3 hours, making it an ideal towel for sports, gym, or cold therapy. It also comes with a waterproof container that allows you to carry pre-soaked towels that are ready to use!
Pros
Chemical-free
Extra absorbent
Pack of 2
UV Protection
Cons

These multipurpose sports towels are made of premium microfiber material that is breathable and lightweight. The super-absorbent fabric ensures instant cooling effect and can stay cool for hours. The extra-long size makes these towels ideal to wear in any desired style. They offer a comfortable fit that is soft and skin-friendly.
Pros
Pack of 6
UPF 50+
Kid-friendly
Chemical-free
Cons

Made of super-evaporative PVA material, these cooling band towels absorb water and then allow it to evaporate for instant cooling effect. The band is designed to hold water for long-lasting cooling. Simply run it under water until the towel is saturated and wring out excess water. The towel provides drip-free cooling that makes it comfortable and user-friendly. For a secure fit, this cooling towel can be easily fastened around the neck by pulling one end through a slit on the opposite side.
Pros
Lasts up to 4 hours on a single soak
Machine washable
Lightweight
Extra long
Cons
Material may dry stiff
Can be used only as a neck wrap

These highly-absorbent cooling towels are made with fine-quality microfiber blended material, making them ideal for both wet as well as dry use. The premium fabric used in these towels are highly durable and comfortable for daily use. These hypoallergenic towels are machine-washable and also provide UV protection.
Pros
Ultra lightweight
Pack of 3
Odor-free
Quick-drying
Cons

This product consists of a pack of 2 cooling towels – 1 oversized cooling beach towel and 1 extra small cooling towel. Made of lightweight microfiber material, these towels are ideal for use on a hot summer day at the beach. These soft towels are skin-friendly as they are chemical-free and the double layer fabric provides extra comfort. The easy-to-use towels instantly activate when soaked in water and are suitable for all kinds of sports, yoga, camping etc.
Pros
Sand-free
Quick-drying
UPF 50+ Sunscreen protection
Kid-friendly
Cons

This cooling towel is made of 45% polyester and 55% nylon, which makes it an all cold-feeling material. The towels are highly-absorbent and provide a long-lasting cooling effect. The soft and lightweight material makes it easy to carry and use for any outdoor activity, sports, yoga, hikes, or gardening. They can be washed easily with hands or machines and are durable for several years.
Pros
Comes with easy to carry pouch with carabiner hook
Ideal size
Ultra-thin fabric
Strong water retention
Cons

Now that we have looked at the 11 best cooling towels, let's keep in mind few important features that will help you pick the right cooling towel.
How To Choose The Right Cooling Towel?
When picking a cooling towel, keep an eye out for the following features:
Just like your body naturally cools down by evaporating sweat off the skin, cooling towels use the same evaporative cooling process to provide a cool sensation. They are made of either PVA material or microfiber mesh. Both of these materials soak water and evaporate it at a high rate for a chilling effect. But they are different in texture and feel. While towels made of PVA feel rubbery, microfiber towels are soft to the touch. PVA towels absorb more water but become stiff when dry while microfiber towels may not absorb as much water but are definitely softer on the skin, both dry or damp.
This depends on what type of activity you usually need the towel for. If you are looking for a towel that can be used for gym sessions or running, a 35-inch towel would be ideal to be used as a neck scarf. If you are looking to use the towel for various other activities like camping or hiking or a beach day, a 40-inch or a 50-inch towel would be ideal to wrap around your waist, head, or cover your entire body.
Most cooling towels are machine-washable and need air drying. You must check the care instructions to make sure the material is easy to wash, stain-resistant, and doesn't not bleed color. If you are using the towels frequently, hand-washing them could be cumbersome.
Cooling towels are reusable but you must ensure fabric quality for durability. The towel edges should be secured enough to avoid loose threads and fraying. Chemical-free towels are skin-friendly and odorless for prolonged usage.
In addition to cooling, the towels also shield you from harmful rays of the sun. The added feature of providing UV protection with SPF 50+ is definitely helpful. Along with that, a choice of colors lets you easily identify your towel. Another feature to look for is a handy carry case or pouch to store your wet or dry towels.
Frequently Asked Questions
How long does a cooling towel stay cool?
The cooling towel should stay cool for at least 2 to 5 hours, depending on the towel saturation and weather condition. The towel might need multiple soaks for continuous cooling effect in hot and humid weather. As long as the towel is wet, it will continue to provide a chilling effect.
How do I wash a cooling towel?
A cooling towel can either be hand-washed in warm water or machine-washed in cold water. Use only mild detergents to wash your towels and air dry them. Do not put these towels in the dryer. Towels must be washed after every use to avoid sweat stains and odor.
Cooling towels are a convenient way to cool down your body temperature. It is a multipurpose tool that can be used by kids, adults, and even pets. These towels are highly-effective and provide you the comfort to enjoy your favorite activity for as long as you want. If you are a sports enthusiast or love hiking, work outdoors, or practise yoga indoors, this is a must-have product in your gear.
The following two tabs change content below.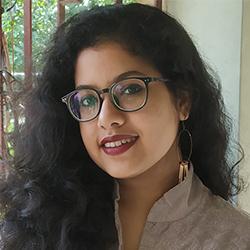 Poulami Nag
Poulami Nag is a writer and associate editor at MomJunction. She did her MA in English from Miranda House, University of Delhi and has qualified UGC-NET. Her journey as a content writer began in 2017 and since then she has garnered diverse interests along the way. Her knowledge of literature and language has given her an eye for detail and...
more