Organizers help you store numerous utility items in an orderly, tidy manner so that you can access them quickly when needed. They help you save space by storing several items in a small container, allowing you to keep them securely for an extended period.
Furthermore, organizers are easier to move around or carry, making them easier for you to access your utilities anywhere. You can store craft supplies, make-up, jewelry, stationery, knitting materials, beads, toys, and office utilities in them.
There are different types of organizers on the market, and we have selected the best craft organizers for you. Choose one, and you'll never have trouble locating your small utilities when you need them with the right organizer.
Top Products From Our List
11 Best Craft Organizers
This rolling storage cart and organizer has 12 stylish plastic drawers that are easy to install. The transparent drawers provide plenty of space for your essentials. The sturdy semi-transparent double-wide organizer has a metal frame and suction mounting with smooth-gliding locking casters for moving the assembled storage around. It includes all the required equipment for assembly and building instructions. The product measures 15x25x32 inches and weighs 8.58 pounds.
The Seville utility craft organizer is a bright multipurpose tray cart with ten drawers for neatly organizing your stationery and other utilities. The pearlized opaque polypropylene drawers glide effortlessly through the metal channels and can be removed without difficulty. It has a removable white tray on top and four casters, two of which can be locked to keep the cart in place. This cart is suitable for storing any stuff and features easy-to-grab handles and a perforated steel top shelf. The organizer measures 12.8×15.3×38.2 inches and weighs 13 pounds.
The Akro-Mils craft cabinet has 44 drawers of various sizes and is made of semi-transparent plastic. It is suitable for storing all types of utilities in an orderly manner because the drawers come in different sizes.
The cabinet has stackable drawers and a keyhole slot for hanging it to the wall. It also features eight small crosswise dividers, four large length dividers, and a polystyrene plastic frame to hold the drawers sturdily. The product measures 20×6.5×16 inches and weighs 6.5 pounds.
The Creative rack has a pro-latch locking system to keep the drawers in place. It has a separate top lid with a pro-latch that opens up separate storage space. The compartments are adjustable and large enough to hold large-sized items. It measures 13.13×9.88×13.75 inches and weighs 0.0035 pounds.
This petite storage container has 36 small compartments ideal for organizing jewelry or beads. It is made of clear plastic with solid hinges and has 15 removable dividers for custom sizing. The organizer has a lid and two solid latches that can securely keep the contents in place. The compartments are tightly packed when the box is closed to prevent materials from moving between cases. It measures 10.75×6.75×1.75 inches and weighs 0.55 pounds.
This semi-transparent plastic storage box with a handle has 16 multi-colored inner cases for securely separating and organizing your utilities. It is sturdy and long-lasting, and the inner cases can be stored separately from the main container. The container is ideal for storing photos in different cases.
This organizer is compact and ideal for organizing your utilities or images because each case has areas to match a label perfectly. The box weighs 0.23 pounds, the outer box measures 12.0×14.8×5.1 inches, and the inner case measures 4.75×6.70×1.23 inches.
The transparent three-tier plastic organizer box with a handle has 30 small compartments to keep your small utilities, such as buttons, beads, or LEGO pieces segregated and organized perfectly in different compartments. It's roomy, lightweight, and sturdy enough to keep your essentials secure. This box has detachable and removable dividers to make any compartment larger or smaller for neatly storing your crafts. The outer box measures 10.23×6.69×7.48 inches.
The Iris craft cabinet has 44 transparent drawers in various sizes to accommodate all your craft items. Each drawer has a built-in lip on the back to keep it from falling out of the cabinet when it is opened. It has screw holes on the sides and ribs on all four corners to hold the cabinet securely in place. The 5.84lb stackable cabinet measures 7×19.5×15.5 inches.
The three-tier rolling utility storage cart, made of ABS plastic, is waterproof, scratch-resistant, anti-rust, and long-lasting. It has four wheels, two of which are lockable, allowing you to quickly move the cart while still securely locking it in place. The three tiers are at the perfect height for organizing bathroom utilities, make-up, or kitchen tools.
This rolling cart not only saves room but also looks elegant, has a handle for easy transport, and can be assembled in minutes, making it simple to dismantle and clean. Its basket shelves have a mesh bottom for ventilation. The cart is designed to prevent odor and has a holding capacity of up to 200 pounds. The cart measures 16.5×13.8×34.2 inches and weighs 7.93 pounds.
The craft organizer is a tote bag with several interior and exterior pockets that can hold various tools and accessories at once. The bag has adjustable padded dividers and is easy to remove and place when needed. It has two reinforced and sturdy handles that make it easy to move the tote around. The bag is elegant, versatile, lightweight, and has a two-year warranty.
The semi-transparent aqua-colored polypropylene plastic craft organizer has a sturdy handle and a deep satchel with eight removable dividers and a latch to keep the contents of the storage container safe. It allows easy storage of bulkier supplies, and the compartments are spacious enough to fit in all utilities. It measures 15.25x14x6.25 inches and weighs 2 pounds.
How To Choose The Right Craft Organizer?
The following are a few things you need to consider before buying a craft organizer.
1. Dividers: Dividers help shape your compartments as desired by keeping each utility organized neatly. Many organizers come with adjustable dividers, which help store scrapbooks and papercrafts neatly.
2. See-through compartments: An organizer with a semi-transparent body and compartments allows you to identify the contents inside so that you can open the drawer that contains the required utilities.
3. Compact compartments: Consider buying compact storage containers with deeper compartments.
4. Durability: Ensure that the organizer you buy is made of high-quality and sturdy material.
6. Compartment size: An organizer with various compartment sizes allows you to store different utilities effortlessly.
Craft organizers make it tidy and straightforward to store your crafts and other necessities. Many organizers have uniform or different compartments/drawers and removable dividers for convenience. Consider the material, features, and sizes of compartments to identify the right organizer for storing your utilities and buy one that is elegant, useful, and compact.
Recommended Articles:
The following two tabs change content below.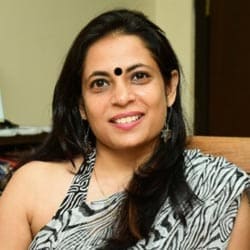 Priti Bose
Priti Bose is a poet, songwriter and blog writer. She did her masters in English, Public Relations and Advertising. Her creative skills and hunger for details make her do in-depth research on the topics she covers. For MomJunction, she writes on product analysis and reviews, especially for kids' products, toys and gifts. Before her association with MomJunction, Priti worked in the...
more