If you are passionate about craft and sewing, you probably know that a regular pair of scissors does not give the best results. You will need a good pair of crafting scissors to help you achieve precision and perfection in your crafting sessions. Craft scissors come with sharper blades and a comfortable handle, giving you an extra-secure grip for fine detail cuttings. You can use them to cut different materials, such as fabrics, corrugated cardboard, and paper. We have compiled a list of the best craft scissors to help you choose the right one for your requirements. However, before purchasing, you must know how to use craft scissors safely.
Safety Tips To Follow While Using Craft Scissors
Handle your scissors with care. It is recommended that you hold the scissors using the handle and not the sharp blades. If you grab the sharper edges, you might get a cut.
Do not move or run around with the scissors as they can hurt you. Stay alert and avoid sudden movements while using them.
Supervise your children when they are handling scissors. Teach them the right way to use the scissors. They should use the scissors while sitting down. Store the scissors away from the reach of children.
Maintain your scissors so that you can use them for a longer time. Get the blades sharpened by a professional if they get blunt after prolonged use and oil the hinges for smooth functioning.
11 Best Craft Scissors


Available in bright colors, these multipurpose craft scissors come in a pack of three. You can use these craft scissors to cut paper, card stock, fabric, burlap, cardboard, leather, and more. They are ideal for tailoring, sewing, quilting, making face masks, and other household purposes. You can use them with both left and right hands. The blades are made of high-density stainless steel that gives more precision cutting and is durable and sturdier than regular scissors. They are also convenient to use as the blades provide the right amount of friction required for control and detail.
If you are looking for fabric scissors, you can consider these sharp and durable scissors that can comfortably cut through 16 fabric layers. The blades are made of stainless steel and titanium coated, which protects them from rusting and adhesives. These shears come with a larger hole in their handles than other scissors to give you a comfortable grip and precision. Available in red and black color combination, these 9.5" craft scissors are rigorously tested to provide superior quality results.
Scotch Precision scissors are ideal for cutting heavyweight paper, fabrics, and photos. It comes with a lifetime warranty. The stainless steel blades are sharpened with precision for smooth performance, and the grip is soft and comfortable to ensure effortless cutting. It is comfortable for right- and left-handed people. The scissors measure 8" and are available in a bright grey and red color combination.
The pack has three scissors of different sizes that are useful for all your cutting needs. They are 10″ dress-making scissor, 8.5″ craft scissors, and a 5.5″ embroidery scissor. The jubilee yarn titanium-coated blade gives excellent cutting precision and lasts longer than other papercraft scissors. Their handles have soft grip inlays ideal for prolonged usage. The scissors come in a bright purple color with rainbow blades, making them great looking. They are lightweight, sturdy, versatile, and rust-resistant.
With an attractive black and yellow design, these small craft scissors feature high-precision blades, perfect for fussy cutting. Ideal for cutting papers, photos, vellum, origami, and more, its precision tip helps with detail-oriented tasks. The stainless steel blades are resistant to corrosion and adhesives, so you can easily use them to cut adhesive-backed paper. Their 5" sharp blades and ergonomic handles combine to provide control while cutting and give precise results. This pair of scissors is helpful for paper crafts, scrapbooks, and quilling to embroidery, crochet, and other fabric work. It comes with a protective cover that you can snap over the blade to prevent accidents when not in use.
Prioritizing arthritis patients and people with limited hand strength, these are one-of-a-kind scissors crafted by Fiskars. The handle is shaped to fit your hand, and the spring action design minimizes hand strain while cutting. Its titanium blade is stronger than a regular steel blade and protected from corrosion, scratches, and other damages. Its unique and practical design was awarded the Arthritis Foundation Ease-of-Use Commendation. The bent design gives an added advantage of keeping the material flat while cutting. This eight-inch pair of scissors can easily cut through denim, silk, and other fabric and comes with a lifetime warranty.
Titanium-bonded scissors from Westcott are lightweight and durable. The micro-tip blades are made by bonding titanium to a stainless core for a sharper and long-lasting cutting edge than ordinary stainless steel blades. They will give smooth, precise results for years. Handles have been molded to provide utmost comfort while cutting and are ideal for all your crafting needs. These scissors come in assorted colors.
With two small craft scissors in a set, these colorful 3.5″ scissors are perfect for detail-oriented, fussy cuttings and are essential for your craft kit. They are portable, compact, and come with protective caps that will keep you safe and protect the delicate tips from damage. The purple scissors are ideal for embroidery and sewing due to their curved tip, while the blue scissors are suitable for crafting and smooth cutting. The blades are made of high-quality stainless steel that are durable, long-lasting, and rust-and corrosion-resistant.
Ideal for precision work, such as embroidery and needlework, you can use these mini scissors for detail-oriented crafts. The sharp, stainless steel blade ensures smooth trimming and durability. They are lightweight, portable, sturdy, and rust-resistant. These multipurpose scissors have soft-grip handles, which make them easy to use. The scissors are made of "pearl material," making them look shiny, colorful, and damage resistant. Its attractive vintage design with streamlined crane carving makes it unique. The straight, sharp tip is good for delicate work, ans is better to keep them away from children.
If you are looking for arts and craft scissors that are safe for your children, then Mr. Pen Craft Scissors are a good option. The pack has six colorful scissors made of plastic that help your child learn cutting without getting hurt. The scissors do not have any sharp edges. Each scissor has a unique design, and thus children love to play with it. They are suitable for crafting, DIY projects, and creative learning sessions.
Pafason's multipurpose scissors set has two small craft scissors to cater to different requirements. One scissor has a straight pointed tip, while the other has a straight, rounded tip, making them ideal for fine detailing, scrapbooking, paper cutting, and other artworks. The 4″ scissors are portable and lightweight, and their ergonomic handles are crafted to provide stability and comfort. The blades are made of high-quality stainless steel, through high heat treatment, which keeps them sharper and damage-free for longer. They are sturdy and can even cut through a few fabric layers. These scissors come with protective matching covers that keep the blades secure and make them convenient to carry around.
Things to Consider Before Buying Craft Scissors
Here are a few factors you should consider to choose the best craft scissors.
Size: While smaller scissors are great for detailed work, bigger scissors are needed for large-scale crafts, such as cutting heavyweight papers, cardboard, fabrics, and more. Consider the size with portability in mind.
Material: Look for long-lasting material that does not damage easily. Invest in crafting scissors with stainless steel or titanium bonded blades. These blades are durable, rust- and corrosion-resistant, and suitable for heavy-duty work. For kids, you may consider plastic scissors.
Design: Since crafting and sewing put a lot of strain on your hands, it is essential to choose ergonomically designed craft scissors to reduce pressure from the hands. The handles should have a soft grip with larger holes so that you can get more stability and control while cutting. The more comfortable the scissors offer, the better you will work.
Purpose: If you are looking for scissors for cutting fabric and sewing, invest in a pair of sharp shears. They will be a better investment for your work than standard paper craft scissors. If you need scissors for fine detailing work, get a small, dainty pair of scissors with a straight pointed tip.
Art and crafts require not only skills but also the right tools. The best craft scissors will give you perfect results and make your crafting sessions more fun. If you don't invest in the right tools, your art will not reach its true potential. So get yourself one of these best craft scissors and pamper the artist inside you.
Recommended Articles: 
The following two tabs change content below.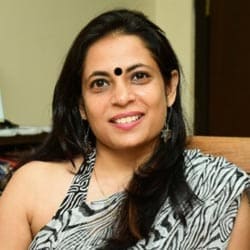 Priti Bose
Priti Bose is a poet, songwriter and blog writer. She did her masters in English, Public Relations and Advertising. Her creative skills and hunger for details make her do in-depth research on the topics she covers. For MomJunction, she writes on product analysis and reviews, especially for kids' products, toys and gifts. Before her association with MomJunction, Priti worked in the...
more