Crop tops are blouses that expose the waist. For the longest time, it was believed that these tops only suited women with a slim waistline. However, times have changed, and fashionistas have proven that when worn correctly, a crop top can suit anyone regardless of their waistline.
In this MomJunction post, we have handpicked ten best crop top sweaters that can help you make a style statement.
10 Best Crop Top Sweaters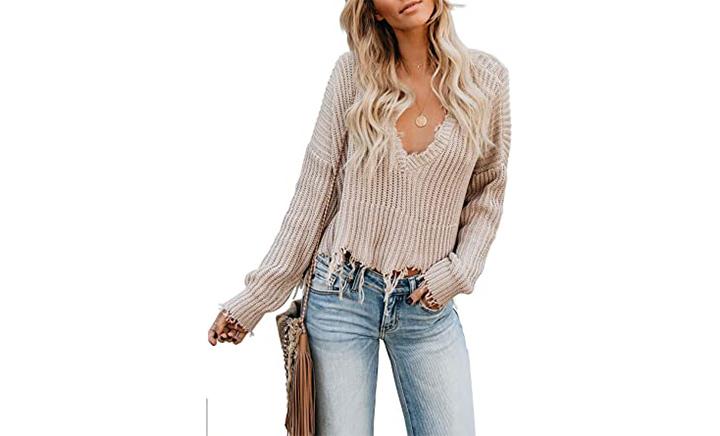 Made of cotton and acrylic, this tassel hem sweater crop top can make you look ready for fall and winter. Team it up with a sexy bralette and a pair of skinny jeans, and you are good to go. If you prefer the plunging V-neck that falls over a shoulder, then you can go for a thick strap tank top and high waist jeans to complete the look. This sweater is available in a variety of colors, designs, and sizes.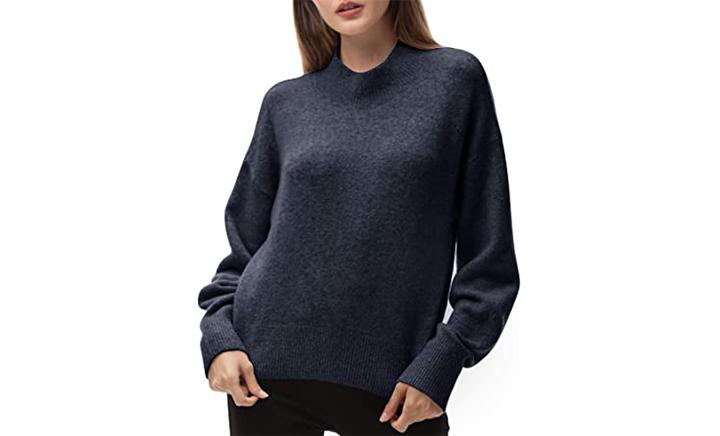 This slightly oversized boxy design crop sweater does not only equip you to battle winters but also makes you look chic. It is made from a blend of acrylic, polyamide, wool, and elastane that can keep you warm and cozy. Wear it on a pair of low waist jeans or leggings to complete your outfit of the day.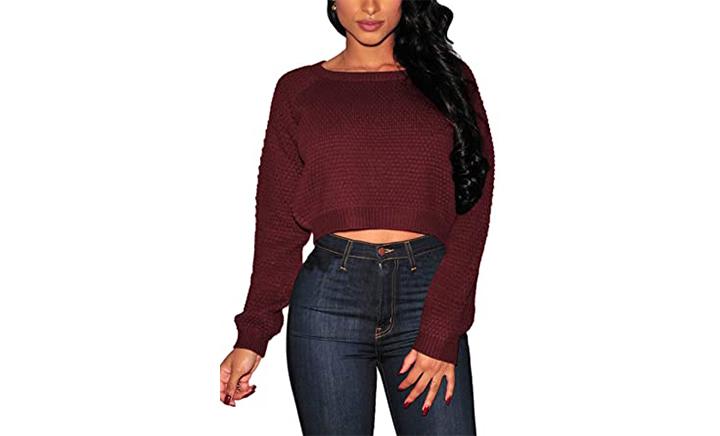 When you are in love with your high-waist jeans and do not wish to come out of it, then continue wearing it, but this time, pair it with this long sleeves cropped sweater. Available in different colors, this crop top is made of acrylic. Wear a slim-fitting tank top of a contrasting color under it and see how it makes you look trendy even in your old jeans.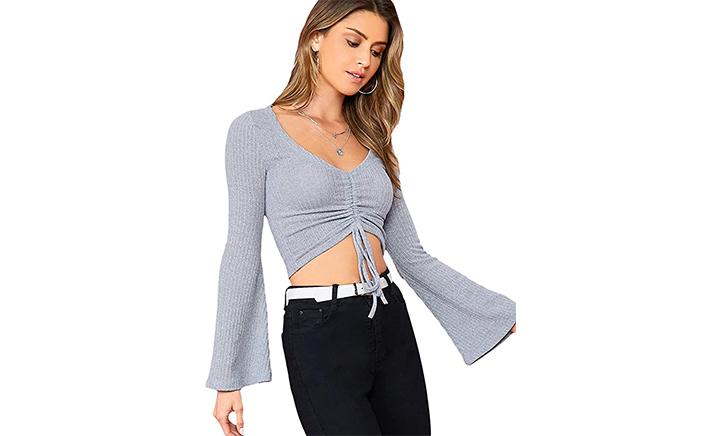 Want to look sexy in a sweater? Then try this long sleeve ruched knit crop top. Made with polyester and spandex, its adjustable drawstring front is its USP. The deep neckline, when brought closer to the hem, increases the hotness quotient of the outfit. When worn with a pair of hot pants, this sweater can make you look ready for a fun night out with friends.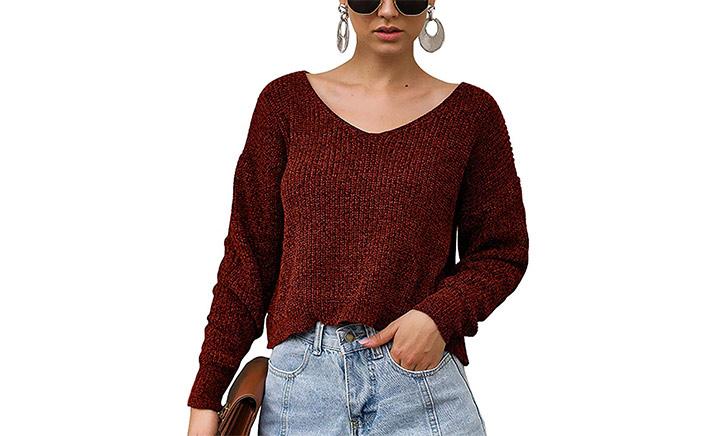 Not everyone is blessed with slender shoulders. And if you are one of the lucky few, then this sweater crop top is for you only. Its wide V-neckline helps highlight those hard-earned collarbones and the toned shoulder blades. Its stretchable Chenille fabric is suitable for winter as well as spring. Opt for a pencil skirt or even a pair of distressed jeans when wearing this top.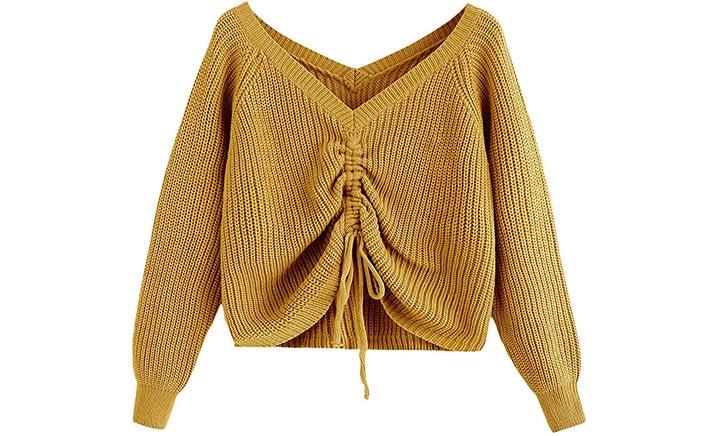 If a short drawstring sweater crop top seems racy for you, then here is a more conservative yet sexy version of the sweater. It comes with a drawstring in the front but has enough material to cover your abs. Made of acrylic and spandex, this soft fabric can be worn for a casual outing or even regular basis. Pair it with a pair of leggings and boots, and you can step out looking effortlessly cool.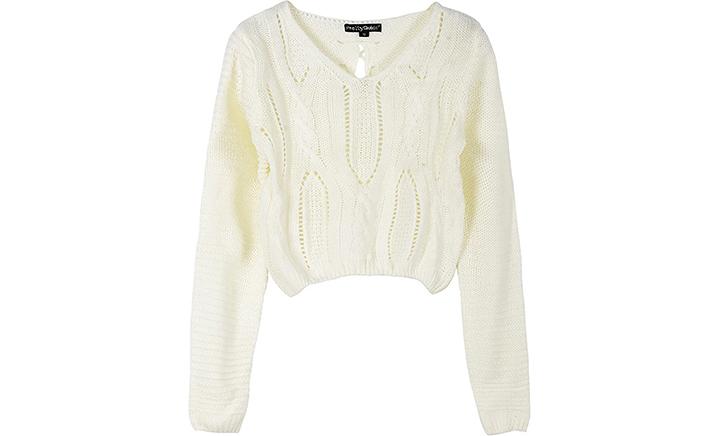 Working hard all summer to get those perfectly toned abs could be a complete waste if you do not flaunt it over fall. Allow this eyelet cable lace-up sweater crop top to help you get some envious glances. Its slight V-neckline with ribbed cuffs and hem helps you perfect the early winter look. It is soft, comfy, and glamorous. Team it up with a pair of high waist jeans or a pretty flowy skirt to look ready for fall.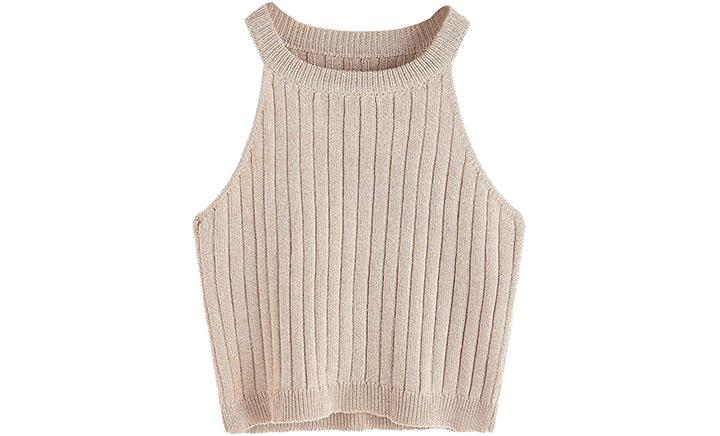 Want to keep warm while showing off your toned arms? Have a look at this high neck sweater crop top that can look great when paired with a pencil skirt. Wear it with a pair of regular jeans, and it will rock your look. Made of acrylic and spandex, this halter neck sweater top will keep you warm while you look cool at any outing.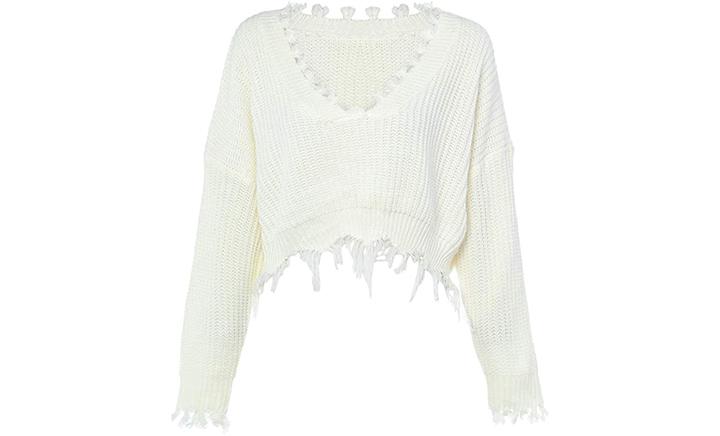 Available in different colors and designs, this sweater crop top with a V-neck, ripped hem, and long sleeves can help turn your outfit from basic to stylish. Accessorize it with a choker and long earrings to complete your casual but fashionable look. Made of acrylic, cotton, and spandex, it is loose-fitting and comfortable to wear.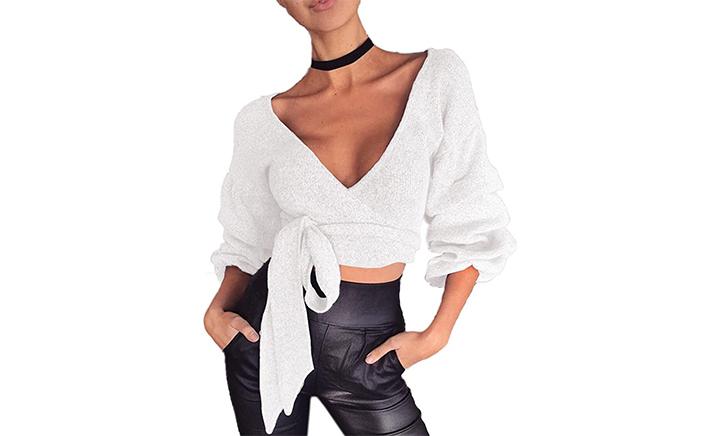 When we say super sexy, we mean this crop top sweater. Its knitted polyester and nylon fabric is soft and comfortable to wear. Its adjustable wraparound waist with a deep neck helps achieve the sexy look you are looking for. Pair it with high-waist jeans, denim shorts, or even a mini-skirt; it can make you look irresistibly hot anyway.
Frequently Asked Questions
1. What can I wear with a crop top sweater?
Crop top sweater is a versatile piece of clothing and can be worn with almost anything, from high-waist pants to hot pants, tulle dress to a midi skirt. Depending on the color of your crop top sweater, you can decide the suitable bottom that will complement it and complete the desired look.
2. When should a woman stop wearing a crop top sweater?
There is no age to start or stop wearing a crop top. If you are comfortable wearing a crop top sweater, then you may wear it at any age. Comfort is all that matters.
3. How do you wear a crop top sweater without showing your stomach?
If you feel conscious of your belly showing under your crop top, then you can hide it by wearing a tank top under it or with a pair of high waist jeans that will conceal your belly.
4. Is it okay to wear a tank top under a crop top sweater?
Yes. In fact, when you wear a tank top of a contrasting or even a complementing color under the sweater, it enhances your look.
Crop top sweaters or any other piece of clothing is created to make you feel beautiful and confident. If something does not make you feel like yourself, it is best you steer away from it no matter how cool and trendy it is.
Which one from our list did you like? Let us know in the comments section below.